Neck Lift
(Local Anesthesia)
$5,995
Neck Lift
(General Anesthesia)
$7,495
NECK LIFT SEATTLE –WITH DR. DAVID SANTOS
Neck lift Seattle is a facial plastic surgery procedure to correct the appearance of saggy skin, excess skin, fat buildup, or the "turkey wattle" appearance that can occur on the neck with age. This is a perfectly normal process, but can cause distress and sometimes even discomfort due to the descent of skin, fat, and facial muscles. Dr. David Santos at Seattle Plastic Surgery performs neck lift surgery to address aging concerns on and around the neck. Seattle Plastic Surgery performs the best neck lift Seattle and Tacoma offers.
WHAT IS A NECK LIFT?
A Seattle neck lift is a surgery designed to contour the neck and give it a more youthful appearance and shape. Dr. Santos achieves this by removing extra skin and fat in the area as well as tightening the muscles and skin. 
Every neck lift procedure is different because Dr. Santos will cater his surgical technique to your needs and body. But, the goal of each procedure is generally the same, to eliminate the "turkey wattle" from the neck and create a neck that looks slimmer and younger.
Neck problems and imperfections that a neck lift can and do usually address include: loose or excess neck skin, heavy jowls, wrinkles on the neck or lower face, fat deposits on the neck, and sun or wind damage to the neck.
HOW IS A SEATTLE NECK LIFT SURGERY DONE?
A neck lift Seattle can involve a variety of methods depending on the patient's particular needs and medical history. A deep neck lift, lower neck lift, face neck lift, and neck liposuction all could factor in to your neck lift procedure. Dr. Santos will evaluate your anatomy and aging during a consultation to determine the right type of neck lift.
For some patients, a simple liposuction procedure may allow them to see the results they want. Other patients may need liposuction along with another procedure. In a consultation with Dr. Santos, he can determine the best surgical technique for your Tacoma neck lift.
On average, the surgery includes small incisions in or easily hidden by natural creases of the body. Dr. Santos will inform you of the best location for your neck lift incisions. Through these incisions, he will pull and tighten the muscles, remove extra fat and skin, and create the desired look of the neck. Depending on the scope of your neck lift in Tacoma, the surgery may treat the lower jaw area in addition to the neck. 
Dr. Santos performs neck lift Seattle surgery in our state-licensed surgery center. It can take between one and three hours depending on if it is a deep neck lift, only includes neck liposuction, or is a combined face neck lift. He often performs his neck lift surgeries under local anesthesia because it reduces recovery time and the overall risk of the surgical procedure. Regardless, Dr. Santos will remove excess skin and tighten the appearance of the neck.
Most Surgeons Require General Anesthesia, Dr. Santos is so Skilled at Facial Procedures He is Able To Perform Under Local Anesthesia, reducing Patient Risk and Cost
IS NECK LIFT SEATTLE OFTEN COMBINED WITH OTHER PROCEDURES?
Because a neck lift only focuses on the neck and the immediate surrounding areas, many patients choose to combine a Seattle neck lift with other procedures such as blepharoplasty, facelift, or brow lift. When you choose to undergo these surgeries at the same time, it allows you to recover from them at the same time and only go under anesthesia (whether local or general) once. This is less stressful on the body and can help you achieve optimal results.
Procedures often performed with a neck lift include: 
NECK LIFT SEATTLE BEFORE AND AFTER PHOTO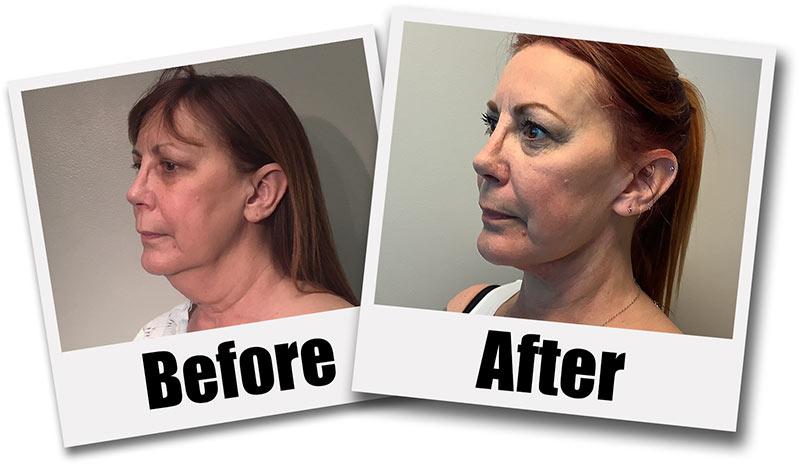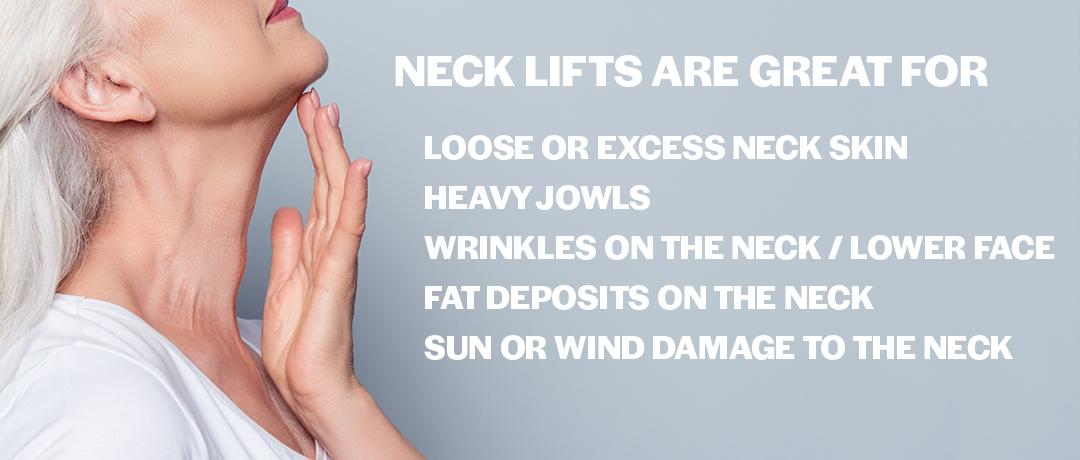 AFTER SURGERY SEATTLE NECK LIFT
Immediately after coming out of surgery, you will need someone to drive you home and care for you the first day after surgery. While you can expect some functionality at home the day after your procedure, it is important to rest and focus on recovering.
Dr. Santos will provide you with a custom neck lift recovery and aftercare plan. There is usually not much need for pain medication, but Dr. Santos can advise you on which over-the-counter painkillers are safe to take if you need them. He will also fit you with a neck brace to wear for a few days after recovery. This brace ensures your neck does not move around too much, reduces swelling, and helps make you sure you receive the best results from your Tacoma neck lift.
You can expect to take six to ten days off work, but Dr. Santos can better advise you during your consultation and after surgery. He permits returning to work on a case-by-case basis and staying in close contact with Dr. Santos will allow you to know the moment you can begin work again.
Regardless of when you turn to work, Dr. Santos usually restricts exercise and other strenuous activities for two weeks after surgery. Again, this will depend upon your unique recovery. Usually, he will not allow full exercise for at least two weeks.  
FREQUENTLY ASKED QUESTIONS
HOW MUCH DOES A NECK LIFT COST IN SEATTLE WA?
The neck lift cost Seattle begins at $5995 with local anesthesia and $7495 under general anesthesia. These prices can vary depending upon your particular procedure and on whether or not you combine it with other cosmetic surgeries.
Ultimately, the best way to determine your neck lift cost Seattle is to schedule a consultation with Dr. Santos at Seattle Plastic Surgery.
IS NECK LIFT SURGERY PAINFUL?
Neck lift Seattle surgery is generally not too painful. Even under local anesthesia, patients remain perfectly comfortable because they are completely numbed and often given a light oral sedative. After surgery, many patients opt not to use prescription painkillers. Those that do usually only use them for about two to three days.
WHAT IS THE ALTERNATIVE TO A NECK LIFT?
If your neck aging is less severe, there are possible alternatives to a neck lift. First, Botox injections into the platysma muscle can help smooth prominent banding on the front and sides of the neck. Other non-surgical solutions including RF microneedling and chemical peels can enhance the neck. Neck liposuction can also be used to create a more youthful looking neck. However, a Seattle neck lift procedure remains the gold standard in most cases.
HOW MUCH YOUNGER DOES A NECK LIFT MAKE YOU LOOK?
Like with a facelift, a neck lift surgery Seattle can contribute to a difference in age of about ten years. This will depend based on the patient's starting anatomy and the procedure they undergo. Pairing it with another facial plastic surgery may also further enhance the results and create an even younger appearance.
THE FOREMOST LEADER IN SEATTLE NECK LIFT SURGERY
Dr. Santos is an often sought facial plastic surgeon. Double board-certified from the American Board of Otolaryngology and the American Board of Facial Plastic and Reconstructive Surgery, Dr. Santos is one of the leaders of facial cosmetic procedures in the Pacific Northwest. He continues to educate and learn as a surgeon, always wanting to improve his procedures to better serve Seattle and Tacoma patients.
Seattle Plastic Surgery is located in downtown Seattle on Broadway across from Swedish Hospital. The convenient location offers easy access for local patients. It is also close to hotels for patients traveling from elsewhere to seek care from Dr. Santos.
When you come in for a consultation with Dr. Santos, he will lead a discussion about your expectations for your neck lift, your medical history, and any questions or concerns you have about the procedure. He will then examine your neck and lower facial area to determine if you are a candidate for a Seattle neck lift.
To schedule a consultation with Dr. Santos at Seattle Plastic Surgery, call us at 206-324-1120. Chat by clicking the icon in the lower left hand corner of your screen. Or, you can Contact Us by filling out the form below.
Still Have Questions?
Give us a call at 206-324-1120 Or Chat by clicking the icon in the lower left hand corner of your screen additionally you can  Contact Us by filling out the form below.