Our Most Popular Offerings
LIP FILLER IN SEATTLE AND TACOMA
The lips remain one of the key factors of our facial appearance. Thin lips–while they may be natural or occur with age–can leave you looking perpetually sad or angry. They can also cause a disproportionate look to the face, your lips not matching the rest of your features. For people wanting plumper lips, lip fillers in Seattle and Tacoma are a safe and effective way to achieve a natural looking enhancement of the shape and size of the lips. Seattle Plastic Surgery provides customized and expertly injected lip fillers to the Seattle and Tacoma areas.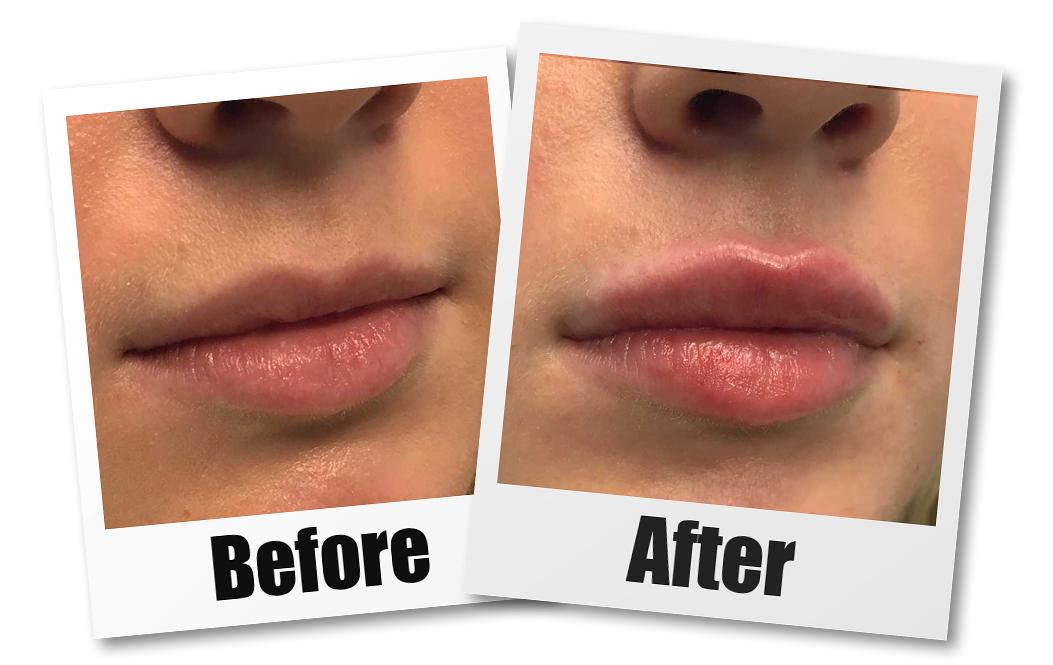 How Long Do Lip Fillers Last?
The amount of time that your lip fillers last will depend on the filler you choose, how fast your body metabolizes the filler, and environmental factors. Typically, your first round of filler will not last as long as subsequent rounds. As your body grows used to the filler, it will dissolve it at a slower rate.
On average, you can expect your lip filler to need refreshing once a year. Some fillers will last longer and others will absorb faster, it is important to discuss these factors with your provider so you can know what to expect with your lip filler in Tacoma. 
WHAT ARE LIP FILLERS?
The main goals of lip fillers are to increase the size and enhance the shape of the lips. The most common material used for lip fillers is hyaluronic acid. This acid is found naturally in our bodies, which improves the safety of fillers, and contributes to their low rejection rate.
Hyaluronic acid is also used as an ingredient in many skin care products and services, like moisturizers, chemical peels, and microneedling. This is because hyaluronic acid has many benefits to the skin and body. It is known to promote healthy, bouncy skin and help your skin trap moisture. Hyaluronic acid may even contribute to faster wound healing. HA fillers remain one of the most popular fillers on the market because of their safety and effectiveness.
Interested in Lip Fillers?
Fill out the form below to schedule an appointment or ask us any questions you may have.
Types of Lip Fillers in Seattle: 
With so many Seattle lip filler options, it can be difficult to choose the filler right for you and your goals. Luckily, in consultation with one of our skilled providers, they can examine your lips and goals to help you choose the filler that would provide you the best results.
When it comes to lip fillers, Restylane and Juvederm make the most popular and widely FDA approved products. Some fillers are thicker than others and some contain lidocaine, but Restylane and Juvederm products are always a hyaluronic acid gel filler.
Restylane Products:
L:

This product contains lidocaine to help make the injection process more comfortable and soothe the lips, even after the injections. This is a fairly typical filler, not overly thick or thin and often the lowest cost option. 

Silk:

Designed especially for lip augmentation, Restylane-Silk uses smaller particles than other Restylane fillers which allows for a more natural looking plump.

Refyne:

This product is biodegradable and can provide some moderate lift to the lips. Restylane Refyne is proven not to hinder your natural movement, making this a comfortable and realistic looking option.

Lyft:

This filler was designed specifically to add fullness to the face and hands. As a lip filler, the product can plump your lips and give you the results you are looking for.

Defyne:

Similar to Restylane Refyne, this product enhances your lip movements, but is a thicker formula, allowing for more dramatic results.
Juvederm Products:
Ultra:

This is the premier Juvederm product for enhancing the lips. It can last up to a year and provides smooth, noticeable results nearly immediately. 

Ultra Plus: This is the thicker formula version of Juvederm Ultra. Juvederm Ultra Plus may be better for those who want dramatic results from their Seattle lip fillers.
Volbella: While used for lip augmentation, this filler can also correct wrinkles on the lips, which are often difficult to get rid of without fillers or similar cosmetic procedures.
LIP INJECTIONS RECOVERY:
Lip fillers–since they are non invasive and do not require incisions or surgery–do not require any specific downtime or recovery protocol. Most lip filler patients return to work the day after their injections. 
You may experience possible minor side effects such as swelling, redness, bruising, and tenderness. These side effects should not interfere with your everyday activities and should not require prescription pain medication. All side effects should go away within a week of your injections. 
Your final results–depending on the filler–will become evident within two weeks of your treatment. Some fillers show immediate final results, while others take a week or so to settle. Fillers are dissolvable in-office if you choose and will eventually absorb into the body regardless.
WHAT IS THE TREATMENT LIKE?
When you come in for your appointment, your provider will begin by disinfecting your lips and confirming the injection site or sites. They will then apply an anesthetic, either topical or localized injections. Most lip fillers contain a small amount of lidocaine to prevent pain during the injections. 
Your provider will then begin injecting the filler into your lips. Because the lips are an extremely sensitive part of the body, you may still feel some slight pressure, but this should only cause some minor discomfort and not overly painful. Depending upon your goals and choice of filler, your provider may carefully massage the filler so that it sits in the proper position and offers you the desired results.
Normally, you can receive your lip injections on the same day that you come in for your consultation, however, this does depend upon the filler you choose and other factors of your treatment.   
Your Lip Filler Providers:
At Seattle Plastic Surgery, we offer lip filler injections with a board certified cosmetic surgeon, or a qualified Nurse Injector. All of our providers have extensive knowledge and experience with lip fillers. 
Fillers with one of our Nurse Injectors comes at a lower cost than with our surgeons. They have all studied directly under our surgeons and learned the same gentle techniques that help minimize pain and side effects afterward. 
WHY LIP FILLERS?
When it comes to non-invasive fillers and cosmetic procedures, lip fillers remain one of the most sought out options. There are countless reasons that people seek Tacoma lip fillers. Right now, cosmetic trends call for plump, luscious lips that not everyone is born with. Lip fillers can help those with naturally thin lips achieve thick, voluminous lips. For others, the signs of aging affected their lips, leaving them with undesirable lipstick lines or drooping lips. Lip fillers can address all of these concerns with a simple and quick procedure. 
The unique motivations of people that seek lip fillers can include:
Desire for plumper lips

Treatment for wrinkles on or around the lips

Non surgical correction of drooping or sagging lips

Enhancement of lip shape

Evening of lip proportion (fillers in just top or bottom lip)

Improvement of facial appearance and profile  

Non surgical lip augmentation option
Are Lip Fillers In Tacoma Safe?
Lip filler injections are a safe and effective way to non surgically augment your lips. Because they are made from hyaluronic acid that is found naturally in the body, there is a very low chance of an allergic reaction. HA fillers do not require an allergy test beforehand like collagen fillers.
The procedure is non-invasive and when performed by a qualified provider, there is little risk. Before administering Tacoma lip filler injections, your provider will determine if you and your medical history are compatible with the procedure. During your consultation, they will take a comprehensive medical history that includes medical conditions and current medications. Taking this into consideration, your provider will decide if fillers are right for you and the safest course of action for your procedure. 
THE ONLY DESTINATION FOR LIP FILLERS IN SEATTLE AND TACOMA
Lip filler injections are a delicate procedure that requires a steady hand and experience. At Seattle Plastic Surgery, we value you and your results. This is why our providers developed a technique meant to limit the pain and side effects you experience. They will also customize your lip injections to fit your anatomy and goals. For example, there are a variety of methods, some require multiple injection sites. Others use a thin cannula to fill the lips.
Our office is located off Broadway in Seattle where we offer private treatment rooms where we keep you comfortable during the entire process. Your entire appointment–sans consultation–should take at most a half hour to complete. You can feel confident in your Seattle and Tacoma lip filler treatments in the hands of our gentle providers. 
We cater every cosmetic procedure to fit you and use state-of-the-art materials and techniques. Our methods will leave you with the plump lips you desire. With the experience, knowledge, and gentle touch we provide the premier care necessary for the best lip filler Seattle and Tacoma offers.
To schedule a consultation with one of the expert providers at Seattle Plastic Surgery, call us at 206-324-1120. Chat with us using the icon on the lower left, or contact us online.    
STILL HAVE QUESTIONS?
Give us a call at 206-324-1120.Or, chat by clicking the icon in the lower left hand corner of your screen. Additionally, you can contact us by filling out the form above.