MONS PUBIS LIFT SEATTLE & TACOMA | MONSPLASTY SEATTLE & TACOMA
Aging, having children, medical conditions, and many other factors of life leave an impact on our bodies. Most people expect their face and body to change, however, not all of the specific changes that occur are expected. For example, the pubic mound can often begin to collect fat, extra skin, or generally protrude over time. Some people also may naturally have a more prominent mons pubis. This can cause cosmetic problems with the way clothing fits or how a person feels about their appearance. However, it may also cause medical issues such as during urination or sexual performance. Luckily, a surgery known as a monsplasty may aid in alleviating these cosmetic and medical dilemmas. Dr. Craig Jonov at Seattle Plastic Surgery offers the best monsplasty Seattle provides.
OVERVIEW: WHAT IS A MONSPLASTY?
A monsplasty, also called a mons pubis lift, reduces the projection and prominence of the pubic mound. It removes excess skin and fat. The procedure may also tighten the skin in the area and provide a general lift. In general, the procedure is short, low risk, and well tolerated by most patients.
Anatomy
The pubic mound is the triangle-shaped fat pad between the lower stomach and genitals. It is present in both men and women, though it is more visible for women. This means that the mons pubis affects the way a woman can look in tight clothing. A protruding pubic mound can make a woman feel negative or avoid wearing certain types of clothing. Therefore, women more commonly undergo the procedure.
Men can experience mons pubis fullness as well, although it is less common. Men, however, are more likely to have medical problems associated with fullness in the pubic mound.
Benefits
For patients who are unhappy with the appearance of their mons pubis, or who experience medical problems due to it, there are many benefits to undergoing a Seattle monsplasty procedure. Among some of the benefits include:
Flatter pubic mound

Removal of extra skin and fat

Complements the results of a tummy tuck

Improved self image and self esteem

Clothing fits better

Can make it easier to urinate

Reduce or eliminate pain during intercourse for some patients

Short surgical time

Minimal recovery

Little post-operative pain

Scarring easily covered with undergarments and clothing
Contact Us Today
Reasons For A Mons Pubis Lift
There are many reasons that a patient may seek out monsplasty surgery in Seattle. As mentioned above, both cosmetic and medical factors play a role. When you come in for a consultation with Dr. Jonov, he will want to understand your concerns and motivations for surgery. Since every patient has their unique reasons, knowing yours will allow him to better individualize your surgery. 
Among some of the reasons for mons pubis lift surgery include:
Extra skin left over after weight loss or fluctuations

Genetic predisposition

Having children

Sagging due to age

Previous C-section cause the pubic mound to look large

Hormones

Uneven fat deposits

Stubborn fat

Treat urinary issues (often difficulty urinating)

Pain during sexual intercourse
Everyone was super professional & put me at ease immediately. Would definitely recommend!

Lane
If I could give ten stars I would haha. Very attentive & caring staff, made me feel very welcome & comfortable. Also the nurses/staff took great care of me prior & after my procedure.

Karolina
Always such a lovely and welcoming experience. I never feel embarrassed about the questions or concerns I have. Definitely a life long customer!

Kayla
Great customer service, extremely helpful and individualized. Dr. Craig Jonov is excellent! Overall an extremely easy process with his experience.

Amber
MONSPLASTY TECHNIQUES
During your consultation, once Dr. Jonov identifies you as a good candidate, he will then describe the surgery. There are a few different ways to correct the protrusion of the pubic mound. The one Dr. Jonov recommends will depend on your specific anatomy and goals. 
Liposuction
The simplest and least invasive surgical option for correcting the mons pubis is using liposuction. This is best for patients who simply have some extra fat in the area and have otherwise good skin laxity. Liposuction is likely ideal for younger patients who lost some weight or genetically predisposed to carry fat in the pubic area.
During pubic liposuction surgery, Dr. Jonov will first inject tumescent to break up the fat. He will then make tiny incisions to insert the liposuction cannula and remove the fat. Overall, the procedure takes around an hour.
Traditional Technique
The traditional surgical technique used for a mons pubis lift involves a small incision towards the top of the mons pubis. It is generally hidden in the space between the abdomen and mons pubis and is easily covered with underwear later on. Through this incision, Dr. Jonov will remove excess tissue, may liposuction excess fat, and will pull the remaining skin tight. This provides a lifted, flatter look.
This is the most commonly used surgical technique and is suitable for most candidates. When performed on its own, a mons pubis lift usually takes around an hour, sometimes two. In most cases, it is a relatively short surgery.
Combination With Abdominoplasty
The location of the incision is roughly the same as a tummy tuck incision. For patients who may benefit from an abdominoplasty as well, Dr. Jonov can perform the procedures at the same time. He will remove extra skin and fat and reposition the existing tissue for a flatter, more contoured appearance. 
Combining a tummy tuck and monsplasty generally involves a longer surgery and recovery time. Having both the procedures at the same time, however, can lead to a fantastic result and complement each other well.
Before & After Monsplasty With Tummy Tuck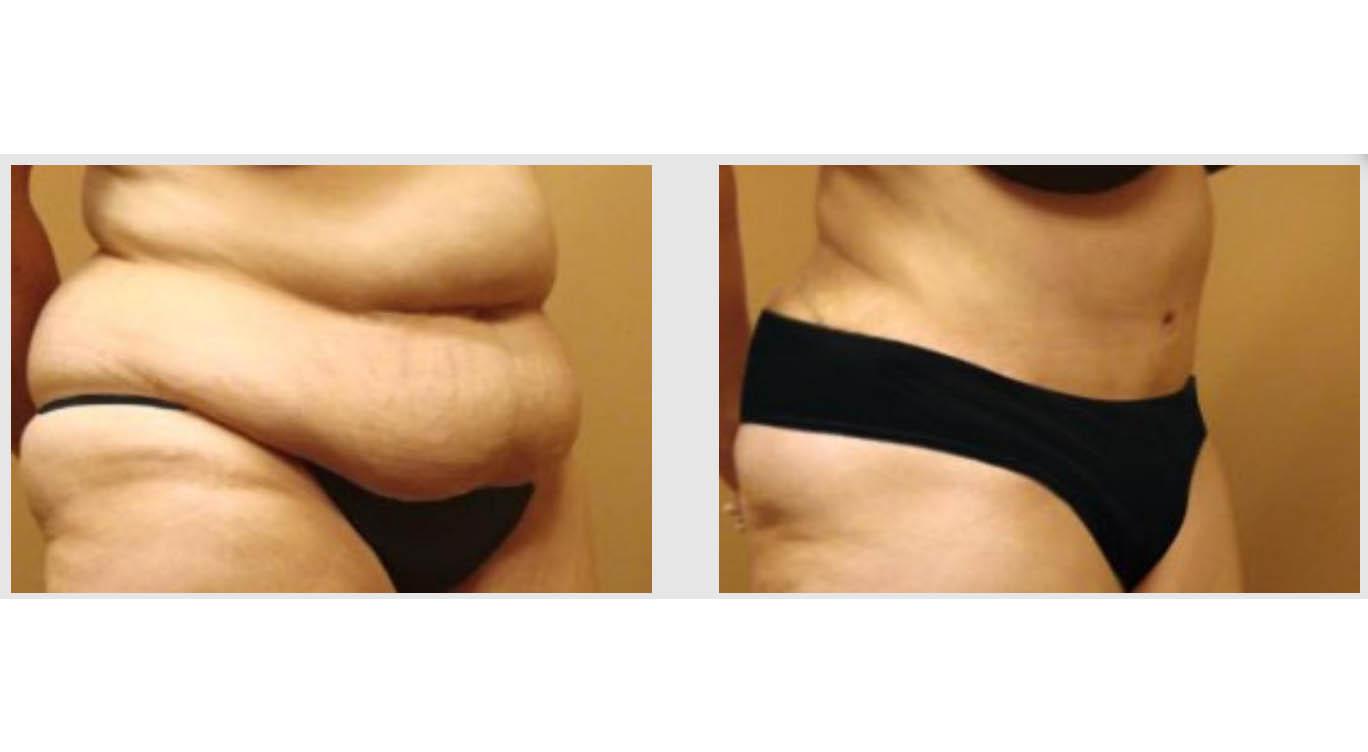 CANDIDATES FOR A MONS PUBIS LIFT
Most people with unwanted fullness on the pubic mound are likely a good candidate for a mons pubis lift in Seattle. To be a candidate, you must have protrusion of the mons pubis in some way, generally healthy, and realistic expectations for surgery. Certain major medical conditions may hinder your candidacy if not well controlled, or if they make surgery too risky. 
Ideally, plastic surgery patients are non-smokers. If you do smoke, Dr. Jonov will ask that you quit during recovery because it can hinder healing and put you at higher risk for complications. However, it is best if you quit smoking well before surgery as well. Otherwise, as long as Dr. Jonov feels you understand the procedure and possible results, he will likely deem you a candidate.
RECOVERY
The recovery for a mons pubis lift in Seattle varies depending on the surgical technique used. However, it is generally a well tolerated recovery. After waking up, you will stay in recovery for a short time before Dr. Jonov releases you to your caregiver.
Dr. Jonov typically recommends a week off work and asks you to refrain from strenuous exercise for several weeks. Light aerobic exercise may begin around two weeks following surgery, but patients should follow Dr. Jonov's instructions during postoperative appointments.
Patients who have pubic area liposuction tend to take less time off and return to activities faster. If you undergo a tummy tuck with your monsplasty, you may have an extended recovery time and instructions. Dr. Jonov will provide personalized recovery instructions to promote the best possible recovery and results.
FREQUENTLY ASKED QUESTIONS
How Do I Prepare For Surgery?
If you have any long term changes to make before surgery, Dr. Jonov may provide some instructions at your consultation. This may include obtaining certain medical clearances. Otherwise, you will attend a pre-operative appointment about three weeks before surgery. At this appointment, your pre-op coordinator will review the procedure, recovery instructions, and answer any questions you have. 
Pre-op instructions can vary based on a patient's medical history. For example, Dr. Jonov may recommend patients temporarily discontinue certain medications, stop smoking, or take certain medications before surgery.
Can I Add It To A Mommy Makeover?
Yes, it is possible to add a mons pubis lift to a mommy makeover. Since a tummy tuck is often part of a mommy makeover, a monsplasty can be performed during your tummy tuck surgery. Even without a tummy tuck, Dr. Jonov can easily add a mons pubis lift to your mommy makeover.
Is A Mons Pubis Lift Permanent?
Generally, the results of a mons pubis lift are permanent or long lasting. Weight fluctuations, aging, and having children can all impact the look of the pubic area following monsplasty. To promote the best lasting results, it is usually recommended patients have finished having children and are at a stable weight.  
What Are The Risks Of A Monsplasty?
Monsplasty, like any surgical procedure, carries some risks. Typical surgical risks like infection, prolonged swelling and bruising, and complications of anesthesia are present. Other risks may include:
Long term numbness

Visible or raised scarring

Hematoma

Asymmetry or unsatisfactory results
When you have a qualified plastic surgeon like Dr. Jonov perform your Seattle monsplasty, the risks are less likely. Dr. Jonov will also ensure you are a good candidate for surgery and a low risk surgery candidate.
How Much Does A Monsplasty Cost In Seattle?
A monsplasty at Seattle Plastic Surgery starts at $3,500. The price can fluctuate based on the specifics of your procedure. You can find the starting prices for procedures you are interested in via Price Simulator™ and our price list. For more information about our financing options, visit our financing page.
THE BEST MONSPLASTY SEATTLE AND TACOMA OFFERS
Dr. Craig Jonov is an accomplished plastic surgeon with years of experience performing body contouring surgeries. One of his most popular procedures involves a tummy tuck with mons pubis lift. With over two decades of experience, Dr. Craig Jonov provides the best mons pubis lift in Seattle and Tacoma. 
Seattle Plastic Surgery is a high end plastic surgery clinic located in Seattle, WA. Centrally located in Seattle's medical hub, First Hill, Seattle Plastic Surgery serves patients from around the world. Performing a wide range of surgical and non-surgical procedures, Seattle Plastic Surgery is your top destination for all cosmetic needs.
To schedule a consultation, call us at 206-324-1120. You can also reach out to us online via Price Simulator™, chat, or contact form.
STILL HAVE QUESTIONS?
Give us a call at 206-324-1120 or chat by clicking the icon in the lower left hand corner of your screen additionally you can Contact Us by filling out the form below.