Mini Face Lift
(Local Anesthesia)
$6995
Mini Face Lift
(General Anesthesia)
$7995
Face Lift
(Local Anesthesia)
$7995
Face Lift
(General Anesthesia)
$9995
Why is a Facelift by Dr. Santos the Best Facelift in Seattle?
If Dr. Santos, is undoubtedly one of the best facelift surgeons in Seattle, having performed over 4,000 facelifts in his career.
MALE FACELIFT IN SEATTLE AND TACOMA
It may seem intuitive that a facelift procedure is performed on both men and women. However, men only account for around 9% of the total cosmetic surgeries performed in 2019. The facelift was among the top five most popular cosmetic surgeries for men, however, many more women still underwent the procedure than men. Facelifts for men continue to grow in popularity year after year because an increasing number of men are beginning to desire an improvement of their facial appearance. It requires an experienced and talented plastic surgeon, like Dr. David Santos to perform a male facelift safely and accurately. Dr. Santos at Seattle Plastic Surgery offers male facelift procedures to men in the Seattle and Tacoma areas. 
MEN AND WOMEN AGE DIFFERENTLY
Male facelifts require differing techniques for many reasons which include anatomical differences, differing cosmetic values, hormone contrasts, and health reasons. One of the main factors that drives the surgical technique variations between facelifts performed on men and women is that they tend to age differently.
Men's skin is thicker than a woman's due to higher testosterone levels and increased blood flow in the face. This causes men to see their first signs of aging in the jowls and neck versus women who see aging first happen in the upper and midface. While every person will age individually based upon their genetics and lifestyle, male facelift patients tend to want to focus on the lower face.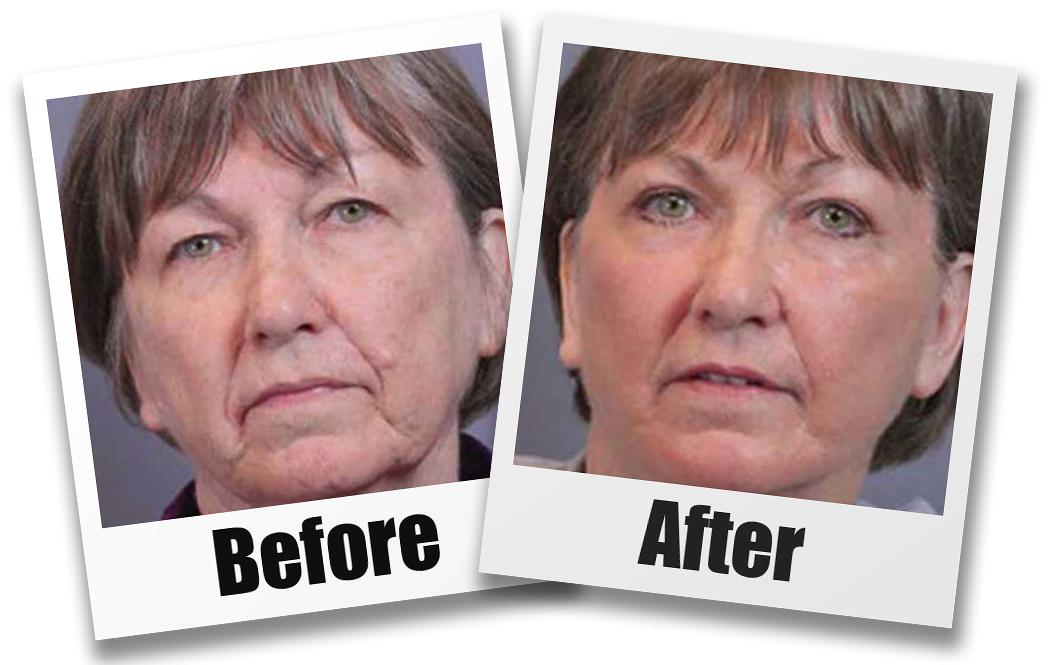 Facelifts Can Reduce Visible aging by up to 20 years!
WHAT IS THE PRICE OF A MALE FACELIFT?
Dr. Santos, on average, charges $7,995 for his Tacoma male facelift under local anesthesia. If you choose general anesthesia, it is $9,995. The price can vary once Dr. Santos evaluates your needs and determines a surgical plan. Dr. Santos is the best person to give you an accurate idea of the total cost of your male facelift in Tacoma.
Seattle Plastic Surgery works with outside financing companies like Alphaeon and Care Credit to make your male facelift fit your budget. You can visit our financing page to learn more about these options and find links to apply.
Interested In A Facelift in Seattle?
Fill out the form below to schedule a free consultation or ask us any questions you may have.
Maintaining Masculinity
One of the prevalent worries that male patients have is that they will lose their masculine features, or that the fact they underwent a facelift will be obvious. When a professional like Dr. Santos performs your facelift, you should retain your individual features and the surgical intervention will not look obvious. 
Dr. Santos and the Seattle Plastic Surgery team value natural looking results that make you look 10-20 years younger, without the scarring or surgery being obvious. Often, for men hoping to improve their masculine appearance, other procedures can be performed with a facelift to offer the ultimate results. 
For example, CO2 laser resurfacing can provide a more even skin tone and treat sun damaged skin. Blepharoplasty can clear eyelid sagging and create a better proportioned face. Rhinoplasty can resolve unsightly bumps or humps on the nose and provide a masculine, flattering nose contour. Chin implants or other similar procedures are possibilities during facelift surgery to provide a strong, chiseled chin. 
The tightening and removal of excess skin and fat that happens during practically every facelift procedure can help address the jowls for a sleeker, more masculine jawline. Choosing a capable facial plastic surgeon will help you see the results you want from your Seattle male facelift surgery. 
Complementary Procedures
As previously discussed, many other cosmetic procedures can work with a facelift to provide even better, longer lasting results. For men, especially, complementing procedures can help ease their worries and improve their overall results. Popular procedures added onto a facelift for men include:
MALE FACELIFT: BEFORE AND AFTER
At Seattle Plastic Surgery, we know the impact a well-performed facelift can have on your work, social, and everyday life. We orient on an outcome-based mantra wanting to help you discover and live with the best results for your face. Throughout the entire process, Dr. Santos will work with you to cater your male facelift to your unique features, health, and expectations for final results.
Your Consultation
Starting off with your consultation at Seattle Plastic Surgery, Dr. Santos will evaluate you to determine if you are right for the procedure. This also gives you an opportunity to ask questions you have and gain an understanding of the procedure. Firstly, Dr. Santos will ask about your facial concerns and reasons for seeking a facelift. Next, he will take your full medical history to understand your health and lifestyle. Both of these factors play a large part in the way your face ages and how your body will react to a facelift surgery. It can also determine the results you see afterward. Finally, Dr. Santos will conduct an examination of your face, neck, and other surrounding structures. 
If Dr. Santos determines you are a good match for a male facelift in Seattle, he will guide you through your surgical options, while helping you determine which will suit your needs. He will also help you visualize your results and what is possible concerning your customized procedure.
Seattle Facelift Surgery
Approximately three weeks before your scheduled facelift surgery in Seattle, you will come into our office for your pre-operative appointment. Here, the Seattle Plastic Surgery team will give you instructions to follow to promote a successful and healthy facelift. These instructions could include: beginning or temporarily discontinuing certain medications or supplements, directions for the day of surgery, preparations you will need to make for the day of and after surgery, and finally, skin care instructions. 
When the day of your male facelift in Seattle comes, Dr. Santos or a licensed anesthesia provider will place you under either general or local anesthetic with a light oral sedative. Regardless of your anesthetic choice, you will remain completely comfortable and not completely awake. Dr. Santos will then make the incisions specific to your male facelift surgery. He will be precise and careful to create the smallest and least invasive incision possible.
Through this incision he will remove excess skin and fat that contribute to a saggy facial appearance. After he finishes all necessary removals, he will tighten the skin and facial tissues to create a youthful, yet natural looking facial appearance. Dr. Santos will finish your male facelift surgery by closing your incisions carefully and place anti-scar tape, the first step in our proprietary scar treatment system.
Your specific facelift may require more precise care or other steps to provide you a good result. Dr. Santos will ensure that you understand every step of your male facelift in Seattle before the day of your surgery.
Recovery
You will need someone to drive you home after your facelift and care for you for at least a day following surgery. Many facelift patients find that they can function reasonably well at home within two days. You should use caution and refrain from strenuous exercise for at least two weeks. Certain head movements could hinder the healing of your incisions, so you should avoid activities that require quick head movements like driving. 
Dr. Santos will tell you when you can return to work. Usually, it depends on how you are healing and the type of job you have. On average, most patients return to work within ten days after their facelift. To aid in your recovery, Dr. Santos will recommend a proprietary scar treatment protocol meant to reduce your scarring during the healing process itself. 
Swelling and bruising can last up to ten days postoperatively. Usually, it should resolve within a week or so, and becomes possible to cover with makeup within a week. Dr. Santos uses every caution and technique possible to minimize these surgical side effects. Pain medication is typically only needed for a few days after your Seattle male facelift. 
Like your male facelift surgery, facelift recovery is not one-size-fits-all. While Dr. Santos has curated many recovery protocols and methods to increase patient comfort and safety, he may give you more individualized recovery instructions in addition to his typical recommendations.
BENEFITS OF A TACOMA FACELIFT FOR MEN
Following your male facelift in Tacoma, you may enjoy the many benefits of the procedure. There will always be personal benefits to a cosmetic procedure that every patient will experience. Among a few of the common benefits male facelift patients commonly express are:
Improved jaw contour/ profile

Smoothing of wrinkles and fine lines

Overall younger appearance

Tighter looking skin

Improvement of thinning or sun damaged skin

Removal of excess skin and fat in the surgical areas
Dr. SANTOS: MASTER OF THE FACELIFT
Dr. David Santos has over twenty years experience performing facial plastic surgeries, most notably, facelift procedures. He has performed or overseen thousands of facial procedures throughout his career and continues to learn and educate in the field. 
As a facial expert, Dr. Santos understands how to achieve the best looking results for every individual. He takes special care to maintain your one-of-a-kind features, while providing a younger look that will last without making it obvious you had surgery.
Local Anesthesia
Among one of Dr. Santos most critical accomplishments and contributions to the facial plastic surgery field is his championing of the use of local anesthesia. Local anesthesia is similar to what is used in the dentist's office, it numbs only the surgical area. Dr. Santos uses this concurrently with a light oral sedative for patient comfort. 
Using local anesthesia makes facial plastic surgery procedures more accessible to people of all ages and with certain medical conditions. General anesthesia comes with risks and side effects that can be uncomfortable at best and dangerous at worst. While not everyone has a negative reaction to general anesthesia, it is important to note how local anesthesia cuts these risks and, therefore, allows Dr. Santos to perform safer surgeries. 
SEATTLE AND TACOMA'S  PREMIER MALE FACELIFT AT SEATTLE PLASTIC SURGERY
Seattle Plastic Surgery has provided the Greater Seattle area with the best in facial, body, and breast cosmetic surgery for over two decades. Facial plastic surgery specialist, Dr. Santos, provides the gold standard of facelifts with a full understanding of facial structures and the skin. Having performed thousands of facelifts, many of those have been on men, making him one of the most experienced male facelift surgeons in the Seattle area.
Our office is located on First Hill in Seattle. We offer off-street parking and many amenities like a variety of beverages and freshly baked cookies. Your comfort during your visits to Seattle Plastic Surgery is our utmost priority, which is why we have private treatment and consultation rooms, as well as a private keyed elevator for after your facelift surgery. 
To schedule a consultation with Dr. Santos at Seattle Plastic Surgery, call us at 206-324-1120 or contact us online using the form above.
Dr. Santos On The Plastic Surgeon Podcast
STILL HAVE QUESTIONS?
Give us a call at 206-324-1120 or chat by clicking the icon in the lower left hand corner of your screen. Additionally, you can contact us using the form above.