FAT TRANSFER TO BREASTS IN SEATTLE AND TACOMA
From year to year, breast augmentation remains one of the most sought after plastic surgery procedures in the nation and worldwide. There are many options for women seeking breast augmentation including saline breast implants, silicone breast implants, and fat transfer. Some patients may benefit from other breast procedures like a breast lift in conjunction with or instead of an augmentation. Dr. Craig Jonov is an expert breast surgeon who specializes in the most advanced breast augmentation techniques, including fat transfer to the breasts. Seattle Plastic Surgery offers the best fat transfer to the breasts Seattle and Tacoma have to offer.
BREAST AUGMENTATION WITH FAT: HOW DOES FAT TRANSFER TO THE BREASTS WORK?
Fat transfer to the breasts works by harvesting fat from one part of the body and transferring it via injections into the breasts. At this point, the fat is left to attach on it's own. On average, over half of the injected fat takes hold in the breasts. 
Once attached, the fat will act just like other fat cells in the body. Dramatic weight gain and loss will affect this fat just like other fat in the body. This means that fat transfer to the breasts feels the most natural of any breast augmentation option because it is natural tissue from the body.
Where Does The Fat Come From?
The fat comes from the patient's own body. Fat for a breast fat transfer will not come from a donor or foreign body. This means that the fat is less likely to be rejected because it came from the patient's body. 
Dr. Jonov can take the fat from nearly any body area viable for liposuction. He can also perform liposuction on multiple areas of the body. The patient needs to have enough fat to harvest, so thin patients with a low body fat percentage may not be a good candidate.
Possible fat harvesting areas can include:
Upper and/or lower abdomen

Inner and/or outer thighs

Hips

Upper and/or lower back

Waist
One of the most common liposuction areas utilized for fat transfer to the breasts is the abdomen. At a consultation, Dr. Jonov can discuss the possible fat harvesting areas and determine which ones will work best for your customized procedure.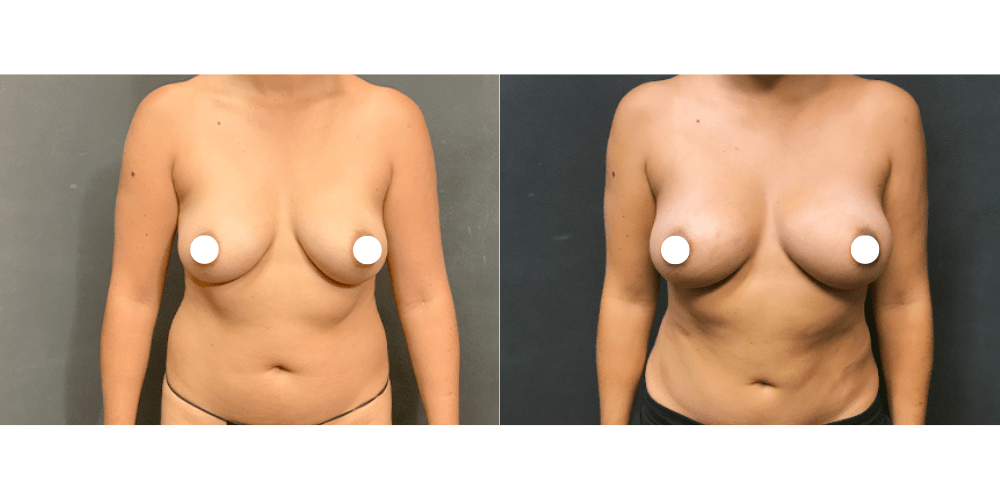 BREAST IMPLANTS VS. FAT TRANSFER
The routine way to perform breast augmentation is with breast implants. Breast implants come with a guaranteed size chosen before the procedure and come in a variety of shapes and profiles. Most healthy women are good candidates for breast implants and many prefer them due to their more predictable results.
Breast augmentation using fat can have many advantages for patients with certain goals. Many patients do not want a foreign implant, may want only a moderate augmentation, or other personal reason for not wanting breast implants. Fat transfer to the breasts can also be used to fill in shape irregularities.
Breast implants and fat transfer can both provide similar results. The table below details the main differences between the two breast augmentation procedures.
Breast Implants
Fat Transfer

Utilizes an implant (made of silicone)

Can provide dramatic breast size increases

Comes with many options to improve breast profile and shape

Rare complications like capsular contracture and implant rupture possible

In the rare event of an unsatisfactory result, breast revision surgery often required

Uses a minimal incision on or near the breasts

More predictable results

Uses fat from the patient's body

Typically produces size increases ranging from one to two cup sizes

Limited profile increases

Can treat minor shape irregularities

Capsular contracture and rupture impossible because of no breast implant

Can be used with breast implants, especially to hide rippling

Multiple procedures can be performed to inject more fat over time

No major incision on the breasts
The two procedures also have many similarities. Both are considered safe procedures and can treat concerns like breast asymmetry. Fat provides the most natural feeling results, but gummy bear breast implants and other implant options can provide a natural look and feel. 
Contact Us
Determining The Best Breast Augmentation Option
The breast augmentation option and technique that will best meet your goals will depend on many factors. Discovering the option that will serve your needs best takes research and looking into your own values and motivations. When determining whether breast implants or fat transfer you should consider:
The Results You Want: Do you want dramatic results? Or something more subtle? Do you only want to fill in a divot left after a biopsy? Answering these questions can guide you to finding which option is most likely to meet your goals. 

Your Medical History: Do you have a history of rejecting implanted materials? Do you have any major unmanaged conditions? Certain procedures and types of breast implants may be more compatible depending on your medical history. 

Your Lifestyle: Do you smoke? Does your weight often fluctuate? Are you active? These all can influence your decision for choosing to augment your breasts with fat or breast implants.
At your consultation, Dr. Jonov is happy to explain each option and how one may benefit you more than another and the specifics of each procedure. 
SEATTLE FAT TRANSFER TO BREASTS: BEGINNING TO END
Consultation With Dr. Craig Jonov
The first step to fat transfer breast augmentation is to schedule a plastic surgery consultation in Seattle. At your consultation at Seattle Plastic Surgery, Dr. Craig Jonov will meet with you to discuss your options. Firstly, he will want to understand what you want to achieve with breast augmentation. Next, he will ask about your medical history and lifestyle. Finally, he will examine your breasts and possible fat donor areas. 
At this point, he will discuss your breast augmentation options, including whether you are a good candidate for fat transfer to the breasts. You can ask follow up questions and decide which breast augmentation you like best. 
Before the end of the consultation, you will receive a price quote for the procedure. You can find the price for fat transfer to breasts on our Price List or Price Simulator. However, the price may change if you add more areas of liposuction, additional procedures, or based on other factors of the procedure.
Before Surgery
Around three weeks before the scheduled surgery date, you will come to the office for a pre-op appointment. Here, a pre-operative coordinator will go through all the necessary paperwork and give you instructions to follow for the weeks leading up to the procedure.
In general, patients may need to stop certain medications, stop smoking, and refrain from drinking before surgery. These instructions may also include what to do the day of surgery. 
Fat Transfer To The Breasts Procedure
On the day of your Seattle fat transfer to the breasts, you will come to the Seattle Plastic Surgery office. A member of our team will greet you and begin the check in process. They will take your vitals and prepare you for surgery. Dr. Jonov will then greet you and make any necessary pre-surgical markings. 
A licensed anesthesia provider will then place you under general anesthesia. To begin the surgery, Dr. Jonov will harvest the fat from the donor area using liposuction. If you choose multiple areas of lipo, he will liposuction both areas. Once Dr. Jonov has enough fat, he will purify it to separate out nonfat materials. This leaves only the pure fat for injection which lowers the risk of rejection. 
Finally, using either a thin cannula or needle, Dr. Jonov will inject the fat into your breasts. This may take some time as he will precisely inject the fat to ensure a good result. This also allows him to target your specific goals.
Immediately After Surgery
When you wake up from surgery, you should notice an immediate difference in the size and shape of your breasts. In most cases of fat transfer to the breasts, Dr. Jonov transfers slightly more fat than necessary to meet your goals. This accounts for a percentage of fat loss and promotes a better result.
As an outpatient surgery center, you will go home the same day. A caretaker should drive you home and stay with you for the first 24 hours following surgery. You may experience some side effects like swelling, redness, pain, and general discomfort. To keep you comfortable, Dr. Jonov will prescribe pain medication and antibiotics.
What To Expect From Breast Fat Transfer Recovery
Most breast augmentation patients whether utilizing breast implants or fat transfer, return to work in about a week. Most side effects should subside in about a week. You will need to limit strenuous activity for at least two weeks after surgery and Dr. Jonov may restrict lifting depending on the specifics of your surgery. 
Due to the minimal incisions necessary for fat transfer, fat breast augmentation patients often have a shorter recovery time than traditional breast augmentation patients. However, final results will still take around nine months to settle in. Fat needs to settle, skin needs to contract, and swelling subside before final results become visible.
THE BEST SEATTLE BREAST AUGMENTATION AT SEATTLE PLASTIC SURGERY
Dr. Craig Jonov of Seattle Plastic Surgery is a qualified and accomplished plastic surgeon. He performs multiple breast augmentation procedures every week. He has experience using various types and styles of breast implant as well as various breast augmentation techniques.
Seattle Plastic Surgery serves patients both within and outside of the Greater Seattle area. As one of the best plastic surgery practices in Washington, patients often travel for their fat transfer to the breasts surgery. We offer concierge services to ensure you can stay in town for required post-operative appointments. 
To schedule a consultation with Dr. Craig Jonov, call us at 206-324-1120. You can also contact us online using the contact form on this page, through chat, or text.
Still Have Questions?
Give us a call at 206-324-1120. Or, Chat by clicking the icon in the lower left hand corner of your screen additionally you can contact us by filling out the form above.