Procedure Time: 30 Minutes
What is KYBELLA
Many patients seeking liposuction, chin implants, or other surgical procedures often have concerns with their double chin. These solutions can sometimes get rid of a double chin. However, there is a simple, non-surgical solution that can dissolve the fat in your chin. Known as Kybella treatments, this injectable form of deoxycholic acid can be performed in as little as 15 minutes. Seattle Plastic Surgery offers Kybella to Seattle, Tacoma, and the surrounding areas.
Fill out the form or call us at 206-324-1120
WHAT CAUSES A DOUBLE CHIN?
Submental fat, or the collection of fat underneath the chin, can happen for a variety of reasons. Fat alone is not always the only culprit of a double chin. Sometimes the combination of fat and loose skin works together to give you a double chin. As far as the larger causes of a double chin, there are many factors that contribute to the accumulation of submental fat. A few of these factors include: 
Genetics: Some people are simply genetically predisposed to have a double chin, regardless of their overall body type or weight. Often, diet or exercise will not work to totally smooth out a double chin. 

Aging: As we age, fat begins to become move and or accumulate in new areas. Skin also loses laxity and can draw attention to a double chin. 

Weight fluctuations: Gaining weight, even temporarily, can cause a stubborn double chin. Your normal weight fluctuations should not affect the look of your face, but a significant gain can show in your face.
Whatever the causes of your double chin, it can be almost impossible to get rid of it with traditional weight loss methods. This is where Kybella comes in. This quick procedure allows you to lose the double chin without surgery or downtime.
INTERESTED IN KYBELLA SEATTLE?
Fill out the form below to schedule your appointment or to ask us any questions you may have.
WHEN WILL I SEE RESULTS?
Results from Kybella injections will take time to appear as the deoxycholic acid works to dissolve the fat. You can expect to see some subtle results after your first treatment, but they will become more pronounced and dramatic over time. You and your provider can monitor the results at each appointment and after the first one or two treatments, you can get a better understanding of how many vials you need.
Every Tacoma Kybella patient will require a different number of vials. It is not always evident how many vials you will require prior to treatment. It depends on your own cosmetic goals and how your body reacts to Kybella injections. Many achieve their desired results after 2-3 sessions.
HOW DOES KYBELLA WORK?
Deoxycholic acid–the main ingredient of Kybella–is a bile acid in your body that breaks down fat. Kybella works similarly to the way the acid does in the body. It destroys fat cells and renders them unable to store fat. This reduces your double chin and offers results that should not require future treatment once your you reach your desired results.
Kybella Seattle Procedure
The process for Kybella Seattle is quick and simple. Sometimes taking as little as 15 minutes in our private office, our providers will inject small amounts of Kybella at multiple points on your chin. They will expertly target the submental fat to ensure that the Kybella is evenly distributed and favoring the areas you need it most. Usually, only one vial is injected during an appointment.
While the injections are not overly painful, your provider will use a topical anesthetic to ease the Kybella injections and ensure your comfort. After the injections, you can leave our office and return to your daily activities.
Normally, our providers will administer Kybella injections in Seattle every 4-6 weeks until you are happy with the results. Your treatment may vary depending on your individual needs and goals.
KYBELLA SEATTLE BEFORE AND AFTER PHOTO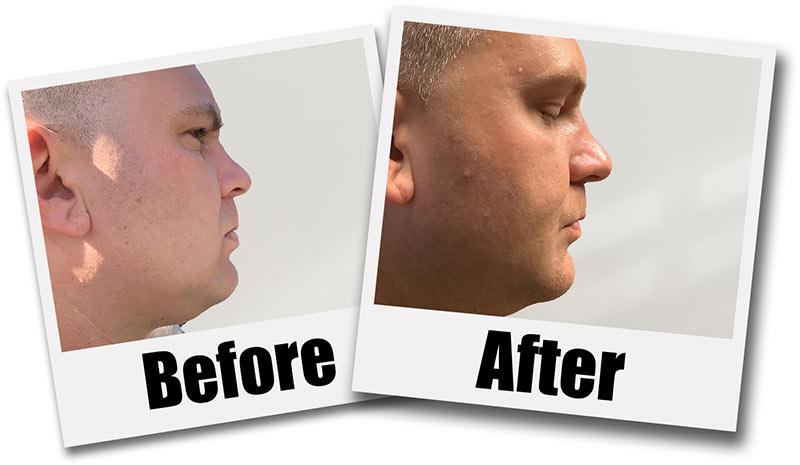 WHY CHOOSE KYBELLA OVER SURGICAL PROCEDURES?
When it comes to getting rid of a double chin, there are many options, including Kybella. However, other surgical options exist that can provide the same, permanent results. The most common is liposuction. Some cases of double chin may require surgery, rather than Kybella, due to skin laxity or loose skin in the area. Kybella does not tighten the skin, so a neck lift or mini face lift may better address these concerns.
When Kybella is a possibility, it is usually the best first option because you can always choose to undergo a surgical procedure later if Kybella does not adequately achieve your goals. When it comes to choosing between Kybella in Tacoma or other surgical alternatives, your provider can help you determine the treatment option best for you.
Kybella

Liposuction (or other surgical options)

No incisions or scarring

Little/no downtime

Non-invasive

Quick, simple procedure

Usually requires multiple treatments for optimal results

Permanent results

Alternative for those that surgery is not possible

Usually requires small incisions, although little chance of major scarring

Basic recovery and downtime needed

1 hour or more required for procedure

Permanent results

More risk than Kybella
Ultimately, Tacoma Kybella and surgery can offer similar results that can last a lifetime. The option best for you will depend on your goals, medical history, and preference. In a consultation with one of our premier providers, you can discuss your particulars to allow them to best create a customized treatment plan.
Is Kybella Safe?
The FDA approved Kybella for treatment of submental fat. As a non-surgical procedure, Kybella is widely considered safe. Experienced and qualified medical providers, like a plastic surgeon or nurse injector, are the only ones who should administer your Seattle Kybella.
IS THERE ANY RECOVERY AFTER KYBELLA INJECTIONS?
Seattle Kybella does not require any downtime or recovery. Patients typically return to work and daily activities with little or no interruption of their normal lives. You may experience some minor side effects like bruising or pain, but these rarely require special attention or concern. Any side effects usually go away within a few days. Please be sure to contact us immediately if they do not.
Your provider may advise you not to take any over-the-counter painkillers like ibuprofen or Aspirin. These types of medications could put you at a higher risk of rare complications. 
Major complications from Kybella injections are extremely rare, especially when choosing an expert provider like those at Seattle Plastic Surgery. Following your provider's instructions for after treatment will ensure the safest Kybella Seattle offers.
HOW DO I KNOW IF KYBELLA INJECTIONS IS RIGHT FOR ME?
If you have a double chin that is resistant to a healthy lifestyle, you may be a candidate for Kybella. However, like any medication or medical procedure, Kybella is not right for every person. For those with a major medical illness or disease, you should inform your plastic surgeon so that they can decide if are a Kybella candidate.
Conditions and situations that may mean that Kybella isn't right for you can include: cancer, injuries affecting the treatment area, blood or bleeding disorders, pregnancy or breastfeeding, any major medical illness that is not managed, or if you are taking blood thinners or medications or supplements that can have that effect.
Finally, knowing what to expect and having realistic expectations will allow your provider to craft a better-catered Kybella treatment plan. If you have goals or expectations for something that Kybella cannot realistically provide, our providers can help you find the right procedure for you.
WHAT IS THE KYBELLA COST IN SEATTLE?
At Seattle Plastic Surgery, the Kybella cost Seattle will vary depending on the provider you choose and how many vials you require. With a cosmetic surgeon, your Kybella treatment is $1000 per vial and with a qualified nurse injector Kybella costs $530 per vial. 
Our prices include one vial of Kybella and all other related fees per appointment. The final cost of your Kybella treatment will depend on how many vials you require and the results you want to see. We work with financing companies such as Care Credit and Alphaeon to help make your Seattle and Tacoma Kybella affordable for your budget.
PREMIER KYBELLA SEATTLE & TACOMA PROVIDERS
The providers at Seattle Plastic Surgery have refined their techniques to reduce side effects and provide the best Kybella results in Seattle. Our office is private and a convenient location on First Hill in Seattle. 
For the past two decades, Dr. Jonov has administered the leading injectables in the Greater Seattle area. His experience includes injectable products including fillers, Botox, and other similar products. Dr. Jonov continuously updates his methods and products to give patients the best results. 
Along with Dr. Jonov, our nurse injectors are some of the most qualified and skilled injectors in the Seattle area. Through extensive training, they up to speed on the newest and safest Kybella injection techniques. They often have more open availability than Dr. Jonov and can help you get your Kybella injections soon, leading to a quicker reduction in your double chin.
To schedule a Kybella consultation with a premier provider at Seattle Plastic Surgery, call us at 206-324-1120 or contact us online using the form above. 
STILL HAVE QUESTIONS?
Give us a call at 206-324-1120 or chat by clicking the icon in the lower left hand corner of your screen additionally you can Contact Us by filling out the form above.