INVERTED NIPPLE REPAIR SEATTLE AND TACOMA
The nipples play an important part in both the aesthetics and function of breasts. Aesthetically, the nipple sits at or near the center of the breast and can contribute to the look of symmetry. Nipples that are too large, small, or inverted may cause distress or worry about the overall look of the breasts. As far as function, the nipple is imperative to breastfeeding. Therefore, damage to the nipple or certain anatomy can hinder the ability to breastfeed. Luckily, various surgical procedures exist to correct these problems. One fixes both an aesthetic and sometimes functional problem–inverted nipples. Dr. Craig Jonov at Seattle Plastic Surgery offers the best inverted nipple repair Seattle and Tacoma offers.
OVERVIEW: INVERTED NIPPLE CORRECTION
Inverted nipple surgery goes by many names, including inverted nipple repair and inverted nipple correction. Whatever you call it, the procedure pulls out inverted nipples and stitches them into an outward position. In most cases, the procedure is permanent. 
Invert nipples are an anatomical feature present in around 10% of people. When a person has inverted nipples, the nipples either lay flat or are retracted into the breast. Sometimes the nipple may project, and in other cases, it may not at all. Inverted nipples can also affect the ability to breastfeed and make it difficult or impossible. This is often when patients seek a permanent, surgical correction.
History
Despite inverted nipples likely having afflicted humans throughout history, the first time inverted nipples appear in writing is in 1840. Subsequently, the surgical correction of inverted nipples was described in 1879. Though, it did not become a widely performed or known procedure until the age of the internet.
With more information available and nipples becoming part of the larger cultural discourse in movements like Free the Nipple, this began to popularize surgical nipple correction. This is also true for similar procedures such as areola reduction.
Before & After Inverted Nipple Surgery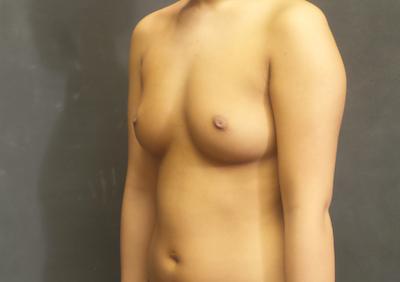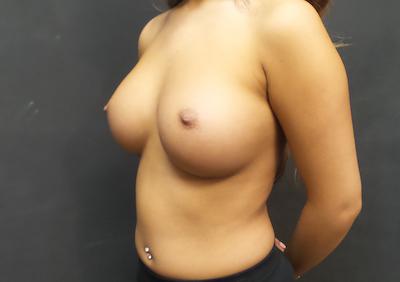 Benefits
For patients with inverted nipples, the procedure can provide some relief from anxiety and distress caused by the condition. While inverted nipples are typically benign, patients may have issues breastfeeding, or simply want to correct inverted nipples for cosmetic reasons. Some of the benefits of inverted nipple surgery may include:
Relieve insecurities or concerns about inverted nipples

Enhance aesthetics of the breasts

Can usually maintain breastfeeding ability

Sensitivity not often impacted long term

Address asymmetric look due to one inverted nipple

May improve or make breastfeeding easier

Quick surgery

Can combine with other breast surgeries like breast augmentation

Short recovery period

Likely permanent results

Performed by an experienced and expert cosmetic breast surgeon
GRADES OF NIPPLE INVERSION AND WHAT THEY MEAN
Inverted nipples are "graded" on a scale that determines the severity of the inversion. This can impact the surgical technique and extent of surgery necessary to provide the best results. You may be able to figure out what grade you have, though Dr. Jonov will also determine this during a consultation.
Grade One:
Indications and characteristics of grade one nipple inversion include:
Nipple only lays flat, is partially retracted, or is only inverted sometimes

Projection may occur in response to various stimuli

May stay projected on its own for some time

Nipple may be able to be pulled out

Breastfeeding usually not hindered
Grade Two:
Signs of grade two nipple inversion can include:
Nipple is more difficult to pull out or cause projection

Can be fully or partially inverted

Often will retract immediately or soon after the nipple is released or stimulation ceases

Less likely to project to on its own or in response to gentler stimulation such as cold air

May make breastfeeding harder, though it is usually still possible
Grade Three:
Indications and characteristics of the most severe grade of nipple inversion include:
Fully retracted nipples

Nipples impossible to pull out

Rarely, if ever, responds to stimuli

Breastfeeding probably not possible

Surgery often the only corrective option
Inverted nipples–unless they occur suddenly with no obvious cause–do not require medical treatment until and unless the patient wants it. While surgery can repair any grade of inverted nipples, it is typically not performed on grade one. This is because the nipple projects easier, does not complicate breastfeeding, and may even go unnoticed.
Additionally, inverted nipple surgery may or may not maintain breastfeeding ability. One cause of inverted nipples is underdeveloped or damaged milk ducts. Correcting the inverted nipple, in this case, may make it impossible to breastfeed. This is best determined and discussed during a consultation with Dr. Craig Jonov.
FIXING INVERTED NIPPLES: INVERTED NIPPLE REPAIR SURGERY FROM START TO FINISH
Consultation
The first step to undergoing inverted nipple surgery in Seattle is to schedule a consultation with Dr. Craig Jonov. During your consultation, you will talk to Dr. Jonov about your concerns and goals for surgery. Some talking points may include if breastfeeding after surgery is important to you, what you want the nipple to look like, and if you've had inverted nipples your whole life.
Next, Dr. Jonov will ask about your medical history including previous surgeries, medical conditions, and relevant personal information like age. He may also inquire about aspects of your lifestyle like if you have children and how much you drink. These factors can impact healing and recovery. Finally, Dr. Jonov will do a physical exam. He will examine the severity of the inversion and determine if you are a good candidate for the procedure. 
If Dr. Jonov believes that Seattle inverted nipple repair would benefit you, he will provide more insight into the surgery. You will then also receive a customized price quote, financing information, and how to schedule your surgery. If Dr. Jonov does not think you are a good candidate, he will discuss the reasons why and possible alternatives.
Surgery
Inverted nipple repair surgery can use either local or general anesthesia. If only undergoing surgery to correct the inversion, Dr. Jonov may recommend local anesthesia with a sedative. This anesthesia choice comes with fewer risks and generally requires less recovery. However, if you are undergoing another breast surgery such as breast augmentation at the same time, you will need general anesthesia. 
After properly anesthetized and sedated, Dr. Jonov will begin surgery. There are two surgical techniques commonly used to correct inverted nipples. The first involves lifting the nipple and areola off the chest before stitching the nipple into a projected position. The other technique includes detaching the milk ducts to release the tension on the nipple that causes the inversion. Incisions are typically in or around the areola.
When performed alone, the entire procedure is often performed in an hour or less. Some more extensive surgeries may take up to two hours. In combination with another breast surgery, correcting the inversion typically adds less than one hour to the procedure.
Contact Us
Recovery
After surgery, recovery from inverted nipple surgery is generally minimal. Patients usually return to work within a day or two and may experience side effects for a few weeks. Some of these side effects can include swelling, mild bleeding, bruising, scabs, and discomfort. Often, prescription painkillers are not necessary.
Within one month, patients should be fully healed or near it. Most have no issue returning to all their activities and exercise in roughly two to four weeks. Dr. Jonov will see you during this period to ensure you are healing well and to help change your dressings.
Dr. Jonov is truly the kindest person very professional and super friendly, as well as his staff. He definitely helped boost my confidence! I have referred a few people to him and they are more than excited to see him. Thank you Dr. Jonov and to the whole staff! You are all amazing. 10/10

Varisha
Dr. Jonov is amazing! He is life changing! Highly recommend!

Louise
After a few consultations with other surgeons, Dr. Jonov made me feel very comfortable. He talked me through all the steps and his team was very caring and attentive. After the surgery I healed very well and all the follow up appointments he was very assuring about my healing processes. I would definitely recommend him, especially for moms seeking their bodies back after kids!

Mary
Highly recommend anyone considering cosmetic surgery check out Dr Jonov. I am sooo happy with my results! His work far exceeded my expectations!

Kandy
FREQUENTLY ASKED QUESTIONS
Are Inverted Nipples Normal?
Yes, it is totally normal to have inverted nipples. As previously stated, estimates say that around 10% of the world's population has inverted nipples. The condition–including genetic predisposition–appears to be somewhat more common in women than men. However, men still can and do have inverted nipples.
There are times when inverted nipples are cause for concern. If you have never had inverted nipples before (and are not pregnant), then this may be concerning. Additionally, bloody or abnormal discharge, pain, or major changes in the look of your breast along with inverted nipples may warrant a visit to your doctor. 
What Are The Risks Of Inverted Nipple Surgery?
Even though Seattle inverted nipple repair is a rather minor surgery, it does come with some risks. Risks of inverted nipple correction surgery can include:
Infection

Loss or reduction in nipple sensation

Poorly healed or raised scars

Inability to breastfeed (standard with some techniques)

Excessive bleeding
Overall, complications and risks following inverted nipple repair are rare. Considering it is also often performed under local anesthesia, this cuts the risks associated with general anesthesia.
How Long Does It Take To Heal?
Healing is a process that takes place over several months. However, your initial incisions should heal and you can consider yourself healed in between two and four weeks for most people.
Do Both Men And Women Have Inverted Nipples?
Yes, both and women can have inverted nipples. It is believed that the condition is more common in women. Women are also more likely to undergo surgery because it can hinder breastfeeding. Men usually experience no major issues from inverted nipples, though may still undergo the surgery for aesthetic reasons.
How Much Does It Cost To Repair Inverted Nipples?
At Seattle Plastic Surgery, the cost of inverted nipple repair surgery starts at $3,995. This price may fluctuate based on various factors. The best way to get a personalized price quote is to schedule a consultation. For starting prices of our procedures, try out our Price Simulator™ or visit our price list.
CHOOSING THE BEST FOR YOUR INVERTED NIPPLE REPAIR IN SEATTLE: DR. CRAIG JONOV
Dr. Craig Jonov at Seattle Plastic Surgery is an experienced breast surgery having performed thousands of cosmetic breast surgeries. This includes inverted nipple correction. He commonly combines this procedure with others like breast augmentation and breast lift. Along with breast surgeries, Dr. Jonov also specializes in body contouring procedures such as tummy tuck and liposuction. He also will perform facial surgeries like facelifts and brow lift. Dr. Jonov provides the best inverted nipple surgery Seattle and Tacoma offers.
Seattle Plastic Surgery is a leading plastic surgery clinic located in the First Hill neighborhood of Seattle. Right in the city's medical hub, Seattle Plastic Surgery offers top rated plastic surgery and non-surgical cosmetic procedures. The surgical facilities are Medicare certified and the facility itself boasts a calm environment.
To learn more and schedule a consultation with Dr. Jonov, call us at 206-324-1120. You can also submit an online inquiry through our Price Simulator™, chat, or contact form.