$199
Performed By: Master Esthetician
Procedure Time: Less Than 1 Hr
DERMAPLANING IN SEATTLE
Dead skin and unwanted hair can contribute to many annoying skin problems like acne breakouts, ingrown hairs, and dull looking skin. Dermaplaning is designed to tackle these problems by removing dead skin and the vellus hair (peach fuzz) on the face. This leaves your skin glowing and smoother. Seattle Plastic Surgery offers dermaplaning to patients in the Seattle and Tacoma areas.
WHAT DOES DERMAPLANING DO?
On the surface, dermaplaning is a treatment that removes dead skin and hair from the face. But, it actually is much more than that. The procedure also physically exfoliates the skin and allows chemical treatments to work more effectively by no longer have to penetrate the dead skin on your face.
Dermaplaning uses no chemical components during treatment. It is completely natural and often a good option for those allergic to ingredients in other treatments or with overly sensitive skin. The procedure is completely safe and is completed in under 45 minutes.
During a dermaplaning session, your Master Esthetician will use a surgical scalpel to gently scrape away dead skin and hair from your face. Most patients experience very little to no pain during the procedure and only report feeling some light pressure. When treatment is over, you can expect your skin to feel immediately softer and have a brighter appearance. 
Visible Benefits of Dermaplaning
Dermaplaning offers patients many visible benefits to their skin. People of all ages and skin types find dermaplaning benefits them in some way. Some benefits of dermaplaning include: 
Visibly smoother and bright skin

Softer skin

Allows for easier makeup application

Helps make skin care products more effective

Prevents future breakouts

Little to no downtime

Removes unwanted hair
Dermaplaning Gives Your Skin A Beautiful Glow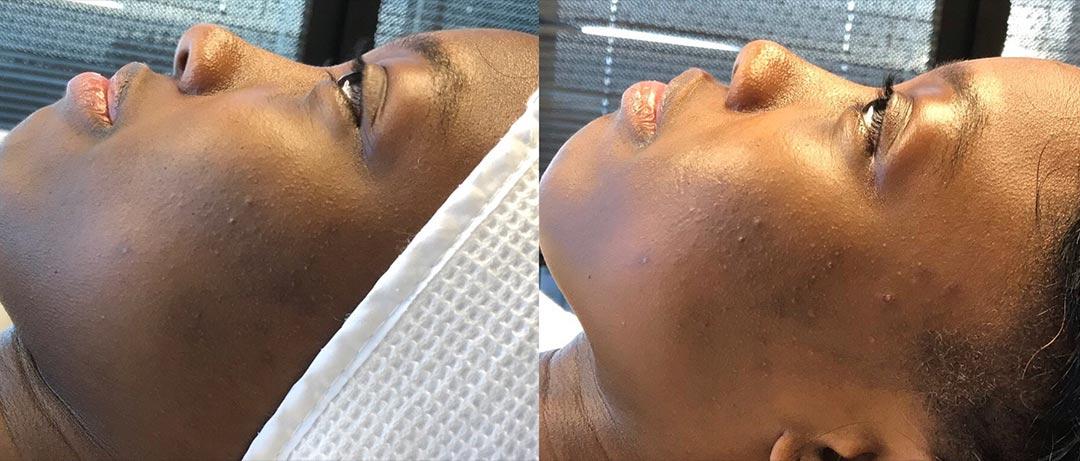 CAN'T I JUST DO IT AT HOME?
You might have heard of various dermaplaning tools available on the market. They cost less than an in-office appointment and you can do it whenever you have time. It's understandable that with a busy schedule and a budget this may seem like an appealing option. 
However, at-home dermaplaning is more dangerous and less effective than when a Master Esthetician performs it. A Master Esthetician uses a surgical scalpel that is much sharper than anything you can pick up at the drugstore. This provides better results than at-home options. 
When attempting at-home dermaplaning, it is impossible to ensure a fully sterile and safe environment. You also run a higher risk of cutting yourself and causing scarring than in an in-office procedure. Dermaplaning is safest and most effective when performed by a trained professional like the Master Estheticians at Seattle Plastic Surgery.
Sessions Take Under 1 Hour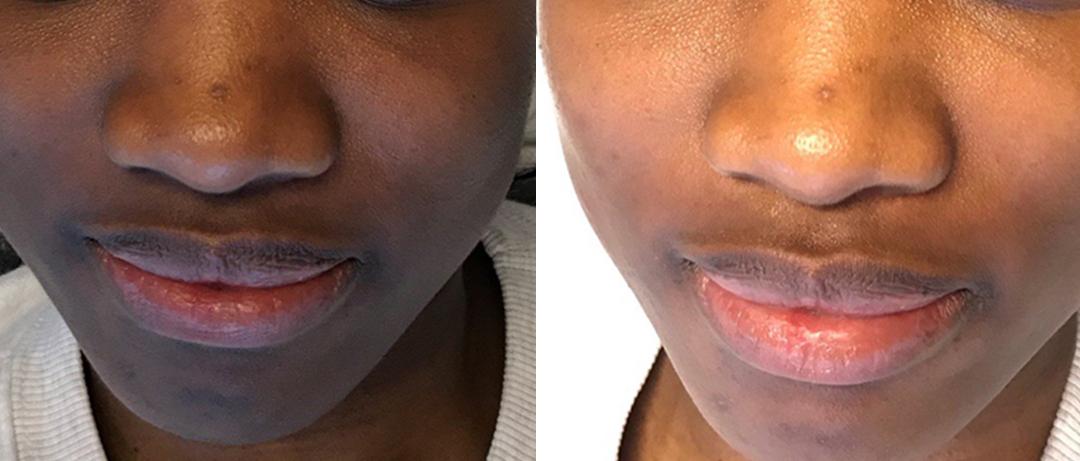 WHAT IF I HAVE SENSITIVE SKIN?
Having sensitive skin does not immediately hurt your chances of being a prime dermaplaning candidate. Many patients with sensitive skin are not affected by the procedure. However, if your skin is especially reactive or you have skin conditions such as rosacea you will need to talk to your Master Esthetician to determine whether dermaplaning is the best option for you. You should also proceed with caution if you have any current breakouts. While dermaplaning is safe with one or two pimples on your face, if you have cystic acne or a major break out, it is best to consult with your Master Esthetician to see if you are a candidate for dermaplaning. 
Who Does A Dermaplaning Treatment?
The only people qualified to perform dermaplaning are dermatologists and Master Estheticians. At Seattle Plastic Surgery, we employ a dedicated staff of Master Estheticians trained to perform safe and effective procedures.
CAN I COMBINE IT WITH OTHER PROCEDURES?
Yes, dermaplaning is a great treatment to begin your esthetic regimen. It can help make chemical peels and future esthetic treatments more effective. Many people choose to alternate between dermaplaning and chemical peel treatments for maximum results. While dermaplaning is great on it's own, you can take full advantage of your results by combining it with other esthetic procedures.
How Dermaplaning Can Benefit Any Skin Care Routine:
Because dermaplaning sheds away dead skin and peach fuzz, your normal cleansers, moisturizers, and exfoliants will become more effective and penetrate deeper into your skin after dermaplaning in Seattle.
Adding dermaplaning to your skin care routine can significantly improve the condition of your skin. Your Master Esthetician can recommend how often you need treatments for your skin and needs.
WHAT CAN I EXPECT AFTER DERMAPLANING IN SEATTLE?
Dermaplaning is non-invasive and painless. Therefore, there is no downtime required. There is very little risk associated with dermaplaning. At worst, your skin may be red for a couple days and you may find a few whiteheads, but more serious side effects such as infection and scarring are extremely rare.
Before you leave our office, your Master Esthetician will provide the aftercare information you need. In general, you must avoid sun exposure and wear sunscreen any time you go outside. Since dermaplaning scrapes away much of the natural sun protection on our skin, it is important to always wear sunscreen, even months after treatment. Getting into the habit of wearing sunscreen daily will improve the condition of your skin and help fight aging.
Master Estheticians often recommend continuing your normal skin routine after dermaplaning in Tacoma. However, you should discuss all of the products you use with your Master Esthetician to ensure you can continue their use immediately after dermaplaning. Maintaining a consistent and well rounded skin care regimen can help keep your results.
WHY CHOOSE THE MASTER ESTHETICIANS AT SEATTLE PLASTIC SURGERY?
The Master Estheticians at Seattle Plastic Surgery complete extensive training that includes knowledge of medical terminology and skin conditions. It also qualifies them to perform more complicated esthetic procedures and give you advice on your specific skin conditions and concerns. Dermaplaning is a delicate procedure and someone like a Master Esthetician must perform it for the safest and best results.
Our facility is private and inviting. We want you to feel comfortable and relaxed during your dermaplaning procedure. The Seattle Plastic Surgery team puts your needs and concerns first and want you to feel confident in your procedures. When you leave our office, we want you and your skin to be glowing.
WANT TO LEARN MORE?
In a consultation with a Master Esthetician, they will listen to your skin concerns, take your medical history, and examine your skin to determine if you are a good candidate for dermaplaning in Seattle. If you are, they will then create a custom dermaplaning plan to fit your cosmetic goals and needs. 
To schedule a dermaplaning consultation with a Master Esthetician at Seattle Plastic Surgery, call us at 206-324-1120 or Contact Us Online.