Fleur De Lis Tummy Tuck Price
Varies
FLEUR DE LIS TUMMY TUCK SEATTLE AND TACOMA
The abdomen is a common problem area for both men and women. Women tend to carry fat in the buttocks, thighs, breasts, and mid-abdomen. Men, on the other hand, carry most of their fat in the stomach area. When weight loss occurs, this can result in uneven fat distribution in the abdomen as well as extra skin. When surgically corrected, these concerns are often addressed with tummy tuck surgery. However, in some cases, a patient may not only have extra skin in the lower abdomen or on a horizontal plane. This is where a plastic surgeon may recommend a fleur de lis tummy tuck. Dr. Jonov at Seattle Plastic Surgery performs the best fleur de lis tummy tuck Seattle and Tacoma offers.
CORRECTION ON TWO PLANES: A FLEUR DE LIS TUMMY TUCK
A fleur de lis tummy tuck, also called a fleur de lis abdominoplasty, consists of a traditional tummy tuck incision below the pubic bone from hip to hip. The procedure then takes it a step further with a vertical incision up the abdomen. The length of both incisions depends on the amount of correction needed. 
It is called a "fleur de lis" tummy tuck because it roughly corresponds to the shape of a fleur de lis. Additionally, a fleur de lis incision is frequently a used incision used in various medical and cosmetic surgeries. Though, it has proven especially effective for cosmetic surgery procedures.
Unlike a traditional abdominoplasty procedure, the fleur de lis technique corrects the abdomen on two planes: vertical and horizontal. This is particularly helpful for patients who have undergone bariatric surgery or lost massive amounts of weight. Extra skin is often a big problem for weight loss patients and a fleur de lis tummy tuck provides an effective solution. The technique also frequently used for tummy tuck revision surgeries.
Before & After Fleur De Lis Tummy Tuck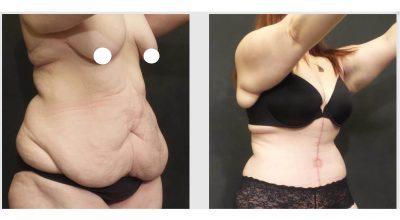 Patient is a 30-year-old woman who came to us seeking removal of stubborn fat deposits and excess skin tissue. She elected to have an abdominal liposuction performed concurrently with a fleur de lis tummy tuck procedure, named after the flower the incisions resemble. Amazing results can be seen just three months after her procedures. Scarring will continue to fade over time.
Reasons For A Fleur De Lis Incision
A fleur de lis incision is used when optimal results require correction vertically as well as horizontally. For example, while a standard tummy tuck will provide some correction to the mid and upper abdomen if large amounts of extra skin are present there, a fleur de lis may be necessary. 
A procedure known as a reverse tummy tuck can correct extra skin on the upper abdomen. However, if significant extra or loose skin exists in both the upper and lower stomach, a fleur de lis will likely provide the best and most dramatic results. Dr. Jonov will talk out your options with you during a consultation at Seattle Plastic Surgery.
As far as what can cause the loose and extra skin that a fleur de lis tummy tuck corrects, there are multiple factors. Usually, a patient has lost and gained weight rapidly, underwent weight loss surgery, or seen major changes in weight (normally more than a fifty pounds difference). Some of the factors that can contribute to the need for this type of tummy tuck include:
Aging

Pregnancy

Weight fluctuation

Previous abdominal surgery

Some medications

Medical conditions

Hernias
Benefits
For patients with large amounts of loose, excess skin, a fleur de lis tummy tuck can absolutely change their life. It offers patients many benefits and likely will improve their overall quality of life. Some of the benefits and advantages of a fleur de lis abdominoplasty may include:
Flatter, slimmer tummy

Extra, loose skin removed

Tighter abdominal muscles

Exercise may become easier

Reduce clothing size and body measurements

Reveal body's true form

May lessen the frequency of rashes or pain caused by extra skin

Often provides more dramatic results than comparable procedures

Corrects entire abdomen including waist and flanks if necessary

Procedure personalized for your anatomy and goals

Recovery time similar to traditional tummy tuck

Correction of diastasis recti

Will likely remove other abdominal scars (such as C-section scars)

Can correct hernias at the same time
CANDIDATES FOR FLEUR DE LIS ABDOMINOPLASTY
The best candidates for a fleur de lis tummy tuck have a few qualities. First, they have the qualifying anatomy. Patients who would benefit from a fleur de lis surgery are those with large amounts of excess skin across the abdomen, not only in the lower portion. Additionally, patients should be at or near their goal weight. While Dr. Jonov does not have specific BMI requirements, surgery must be advisable and successful. Related to this, patients should be managing any current health conditions and be all around healthy.
Second, patients need to have a good understanding of the procedure. The surgery does involve extensive incisions that a patient needs to know about and become comfortable with. They also need to understand the scope, including the necessary recovery time. A patient should have realistic expectations concerning the results and surgery. Dr. Jonov will describe what you can expect from the procedure during a consultation.
Finally, the best candidates for a fleur de lis abdominoplasty, often are previous bariatric or weight loss patients. This is because they often have the right anatomy and successfully undergone surgical procedures in the past.
FLEUR DE LIS TUMMY TUCK SURGERY: FROM START TO FINISH
Consultation
Dr. Craig Jonov of Seattle Plastic Surgery can determine if you are a candidate for a Seattle fleur de lis tummy tuck at a consultation. To decide this, he will discuss your reasons for seeking the surgery as well as your goals. Dr. Jonov will then review your medical history. Finally, he will perform a brief physical exam. 
Towards the end of your appointment, Dr. Jonov will determine whether you are a viable candidate or not. If you are, he will go on to describe the procedure, how it could help you, and the results you can expect. If you are not a candidate for a fleur de lis, Dr. Jonov will tell you why and provide alternatives to achieve your results.
Before the end of your consultation appointment, you will receive a customized price quote and financing information. You will also receive any required medical clearances or information that you will need to obtain. At this point, patients can schedule surgery within 90 days.
Preparation
Preparing for surgery will look slightly different for every patient. In some cases, patients may need to get medical clearances or make travel plans if coming from far away. Most importantly, patients will also need to arrange the financing for their procedure because the procedure must be paid for by their pre-operative appointment.
Other arrangements patients may need to make in advance of their surgery may include:
Time off work

Childcare

Caretaker

Transportation to and from surgery

Stock up on groceries and prepare the household
These practical preparations are often overlooked before surgery. Beyond this, your pre-operative coordinator will give you instructions for the days and weeks leading up to surgery. This will include when you can last eat and drink before surgery, what to wear or not wear, any medications to cease or start, and other similar directions.
Surgery
After a licensed anesthesia provider places you under general anesthesia, Dr. Jonov will begin surgery. First, he will make a horizontal incision along the lower abdomen and below the pubic bone. This can sometimes extend past the hips or to the flanks depending on the amount of correction needed. He will then make the vertical incision. Again, the length of this incision varies based on your anatomy.
Through these incisions, Dr. Jonov will remove extra skin and fat. He may also repair the abdominal muscle if they are separated. After he does away with the unneeded skin and fat, Dr. Jonov will pull the remaining skin tight over your new figure. He will then stitch the incisions. All in all, the surgery usually takes anywhere from three to six hours.
I just wanted to start off by saying how amazing the customer service is. Dr. Jonov was able to give me the best results ever and I am so happy with them. 10/10 would recommend to anyone. My ideal image I wanted for myself and he was able to achieve it and more.

Michelle
I LOVE this office!! I tell all my friends about how amazing this team is!! Dr. Jonov is so personable, funny, and made my entire experience from start to finish a breeze!! I had a breast augmentation with him and love my results! He did such a great job, scarring is minimal.

Juliann
Dr. Jonov was extremely nice and professional. The staff is kind and answered all my questions. They made me feel confident and safe. They took the time to check in and make sure I was happy with everything.


Emily
Contact Us Today
Recovery
One of the major advantages of a fleur de lis tummy tuck is that the recovery is not much longer or more involved than that of a standard tummy tuck. While you will have an extra, vertical incision, this usually does not significantly impact recovery time or instructions. 
Patients usually take around two to three weeks off work. Physical jobs may necessitate more time off. Additionally, you will need to avoid strenuous exercise for at least four to six weeks. Only walking and basic household duties should be performed during the initial recovery period.
You will receive recovery instructions customized to your procedure. Some common directions include:
Remain hunched at a 90-degree angle until directed otherwise

Sleep sitting up or in a recliner

Take your prescribed medications

Attend all post-operative appointments

Do not return to activities until okayed by Dr. Jonov
Results
Fleur de lis tummy tuck results will take around one year to finalize and come in. The body needs time to heal and the skin to settle over your new contours. You will likely see a satisfactory result before the one year mark. However, results are not considered final until one year.
A fleur de lis tummy tuck in Seattle often provides the most dramatic results of all tummy tucks since it removes the most skin and tissue. The results can lead to life changing results that impact the rest of a patient's life.
FREQUENTLY ASKED QUESTIONS
Why Do A Fleur De Lis Tummy Tuck Instead Of A Standard One?
If you have a lot of extra skin, a fleur de lis tummy tuck will most likely provide you the best results. While you would see some benefit from a regular tummy tuck, you may still have upper skin left in the upper abdomen, waist, and flanks that a fleur de lis could address. Overall, for the right patient, it provides better results.
What Are The Risks?
Every surgical procedure comes with some risks, including a Seattle fleur de lis abdominoplasty. Many of the risks are associated with nearly any surgery. Some of the risks include:
Infection

Skin necrosis

Unsatisfactory healing

Keloids or hypertrophic scars

Fluid accumulation

Prolonged bruising

Permanent or long lasting numbness

Blood clots

Complications from anesthesia
Major or long lasting complications from a fleur de lis tummy tuck are rare, especially when performed by an experienced Seattle plastic surgeon like Dr. Craig Jonov. He will take every precaution to avoid a risky surgery and complications.
Is A Fleur De Lis Tummy Tuck Worth It?
For patients who have done the hard work to lose weight or who underwent weight loss surgery, not being able to see their true body contours can be extremely disappointing and distressing. A fleur de lis tummy tuck can remove the extra skin that disguises their new body. Even considering the incisions, patients often find this a fair trade off to get the body they worked so hard to achieve.
Additionally, a fleur de lis tummy tuck is known to provide dramatic results and carries around the same risk as a traditional tummy tuck. Making it well worth it for patients who are good candidates.
What Is The Best Treatment For A Fleur De Lis Tummy Tuck Scar?
Understandably, scars are a concern for fleur de lis tummy tuck patients in Tacoma. Many scar creams and treatments exist. However, at Seattle Plastic Surgery, we use Scar Protocol that treats and prevents scars over the first year of healing. Beginning within a few weeks of surgery, Scar Protocol helps minimize the appearance of fleur de lis tummy tuck scars.
How Much Does A Fleur De Lis Tummy Tuck Cost?
The cost of a fleur de lis tummy tuck is hard to determine without a consultation. Since the procedure is highly customized, the best way to receive an accurate price quote for the procedure is to schedule a consultation at Seattle Plastic Surgery.
SEATTLE'S BEST TUMMY TUCK AT SEATTLE PLASTIC SURGERY
Dr. Craig Jonov is a talented and accomplished plastic surgeon who serves the Seattle and Tacoma areas. He specializes in plastic surgery of the breast, body, and face. Having performed hundreds of tummy tuck surgeries and frequently recognized in the media, Dr. Jonov is among the top Seattle plastic surgeons. Dr. Jonov offers the best fleur de lis tummy tuck in Seattle and Tacoma.
Seattle Plastic Surgery is an elite plastic surgery practice in Seattle, WA. Located in the First Hill neighborhood, Seattle Plastic Surgery has been a staple in the city for over two decades. Offering unique amenities and treating all patients like celebrities, Seattle Plastic Surgery is the top destination for tummy tuck surgery in the Seattle area.
To learn more and schedule a consultation, call Seattle Plastic Surgery at 206-324-1120. You can also reach out to us online using our Price Simulator™ app, chat, and contact form.