Traditional Microblading
$300
Powder Brows Seattle & Tacoma
The eyebrows undergo various treatments and procedures to look their best daily. From waxing to tinting to daily makeup application, this can become expensive and time consuming. The most popular permanent makeup procedure known as microblading aims to make brow maintenance easier, less frequent, and cost less overall. One of the growing tattoo techniques for microblading is powder brows. The microblading artists at Seattle Plastic Surgery offer the best powder brows Seattle and Tacoma can provide.
Understanding Powder & Ombré Brows
Traditional microblading is not right for everyone. Due to the precise, sharp lines necessary for a good result, oily skin, aged skin, or severely damaged skin, can cause the traditional technique to heal with wider, less defined hair strokes. This can make the microblading look obvious and sometimes even create an oblong or asymmetric result. Powder brows use a different method to secure better looking and more stable results.
Powder brows–also sometimes called ombré brows or microshading–mimics the look of brow makeup. Instead of using thin, hair-like strokes, powder brows use small, clustered dots. This heals more evenly and predictably in people who have oily or aged skin. It also creates a surprisingly natural look for those wanting fuller coverage from their microbladed brows.
Microshading can achieve many of the same aesthetic results as other forms of microblading. It can boost the density of the brows, enhance the brow arch, and overall highlight the shape of the face and eyes. For those wanting to cover scarring or severely overplucked eyebrows, powder brows may be the right technique for the fullest coverage.
Benefits
Powder brows have many benefits. Choosing the right microblading technique is vital for getting the results you want. Some of the benefits of powder brows include:
Fuller brows

Better shape and arch definition

Softer look that mimics brow makeup

Calls attention to the eyes
Enhances facial symmetry

Fuller coverage results

Fewer sharp lines provide better results for those with especially sparse brows

Tend to last longer than traditional microblading

Work on all skin types, including oily skin

Some find the technique less painful

Can still exercise and play sports without worrying about perspiration ruining their makeup (once brows fully heal)
Waterproof and smudge proof
Can contribute to a younger appearance

May require fewer touch-ups

Vegan and cruelty free ink

Low risk treatment

Customized for each patient
Risks
Powder brow application does come with some minor risks. Overall, the process is no riskier than a traditional tattoo. However, due to the facial placement of microblading, without proper aftercare or with certain skin conditions, the risks can increase. While it remains safe for most people, it is important to discuss your medical history with your microblading artist during your consultation.
Some of the possible risks of powder brows microblading can include:
Infection

Inadequate healing

Scarring

Unsatisfactory result

Prolonged bruising or swelling

Sunburns due to increased skin sensitivity

Skin irritation
Any major complications or side effects are especially rare when all proper sterilization standards are followed. Since Seattle Plastic Surgery fosters a medical grade environment, you can feel assured that major risks are unlikely.
Microblading vs. Powder Brows
Powder brows are a form of microblading. However, there are many notable differences between the powder method and traditional microblading. Each can be beneficial for different individuals and the techniques can even be used together when applying combo brows. The table below notes some of the major differences between powder brows and traditional microblading.
Powder Brows
Microblading

Uses a dot pattern

Viable for all skin types including oily skin

Fuller coverage

Mimics the look of makeup

May last longer; around 3-4 years on average

Better for aged skin

Can cover old or faded microblading

Application may take up to 3 hours

Uses hair-like strokes

Not suitable for oily skin

Contributes to fuller brows, but not as full coverage

Mimics the look of the natural eyebrow hairs

Better for those with mild to moderate patchiness or those wanting to define overall brow shape

Application takes around 2 hours
Both ombré shading brows and traditional microblading are fantastic semi-permanent makeup options for a more defined brow. The right one for you will depend on the current state of your eyebrows, your goals, and your skin type.
Powder Brows Before & After
Meeting Your Artist
Before undergoing a powder brows session in Seattle, you will meet with one of our microblading artists. You will discuss the various microblading techniques and the results you want. In addition, your artist may also ask questions about your medical history, lifestyle, and medications you take.
Once they get a good idea of your history and the results you want, they may examine your brow area. This will help them determine your skin type, the current condition of your eyebrows, and other factors that may impact treatment. At this point, they will determine if you are a good candidate for microblading as well as powder brows.
If they believe you are a good candidate and would benefit from powder brows, they will go on to describe the procedure in more detail, preparation instructions, and a personalized price quote.
Microblading Treatment
To begin applying your Seattle powder brows, your microblading artist will first cleanse and disinfect the brows and surrounding area. This helps reduce the risk of infection and promotes better adherence of the ink to the skin. They will instruct you to come without makeup on the day of your appointment.
Your artist will then apply numbing cream and proceed with mapping out the golden ratio. This is a scientific measurement that creates aesthetically pleasing brows based on the symmetry and anatomy of the face. By the time they finish, you should be numb enough to start the treatment.
Using either a single blade or motorized microblading hand tool, your artist will start adding the dots of pigment across the brows. You should feel minimal pain if any. The entire process takes longer than microblading. The procedure takes around two to three hours based on the starting anatomy and size of the treatment area.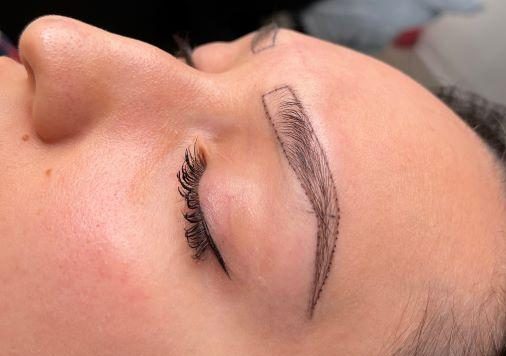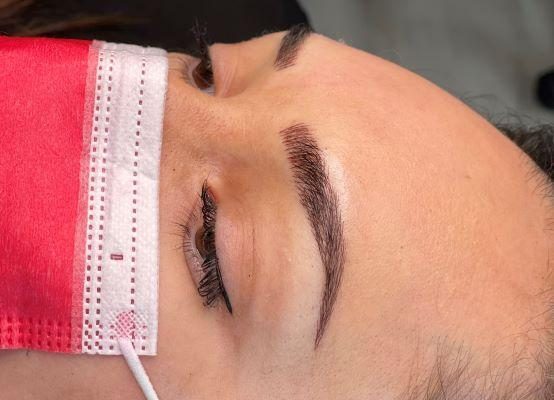 Aftercare
As far as aftercare, powder brows come with many of the same instructions as traditional microblading. Among the directions your microblading artist may give you include:
Limit sun exposure and protect the area from the sun

Do not pick at or unnecessarily touch the area

Monitor for signs of infection

Do not get the brows wet for at least one to two weeks

Avoid exercise or activities that may cause profuse sweating

Cease alcohol consumption

Limit or stop taking blood thinning medications or supplements (if possible, this is not always necessary)

Do not apply makeup or skincare products not approved by your microblading artist
I had a great experience - pain free and fully informed, the doctor took her time and was very patient with me as I navigated different procedures. Highly recommend.

Laura
So happy with my results!!!

Ellie
Always such a lovely and welcoming experience. I never feel embarrassed about the questions or concerns I have. Definitely a life long customer!

Kayla
I love this place! Everyone is super friendly and professional. Happy with the services I have received so far.

Kali
Frequently Asked Questions
How Can I Prepare For Powder Brow Application?
As previously mentioned, your artist will give you ways to prepare for your powder brows application. Generally, this may include:
Do not consume caffeine the morning of your procedure

Reduce or stop using blood thinning medications and supplements for at least three to seven days before treatment. (Only stop these medications if possible and if it would not pose a larger risk to your health)

Do not undergo Botox injections, chemical peels, etc. before treatment (the exact time frame before may vary)

Stop using Retinol or similar products for at least a few weeks

Avoid tanning (naturally or otherwise)

Do not wax, tint, or pluck brows (your artist will do this beforehand if necessary)

Do not wear makeup to your appointment
Who Are Not Good Candidates For Ombré Brows?
Most people are good candidates for at least one type of microblading. However, there are cases where risks increase or a patient is not suitable for treatment. While not all of these are complete dealbreakers for treatment, they warrant further discussion with your microblading artist. Some conditions or situations that may limit candidacy for powder brows include:
Untreated, major health problems

Blood or bleeding disorders

Skin infections or conditions that affect the treatment area

Having taken prescription, harsh acne medications in the past year

Currently pregnant or nursing

Recently had Botox, chemical peel, microneedling, or similar procedure (pushing the procedure out a few weeks usually gets around this)

Undergoing cancer treatment

Taking immune suppressant drugs

Prone to keloids or hypertrophic scars
Why Are Powder Brows Better For Oily Skin?
Oily skin can distort the sharpness and healing of traditional microblading. However, powder brows are not meant to create a sharp looking result. This is why powder brows are typically better and recommended for oily skin. The ink pattern is also more concentrated and generally takes better to oily skin due to this.
Why Are They So Dark At First?
During the healing process, an average of around 30% of the ink will fade. Therefore, your microblading artist actually deposits a little extra ink to account for this and give you the results you want. Additionally, the darkening can also come from scabbing or the healing process overall. After about four weeks, darkness from both the initial treatment and healing should subside.
What Is The Cost Of Powder Brows In Seattle?
The cost of powder brows at Seattle Plastic Surgery starts at $450. The cost may fluctuate based on individual needs and situations. Your microblading artist will provide you with a customized price following a consultation. You can find more detailed pricing on our price list.
Seattle Plastic Surgery also works with three outside financing companies including Care Credit, Alphaeon, and United Medical Credit. You can find direct links to apply and more information on our financing page.
The Best Powder Brows In Seattle & Tacoma At Seattle Plastic Surgery
Seattle Plastic Surgery is a premier plastic surgery practice and medical spa located in the First Hill neighborhood of Seattle. Having served the Greater Seattle area for two decades, our providers are dedicated to helping patients achieve their definition of beauty. Consisting of a team of plastic surgeons, physicians assistants, registered nurses, master estheticians, and microblading artists, our team offers the best powder brows Seattle and Tacoma provide.
The microblading artists at Seattle Plastic Surgery have years of experience and are certified tattoo artists. They understand the nuance it takes to create natural looking results. To schedule a consultation, call us at 206-324-1120. You can also reach out online via Price Simulator, chat, or our contact form.