CHEEK FILLERS IN SEATTLE AND TACOMA
Patients of all ages and backgrounds often find themselves unsatisfied with the appearance and projection of their cheeks or cheekbones. Injectable cheek fillers are a safe and simple procedure that can help patients fill in hollowing cheeks, augment their cheeks without implants, and add more definition to the natural contours of their face. Most people are candidates for cheek fillers and they can provide immediate, dramatic results. At Seattle Plastic Surgery, we have many filler options to help you achieve the look you want. Our premier providers offer cheek filler to the Seattle and Tacoma areas.
WHAT CAN SEATTLE CHEEK FILLERS ACHIEVE?
Depending on the type of filler you choose, cheek filler can achieve a number of looks and goals. Considering the ideal appearance of the cheeks and the area itself, cheek fillers tend to be a thicker formula than fillers meant to address purely wrinkles and fine lines. While cheek injections can certainly treat these, they are normally not the only aesthetic problem that patients want to solve.
Cheek fillers can achieve: 
Fuller cheeks

Sculpted and defined cheekbones

Smoothing of fine lines and wrinkles

Improved facial definition and profile

Increase overall volume in the cheeks/face

Improve look of nasolabial folds (sometimes along with smile line filler)
There are a number of reasons that patients in Seattle and Tacoma seek cheek fillers. A common motivation is the loss of facial fat that happens naturally as we age. This can leave you with hollowed cheeks or a disproportionate facial structure. Other patients experience a similar outcome after substantial weight loss. Sometimes genetic is the most important factor at play. Some people are simply not born with defined cheekbones or a structure they find satisfactory. Cheek fillers in Seattle can help these patients become more confident in their appearance without having to undergo surgery or use implants.
Juvederm Voluma vs. Restylane-Lyft
When patients come to our office interested in Tacoma cheek filler, they often find themselves conflicted between the two most common cheek fillers: Juvederm Voluma and Restylane-Lyft. Both are hyaluronic based fillers and can achieve similar results. Therefore, it can be difficult to choose between these two cheek fillers. 
During your consultation, your provider can suggest the best filler option for you. They can describe the benefits of each filler in more depth and which filler is better suited for the results you want. In general, the two fillers are extremely similar, but there are a few key differences.
Juvederm Voluma
Restylane-Lyft

Can last up to two years

May be better for with thinner skin

Softer and more malleable formula

May work better for younger patients

Lasts between 15 and 18 months

More cost effective

May provide a more dramatic lift

Can require more maintenance treatments  
Both Juvederm Voluma and Restylane-Lyft are fantastic options for your cheek filler in Tacoma. Regardless of the cheek filler product you choose, your provider at Seattle Plastic Surgery will use their expertise and experience to get you the best possible results.
CHEEK FILLER OPTIONS: 
There are countless cheek filler options on the market. At Seattle Plastic Surgery, our providers use the most well known and effective fillers that offer the best results. The two most popular fillers include those branded by Restylane and Juvederm. In the case of cheeks, Restylane-Lyft, Restylane-Defyne, and Juvederm Voluma. 
These are both hyaluronic acid (HA) based fillers. Hyaluronic acid is a component naturally found in the bodily fluids of our eyes and joint. It has shown countless benefits for our skin including moisturizing properties and it is used to aid in the healing of wounds as well. They help your skin capture water to stay plump and full.  This makes hyaluronic acid a safe and ideal facial filler. 
HA fillers have a low rejection rate because the substance is found naturally in our body. You can also find hyaluronic acid in many esthetic services like chemical peels and even in some at-home skin care products. Cheek fillers are not permanent and your body safely absorbs the hyaluronic acid into your body over time. 
Other non-HA based fillers do exist, but are not as commonly used for cheek filler. Poly-L-lactic acid is used in long-lasting fuller, but these types of fillers, such as Sculptra, are typically applied all over the face and not just to the cheeks.
In a consultation with a qualified provider at Seattle Plastic Surgery, they can recommend a filler that will help you get the results you want. They can also guide you through the process of picking the right Seattle cheek filler for you.
Restylane:
Restylane is a well known and recognized filler brand that makes filler primarily for the face and hands. Every Restylane product is designed for a specific purpose. The two fillers best suited and designed for cheeks includes:
Restylane-Lyft: This product is FDA approved for use in the cheeks and specifically for cheek augmentation. It can also help smooth out fine lines and wrinkles in addition to adding definition to the cheeks. The formula contains a small amount of lidocaine to help ease the discomfort of injections, in addition to the topical anesthetic your provider will use.

Restylane-Defyne: Among one of the thicker fillers in the Restylane family, this filler can help you define the contours of your cheeks and face. It is also known to reduce deep lines and wrinkles around your mouth. This filler ensures natural movement and results.
Juvederm:
Juvederm makes a filler to address loss of fat and volume in the cheeks. All Juvederm fillers are gel forms of hyaluronic acid that mimics the look and feel of our natural facial fat. 
Juvederm Voluma: The most popular Juvederm cheek filler is known as Voluma. Like the name implies, this filler product volumizes the cheeks and provides a natural lift. It is also possible for your provider to manipulate after injecting (for a short period of time before the filler settles), allowing them to work the filler into the correct position.
Sculptra:
Sculptra is a filler product comprised of poly-L-lactic acid. It tends to last longer than hyaluronic acid fillers, but is not always the correct filler choice when considering the cheeks. This filler product is most commonly used all over the face at once. This can include the cheeks. Usually, this filler is used when multiple areas and problems need to be addressed at once.
How Long Do Cheek Fillers Last?
The amount of time you can enjoy your cheek filler highly varies depending on the type of filler you choose, your lifestyle, and your body. Restylane products tend to last between 6 and 18 months. Juvederm Voluma can last up to two years.
YOUR TACOMA CHEEK FILLER APPOINTMENT:
You can expect your cheek filler appointment to last no longer than a half hour from start to finish. It is likely your injections will take at most 15 or 20 minutes to complete. At the beginning of your appointment, your provider will clean the cheeks and injection areas. They will then apply a topical anesthetic to ensure your comfort during the procedure. Like discussed above, many fillers contain lidocaine to ease the filler as your provider injects it. Once numb, your provider will precisely inject the filler using a thin needle. You should feel little to no pain during your cheek injections. Finally, if your filler or goals require, your provider will carefully massage the filler so that it settles in the ideal positions and areas of the cheeks.
Every aspect of your cheek filler is customized to fit your goals and body. This includes the type of filler, injection technique, and recovery protocol. Your provider will explain all of this to you during your initial consultation and first cheek filler appointment (often the same appointment).
Your Consultation:
When initially scheduling your consultation at Seattle Plastic Surgery, you will choose your provider from a board-certified Seattle cosmetic surgeon or a qualified Nurse Injector. Regardless of your provider, the consultation will be similar. 
The appointment will begin with you explaining your reasoning and goals for your cheek fillers, your medical history, and medications you take. Based on this information and a quick physical examination, your provider will decide if you are a candidate for cheek filler in Seattle. If you are, they will help you pick the appropriate filler and continue on to your cheek filler injections.
Interested in Cheek Fillers?
Fill out the form below to schedule an appointment or ask us any questions you may have.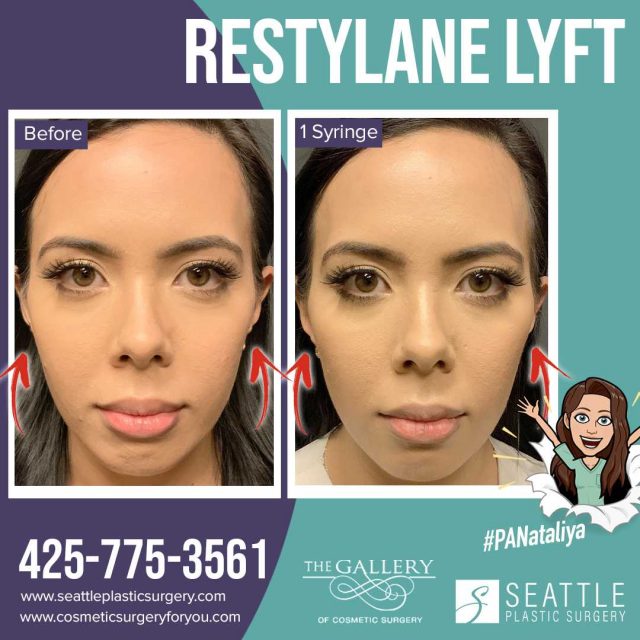 AFTER CHEEK FILLER IN SEATTLE:
Facial fillers–of any type–are a non-invasive treatment that does not require downtime. Usually, filler patients immediately return to their normal activities and work. Your provider will inform you of any recovery protocol specific to you or your Seattle cheek filler.
Possible Side Effects:
Like with any cosmetic or medical procedure, some patients experience mild side effects. Major side effects are rare in ideal candidates and it is important to inform your provider of your entire medical history, so that they can avoid any risk of major complications. Some rarely reported side effects of cheek filler injections can include: 
Tenderness

Redness

Swelling

Bruising
There are many ways to avoid and treat unwanted side effects from cheek injections. Your provider can better inform you of the best ways to limit and treat side effects. Regardless of if you experience side effects or not, most side effects should resolve on their own within a few days.
GOOD CANDIDATES FOR CHEEK FILLER:
Because fillers are a non-surgical procedure, most people are good candidates for Tacoma cheek filler. However, there are some medical conditions or situations where cheek filler may not be the best option for you. Your provider is the best person to decide if cheek fillers are right for you. 
Filler May Not Be Right For You If You: 
Are pregnant or nursing

Have a blood or bleeding disorder

Are allergic to ingredients of the filler

Scar easily

Are taking certain medications
EXPERT CHEEK FILLER INJECTORS AT SEATTLE PLASTIC SURGERY:
At Seattle Plastic Surgery, we offer skillful cheek filler injections in a safe and welcoming environment. Our cosmetic surgeons and Nurse Injectors trained extensively in filler injections so that you can see optimal results. They have perfected an injection technique that results in few side effects and is all around a more comfortable experience for patients.
Cheek filler injections with our injectors is at a lower price than with one of the plastic surgeons. This is because they often have more availability than our doctors for injections. You can still expect the same great results as our Nurse Injectors studied and underwent intensive supervisory periods where they learned directly from our doctors.
To schedule a free consultation at Seattle Plastic Surgery, call us at 206-324-1120. Chat with us using the icon on the lower left, or contact us online.
STILL HAVE QUESTIONS?
Give us a call at 206-324-1120. Or, chat by clicking the icon in the lower left hand corner of your screen. Additionally, you can contact us by filling out the form above.