Laser Hair Removal In Seattle, Kirkland, Lynnwood and Tacoma
Unwanted can cause many cosmetic worries, especially if in a place you find embarrassing or cumbersome. Shaving can be costly and time consuming. Disposable razors, waxing, and other methods can leave your skin irritated or injured. Luckily, today's laser technology offers a better solution than daily shaving. Laser hair removal can help you remove unwanted hair and save money on razors that you will throw away and monthly waxing appointments. After a few laser hair removal sessions, you can discontinue shaving and waxing regularly. The master estheticians at Seattle Plastic Surgery offer laser hair removal to the Seattle and Tacoma areas.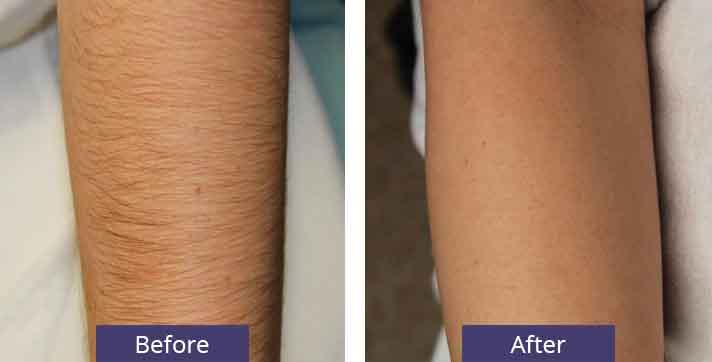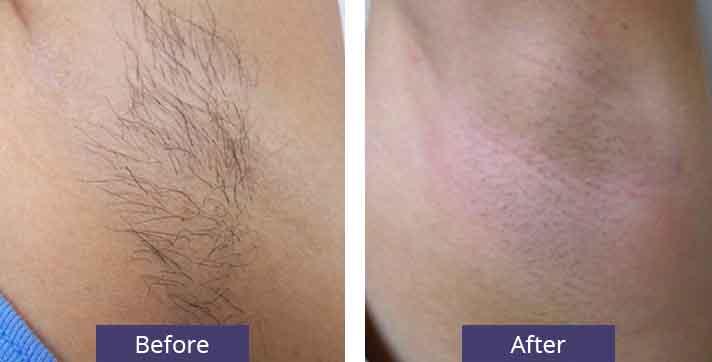 Does Laser Hair Removal Actually Work?
Laser hair removal or reduction is an esthetic procedure that reduces your unwanted body hair, and supports the appearance of smooth, hairless skin. Unlike other hair removal techniques, laser removal kills the roots of the hair follicles in the targeted area. Also, conversely to shaving or waxing, it can leave your skin soft and bare, free of bumps, razor burn, redness, and ingrown hairs. And yes, it actually works.
Fill out the form or Call us at 206-324-1120
What Areas Can I Get Laser Hair Removal?
Laser hair removal is possible almost anywhere that you have unwanted hair. It is important to note that laser hair removal can only work if the laser can identify the hairs against your skin. Therefore, for individuals with light hair, using a laser may not be the most effective hair removal treatment. Additionally, lasers can cause pigmentation issues in those with darker skin tones, however, your master esthetician can help determine if your skin is compatible with laser treatments. They can also often prevent skin discoloration with the use or prior skin care protocols.
When it comes to the areas of the body possible to treat with laser hair reduction in an ideal candidate, the possibilities are pretty much endless. Among the possible treatment areas include:
Chin
Lip
Areola
Arms
Legs
Bikini area
Underarm
Cheeks
Chest
How Much Does laser hair removal cost?
Laser hair removal prices at Seattle Plastic Surgery depend on the amount of treatments and the size of the treatment areas. For a small area (lip, chin, areola), four treatments costs $119, a medium area (underarm, bikini, cheeks, among others) is $299 for four treatments, and a large area (legs, back, chest, among others) is $429 for four sessions.
Your master esthetician can perform laser hair reduction on multiple areas and can provide an accurate estimate of pricing for your Seattle laser hair removal procedures during a free consultation.
I don't know why I waited so long for laser hair removal! To think of all the time I used to spend shaving! I love the results from my Laser Hair Removal at Seattle Plastic Surgery Center. You won't be disappointed!

Veronica

Amazing!!!
Does laser hair removal hurt?
Most laser hair removal patients do not feel any pain or discomfort during treatment. It is possible to feel a slight sensation during treatment, but patients typically do not require any anesthetics.
As long as you are a good candidate, you should not feel major pain. You can discuss your concerns with your master esthetician at your consultation. They can accurately determine how laser hair removal will interact with your skin type and tone.
How Many Sessions Will I Need?
At Seattle Plastic Surgery, we offer laser hair removal in packages of four because we have found that this protocol has yielded the best results for our patients. However, every body is unique and may require fewer or additional treatments. Based on your skin type and hair, your master esthetician may be able to provide with a rough estimation of how many sessions you will need.
Once you finish your hair removal regimen, you can expect to see a reduction or cessation of hair growth in the treatment area. You may choose to seek yearly supplemental treatments if you want, but often you can enjoy long lasting results after your initial round of treatments.
How Does Laser Hair Removal Work?
Laser hair removal works through cutting edge laser technology. During a treatment, a laser discharges light that the melanin in your hair absorbs (this is why lasers are most effective and safe for those with darker hair). The light then transforms into heat energy that damages the hair follicle, but not the skin, to prevent future hair growth.
Our master estheticians use the utmost precision to provide the best hair removal in Seattle. Gentle, yet effective techniques ensure a comfortable and effective treatment.
What Can It Achieve?
Often when patients seek laser hair reduction they are unsure what exactly the procedure can achieve. Laser hair removal can significantly reduce the amount of unwanted hair in the targeted area. Some patients will not see substantial hair growth once they finish their first round of treatments, while others may continue to see some moderate hair growth.
Regardless, laser hair removal will likely decrease the amount of hair growth in the treatment area. Sometimes patients find value in undergoing another round of laser hair treatments. In addition to a reduction of hair growth, laser hair removal can:
Decrease ingrown hairs
Reduce side effects of shaving like razor burn and skin irritation
Keep your skin smooth and hair free year-round
Save you money on razors, waxing appointments, etc.
What Type Of Laser Do You Use?
At Seattle Plastic Surgery, our master estheticians use the highest end and latest diode laser. A diode laser is a semiconductor laser that is more selective about what it treats. Diode lasers are the most common type of laser and are used widely across all industries. You can find diode lasers reading barcodes at grocery stores, in DVDs, printers, and during surgery.
The type of diode laser that our master estheticians use for laser hair removal is an Nd:YAG laser. Programmed to specifically target the melanin in hair, it leaves surrounding skin unharmed. This allows Seattle Plastic Surgery to offer nearly painless laser hair removal that is safer and more effective than previous types of lasers.
Is It Safe For All Skin Tones?
People of color often have to use caution when seeking out any laser treatment due to an increased risk of pigmentation issues, specifically hyperpigmentation or hypopigmentation. They are also more likely to experience burns, though this is rare overall.  The Nd: YAG diode laser that we use is gentler than other types of lasers and designed to target hair, not skin.
Therefore, laser hair removal in Seattle at Seattle Plastic Surgery is safe for all skin tones. In some cases, your master esthetician may recommend using a brightening cream before treatment. This cream will not make any changes to the tone of your skin, but will temporarily deactivate the melanin so that the laser only targets the hair. This is not necessary in all cases, but your master esthetician will discuss this with you at your consultation.
Seattle's Premier Master Estheticians
At Seattle Plastic Surgery, our master estheticians furthered their education by obtaining their "master" title. This means that they have a better understanding of medical terminology and conditions. This knowledge and expertise allows them to help treat skin diseases and conditions, it also qualifies them to perform more extensive esthetic procedures, like deeply penetrating chemical peels and laser treatments.
Our master estheticians are uniquely qualified to use our laser and can give you an individualized protocol that will help you see the best hair removal results Seattle has to offer.
How long does the treatment last?
Compared to shaving, sugaring, or waxing, laser hair removal is the most effective way to keep your skin hair-free. Thus, the laser treatment is far more effective in reducing unwanted hair for the long-term. Instead of just shortening the hairs or removing the follicles, laser removal destroys the root. This ensures the hair will not return.
Because our bodies naturally produce new hair over time, maintenance sessions may be needed once or twice per year following the initial treatment package. Changes in hormones ultimately dictate hair growth, so pregnancy, gender changes, and other hormonal treatments can impact the results.
Why Invest in Laser Hair Removal Treatments?
There are as many reasons to seek laser hair removal as there are patients who have chosen to pursue this treatment. Some of these reasons you are seeking removal in Seattle may be:
It's a Long-Term Investment.  

Laser hair removal can give you a smooth, hair-free bikini line or other area year-round without developing ingrown hairs, razor bumps, or waxing damage and irritation. You can say goodbye to the ongoing costs of razors, shaving creams, and anti-ingrown hair treatments.

It's Effective for Terminal Hair.  

Patients with undesirably thick arm hair, called terminal hair, may find that shaving is an ineffective solution, as the stubble from shaving may be dark and thick, leaving your arms looking and feeling rough. Laser hair removal reduces and eventually eliminates natural hair growth, leaving the arms smooth, clear, and touchable.

It's Versatile.

Laser hair reduction can be used to cover large or small areas. It is a great option for men who want to define the beard or reduce unwanted neck, chest, or back hair, for a smoother, more attractive look.

 For patients undergoing male-to-female transitions, laser removal can create a more feminine appearance. The treatment is safe and effective, even on delicate facial skin. It can transform hairy areas to hair-free havens.

It's Hypoallergenic.

Unlike hair removal creams, shaving gels, dyes, and even some kinds of wax, there is essentially no risk of allergic reaction. Lasers use concentrated light beams and contain no irritants. Each session takes under an hour. Once the initial session cycles are complete, only occasional touch-up sessions may be required to continue to keep the area smooth and free from unwanted hair.
We offer the best laser hair reduction treatments available in Seattle. Contact us at Seattle Plastic Surgery to learn how one of our licensed Master Estheticians can help you acquire smooth, glowing, hair-free skin.
Effective Laser Hair Removal In Seattle And Tacoma
Laser hair removal is not just a hair removal treatment, but a process that deserves dedication and respect to achieve optimal results. At Seattle Plastic Surgery, we use only the best lasers and techniques known to give you the results you want, while reducing the chances of side effects.
Our facility has private treatment rooms that were designed specifically for patient comfort and safety. In addition, our master estheticians utilize ultrasound gel during treatment to make sure that your laser hair removal in Seattle is comfortable for you.
During a consultation with a master esthetician at Seattle Plastic Surgery, they will want to know about your hair removal goals, the areas of the body you want to target, and your overall skin type and health. They will also inquire about your medical history to make sure your body will react positively to the treatment. Finally, they will physical examine your hair, skin, and possibly the targeted areas. They will then determine if laser hair treatments can help you achieve your goals and if you are a candidate.
If you are a good candidate for Seattle laser hair removal, you and your master esthetician will work together to create a customized plan so that you can get the most from your treatments.
To schedule a consultation with a master esthetician at Seattle Plastic Surgery, call us at 206-324-1120 or contact us using the form above.