Pre-Event Glam Package
(4 full treatments; 1 Chemical Peel, 1 Microneedling, 1 Dermaplaning, Choice of Rain Facial OR Oxygen Facial)
$599
Glow Up Package
(3 peels & 3 Microneedling Sessions)
$950
Make It Rain Package
(5 full treatments; 3 Rain Facials, 1 Dermaplaning, Choice of Enzyme Peel OR Zombie Carbon Laser Peel)
$150
Procedure Time: 30 min - 1 Hr
Recovery Time: Little to None
SEATTLE & TACOMA FACIAL SPECIALS: THE PRE-EVENT GLAM PACKAGE
Celebrity skin often makes as much of an impact on the red carpet as the lavish designer outfits. Oftentimes, the glowing, dewy skin that celebrities sport at events is the effect of many high end skincare procedures. Achieving those kinds of results at home is often impossible, even with the best skincare routine. The master estheticians at Seattle Plastic Surgery have curated a package of medical grade facials and treatments to promote the radiant skin seen on the red carpet. Designed to fit within the six weeks before your event, the Pre-Event Glam package consists of some of the best facials Seattle and Tacoma provide.
MEDICAL GRADE SKINCARE: WHAT IS THE PRE-EVENT GLAM PACKAGE?
The Pre-Event Glam package is a combination of four medical grade facials and procedures designed to improve the look and quality of your skin in time for an event. You can expect the treatments to be spaced over roughly six weeks before your event. The Pre-Event Glam package is fully customizable. Add-ons, upgrades, and substitutions are available when desired or necessary.
Packaging these treatments together saves you money and time. A pre-determined number and type of treatments make scheduling the treatments easier. Also, when purchased as part of the Pre-Event Glam package, the treatments are more cost effective than when purchased separately.
What's Included
The Pre-Event Glam package in its standard form consists of:
Add ons may include adding plasma to your microneedling treatment. This can better treat deep acne scars, surgical scarring, or more extensive aging or sun damage. Patients can also choose to easily upgrade their chemical peel to a VI Peel. If your master esthetician determines you are not a good candidate for one of the procedures, they may recommend another.
Event Skincare
At an event such as weddings or vacations, we want our skin to look its best. Maintaining a good skincare routine, drinking more water, and face masks can all promote better skin. However, these events warrant more involved care and expertise. 
The master estheticians at Seattle Plastic Surgery are skin experts with training in both the beautification and medical side of skincare. They understand how to obtain the best results in time for your big event. Their knowledge also allows them to cater the Pre-Event Glam package to your specific skin needs. For example, if you have sensitive skin, they will identify the best chemical peel for your skin type and adjust the microneedling device accordingly.
Events that our Seattle master estheticians can prep your skin for with our Pre-Event Glam package include:
Vacations

Award Ceremonies

Red Carpet Events

Weddings

Reunions

Work Events

Parties

Holidays

Other Notable Events
Benefits
Each of the procedures and facials in the Pre-Event Glam package comes with identifiable benefits. When combined, the procedures enhance one another for better and quicker results. Among some of the results you can expect from the treatments in the Pre-Event Glam package include:
More even skin tone

Smoother skin texture

Treatment of acne scars

Reduction in acne breakouts

Removal of dead skin

Improvement in the look of fine lines and wrinkles

Brighter, glowing skin

Lessening the appearance of redness and irritation

Removal of peach fuzz

Better makeup application
FACIAL SPECIALS AND PACKAGES IN SEATTLE
Along with the Pre-Event Glam facials package, the master estheticians at Seattle Plastic Surgery also offer other facial specials. Each package was curated with a specific focus in mind. You can undergo another package after completing your Pre-Event Glam package if you want to further improve skin quality or treat specific skin concerns.
Glow Up Package
The Glow Up package focuses on long lasting skin quality improvement. The package includes three chemical peels and three microneedling sessions alternated every four to six weeks. Chemical peels resurface the skin and remove the outermost layers of skin. 
Once healed, microneedling then stimulates collagen growth in the new skin. This approach means that your skin is consistently healing and improving itself. The Glow Package is great for treating damaged skin and for providing an overall boost to aging skin. It is particularly recommended for patients wanting to treat acne scarring, sun damage, and aging.
Make It Rain Package
The Make It Rain package addresses dry and environmentally damaged skin. Our skin picks up pollutants and free radicals throughout the day that can cause premature aging. Additionally, cold weather in the winter and fall can dry out the skin. These factors combined can damage the skin. Luckily, the Make It Rain package addresses both of these concerns. 
The package includes three personalized rain facials, dermaplaning, and then your choice of an enzyme peel or zombie carbon laser peel. These Tacoma facials and treatments deeply moisturize and lightly resurface to address the daily damage our skin endures.
THE PRE-EVENT GLAM FACIALS PACKAGE DESIGN
Skin Consultation
Before you book your Pre-Event Glam facials package, you will see one of our master estheticians for a consultation. Your master estheticians need to make sure that you are a candidate for all of the parts of the Pre-Event Glam package. They can also determine any customizations that may better suit your needs and goals. 
At this consultation, your master esthetician will want to gain a good understanding of your skin goals. They will also review your relevant medical history, including any skin conditions you may have. Following this conversation, your master esthetician may examine the skin. 
At this point, they will determine if you are a good candidate for the Pre-Event Glam package. If you are, they will discuss each procedure and the possible changes they may recommend based on your skin or goals. 
Treatment Schedule
The Pre-Event Glam package should start around six weeks before your event. This will allow each treatment to provide the best results. Your skin will also need time to heal following the first two treatments: a chemical peel and microneedling. 
At six weeks before the event, your master esthetician will administer a chemical peel. You can expect to experience some skin peeling afterward. About two weeks later, you will undergo microneedling. This quick turnaround means that the microneedling is treating the newly revealed skin from the chemical peel.
The next treatments in the package will not occur until the week of the event. First, your master esthetician will perform dermaplaning. Dermaplaning uses a surgical blade to carefully remove dead skin and peach fuzz on the surface of your skin. This also will promote a healthy looking glow. 
Finally, the Pre-Event Glam package finishes off with your choice of a rain facial or oxygen facial. Both are gentle, medical facials that are unlikely to cause irritation. They also can create the glowing skin seen on the red carpet. Many celebrities swear by the oxygen facial and undergo one as part of their pre-red carpet ritual. The master estheticians at Seattle Plastic Surgery want to offer you this same standard of care.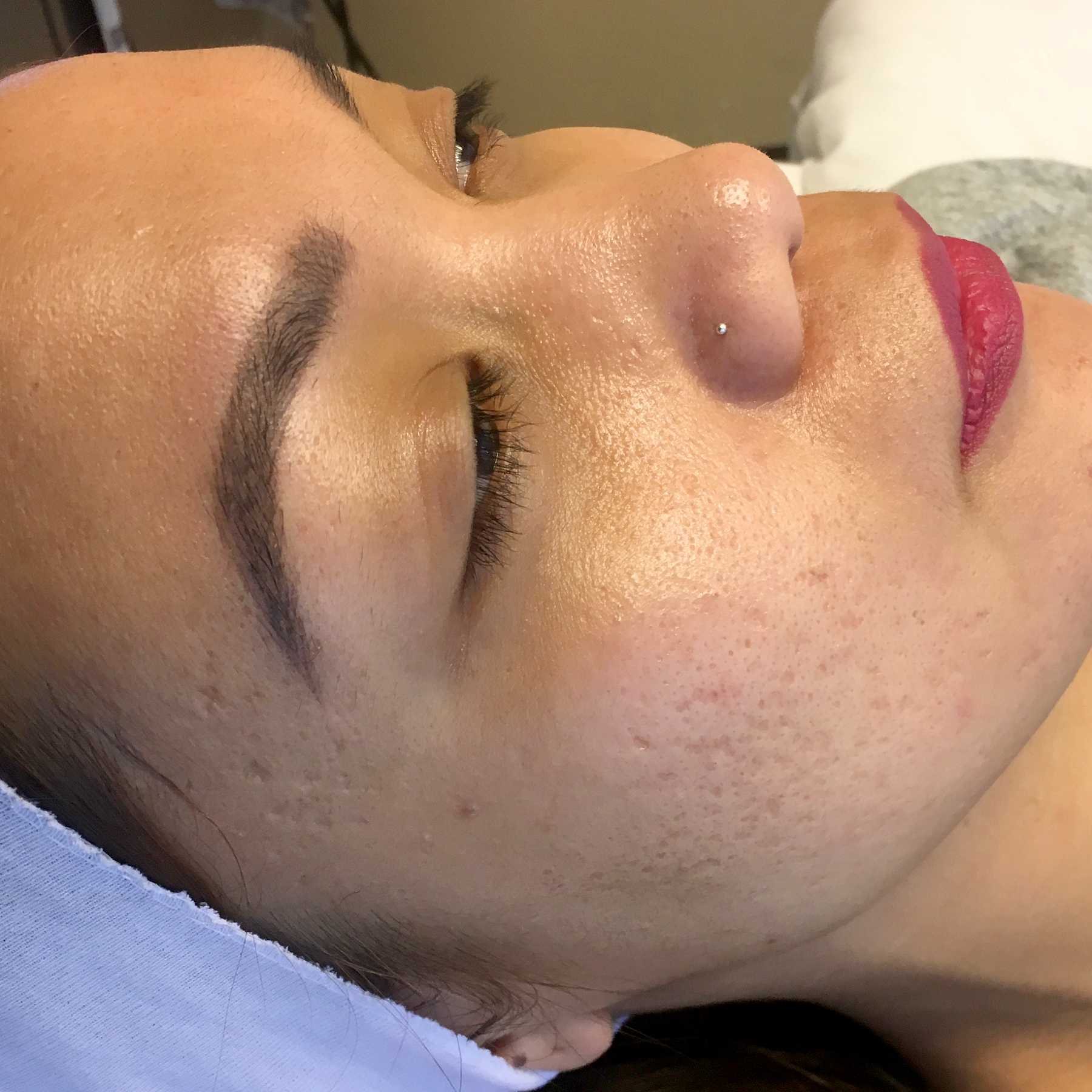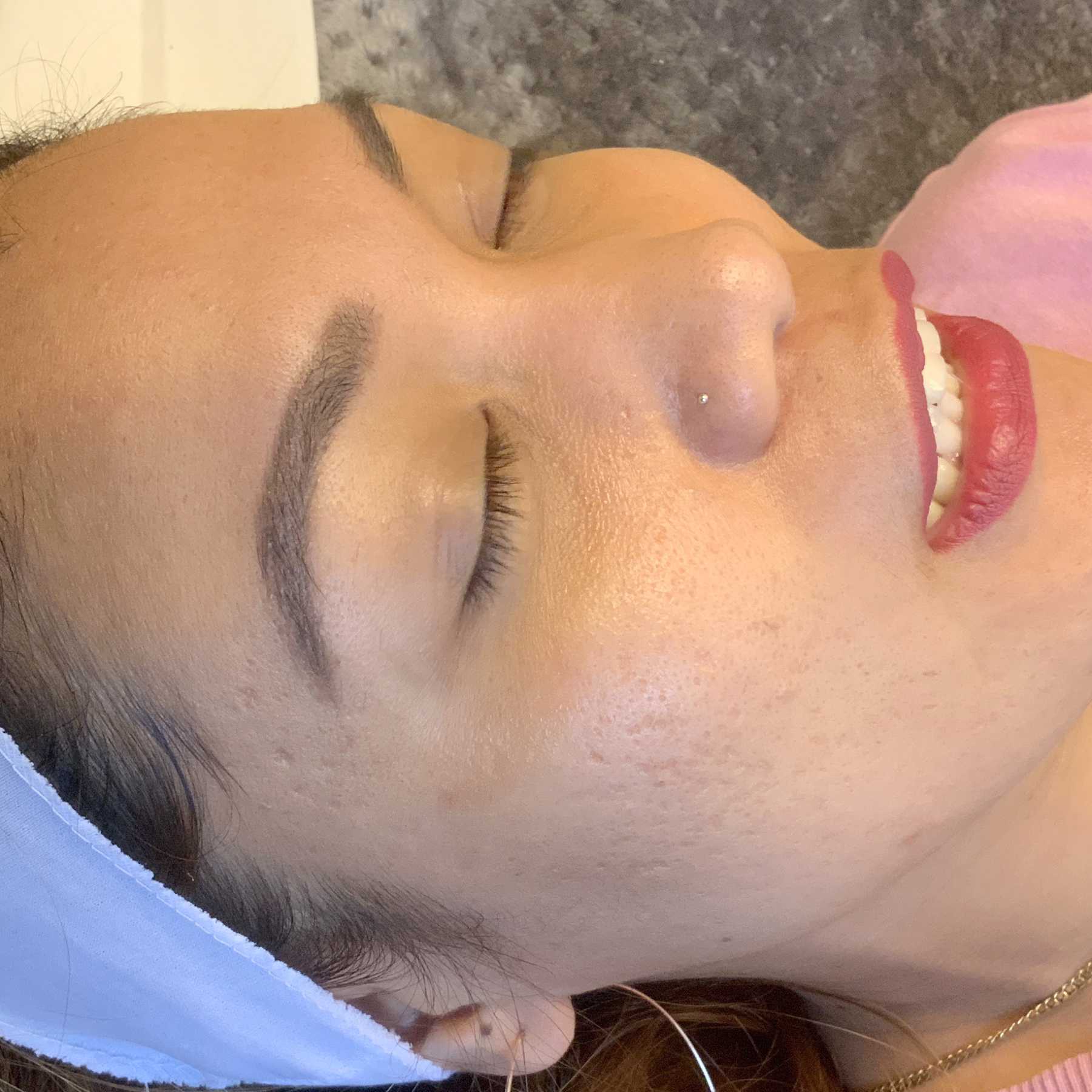 Contact Us Today
LOVE!! I felt listened to and worked with. I absolutely will be back!! ♥️

Anne
I love this place! Everyone is super friendly and professional. Happy with the services I have received so far.

Kali
Aftercare And Results
Following your final facial in Seattle, you can return to your activities immediately and will have no major aftercare. It is advisable to continue wearing SPF to protect your skin from the sun. This also is important to get the best results from your treatments.
Throughout your Pre-Event Glam package, your master esthetician will provide aftercare instructions specific to each procedure and facial. For instance, the first two treatments–a chemical peel and microneedling–require more aftercare than subsequent ones. 
As far as results, you should see a glow emerge soon after you finish the dermaplaning and facial treatments. This glow typically lasts for around a week. Otherwise, the results from microneedling and chemical peel treatments may include overall improvements in skin quality and appearance. 
The Pre-Event Glam package was designed to provide a quick glow up for your skin before an event. This may result in longer lasting results. For the treatment of specific skin concerns, it is recommended that you discuss these with your master esthetician. Your master esthetician will then put together a plan to treat your specific concerns.
GET GLOWING SKIN WITH THE BEST FACIALS IN SEATTLE AND TACOMA
Seattle Plastic Surgery is a premier plastic surgery practice that has served Seattle and Tacoma for two decades. Located in Seattle's medical hub, First Hill, Seattle Plastic Surgery is dedicated to providing the highest standard of care. This includes when providing medical spa services such as Seattle facials and non-surgical procedures. 
Our master estheticians thoroughly screen all patients and perform only the procedures they believe will best benefit. With decades of combined experience and working with seasoned plastic surgeons, our master estheticians perform the best facials Seattle and Tacoma have to offer.
To learn more about our Seattle facial specials and schedule a consultation, call us at 206-324-1120. You can also contact us online via chat, contact form, or our Price Simulator™ app.
STILL HAVE QUESTIONS?
Give us a call at 206-324-1120 or chat by clicking the icon in the lower left hand corner of your screen additionally you can Contact Us by filling out the form below.