Brazilian Butt Lift
(non-surgical)
$4,000
Brazilian Butt Lift
(With 1 Area Liposuction)
$4,995
Brazilian Butt Lift
(ZOMBIE Non-Surgical)
$6,000
Procedure Time: 2-3 hours
SKINNY BRAZILIAN BUTT LIFT SEATTLE AND TACOMA
Fat transfer procedures have grown in popularity and prevalence in the past two decades. Plastic surgeons can transfer fat into many areas of the body including the face, breasts, and buttocks. Buttock fat transfer, more commonly known as a Brazilian butt lift, is arguably the most performed fat transfer procedure. Requiring liposuction of donor fat, traditionally BBLs were not available to thinner patients. However, new techniques and more advanced technology allow patients to undergo a new type of BBL known as a skinny Brazilian butt lift. Dr. Craig Jonov at Seattle Plastic Surgery performs the best skinny Brazilian butt lift Seattle and Tacoma offers.
OVERVIEW: WHAT IS A SKINNY BBL?
A skinny Brazilian butt lift is a butt augmentation procedure that operates similar to a traditional BBL. Dr. Jonov removes fat via liposuction, purifies it, and transfers it into the buttocks. In the case of a skinny BBL, the patients tend to have less fat and the overall procedure transfers less fat. For example, during a traditional BBL, 1200ccs of fat may be transferred into each buttock. However, during a skinny BBL, less fat is transferred, sometimes as little as 500ccs per buttock.
In naturally petite or thin patients, this amount of fat transfer often still makes a major difference in overall body contours. Assuming the patient's anatomy matches, a woman with a straight figure can often gain curves via a skinny BBL. 
While there are non-surgical versions of a Brazilian butt lift, a skinny BBL is still a surgical procedure. Due to the need to "hunt" more for the fat, a skinny Brazilian butt lift can involve more areas of liposuction than a BBL.
Contact Us
Interested in a skinny BBL? Reach out to us below and our team will reach out ASAP during business hours.
Dr. Jonov is truly the kindest person very professional and super friendly, as well as his staff. He definitely helped boost my confidence! I have referred a few people to him and they are more than excited to see him. Thank you Dr. Jonov and to the whole staff! You are all amazing. 10/10

Varisha
Dr. Jonov was extremely nice and professional. The staff is kind and answered all my questions. They made me feel confident and safe. They took the time to check in and make sure I was happy with everything.

Emily
Great customer service, extremely helpful and individualized. Dr. Craig Jonov is excellent! Overall an extremely easy process with his experience.

Amber
If I could give ten stars I would haha. Very attentive & caring staff, made me feel very welcome & comfortable. Also the nurses/staff took great care of me prior & after my procedure.

Karolina
Benefits
A skinny Brazilian butt lift comes with many benefits for patients who are good candidates. Since the procedure involves harvesting fat from multiple different body areas, it can dramatically alter the contours of the body. Even in this "skinnier" version where less fat is harvested, a snatched waist and thinner thighs are often possible. Though, the exact liposuction areas will vary based on the patient.
Other benefits of a skinny BBL can include:
Rounder buttocks

Achieve more upward projection

Improved body contours

More toned body

No need to gain weight before surgery

Permanent results

Address buttock asymmetry

Correct buttock deformities

No implants or inorganic material used

Natural looking and feeling

May result in a more youthful physique

Majority of transferred fat expected to survive

Removal of unwanted fat

Performed by experienced BBL surgeon

Fairly low risk surgery

Patients can usually return to non-physical work in about one week
Risks
Any surgical procedure comes with risks. When choosing to undergo an elective surgery such as a skinny Brazilian butt lift, it is important to understand the risks. Some patients may have more risk than others depending on their medical history and other factors. Dr. Jonov will also evaluate your personal surgical risk and discuss this with you during your consultation.
Some of the risks of a skinny BBL procedure may include:
Stretch marks

Formation of cellulite

Complications associated with general anesthesia

Excessive bleeding

Blood clots

Infection

Unsatisfactory results

Fat embolism

Skin necrosis

Seroma

Scarring
All of these risks are rare. Many, such as worsened bruising, can be prevented and easily addressed. Dr. Jonov will also prescribe antibiotics to ward off infection. He will also examine you at each post-op for any signs of seroma, infection, or other issues. Generally, when seeing an experienced plastic surgeon like Dr. Jonov, serious risks or complications are exceptionally rare.
BEFORE AND AFTER SKINNY BRAZILIAN BUTT LIFT SEATTLE
Candidates & Consultation
The first step towards the booty of your dreams is to find out if you are a skinny BBL in Seattle candidate. During a consultation, Dr. Jonov will first want to understand your goals and expectations for the procedure. Next, he will review and may ask some questions about your medical history and lifestyle. Finally, he will perform a physical examination to identify viable liposuction areas and put together a surgical plan.
At this point, Dr. Jonov can determine if you are eligible for a Seattle skinny Brazilian butt lift. If you are a good candidate, he will describe the procedure and the results you can expect. If you are not a good candidate, he will discuss alternative procedures that may help you achieve your cosmetic goals.
Skinny BBL Surgery
Preparing for surgery involves preliminary testing and meeting with Dr. Jonov for surgical markings. Then, a licensed anesthesia provider will place you under general anesthesia. The first of skinny BBL surgery involves harvesting the fat. Using tiny incisions in the various areas, Dr. Jonov will remove fat via liposuction. Compared to traditional BBL surgery, there may be more lipo areas because small amounts of fat are removed from each area.
After removing all of the necessary fat, Dr. Jonov will isolate the fat from the blood and oils present. After this purification process, he will expertly inject the fat into the buttocks. The exact injection sites will vary based on the patient's needs and goals. Patients can expect the process to take between two and four hours of surgical time.
Recovery From BBL
For the first 24 hours after surgery, you will need the care of a caregiver (who can be a trusted friend or family member). After your immediate post-operative appointment, patients are usually in the clear to recovery without a caregiver. While instructions can vary based on the intricacies of each surgery, some standard skinny BBL recovery directions include:
Avoid sitting on your buttocks for several weeks and use your BBL pillow every time you need to sit

Sleep on your stomach

Do not partake in any strenuous exercise for two weeks

Avoid glute exercises until blood supply develops in the buttocks

Wear compression garments

Attend all post-surgery appointments

Take prescribed antibiotics

Use caution when returning to work and daily activities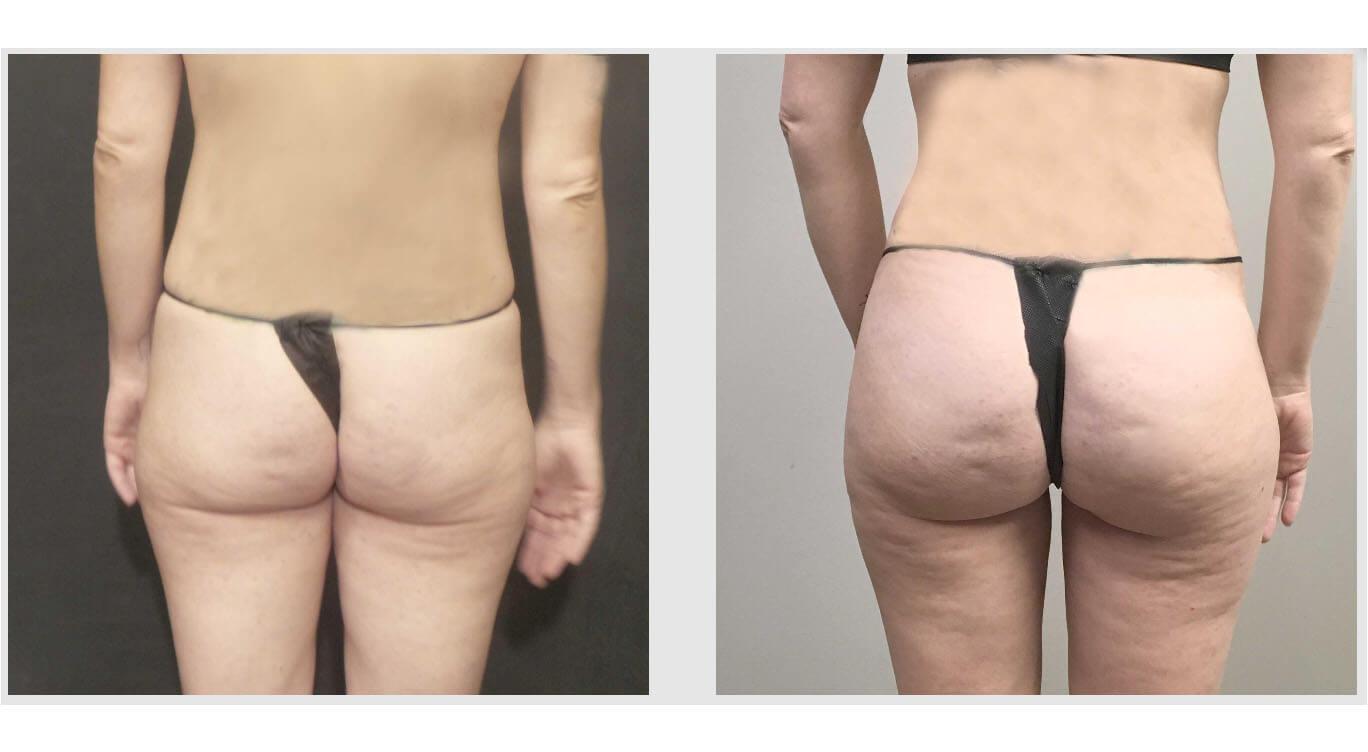 Before & After Skinny BBL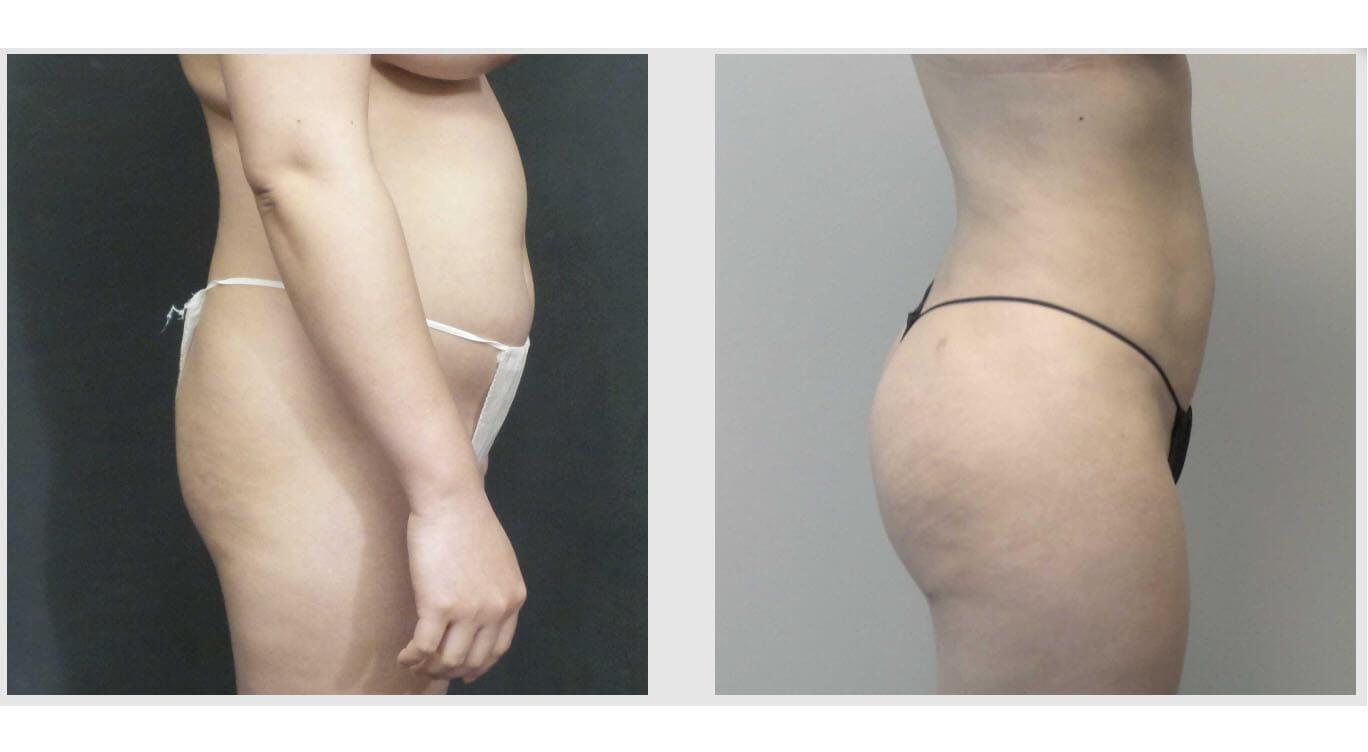 Before & After Skinny BBL
FREQUENTLY ASKED QUESTIONS
Can You Be Too Skinny For A BBL?
Yes, even though a skinny BBL caters to thinner patients wanting buttock enhancement, some simply do not have enough fat. If you are underweight or especially low body fat percentage, Dr. Jonov may recommend an alternative, like a non-surgical BBL.
Does A BBL Last Forever?
During your recovery, it is expected that between 10-40% of the transferred fat will absorb back into the body. Dr. Jonov accounts for this by initially injecting more than the necessary amount of fat. The fat that does survive and create a healthy blood supply is considered permanent.
However, just like the other fat in your body, it is susceptible to expansion and loss. Therefore, weight fluctuation can affect the transferred fat. If you maintain a fairly stable weight though, the buttock enhancement should remain permanent.
Do Men Get Brazilian Butt Lifts?
Yes, while a Brazilian butt lift is associated more with a woman's natural curves, many men also seek buttock enhancement. Men do tend to have differing goals for buttock enhancement. Furthermore, just like for women, it can greatly improve a man's self-esteem and body contours.
Is It Better To Do A Non-Surgical BBL?
For some patients, yes. However, for others, no. It largely depends on the patient's overall build and goals. A non-surgical BBL is not as predictable, reliable, or effective as the traditional fat transfer method. Though, for patients with little body fat, a non-surgical Brazilian butt lift may be the best option.
Dr. Jonov can evaluate whether a skinny BBL or non-surgical BBL will benefit you most during a consultation at Seattle Plastic Surgery. Generally, patients will find the best results from a fat transfer BBL, whether traditional or skinny.
What Is The Cost Of A Skinny Brazilian Butt Lift?
The cost of a skinny Brazilian butt lift will depend on the number of liposuction areas. To find the starting cost of a Seattle BBL, try out our Price Simulator®. For more information about financing options, check our financing page. There, you can find the outside options we accept and direct links to apply.
THE BEST SKINNY BRAZILIAN BUTT LIFT IN SEATTLE AND TACOMA 
Dr. Craig Jonov is an accomplished and renowned Seattle plastic surgeon. With decades of experience and various appointments as an educator in the field, Dr. Jonov is one of the top BBL surgeons. Performing Brazilian butt lifts on nearly a weekly basis, he achieves natural looking results. Additionally, Dr. Jonov personalizes each surgery he performs to the patient. Dr. Jonov offers the best skinny Brazilian butt lift Seattle and Tacoma provide.
Seattle Plastic Surgery is a plastic surgery practice located in the First Hill neighborhood of Seattle. With a longstanding reputation for providing the highest quality cosmetic procedures of both the surgical and non-surgical variety, Seattle Plastic Surgery is among the top destinations for Brazilian butt lift surgery in Seattle.
To schedule a consultation with Dr. Craig Jonov, call us at 206-324-1120. You can also reach out online via Price Simulator®, chat, or our contact form.