Sometimes Things Feel A Little Off
Do you feel as though some parts of your face are out of sync? Like some features are off-balance with others? A small or receded chin can often leave other parts like your nose or mouth looking much larger than they actually are. If you are unhappy with the appearance of your chin and are wanting a stronger and more pronounced look, you may benefit from chin surgery and implants with our Seattle cosmetic and plastic surgeons. At Seattle Plastic Surgery, we offer chin augmentation and other procedures to the Seattle, Tacoma, and surrounding areas.
Chin Procedures At Seattle Plastic Surgery
At Seattle Plastic Surgery, we offer many surgical and non-surgical chin procedures. The chin is an integral part of our face and contributes greatly to our facial balance and profile. Whether you have a recessed chin, a large chin, or a dimpled chin, there is a chin procedure in Seattle that can help you even out your facial structures.
Chin Augmentation:
Chin augmentation in Seattle is one of the more popular procedures at Seattle Plastic Surgery. In most cases of surgical chin augmentation, your plastic surgeon will use implants to provide you with the chiseled, balanced chin you desire. Your chin augmentation surgery is customized to fit you. Everything from the implants to the surgical techniques, your cosmetic surgeon will personalize to fit you and your aesthetic goals.
Chin Reduction:
While many patients want to augment their chin to obtain a larger and more defined chin, others need a chin reduction to bring harmony to their features. A chin reduction procedure will reduce the size and projection of the chin. This procedure is often part of facial feminization and can provide flattering symmetry to the face.
Non-Surgical Chin Augmentation:
Some patients seeking chin augmentation do not need need implants or a full surgical procedure to address their concerns. Other simply do not want to undergo surgery. For them, a non-surgical chin augmentation using dermal fillers may achieve their goals. Those with only a small chin issue like a dimpled or cleft chin may find the best results with this non-invasive method. Non-surgical chin augmentation is also a great way to try out the look of your chin implants before committing to surgery.
Facial Implant Options
Whatever your cosmetic goals, chin surgery in Seattle can help you accomplish the look you want for your chin. We offer many chin implants and surgical options that can work for anyone and any lifestyle.
We can use other facial implants and techniques to bring better balance to the facial features of a younger patient. For instance, a teenage girl may want her nose reshaped with rhinoplasty, or her chin brought forward for a more proportionate appearance.
Older men and women may choose to have an implant placed with chin surgery in conjunction with another cosmetic procedure. For example, during a facelift, a patient with an unpronounced chin may have a chin implant placed. This can help restore a more youthful appearance to the jaw line and neck. Combining multiple facial procedures is a good way to rejuvenate the face as a whole to achieve your ideal look.
See The Dramtic Difference A Chin Surgery Can Have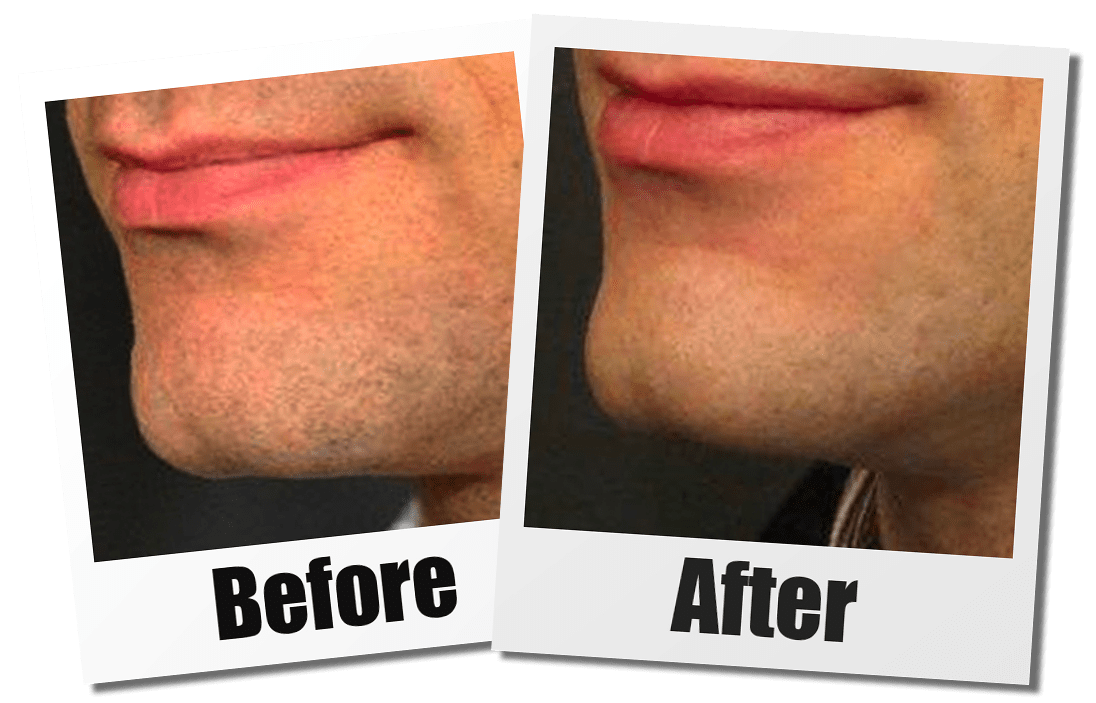 Why Chin Augmentation?
We use chin implants to improve and enhance jaw line contours and proportions. Frequently, these implants will help provide a more harmonious balance to your face and features so that you feel better about the way you look and more confident when meeting face to face with others. Among the many benefits to your appearance you can see after chin augmentation in Tacoma include:
Improvement of facial profile
Balance of facial features
More defined, chiseled chin
Increased size and projection of the chin (in proportion to your features and size)
More defined jaw line
Correction of recessed chin
Increase in self esteem and confidence
What Can A Chin Reduction Achieve?
Similar to a chin augmentation, a Tacoma chin reduction can bring balance and harmony to your features. An over pronounced chin can cause your other features to look muted or can make your face look disproportionate. A chin reduction procedure can reduce the size and projection of your chin so that it better matches the rest of your features.
Chin reduction is a procedure that is often performed as part of facial feminization or in patients transitioning from male to female. A woman's chin is often smaller and has a different contour than man's. Therefore, a chin reduction can reduce and reshape the chin to look more feminine.
Customizing Your Chin Implants
There are many shapes and contours of chin implants available. During your consultation, our surgeons will walk you through your options in order to create an implant that will best achieve your goal look. Utilizing a chin implant will help strengthen your jaw line and bring the chin into balance with the rest of your face.
These implants are made of silicone and placed through a discreet incision made either inside your mouth or under your chin. A small pocket will be created near the front of your jawbone for the implant.
Who Is A Good Candidate For Chin Surgery In Seattle & Tacoma?
The first qualification that makes you a suitable candidate for chin surgery at Seattle Plastic Surgery is that you have a cosmetic chin issue that you would like to solve. This can be a recessed or undefined chin, large chin, or any other problem possible to solve with chin surgery.
Next, your health and medical history must be compatible with a surgical procedure, in addition, to a chin procedure. Normally, this means being in good general health and a nonsmoker. Smoking can hinder the healing process after surgery and put you at a higher risk for complications. Your Seattle plastic surgeon will most likely ask you to quit well in advance of the procedure.
Certain medical conditions can make it unsafe for you to undergo a non-necessary surgical procedure such as pulmonary disease, blood or bleeding disorders, cancers (especially of the jaw or near the chin), and other major medical conditions. Providing a full medical history to your cosmetic surgeon is important so that they can assess your conditions and accurately decide if you are a candidate for chin surgery in Seattle and Tacoma.
Finally, you must have realistic goals and expectations when it comes to your chin surgery. Your plastic surgeon can help you understand what is possible with chin implants, or your chosen chin surgery.
Skilled Chin Surgery In Seattle & Tacoma
At Seattle Plastic Surgery, our board-certified surgeons can provide you with the chin procedure that will give you attractive facial symmetry and proportions. Whether you opt for implants, fillers, or a reduction, your plastic surgeon will craft your chin procedure to fit you, your face, and your lifestyle.
Our office is located conveniently off Broadway across from Swedish Hospital. The office is quiet and private which allows for a calming environment for your chin surgery in Seattle. Our surgery center is state-certified by the same high standards hospitals are held to, even though the state does not require that we hit these standards. This is just one of the ways we prioritize your safety at Seattle Plastic Surgery.
Your Consultation
During your consultation at Seattle Plastic Surgery, your plastic surgeon will ask about your goals and expectations for your chin surgery, your medical history, and why you are choosing chin surgery. After getting a good understanding of you and what you want from the procedure, they will conduct a physical examination, so that they can create a personalized surgical plan for you and your Seattle chin surgery.
Once they determine you are a good fit for chin surgery, they will present you with your implant options, surgical technique options, and make recommendations based on your medical history and anatomy. You can trust your plastic surgeon at Seattle Plastic Surgery to listen to your concerns and address them with your surgery plan.
To schedule a consultation with a Seattle plastic surgeon, call us at 206-324-1120 or contact us using the form above.
Still Have Questions?
Give us a call at 206-324-1120. Chat by clicking the icon in the lower left hand corner of your screen or additionally you can contact us by filling out the form above.