Cervicofacial Liposuction Price
Local: $4,995 General: $5,995
Cervicofacial Liposuction Seattle & Tacoma
From birth through to adulthood, the face changes drastically. After reaching full maturity, the face will continue to change due to aging. Though, changes are subtler and take longer to appear. The rapid changes that occur after puberty and into adulthood include losing baby fat on the face and the facial features maturing. Sometimes, though, genetics or other factors can leave adults with pockets of fat that do not go away with diet, exercise, or time. Dr. David Santos at Seattle Plastic Surgery performs the best cervicofacial liposuction Seattle and Tacoma offer.
Overview: Defining Cervicofacial Liposuction
Cervicofacial is a term defined as "pertaining to the face and/or neck". Therefore, cervicofacial liposuction refers to any liposuction procedure on the face or neck. Often, when used to describe a procedure as a whole, Dr. Santos performs lipo on multiple areas of the face and neck.
The areas treated will vary from patient to patient, though any area that tends to carry fat on the face and neck are among the most commonly treated. A few examples include under the chin, the cheeks, and the jowls. Sometimes, due to age, fat deposits may descend lower on the face. Fat transfer using liposuction can occasionally remedy this in younger patients.
Dr. Santos commonly performs Seattle face and neck liposuction with other facial plastic surgeries such as:
Benefits
There are many benefits to undergoing facial liposuction with Dr. David Santos at Seattle Plastic Surgery. Some of the benefits associated with cervicofacial lipo include:
Slimmer profile and facial appearance

Younger look

Reduce in under chin fullness

Address cheek fullness

Remove diet and exercise resistant fat

Slim the face after weight loss

Can treat multiple areas during one procedure

Low risk procedure

Sometimes performed under local anesthesia

Minimal recovery time

Can combine with Renuvion for added skin tightening

Mild side effects for many patients

Limited need for prescription pain medication

Viable for adult patients of all ages

Performed by a facial plastic surgeon with over three decades of experience
Candidates
At a consultation, Dr. Santos will evaluate you to determine if you are a good candidate for facial liposuction in Seattle. While it is a non-invasive procedure, some may benefit more from other procedures. Likewise, some are at higher risk than others which makes them unfit for cervicofacial liposuction. Some of the qualities of good candidates include:
Good overall health

Does not have significant extra skin in the treatment areas

All major health conditions are well managed

Does not have a serious autoimmune disease such as HIV

Is not undergoing cancer treatment

Does not take blood thinners, or can temporarily stop them

Understands the procedure and has realistic expectations

Can withstand necessary anesthesia requirements

Does not have serious heart conditions or blood disorders

Have not undergone recent surgery in the treatment area
Not all of these circumstances will completely disqualify a patient. Dr. Santos will individually evaluate each patient, viewing their health and candidacy holistically.
How Liposuction Works
Liposuction is a frequently used plastic surgery technique that involves inserting a cannula and breaking up unnecessary, stubborn fat. There are a few techniques Dr. Santos may use, though the most common one is known as tumescent liposuction. Using this technique, Dr. Santos will start by injecting tumescent fluid to break up the fat in the area. Next, he will then use the cannula to gently suck up the fat.
While commonly performed on larger parts of the body such as the abdomen and back, liposuction is effective on smaller areas such as under the chin. The technique does require a plastic surgeon familiar with cervicofacial liposuction because it requires precision to perform effectively and safely. Dr. Santos has decades of experience performing facial liposuction surgeries.
Before & After Facial Liposuction
Before
The first step to undergoing Seattle cervicofacial liposuction is to schedule a consultation with Dr. David Santos. During your appointment at Seattle Plastic Surgery, he will ask about your lifestyle, medical history, and goals for the procedure. This will help him understand your unique circumstances and customize a procedure that will get you the results you want. He may also briefly examine the potential treatment areas to evaluate your skin quality and anatomy.
If Dr. Santos believes that facial liposuction will help you achieve your ideal look safely, he will describe the procedure and make recommendations based on his examination. He may also recommend procedures in addition to or instead of facial liposuction. This may include a facelift, Botox injections, buccal fat removal, or a chin implant.
During
On the day of your procedure, depending on your specific needs, a licensed anesthesia provider will place you under either local or general anesthesia. If under local anesthesia, you will remain partially awake, but perfectly comfortable. Once adequately sedated, Dr. Santos will begin the procedure by injecting the tumescent fluid into the treatment areas.
After the fat has adequately broken up, he will make a small incision hidden within the face's natural contours. Through this incision, he will place the liposuction cannula. Moving it gently back and forth, he will collect the excess fat. Once he treats all the planned areas, he will stitch the incisions and you can slowly wake up.
If you combine cervicofacial liposuction with a facelift or other procedure, he may perform either procedure first. This depends on your anatomy and needs. Often, liposuction will come first and then he will remove leftover extra skin to achieve tight, youthful contours.
After
For at least two weeks after surgery, Dr. Santos will instruct you to wear a compression garment. The garment promotes the best results and skin retraction. This also helps reduce swelling and make your recovery more comfortable. He may prescribe antibiotics and prescription pain medications, though many patients find a limited need for prescription strength painkillers.
Side effects may include swelling, bruising, redness, itchiness, tenderness, and pain. Generally, these side effects improve within one to two weeks. Dr. Santos usually recommends that patients return to work after about five to seven days depending on their job. However, many patients can safely do some basic household chores within one to two days.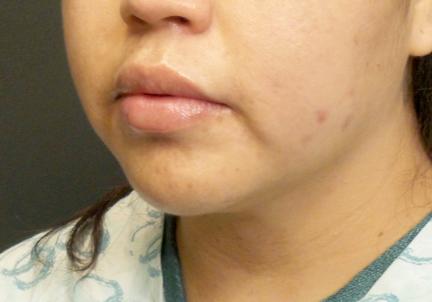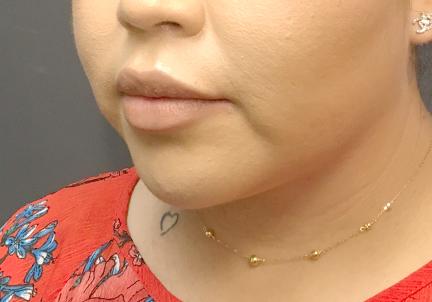 The team was great. They answered all questions and were very helpful with my healing. I would do it all over again. I love my results, very, very, and happy. My husband family and friends love it and say how great and happy I look. Thanks again to everyone and to Dr. Santos.

Paula
The surgery went great and I really liked how available Dr. Santos was by text as I have been healing. He has taken very good care of me!!

PJ
I want to thank all the people who worked with me. It was a good experience and people noticed how good I looked afterwards and told me how much younger I looked; I would recommend it to others.

Judi
I was pleased with the whole experience. The staff is very professional but also kind and engaging. I would recommend Dr. Santos to all my friends.

Gail
Frequently Asked Questions
What Are Causes Of Extra Face Fat In Adulthood?
In childhood and adolescence, it is normal to carry some extra fat on the face. Throughout puberty and early adulthood, this tends to thin out over time for most people. By ages 25 to 26, most people do not have baby fat leftover on their faces. However, for a variety of reasons, some people can be left with stubborn pockets of fats. Some of these reasons may include:
Genetic predisposition

Aging

Facial anatomy or structure

Frequent and/or major weight fluctuations

Poor posture

Certain medical conditions

Some medications
Genetics is by far the most common cause of facial fullness. Thankfully, liposuction does offer these patients an opportunity to get the facial contours they desire.
Are There Non-Surgical Options?
Yes, depending on the area, Kybella injections are an option. Kybella uses deoxycholic acid to melt submental fat. It currently is only FDA approved and suitable for under the chin. However, clinical trials continue for other areas of fullness.
Is Facial Liposuction Permanent?
When fat cells are removed via liposuction, those fat cells cannot return to the same part of the body. Therefore, even if you gain weight, additional fat will not accumulate in the treated areas. With that said, it is impossible (and unsafe) to remove all fat in one area with liposuction. The remaining fat cells can expand. Of course, you are also still susceptible to aging, loss of skin elasticity, and damage which can also affect the look of the face.
What Are The Risks Of Face Liposuction?
Similar to any medical procedure, cervicofacial liposuction does come with some risks. Among the risks include:
Infection

Scarring

Prolonged or worsening of side effects

Asymmetric results

Remaining saggy skin

Complications of anesthesia

Bleeding
Overall, especially when compared to more invasive surgical techniques, facial liposuction is fairly low risk for most patients. If Dr. Santos believes you have a higher than average risk, he will create a plan to mitigate these risks. In some cases, he may recommend another procedure.
Can It Be Performed Under Local Anesthesia?
Yes, chin liposuction is especially conducive to using local anesthesia. Since the procedure is quick, for many patients there is no need for full sedation. Performing cervicofacial liposuction under local anesthesia also reduces risk and recovery time. Conversely, if you are having a combined procedure or for other circumstances that require general anesthesia, Dr. Santos can accommodate this. This is also true for chin liposuction with J plasma.
How Much Is Cervicofacial Liposuction?
Seattle cervicofacial liposuction starts at $4,995 with local anesthesia and $5,995 with general anesthesia. The price can fluctuate depending on the number of areas treated and other factors of the procedure.
Financing through outside companies including Care Credit is available. To find out what companies we work with and links to apply, visit our financing page.
Get A Slimmer Face With Seattle's Best Facial Plastic Surgeon
Dr. David Santos is a veteran facial plastic surgeon with over thirty years of experience. Along with his plastic surgery accolades, Dr. Santos is an otolaryngologist who performs sinus surgery. As a result of choosing these two specialties, he is an expert in facial anatomy. Impressively, he handles both the inside and outside of the face, making him a foremost facial surgery expert. This allows Dr. Santos and Seattle Plastic Surgery to provide the best cervicofacial liposuction Seattle and Tacoma offers.
Seattle Plastic Surgery is located in the First Hill neighborhood of Seattle. Within the medical hub of the city, Seattle Plastic Surgery features the gold standard of plastic surgery, cosmetic injections, medical grade skincare, and esthetics. Our providers are passionate about helping you achieve your goals. Consequently, they work diligently to cater to your preferences, anatomy, and goals.
To learn more and to schedule a consultation, call us at 206-324-1120. You can also reach out online using Price Simulator, chat, or contact form.