ARM LIFT IN SEATTLE AND TACOMA
The arms are one of the most functional parts of our body. We reach, lift, and swing our arms everyday. This means that our arms are hard to ignore. For those with saggy arms, all these activities can only serve as a reminder of dissatisfaction with your appearance. For those who have lost large amounts of weight or developed sagging arms due to age, it can be frustrating when hours of exercise and a strict diet don't deliver your ideal appearance. When this happens, an arm lift can help remove excess skin and fat to create a graceful, proportionate arm. Seattle Plastic Surgery offers arm lifts in the Seattle and Tacoma areas. 
WHAT CAN AN ARM LIFT SURGERY IN SEATTLE ACHIEVE?
Seattle arm lifts routinely create a thinner looking arm through the removal of extra skin and fat that cause the upper arm to have a saggy "bat wing" appearance. While addressing skin and fat are the mainstays of an arm lift, the procedure can assist with other cosmetic issues such as:
Stretch marks

Skin laxity

Firming of the arms

Tone issues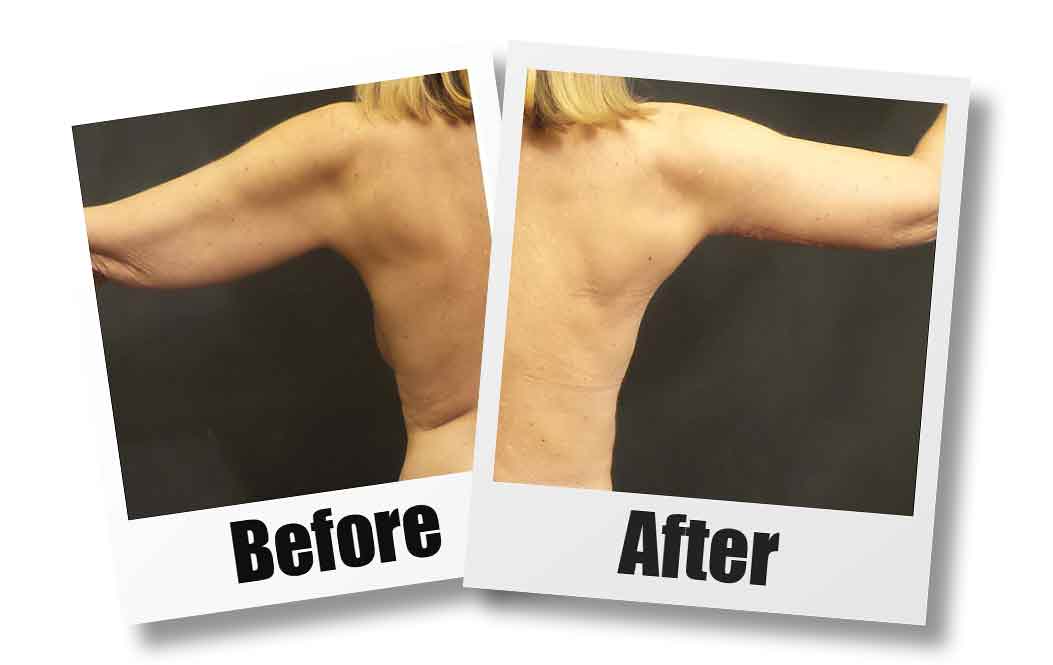 Interested in an Arm Lift?
Fill out the form below to schedule a consultation or ask any questions you may have.
HOW MUCH IS AN ARM LIFT?
An arm lift at Seattle Plastic Surgery costs $8,995. This price may fluctuate depending on the extent of your procedure, if you choose to combine other cosmetic surgeries with your arm lift, or on other factors your plastic surgeon will determine. During your consultation, they can provide an accurate estimate of the cost of your arm lift in Seattle once they understand your individual needs and goals. 
Choosing to undergo any cosmetic procedure is a difficult decision, especially when a budget is involved. At Seattle Plastic Surgery, we work with outside financing companies like Care Credit and Alphaeon to give you options for your budget. You can find more information and links to apply on our financing page.
Benefits Of An Arm Lift
In addition to your results, there are many benefits you may see from your arm lift in Seattle. Based on your health and goals, the benefits you see may vary on the look you want to achieve. Among some of the advantages of an arm lift are:
Contoured, graceful arms

Removal of extra skin

Tightening of existing skin

Removal of stubborn fat deposits

Improved body proportions

Quick recovery

Restored confidence (especially to wear sleeveless clothing)
Because every arm lift at Seattle Plastic Surgery is catered to fit an individual patient, your results will be unique to you. Overall, an arm lift can dramatically change the look of your arms and physique, making your arms better fit the look of your body. 
THE PROCEDURE
Your plastic surgeon will make an incision from your armpit and down your arm. The length of this incision relies on the amount of correction you need and the extent of your arm lift surgery. In a full brachioplasty, the incision can reach from armpit to elbow, though this is not necessary for every procedure.
Through this incision, your cosmetic surgeon may use liposuction to remove pockets of fat. They may concurrently remove and tighten your skin to create a flattering contour and appearance. During surgery, your cosmetic surgeon will use gentle techniques meant to decrease scarring and side effects. 
Finally, your Seattle plastic surgeon will close your incisions. They may or may not place drains depending on your surgery.  
Risks
When a board-certified cosmetic surgeon performs your arm lift, this reduces surgical risks. Like any surgery, an arm lift does come with some inherent risks, which is why it is important to ensure you are a good candidate and choose a qualified surgeon. Some of the risks associated with an arm lift are:
Bleeding

Nerve damage

Damage to structures of the arm

Excessive or unwanted scarring

Risks associated with anesthesia

Infection
The cosmetic surgeons at Seattle Plastic Surgery take every possible precaution to reduce the risks of your procedure. Most of these are easily avoidable when an experienced plastic surgeon performs your Seattle arm lift. Your plastic surgeon may prescribe antibiotics after your procedure to lessen the risk of infection. Your cosmetic surgeon will also actively curtail risks by making sure no aspects of your health will conflict or compromise your arm lift surgery or results.
Is The Scar Worth It?
All surgeries carry the risk of some scarring, so it is important to have realistic expectations. There are steps you can take to minimize the risk of scarring such as following our scar treatment protocol, which your surgeon will discuss with you.
For some patients, scarring does not matter, only their new slim arms. However, it is understandable that many patients are concerned about scarring because it can continue to make them self conscious in sleeveless clothing.
At Seattle Plastic Surgery, our cosmetic surgeons actively work before, during, and after your arm lift to minimize scarring. Firstly, they will plan a surgical technique that includes the smallest incision possible that will still offer you the results you want. Next, they will use specialized skills to minimize the risk of scarring during scarring. Finally, they will prescribe our proprietary scar treatment protocol that begins the day of surgery to prevent and treat scarring before it fully forms. 
TACOMA ARM LIFT SURGERY RECOVERY
Like your arm lift surgery, your plastic surgeon will customize your recovery instructions to fit your health needs and the specific procedure. Generally, you can expect to refrain from significant lifting for a number of weeks following arm lift surgery at Seattle Plastic Surgery. Additionally, your cosmetic surgeon will likely restrict exercise for at least two weeks. Depending on the physical demands of your job, you may return to work within a week or so of your procedure, but you will require clearance from your plastic surgeon. 
Usually, your cosmetic surgeon will provide a compression garment to wear for the duration of your recovery. This will help treat swelling and keep you comfortable. Your plastic surgeon will prescribe pain medication to help you recover well. Along with these directions, your cosmetic surgeon may recommend other methods personalized to you and your procedure.
LIPOSUCTION OR BRACHIOPLASTY?
When fat causes your arms to sag, an arm lift may not always provide the best results. Arm liposuction can often provide satisfactory results for patients who do not have extra skin or a large amount of skin laxity. 
Liposuction comes with many advantages such as less risk of scarring and a quicker recovery time when compared to a full brachioplasty. Still, an arm lift is often the option that will provide optimal results. Liposuction is often utilized as part of an arm lift procedure, but in certain patients may provide good results on its own. 
Signs that liposuction may adequately address your arm concerns include:
Fat is the primary cause of your arm sag

You do not have extra skin

Your skin is mostly tight and does not require surgical intervention
Other factors may contribute to liposuction being a better option for your arm concerns. Additionally, some may only need a minimally invasive Renuvion treatment. Your plastic surgeon will help you decide on the cosmetic procedure that will provide you the most benefit and aligns best with your goals.
WHEN IS THE RIGHT TIME FOR AN ARM LIFT?
While many cosmetic procedures are associated with aging, patients of all ages seek Seattle arm lifts. Aging can cause skin to sag and fat to accumulate in areas it did not previously. Weight loss can cause the skin on your arms to sag as the actual size of your arms shrink. Your skin unfortunately cannot naturally retract when you lose a significant amount of weight. Therefore, patients of all ages undergo an arm lift in Seattle. 
As mentioned, large weight loss can contribute to saggy arms, but when is the right time during your weight loss to have an arm lift surgery? Almost always your Tacoma plastic surgeon will recommend being at or close to your weight loss goal and having maintained that weight for at least a few months prior to surgery. Because weight gain or fluctuations (including more loss) can hinder your results causing them to reverse or to lose optimal results.
You should be mentally and physically prepared for your arm lift surgery. Fully understanding the scope of the procedure and maintaining your body weight will ensure you are ready to seek out a Tacoma arm lift. Regardless of when you want to have your arm lift, your cosmetic surgeon can help educate you on the surgery and understand the risks and benefits specific to you and your health. 
TOP ARM LIFT IN SEATTLE AND TACOMA
Seattle Plastic Surgery is your one stop shop for cosmetic surgery and procedures in the Greater Seattle area. With an easily accessible centralized location, off-street parking, and the best plastic surgeons and master estheticians, Seattle Plastic Surgery offers the newest technology in cosmetic surgery. 
During your consultation with a Seattle plastic surgeon, they will ask you about your cosmetic concerns, goals for your lift, and medical history. This will help them determine if you are a viable candidate for an arm lift in Seattle. You will also have the opportunity to ask questions and address any concerns you may have. 
Before definitively deciding if an arm lift is right for you, your plastic surgeon will examine your arm and the surrounding areas to gauge if an arm lift will benefit you. If they believe an arm lift will help you achieve your goals, they will explain the surgical technique, show you before and afters, and give you a good idea of what you can expect from your surgery. 
From there, you and your cosmetic surgeon will work together to construct a customized surgical plan that accounts for your health, anatomy, and the desired end result. To schedule a consultation at Seattle Plastic Surgery, call us at 206-324-1120 or contact us online using the form above.
Still Have Questions?
Give us a call at 206-324-1120. Chat by clicking the icon in the lower left hand corner of your screen. Additionally, you can contact us by filling out the form above.