Injectable Fillers Seattle & Tacoma
Cosmetic injections encompass millions of non-surgical cosmetic procedures every year. Sought by adult patients of every age and gender identity, dermal fillers can transform the face without the need for invasive surgeries or extended downtime. At Seattle Plastic Surgery, our master injectors have years of experience performing filler and neurotoxin injections to improve facial appearance based on individual patient anatomy and goals. The master injectors at Seattle Plastic Surgery offer the best dermal fillers Seattle and Tacoma provide.
Overview: Dermal Fillers
Dermal fillers are a form of a cosmetic injection that adds volume to hollowed or recessed areas of the face and hands. Unlike neurotoxins such as Botox, fillers do not address the muscle and sit within the fatty areas just beneath the skin. Dermal fillers often work well in conjunction with Botox injections, sometimes making up a procedure known as a liquid facelift.
Among the non-surgical gold standard of anti-aging, fillers can achieve both subtle and dramatic results without the need for surgery, recovery time, or intense pain. They are also suitable for some forms of facial augmentation.
Benefits & Risks
Like any surgical or non-surgical procedure, fillers do come with a handful of benefits and risks. While largely considered a safe treatment with few complications occurring, it is still important to understand and consider the possible risks before undergoing filler injections in Seattle. Your master esthetician will review the benefits and risks with you before your injections.
The benefits of facial fillers do vary based on the specific procedure. In general, though, you can expect benefits such as:
More youthful appearance

Enhanced side profile

Increased facial symmetry

Restore volume to the face

Can achieve subtle or dramatic looks

Scarring unlikely

Natural look and feel

Few risks

Increase collagen production

Little to no downtime

Ability to switch up results frequently

Hyaluronic acid fillers are reversible

Little associated pain during or after treatment
The risks of dermal fillers are similar to those of many other types of injections. While major reactions or adverse events are exceptionally rare, it is important to understand the risks of any medical or cosmetic procedure you decide to proceed with. Some of the risks of filler injections can include:
Infection

Allergic reactions

Unsatisfactory result

Occlusion

Prolonged pain or side effects

Lumps

Acne or herpes flare-ups

Rash
Types Of Injectable Fillers
Injectable fillers come in many different forms. The right type for you will depend on the area you want to treat, your experience with fillers, preferences, and expectations. Your master injector will be able to discuss the numerous options and help you choose the one right for you.
Hyaluronic Acid
Hyaluronic acid fillers, sometimes called HA fillers, are the most common type of dermal filler injection performed. Made from hyaluronic acid, a substance already found in the body and present in many skincare products, these fillers are largely considered the safest and best option for most indications of dermal fillers.
With the ability to treat the early signs of aging and augment facial structures, hyaluronic acid fillers are versatile. Unlike other forms of dermal fillers, they can be used in almost any area that fillers can be. They are the perfect starting point for anyone interested in trying fillers for the first time.
Restylane and Juvederm are the two primary brands of hyaluronic acid filler. At Seattle Plastic Surgery, our master injectors offer both and have experience with both brands. Juvederm fillers tend to be thicker than the standard Restylane filler, but Restylane has more all-around options.
Semi-Permanent
Semi-permanent fillers mainly consist of Sculptra and Radiesse. Each uses a different main ingredient to stimulate a collagen response which uses collagen to provide a longer lasting effect. Often, with repeated and consistent treatments, some permanent results can be achieved.
Radiesse uses synthetic calcium hydroxylapatite for a similar purpose. The substance mimics the look and feel of bone, so Radiesse is especially effective for areas such as the chin and temples. It is also FDA-approved for hand rejuvenation.
Semi-permanent fillers are generally only recommended for patients with vast experience with HA fillers, or those with particularly advanced or extreme cases. Though, your master esthetician will evaluate your goals and anatomy to determine if Sculptra or Radiesse is the right direction for your Seattle filler treatment.
Silikon-1000
Silikon-1000 injections use medical grade silicone to permanently augment an area. It should be noted that medical grade silicone is safe for injections, unlike industrial grade silicone which is extremely unsafe. Normally, this treatment is only recommended for patients with certain deformities, anatomical features, or who have extensive experience with other forms of fillers and treatments.
If you are interested in Silikon-1000 injections, our plastic surgeons generally see these patients. Depending on the treatment area, they may recommend a facial implant or surgery such as a chin implant or rhinoplasty over Silikon-1000.
Filler Treatments In Seattle & Tacoma
Dermal filler injections are performed around the face for many different reasons. Let's go into more in detail on how fillers can benefit various areas of the face.
Injecting dermal fillers into the lips is among one of the most popular filler treatments. Generally, it augments the lips to make them plumper, have more projection, and enhance the shape. Whether treating congenitally thin lips, or lips that have thinned with age, hyaluronic acid fillers are ideal for the lips. Semi-permanent fillers are not safe or recommended for use in the lips.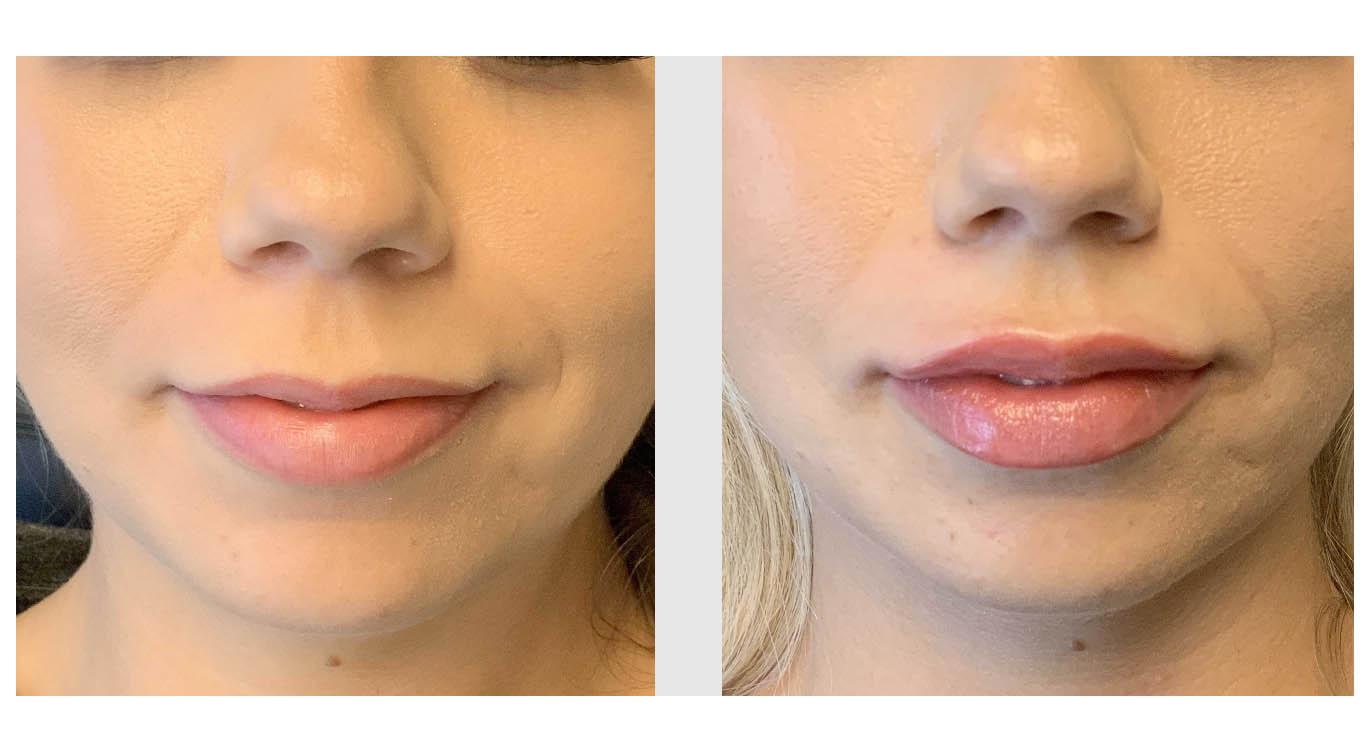 Before & After Lip Filler
Tired, hollowed, and dark under eyes are a frequently seen condition that is often related to genetics. While skincare and getting enough sleep can help, for some people it still leaves them looking perpetually tired, unapproachable, and older than they are. Dermal fillers can plump up the area for brighter under eyes and a reduction of eye bags.
Augmenting the chin can be achieved with surgical means, however, with dermal fillers, it does not have to be. For patients not ready for a chin implant, or those who need only a subtle chin augmentation, fillers offer a great opportunity. Injecting filler into the chin can also create a sharper, more defined jawline.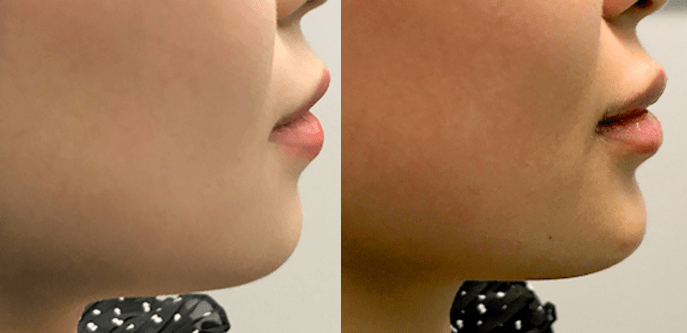 Before & After Chin Filler
Jawline filler, while less common than other facial fillers, can help those wanting to achieve a wider jaw. It can also address irregularities or define the jawline in some circumstances. Jaw filler is often sought by men because wide jawlines and a squared, chiseled face is considered more attractive for a man.
Volume loss in the temples is often one of the first signs of aging in the upper face. It can also occur in individuals who are particularly fit or lose a significant amount of weight. Fillers can add volume to the temple area to address a gaunt appearance. It can also create a more heart-shaped, youthful face shape.
Rhinoplasty is consistently in the top five plastic surgeries every year. Though, sometimes a patient may only have minor concerns with the appearance of their nose such as an unwanted hump. Nose filler can address this and create the desired nose contour, assuming it is possible with non-surgical methods. This procedure is also sometimes called a non-surgical rhinoplasty.
With age, the cheeks naturally lose volume. Facial fillers can add some of the volume back to maintain a youthful appearance. Additionally, some people may not have the definition or face shape they want due to the natural anatomy of their cheeks. Cheek filler can also add volume to create a more defined cheek contour.
The smile lines, or nasolabial folds, tend to deepen as we get older. Filler is the gold standard of treatment to diminish the appearance of these lines. With that said, it is important not to overfill the area as it can leave a puffy, unnatural look. Your injector will ensure you would benefit from smile line filler before administering it.
After the face and neck, the next place that shows age is the hands. As the skin thins and fat is lost, the veins and tendons of the hands become more visible. Injecting fillers into the hand can disguise these and plump up the hands for a younger look. Radiesse and Restylane Lyft are the two fillers FDA approved for the area and most frequently used.
Wrinkle & Fine Line Filler
Beyond the areas we discussed, dermal fillers can be used to treat generalized facial wrinkles and fine lines. While Botox may be more suited for dynamic wrinkles, fillers can correct more permanent wrinkles or those on the lower face such as the marionette lines. Your master injector can discuss whether Botox or filler is the better treatment for the wrinkles you want to treat.
Frequently Asked Questions
How Long Do Dermal Fillers Last?
It depends on the filler used and the area treated. On average, most people see filler last between three and six months. However, in the nose, the filler has been known to last for well over a year. It is extremely dependent on several factors. Areas that move more will not see filler last as long. For example, filler tends to last longer in the under eyes and temples than it does in the lips.
Do The Injections Hurt?
The master injectors at Seattle Plastic Surgery use various methods for pain management. First, topical numbing cream is applied to the area. This numbs the surface of the skin to limit discomfort. Furthermore, most fillers contain a small amount of lidocaine that helps ease the filler as it goes in.
For most, the numbing cream combined with the lidocaine in the formula is enough to make the injections bearable. However, our injectors may also use Vibrata which is a device held near the area that creates soft vibrations that distract the brain from the pain of the injection.
What Happens When Filler Wears Off?
Once the filler wears off, the treatment area will return to its original contours. In the case of semi-permanent filler, there are occasionally small permanent improvements. Aging does also continue despite filler injections. Therefore, if you keep your filler updated regularly for years, it may appear more aged. This is generally not due to the filler.
Can I Get Semi-Permanent Fillers In The Lips?
No, Sculptra and Radiesse are not safe for the lips. Hyaluronic acid fillers are the best dermal filler option for the lips. For permanent lip augmentation, either Silikon-100 or lip implants are preferred. These options should be discussed with a Seattle plastic surgeon.
What Is The Cost Of Fillers In Seattle?
The exact cost of dermal filler injections in Seattle is hard to determine without knowing the type of filler, treatment area, number of syringes needed, and if multiple areas are going to be treated. After a consultation with a master injector, you will receive a more accurate price estimate. For comprehensive filler pricing, visit our price list or Price Simulator app.
Seattle Plastic Surgery does work with outside financing companies to offer financing options. They also offer reward programs through manufacturers for available products.
The Best Facial Fillers In Seattle & Tacoma By Master Injectors
The master injectors at Seattle Plastic Surgery are all physician-trained and have decades of combined experience. They have worked with all forms of hyaluronic acid fillers and semi-permanent fillers. Your injector will work with you to formulate the ideal treatment plan based on your goals, preferences, and anatomy.
Seattle Plastic Surgery provides the best dermal filler injections Seattle and Tacoma offer. To learn more and schedule a consultation with a master injector, call us at 206-324-1120. You can also reach out online using Price Simulator, chat, or contact form.