Double Chin Liposuction With J Plasma
Submental fat–better known as a double chin–is a common feature among adult men and women. A double chin can occur regardless of weight and age, though those are certainly still two determining factors. Getting rid of a double chin that sticks around into adulthood is often not as easy as simply losing weight. It usually requires some sort of cosmetic procedure. Among the most effective is submental liposuction with skin tightening. Seattle Plastic Surgery offers the best double chin liposuction with J plasma Seattle and Tacoma offers.
Overview: Double Chin Liposuction With Skin Tightening
Double chin liposuction with skin tightening is a minimally invasive surgical procedure. Liposuction by itself can remove fat effectively. However, lipo cannot tighten the skin. Younger patients often see no trouble with their skin tightening up during the healing process. Some people with certain medical conditions or those who are older may not see the skin tighten optimally. 
This is where J-plasma, a powerful skin tightening tool, can improve results. When used following liposuction, it promotes skin retraction. This can prevent extra skin following the procedure. It can even help prevent a facelift or other more invasive procedures in some cases.
Causes Of A Double Chin
A double chin has many causes. Usually, with the average patient, multiple factors contribute to the formation of a double chin. Depending on the cause, Dr. Jonov will prepare a customized treatment plan to help you see the best and longest lasting results.
Some of the causes of extra submental fat include:
Genetics (one of the most common factors)

Frequent or large weight fluctuations

Aging

Facial structure

Consistent poor posture

Obesity

Certain endocrine disorders such as Cushing's disease, an underactive thyroid, and PCOS
What Is J Plasma?
J plasma uses a combination of radiofrequency (RF) and cold plasma energy to promote skin retraction following liposuction. Radiofrequency is a known technology already widely used in skin tightening, such as in RF microneedling. It essentially is a form of low level, non-ionizing radiation made up of radio waves and microwaves. Radiofrequency creates controlled damage that induces a collagen response.
Plasma, the fourth state of matter, is what occurs when gas is heated. While often extremely hot, cold plasma can be created using helium gas where only the electrons reach an extremely high temperature. The other particles within the plasma remain cool. This plasma then can cause and promote skin retraction.
Liposuction vs. Kybella
Liposuction remains the surgical gold standard for double chin removal. However, in recent years, non-surgical options have appeared. The most popular one is Kybella injections. When determining the right approach for your double chin treatment, it is important to know the situations each is recommended. As well as understand the basic differences between each procedure. The table below details many of these differences.
Liposuction
Kybella

Surgical

Local or general anesthesia

Only one surgery/session

Can be combined with skin tightening procedures

Surgery about one hour

Recovery period

Longer lasting results

More consistent results

Better for larger potions of fat

Non-surgical

Topical anesthetics

Multiple sessions needed

Does not tighten the skin and not combined with other procedures

Injections take about 30 minutes

Some aftercare, no recovery

Less consistent/guaranteed results

Results less likely to last

Better for smaller portions of fat
The right treatment for you will depend on several factors including your overall health, age, skin condition, medical history, and goals. You can discuss this with your Seattle plastic surgeon during your consultation at Seattle Plastic Surgery.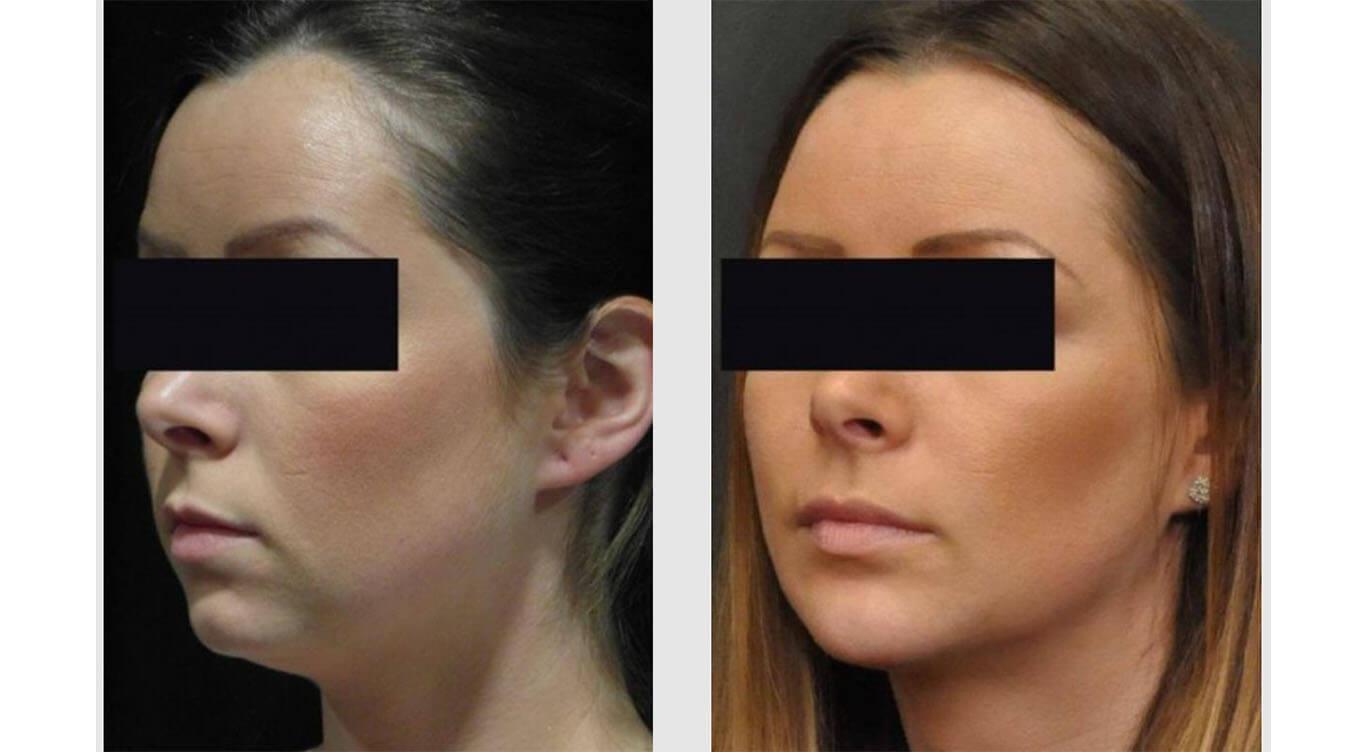 Submental Liposuction With J Plasma From Start To Finish
Consultation
At a consultation, you will meet with Dr. Craig Jonov. After discussing what you want to get out of the treatment, Dr. Jonov may ask about your medical history and lifestyle. From there, he will examine the area to determine the fat to skin ratio and the overall quality of the skin. This helps him evaluate whether a skin removal or fat removal procedure with skin tightening is ideal in your circumstances.
If Dr. Jonov believes you are a good candidate for double chin liposuction with J plasma, he will go in-depth about the procedure and expected results. Before leaving, you will also receive a personalized price quote and financing information.
Procedure
Submental liposuction with J plasma can be performed under either general or local anesthesia. Regardless, you will not be fully awake or cognizant and should remain perfectly comfortable. Dr. Jonov will make a small incision in the crease where the chin meets the neck. Usually, it is no more than half an inch.
Through this incision, they will insert the liposuction cannula and begin removing the fat. Since treating a relatively small area, this process does not take too long. From there, Dr. Jonov will insert the J plasma cannula and gently run it just underneath the skin to promote tightening. In some cases, immediate retraction may be visible.
Recovery
The typical recovery period is about one to two weeks. Most people return to work after about seven to ten days. Dr. Jonov may also recommend wearing a chin strap compression garment for a few weeks to promote the best results and reduce swelling. You may also take prescription medications such as antibiotics and painkillers.
Strenuous activities will need to slowly be brought back into your lifestyle. Generally, Dr. Jonov does not recommend anything more than light walking or exercise before four weeks. Though, the exact recovery time and directions are largely based on the patient's medical history, specific procedure, and lifestyle.
Very easy and convenient to book an appointment with. Very professional and competent staff and doctor. I felt very taken care of and at ease thru out my entire procedure. Now Iv been back for my second time and I will be coming back in the future. I am extremely happy with the results. 5 STARS!! Thank you

Amy
I had a great experience - pain free and fully informed, the doctor took her time and was very patient with me as I navigated different procedures. Highly recommend

Laura
I want to recommend Dr Jonov he's the best!!! I'm so happy with the results of my surgery!!!

Diana
Always such a lovely and welcoming experience. I never feel embarrassed about the questions or concerns I have. Definitely a life long customer!

Kayla
Frequently Asked Question
How Long Will It Take To See Results From Double Chin Lipo?
Like with any plastic surgery procedure, it takes between nine months and a year for the results to be considered permanent. However, most people get a good idea of their results in about three to six months. It takes a significant amount of time for your skin and structures to settle over the new contours of your face.
Are The Results Permanent?
Aging cannot be halted. Therefore, following surgery, your skin will continue to grow lax like it naturally will with age. The fat removed cannot come back, especially if you maintain a stable weight. Though it is impossible to remove all fat from any given area and the remaining fat cells can expand.
If you take good care of your skin and experience no major weight fluctuations, you can expect to enjoy your result for many years. While this is not always in our control, most people notice that even with weight gain or increased skin laxity, their chin still looks better than before surgery.
What Can I Expect From Scarring?
As previously mentioned, the incision is small and hidden within the natural creases of the body. It tends to heal well and many find that it fades significantly. If you are prone to raised scars or keloids, then Dr. Jonov may not recommend the surgery. Though, this will vary from person to person. 
Seattle Plastic Surgery also offers a medical grade scar system specifically designed to help heal scars optimally after surgery. This can help reduce scarring. Dr. Jonov will discuss more about what you can expect based on your individual anatomy and history.
Do I Need J Plasma For A Good Result?
Not necessarily. Some patients, especially those who are younger and/or have good skin quality, will likely see good skin retraction after surgery. However, older patients, cases where a larger amount of fat is removed, or those with certain conditions may benefit from having additional skin tightening with J plasma.
Are There Any Major Risks?
Every surgical procedure comes with some level of risk. The double chin liposuction procedure with J plasma is a fairly low risk surgery. Some individuals may have higher risks than others which will be determined during your consultation. Among the risks associated with double chin liposuction with J plasma include:
Infection

Unsightly scarring

Bleeding

Seroma

Hematoma

Prolonged swelling, bruising, or pain

Nerve damage

Necrosis

Bumpiness

Discoloration
Most of these risks are preventable or treatable. Dr. Jonov and Dr. Santos will evaluate each patient to ensure they are a lower risk patient. Generally, most healthy people tolerate surgery well.
The Best Double Chin Liposuction In Seattle & Tacoma
Seattle Plastic Surgery is a leading plastic surgery practice and medical spa in downtown Seattle, Washington. Located in the First Hill neighborhood, it is situated within Seattle's medical hub, but also just minutes from the hub of downtown. This represents Seattle Plastic Surgery's dedication to both the medical and aesthetic fields. Dr. Craig Jonov and Dr. David Santos provide the best double chin liposuction with J plasma Seattle and Tacoma offers.
Dr. Craig Jonov and Dr. David Santos both have decades of experience in plastic surgery, including liposuction. Both specialize in facial plastic surgery, but Dr. Santos only performs facial plastic surgery. Either Dr. Jonov or Dr. Santos is a great choice for your surgery and will work to achieve your ideal results.
To learn more or schedule a consultation, call us at 206-324-1120. You can also reach out online via chat, contact form, or Price Simulator.