Traditional Microblading
$300
Combo Brows Seattle & Tacoma
Microblading is a form of permanent makeup that enhances the eyebrows and makes them look fuller and more defined. Over the years, microblading artists perfected various techniques to look even more natural and make them accessible to more people. One of these techniques is combo brows which require specialized technique and training. Seattle Plastic Surgery provides the best combo brows Seattle and Tacoma offers.
The Philosophy Behind Combination Brows
Combination brows use tenants of both traditional and powder brows microneedling. The philosophy behind this is that the inner and outer parts of the brow tend to look different and have varying hair growth patterns. Therefore, the traditional and powder techniques look more natural at different points on the brow.
The wider part of the brow from the glabella towards the arch typically looks wispier. This is because the individual hairs are more noticeable. This makes the traditional method ideal for this area because it creates hair-like strokes of ink. This mimics the brow hair pattern as well as enhances it. In some cases, the powder method may also be used in this area if there are large areas of loss or patchiness.
The tail of the brow consists of the downward portion of the arch to the end of the eyebrow. Since it is thinner, the hairs become more clustered together and it looks overall thicker. The powder technique is ideal for this because it fills in sparser areas and adds more volume with less distinctive strokes or features.
Combo brows are often considered one of the most natural looking microblading options available. Since it follows the natural growth pattern of the eyebrows and is customized for each patient, it is a popular choice for microblading in Seattle. Additionally, it can enhance the brow arch and shape using the tenants of the golden ratio. It requires an experienced and talented brow artist to achieve these results.
Motivations For Microblading
There are many reasons that people seek out microblading. While most may assume that microblading is purely for convenience, it can also aid people suffering from certain ailments. Among some of the reasons patients seek out Seattle combo brows include:
Brow alopecia

Loss of brows due to an injury

Promote faster brow growth

Address irregularities or asymmetry

Save time and money

Allergies to makeup

Correct overplucked eyebrows

Cover scars

Achieve ideally shaped brows
The reasons someone might undergo microblading will vary and are deeply personal. However, your microblading artist has experience working with people from all walks of life who seek out combo brows for a variety of reasons.
Benefits
Combo brows come with many benefits. Some of the benefits you may experience following combination brows microblading include:
Fuller looking brows

Improved eyebrow shape definition

Correct brow sparseness and hair loss

Highlight eye and face shape

Provides enhancement via the natural brow pattern and growth

Natural results

Vegan and cruelty-free ink

Minimal to no pain

Results tend to last longer than other forms of microblading

Technique varied based on brow anatomy and condition

Can work for all skin types (some oily skin may be better suited for powder brows)

Safe, low risk procedure

Waterproof (once healed); can still play sports and exercise

Little daily maintenance

Performed by a certified tattoo artist
Combo Brows vs. Ombré Brows
Combo brows and ombré brows are the two most popular microblading techniques outside of the original. While combo brows do use the powder technique as part of its enhancement, there are still notable differences between the two. Your microblading artist can help you determine the best technique for your microblading session. Though, the table below can help you narrow down which might better suit your needs.
Combo Brows
Ombré Brows

Uses different tattooing techniques

May last 3-4 years under ideal circumstances 

Works for most skin types, some oily skin may not be suitable

Looks the most natural

Can work on aged skin

Subtle, noticeable results

Uses dot technique

Tend to last 2-3 years under ideal circumstances

Works on all skin types

Meant to mimic the look of brow makeup

Better for aged skin

More dramatic results
Since combo and ombré brows are both types of microblading, they do have many similarities. Both powder and combo brows tend to use a motorized tattoo machine and vegan and cruelty free ink.
From Start To Finish: Combination Microblading Technique
Consultation
During a consultation with your microblading artist at Seattle Plastic Surgery, you will discuss your desired results, preferred technique, and medical history. Your artist may also physically examine the eyebrow area to identify skin type, natural growth pattern, and other factors. From there, they will determine your candidacy for combo brows. 
If your artist believes you are a good candidate for combo brows, they will then describe the procedure. This may include the shape you want and how to prepare for the treatment. Before leaving the office, you will also receive a personalized price quote. You can then schedule your combo brows session.
Microblading Process
The first step your microblading artist will take is to clean and disinfect the eyebrows. This prevents infection and cross contamination. From there, they will apply numbing cream and begin brow mapping according to the golden ratio. This helps them create a perfectly proportioned brow based on your facial structure.
After this, they will wipe off the numbing cream and begin microblading. For Seattle combo brows, it takes about two to two and a half hours. You should feel little to no pain during the process. Your microblading artist will use a combination of the traditional hair strokes and the powder brows dot method.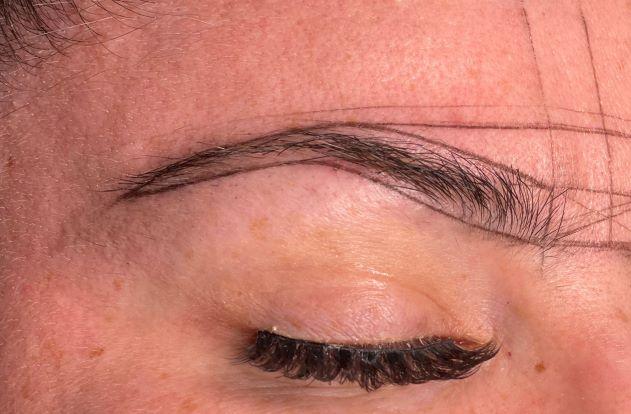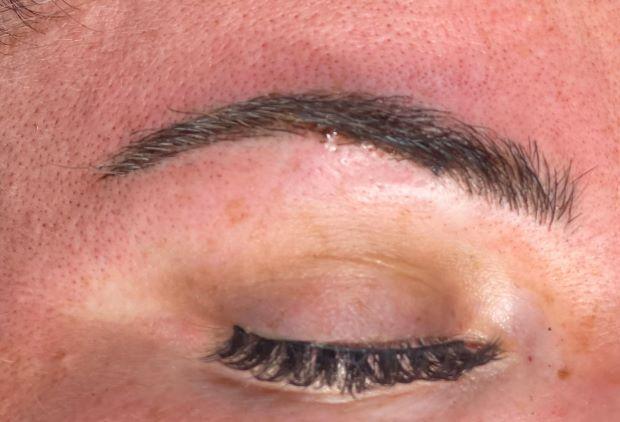 Aftercare
The aftercare of combo brows is similar to other microblading types. Your microblading artist may also give you customized instructions based on your specific procedure, healing process, and skin. Microblading aftercare instructions can include:
Do not get the brows wet

Avoid activities that can cause sweating

Protect your skin from the sun and limit sun exposure

Do not apply makeup or skincare

Avoid touching or picking at the areas

Limit alcohol consumption

Stop taking blood thinning medications or supplements if possible

Attend your touch-up and stay in contact with your artist
I had a great experience - pain free and fully informed, the doctor took her time and was very patient with me as I navigated different procedures. Highly recommend.

Laura
Great staff!! Love this place! Highly recommended!

Becky
LOVE!! I felt listened to and worked with. I absolutely will be back!! ♥️

A.L.
I love this place! Everyone is super friendly and professional. Happy with the services I have received so far.

Kali
Frequently Asked Questions
Do Combo Brows Take Longer To Heal?
When compared to other forms of microneedling, combo brows do not take much longer to heal. You can expect a similar timeline to regular microbladed brows. For most people, side effects begin to cease within one to two weeks. Fully healed brows usually occur in three to six weeks.
What Happens To Your Real Brows After Microblading?
Your real eyebrows will continue to grow as normal. Some may actually notice more hair growth following a microblading procedure. However, it should not be an extreme amount of extra hair growth. This does mean that you will need to continue removing unwanted hair from the brows. Generally, this is not too bothersome and you only have to clean up the edges in many cases.
It should be noted that you should not undergo a brow wax or similar procedure for four to six weeks after microblading. This is to prevent irritation and other complications that could occur. As long as you wait, you should have no problems performing regular brow waxes or other hair removal methods.
Can You Remove Microbladed Brows?
Yes, though it can be difficult and is not always practical. Since the ink used during microblading is semi-permanent, it responds well to laser tattoo removal. With that said, many clinics will not perform laser tattoo removal so close to the eyes. Subsequent microblading can also help improve or touch-up previous microblading.
One advantage of combo brows is that they are semi-permanent. Usually, within two to four years, microblading results will fade, especially without touch-ups or good maintenance. Therefore, you can continue to refresh your results based on the trends and your preferences. 
Are There Downsides Of Combo Brows?
Like with traditional microblading, combo brows may not be ideal for everyone with oily skin. However, it is still much more viable for people with oily skin than traditional microbladed brows. They are also more of a commitment than other forms of brow enhancement such as brow lamination or a brow tint. Sometimes it can be difficult to remove or fade.
You can consider how combo brows will fit your lifestyle and anatomy during a consultation with a microblading artist. At Northwest Face & Body, our providers provide recommendations for treatment based upon your unique situation and needs.
What Is The Cost Of Combination Brows?
The cost of combination brows starts at $475 with a touch-up starting at $175. However, as a semi-permanent, long-lasting procedure, this cost becomes more reasonable when considering that similar enhancements only last four to six weeks. Therefore, this can be more cost effective.
Seattle Plastic Surgery also offers outside financing via Care Credit, Alphaeon, or United Medical Credit. You can find more information about financing and links to apply on our financing page.
The Best Combo Brows In Seattle & Tacoma
The microblading artists at Seattle Plastic Surgery offer the three main types of microblading including traditional, powder, and combo brows. They have years of experience and are certified tattoo artists. This means that they offer the expertise that makes microblading more skillful and safer in their hands. 
Additionally, Seattle Plastic Surgery fosters a medical environment. This is not typical for many salons that offer microblading. Our Medicare accredited office and medical staff on-site provide peace of mind for all of our Seattle microblading clients. The Seattle facility is centrally located and serves the Seattle and Tacoma areas.
To learn more and schedule a consultation, call us at 206-324-1120. You can also reach out online via chat, contact form, or Price Simulator.