Traditional Microblading
$300
Microblading Seattle & Tacoma
Microblading is a semi-permanent way to upgrade your eyebrows and morning routine. The brows are often an important and time consuming part of your makeup routine. For busy people who want to still look their best but do not have time to apply a full face of makeup, microblading provides a way to keep the brows looking ready for any event or day ahead without needing to apply makeup. Seattle Plastic Surgery performs the best microblading Seattle and Tacoma offers.
A Synopsis Of Microblading
Microblading refers to a form of semi-permanent tattoo that enhances the appearance and definition of the eyebrows. Using either a single-bladed tool or a more traditional motorized tattoo machine, a microblading artist uses either hair-like strokes, a small pattern of dots, or a combination of both to create the ideal brow look.
At Seattle Plastic Surgery, we elevate the typical salon environment in which microblading is usually performed. As a leading plastic surgery clinic and medical spa, our medical grade environment provides a safe and structured environment for your permanent makeup procedure. Additionally, medical staff are always on-site which can provide peace of mind for those concerned about undergoing the procedure for the first time.
Benefits
Microblading comes with many advantages and benefits, especially for those with limited time in the morning or sparse eyebrows. Some of the benefits of microblading may include:
Restore a natural eyebrow appearance

Define the shape of the eyebrows

Highlight natural eye shape
Boost brow density
Lift emotional expression

Use the golden ratio to identify the ideal shape of the brows

Create fuller brows

May promote brow hair growth in some patients

Customized to each individual

Looks like natural hair

Waterproof once healed

Semi-permanent so that patients can keep up with eyebrow trends

Save time and money

Little to no pain

Few risks involved

Little maintenance is required after completion of the healing

Reduced need for makeup

Does not smudge; can still exercise and play sports

Lasts years

Better results than eyebrow tinting

Can help avoid an eyebrow transplant for some people

Performed by a certified tattoo artist that specializes in microblading
Risks
Like any treatment that breaks the skin, there are some mild risks associated with microblading. Overall, it is an extremely safe procedure and most people will not experience any major complications. 
Your microblading artist uses only high quality ink and equipment to reduce risks. They will also provide aftercare instructions that help decrease the chances of any negative effects or outcomes. Some of the risks of microblading can include:
Infection

Scarring

Prolonged side effects

Sunburn or damage

Unsatisfactory results

Necessity for revision

Reversal or hindrance of results

Rash

Allergic reactions

Granulomas
All of these risks are exceptionally rare when you have microblading performed by an experienced professional with medical grade equipment. In Seattle Plastic Surgery's Medicare accredited facility, the likelihood of risks of complications is low.
Other Forms Of Permanent Makeup
Microblading is one of the most popular forms of permanent makeup. However, it is not the only form. Eyeliner, lip liner, and lipstick can all be tattooed semi-permanently. Our microblading artists do not currently offer these services at Seattle Plastic Surgery. Though, we are working to extend our services to cover more permanent makeup procedures.
Always such a lovely and welcoming experience. I never feel embarrassed about the questions or concerns I have. Definitely a life long customer!

Kayla
LOVE!! I felt listened to and worked with. I absolutely will be back!! ♥️

A.L.
Great staff!! Love this place! Highly recommended!

Becky
Great experience. I got the Botox and fillers here. Saw immediate changes. Highly recommend!

Doris
Microblading Techniques
There are multiple microblading techniques to provide different results and address different anatomies. Some methods are better suited for aged or oily skin and others tend to look more natural. During a consultation appointment, your artist will discuss the different techniques and which will be best for you. 
The original microblading technique–often referred to as traditional microblading–involves using hair-like strokes and depositing ink underneath the skin. This creates the illusion of fuller, more defined eyebrows. The pigment is matched to fit your skin tone and natural eyebrow hair color for the most natural appearance.
Despite this, for people with particularly sparse thin brows, the traditional method does not always look the most natural when compared with others. Additionally, oily skin can cause the thin lines of ink to expand too much during healing and can even prevent the ink from taking to the skin. Therefore, it is generally not recommended for people with oily skin.
Powder brows–also called microshading or ombré brows–is a microblading technique that uses a pattern of small dots to mimic the look of powdered makeup. While less natural, for those who already powder their brows, this can help maintain that look for much longer. Depending on the natural anatomy of the brows, this may also look fairly natural, especially for people who already have fairly thick eyebrows and have a few areas of patchiness.
Microshading is compatible with all skin types, including oily skin because the expansion of the ink is not an issue with this technique. Due to the higher volume of ink, powder brows are often recommended for aged skin as well.
Combination brows are one of the newer microblading techniques. It uses both the traditional and powder methods as needed based on your brows. Often, it uses the more traditional technique along the wider, inner portion of the brow and then the powder technique towards the tail. 
Many find that combo brows look the most natural. It can work for all skin types, though it may not always work for those with very oily skin. However, your microblading artist will examine the brow area to determine if you are a good candidate for combo brows in Seattle.
Microblading Session: Before & After
Consultation
First, you will meet with your microblading artist for a consultation appointment. During this consultation, they will discuss the results you hope to achieve and the technique that will work best for you. To determine this, they may ask about aspects of your medical history, lifestyle, and goals. 
From there, once you both agree on a technique, and your artist determines you are a microblading candidate, they will further describe the treatment, aftercare, and pricing. You can then schedule your Seattle microblading appointment.
Your Microblading Session
To begin your microblading session, your artist will clean and disinfect your brows. They will then apply numbing cream to make microblading more comfortable. The cream will be set for about ten to twenty minutes. During this time, your artist will prepare their equipment and make markings in accordance with the golden ratio.
Once properly numb, your artist will commence the microblading process. The entire process usually takes around two hours. You should not feel any major discomfort though you may feel some pressure or minor pain. This is generally minor and bearable.
Caring For Your Microbladed Brows
For the first four weeks, you will need to follow aftercare instructions provided by your artist. While the directions can vary, you can expect instructions such as:
Do not get your brows wet for at least one week

Avoid touching or picking at the brows or scabs that form

Be patient as results come in

Do not apply makeup for two weeks

Only apply skincare approved by your artist

Avoid hot environments including anything that may cause sweating

Protect your brow area from sun exposure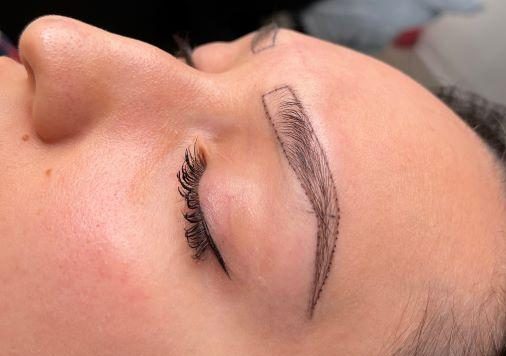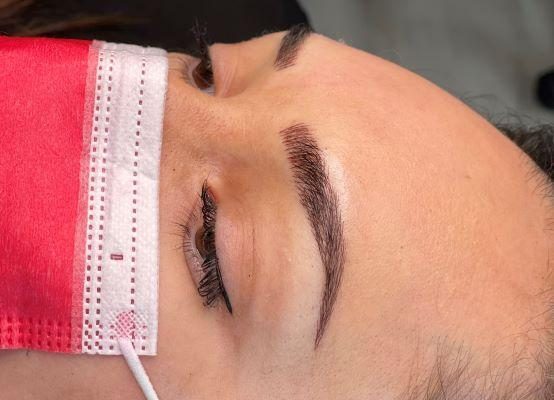 Frequently Asked Questions
How Many Sessions Is Microblading?
Typically, one session with a touch-up after four to six weeks is sufficient to get a good result. Some patients may need continued touch-ups every one or two years. Based on your skin type and lifestyle, your artist can provide a more accurate estimate of how often you may need a touch-up to maintain your results.
What's Better Microshading Or Microblading?
It depends on the circumstances, the patient's anatomy, and their goals. Often, a combination of both–aka combo brows–is the best technique for most people. If you want fuller coverage, microshading may work better. Microblading can work better for an average eyebrow enhancement.
Can I Make Results Last Longer?
How long results last is largely up to biology and the environment. You can promote longer lasting results. Some tips that may help results last longer include:
Eating well and exercising regularly

Wear SPF and consistently protect your brows from the sun

Avoid sweating excessively

Do not get brow lamination or tints

Cease smoking

Be careful using retinol or similar products in the area

Gently apply brow makeup
How Do I Keep My Eyebrows Dry In The Shower?
Shower caps can cover your brows. Otherwise, a headband can be used to keep the brows dry when washing your hair. For the first few days, it may be recommended to wash your hair in the sink or tub to better control the water flow and prevent getting the brows wet. Your microblading artist can provide more insight following your procedure.
What Is The Cost Of Microblading In Seattle?
The price of microblading depends primarily on the technique used. Though sometimes other factors may apply. The starting prices for each of the techniques Seattle Plastic Surgery offers are:
Traditional: $300

Powder: $450

Combo: $475
The Best Microblading In Seattle & Tacoma At Seattle Plastic Surgery
Seattle Plastic Surgery is a leading plastic surgery practice located in the First Hill neighborhood of Seattle, WA. Within the top medical hub of the city and state, Seattle Plastic Surgery provides top-of-the-line plastic surgery, cosmetic injections, medical grade skincare, and esthetics. Our team is committed to helping all of our patients achieve their cosmetic goals and their definition of the perfect look. The microblading artists at Seattle Plastic Surgery provide the best microblading Seattle and Tacoma offers.
Our Seattle microblading artists have years of training and experience in all aspects of microblading. They are certified tattoo artists who specialize in brow enhancement via permanent makeup. Our artists customize their technique and each treatment to the individual patient.
To learn more and schedule a consultation, call us at 206-324-1120. You can also reach out online via Price Simulator, chat, or contact form.