REVERSE TUMMY TUCK SEATTLE AND TACOMA
Weight loss can improve many aspects of a person's mental and physical health. When a patient undergoes weight loss surgery or loses a massive amount of weight, they may have copious amounts of extra skin left behind. It is not uncommon for this extra skin to look unnatural and also obscure the body's true contours. Many plastic surgery procedures remove this extra skin. One surgery that weight loss patients in particular often benefit from is a reverse tummy tuck. When searching for the best reverse tummy tuck Seattle and Tacoma offer, look no further than the plastic surgeons at Seattle Plastic Surgery. 
UNDERSTANDING REVERSE TUMMY TUCK SURGERY
A reverse tummy tuck is a plastic surgery procedure that removes extra skin and fat from the upper abdomen. For most people, extra skin and fat collect in the lower abdomen and may work its way up from there. In some weight loss patients or other circumstances, extra skin and fat may become bunched towards the top of the abdomen and waist. Therefore, plastic surgeons invert the traditional tummy tuck technique to address this problem area.
The incision for a reverse tummy tuck is at the top of the abdomen. For women, this correlates to the inframammary fold, or the crease where the breast meets the chest. On a man, the reverse tummy tuck incision is placed in roughly the same place as gynecomastia incisions.
When It's Performed
Out of the tummy tuck techniques, the reverse tummy tuck is the one least commonly performed. This is usually because factors such as pregnancy, weight fluctuation, and aging all tend to affect the lower stomach more. The traditional abdominoplasty incision also offers access to the structures of the upper abdomen, often correcting the area as well.
Plastic surgeons usually perform reverse tummy tucks in specific situations. As previously discussed, the most common situation is when a patient has extra skin following weight loss surgery or a large amount of weight loss. Occasionally, other circumstances may cause the need for a reverse tummy tuck in Seattle, such as:
Pregnancy

Frequent weight loss and gain

Diastasis recti of the upper abdominal muscles

Performed in conjunction with another tummy tuck technique

Improve the results of a breast lift, or sagging caused by the breasts

Correct breast implants that become malpositioned
A reverse tummy tuck will not benefit every patient who needs a tummy tuck. Dr. Jonov will examine you during a consultation to determine if the procedure will benefit you.
Before & After Reverse Tummy Tuck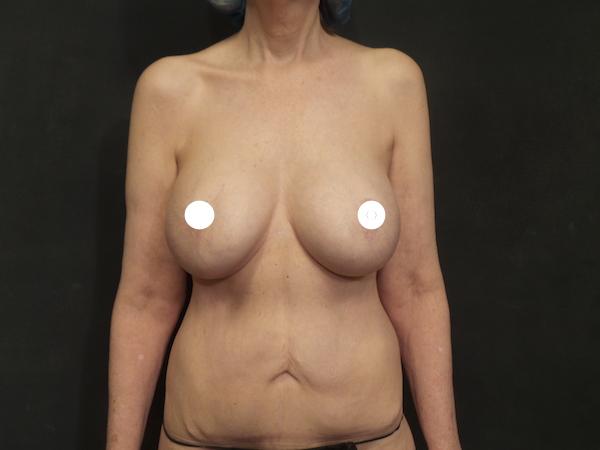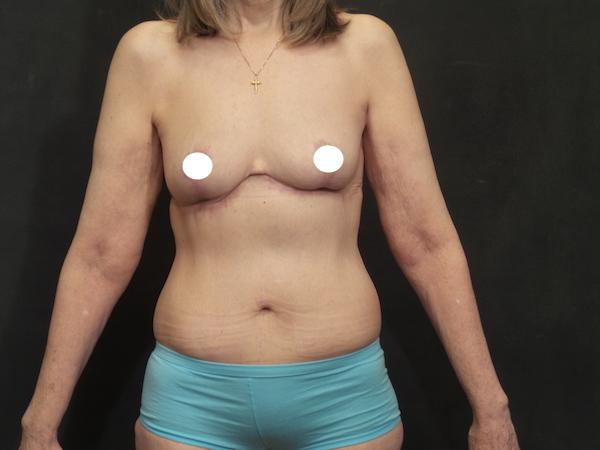 Benefits
For patients who are a good candidate for a reverse tummy tuck, the procedure offers many advantages and benefits. Among some of the benefits that reverse abdominoplasty patients can experience include:
Smaller, tighter waist

Removal of extra skin in the upper abdomen

Tightening of the skin and muscles of the upper abdomen

Correction of diastasis recti in the upper abdominal muscles if necessary

Removal of uneven fat pockets

Correction of saggy breasts if needed

Does not interfere with belly button placement

Hidden incisions

Easy to combine with breast procedures like breast augmentation

May fit in clothing better

Can help during a tummy tuck revision

Exercising and daily activities can become easier after surgery

Improved abdominal appearance
LIPOSUCTION vs. REVERSE TUMMY TUCK
During a regular tummy tuck surgery, Dr. Jonov will often liposuction the waist and upper abdomen to remove fat and improve contours. When is liposuction not enough and a reverse tummy tuck necessary?
The determining factor usually comes to the amount of skin in and the area and skin laxity. If you have a good amount of extra skin and skin that is loose and saggy, a reverse tummy tuck may be needed to provide the best results. However, if you have good skin laxity and little to no extra skin, liposuction likely can achieve a good result.
Many patients want to try and stick with liposuction because it features small incisions. If you have extra skin or poor laxity, however, liposuction will not provide the best results. Dr. Jonov will review this with you during a consultation. He can determine the best procedure to achieve your desired look.
REVERSE TUMMY TUCK BEFORE AND AFTER
Consultation
At a consultation with Dr. Craig Jonov at Seattle Plastic Surgery, he will determine if you are a good candidate for a reverse tummy tuck. He will also craft an individualized surgical plan designed to meet your specific goals.
To begin, you and Dr. Jonov will discuss your procedures of interest and your goals. He will also review your medical history and the medications you take. Finally, Dr. Jonov may examine your abdomen to conclude whether a reverse tummy tuck will provide the results you are after.
If Dr. Jonov determines you are an ideal candidate, he will describe the procedure in detail and the expected results. He may also make further recommendations based on your goals and anatomy. Before you leave the appointment, you will receive a finalized price quote and financing information.
Preparing For Surgery
If you move forward with your Seattle reverse tummy tuck, you will come in about three weeks before surgery for your pre-op appointment. At this appointment, your pre-operative coordinator will review the procedure, guide you through the necessary paperwork, and give you instructions for both before and after surgery.
At the pre-operative appointment, you can expect to:
Read and sign paperwork

Provide medical clearances if necessary

Receive instructions for surgery day

Ask any further questions you may have

Pay off surgery either out-of-pocket or via a financing option

Receive instructions for after surgery

Discuss the necessary arrangements you will need to make (a caregiver, time off from work, childcare, etc.)
Reverse Abdominoplasty Surgery
Dr. Jonov will start your reverse tummy tuck surgery by making an incision along the inframammary fold. The incision typically extends through both creases, though the exact size and length of the incision will vary between patients. After making the incision, Dr. Jonov will perform muscle plication if necessary. He will then remove any excess fat. Finally, he will tighten all of the underlying structures and skin; removing extra skin in the process.
Carefully closing the incision, Dr. Jonov will compare your new abdomen against your goals. You can expect surgery to take between one and three hours. Though if you are combining the procedure with another, overall surgical time may take longer.
Contact Us Today
Recovery
As an outpatient surgery, you will go home the same day as your reverse abdominoplasty in Seattle. Dr. Jonov will prescribe medications to manage pain and prevent infection. These will ease pain and discomfort for the first few days. While you will see some immediate result, swelling and bruising may appear within the first few days. It should subside in about two weeks.
Dr. Jonov will also give personalized recovery instructions. You will wear a compression garment for several weeks and can expect to continue to check in regularly with Dr. Jonov for the first two months or so. 
Patients can usually return to work within two weeks. This will vary based on individual healing. Unrestricted exercise may begin as early as eight weeks, although some patients may need to wait longer before resuming strenuous exercise.
Dr. Jonov was extremely nice and professional. The staff is kind and answered all my questions. They made me feel confident and safe. They took the time to check in and make sure I was happy with everything.

Emily
Always such a lovely and welcoming experience. I never feel embarrassed about the questions or concerns I have. Definitely a life long customer!

Kayla
FREQUENTLY ASKED QUESTIONS
Which Tummy Tuck Is Right For Me?
A Seattle plastic surgeon like Dr. Jonov is the best person to answer this question. However, you may be able to get an idea of which tummy tuck will best suit you. If extra skin and sagging are localized below the belly button, a mini tummy tuck may adequately address your needs. If the condition extended above the belly button, a standard tummy tuck will likely provide the best result. 
For patients who experience extra skin on their love handles as well, Dr. Jonov may recommend an extended tummy tuck. If you find that when bending at a forty five degree angle, the majority of sag occurs in the upper abdomen, a reverse tummy tuck may be the right procedure. 
It also not uncommon to combine a reverse tummy tuck with a mini tummy tuck to address both the upper and lower abdomen's needs.
Will A Reverse Tummy Tuck Affect The Belly Button?
No, on its own, a reverse tummy tuck will not reposition the belly button. If combined with a traditional abdominoplasty, Dr. Jonov may move or change the belly button.
Do Reverse Tummy Tucks Work?
In ideal candidates, yes. A Tacoma reverse tummy tuck has a smaller candidate pool than other tummy tuck surgeries. Dr. Jonov identifies the best candidates for the procedure who are likely to receive a good result. Therefore, reverse tummy tucks do work when performed on patients who are good candidates.
Will I Lose Weight?
No, not a significant amount of weight. While you may lose a few pounds from the skin and fat removal, most tummy tuck patients will leave surgery the same weight as they were before. This is a common misconception concerning tummy tucks. They are not a weight loss surgery, but rather, typically are a part of a larger weight loss journey.
How Much Is A Reverse Tummy Tuck?
The cost of a reverse tummy tuck will vary depending on your specific procedure. After your consultation, you will receive a customized price quote. For comparison purposes, we provide our price list and Price Simulator™ app to make it easy to plan your reverse tummy tuck in Tacoma.
Seattle Plastic Surgery works with three outside financing companies: Care Credit, Alphaeon, and United Medical Care. Each provides plastic surgery financing and has an online application process. Most patients receive a same day decision. 
GET RID OF EXTRA SKIN WITH THE BEST REVERSE TUMMY TUCK IN SEATTLE AND TACOMA
Extra skin can be frustrating to live with, especially when you have worked hard to lose weight. At Seattle Plastic Surgery, we often see patients who have lost weight for a variety of procedures including reverse tummy tucks. Our plastic surgeons can determine the best surgery to meet your needs and goals. 
Dr. Craig Jonov is an experienced plastic surgeon. He has performed thousands of plastic surgery procedures and regularly provides top of the line non-surgical procedures. Dr. Jonov sees many tummy tuck patients every week and understands how to achieve customized results.
To learn more about reverse tummy tucks and schedule a consultation, call us at 206-324-1120. You can also contact us online via our Price Simulator™, chat, and contact forms.
STILL HAVE QUESTIONS?
Give us a call at 206-324-1120 or chat by clicking the icon in the lower left hand corner of your screen additionally you can Contact Us by filling out the form below.