Saline Breast Augmentation
$4,995
SALINE BREAST AUGMENTATION SEATTLE & TACOMA
With today's surgical techniques, there are many procedures that can increase breast size. Fat transfer to the breasts, traditional breast augmentation, and auto augmentation all can lead to fuller breasts. When women want dramatic results, breast implants are the best option. Breast implants come in many different types, sizes, and shapes. The fundamental difference in breast implants is saline and silicone gel fillings. Both types of breast implants can offer great results. While most women opt for silicone implants, saline breast implants are also a wonderful option for breast augmentation. Dr. Craig Jonov at Seattle Plastic Surgery offers the best saline breast augmentation Seattle and Tacoma offers.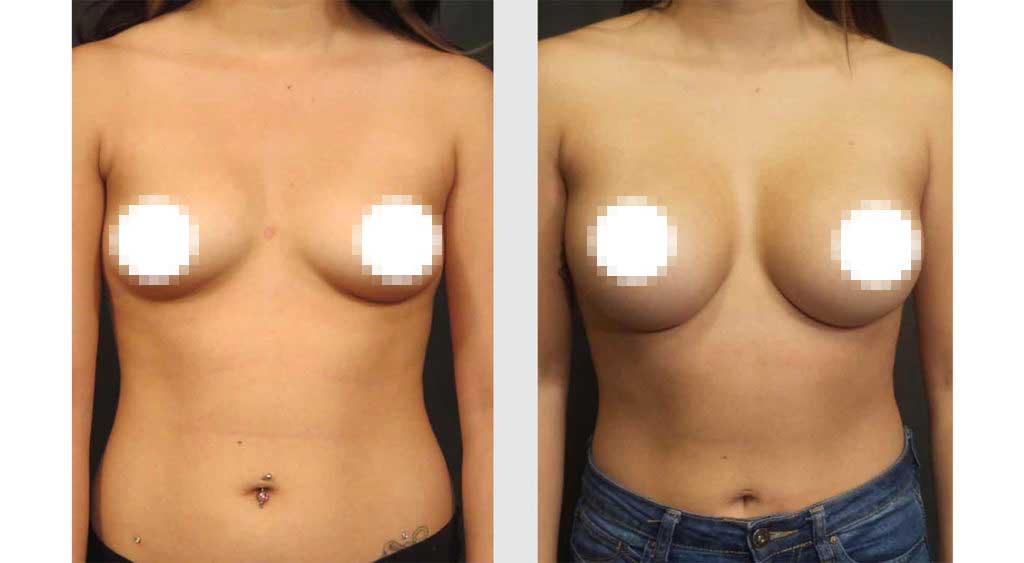 OVERVIEW: BREAST AUGMENTATION WITH SALINE IMPLANTS
Breast augmentation using the first modern breast implant goes back to the 1960s. Since then, plastic surgeons have used both saline and silicone breast implants to make the breasts bigger. For a period of fourteen years, silicone breast implants were taken off the market for the FDA to conduct further studies. During this time, saline breast augmentation became the standard. 
Both saline and silicone breast implants are considered safe for breast augmentation. Some women prefer saline breast implants because a rupture is usually evident promptly. Normally, when a saline implant ruptures, it will leak and within a few days, the implant will deflate. The saline filling also poses no risk to the body because it is found naturally in the body.
Therefore, many women feel more comfortable choosing saline breast implants. If natural looking and feeling results are important to the patient, silicone implants may prove more advantageous. Saline implants can provide natural looking results, however, for patients with little breast tissue, there could potentially be wrinkling. Dr. Jonov can discuss the pros and cons of each breast implant during a consultation at Seattle Plastic Surgery.
Advantages Of Saline Breast Implants
As discussed, saline breast implants do have some advantages. While the majority of breast augmentation patients today opt for silicone breast implants, saline breast implants may offer some patients benefits that they value more than those that silicone implants offer. A few advantages of saline breast implants include:
Rupture usually evident soon after it occurs (although rupture is rare)

Saline filling poses no risk to the body

Size sometimes adjustable after implantation

May provide more dramatic results in some cases

Beneficial for patients with a good amount of natural breast tissue

Smaller incision

More freedom in the incision location

Can provide a firmer feel (which isn't an advantage to every patient, but for those who desire it, saline implants often feel a little firmer)

Available to women 18 and over (silicone implants are not available until age 22)
SALINE BREAST AUGMENTATION SURGERY
Breast augmentation surgery varies widely from patient to patient based upon their individual needs and goals. The breast implant placement, breast implant type, and location of the incision are all choices you have. Dr. Jonov can discuss these options with you during a consultation.
Consultation
At a consultation with Dr. Craig Jonov, he will first want to know about your medical history and goals. This will allow him to garner an idea of what your breast augmentation procedure will entail. Using this information, he may also be able to discuss which breast implant options and incisions will work best for you. Dr. Jonov can also answer your questions and address any concerns you may have. 
After this discussion, Dr. Jonov will physically examine your breasts. This can help him determine a number of things, including whether you may need a breast lift, if you may be more likely to experience rippling, and the overall structure of your breasts. At this point, he will determine if you are a candidate for saline breast augmentation in Seattle.
If you are a candidate, you can then try on breast implant sizers to find the right breast implants. After choosing your preferred breast implant, you will receive a price quote customized to your specific procedure.
Preparation
About three weeks before your saline breast augmentation in Seattle, you will attend your pre-operative appointment. At this appointment, your pre-op coordinator will explain your procedure further and give instructions on how to prepare. Instructions can vary based on your medical history and surgery.
Routine pre-operative instructions can include:
Stop smoking (you should stop smoking at least six weeks before surgery)

Discontinue the use of certain medications if requested and possible

Do not eat or drink for eight hours before surgery

Wear loose fitting, comfortable clothing on surgery day

Avoid NSAIDs like ibuprofen and aspirin for at least a few days before and after surgery

Arrange for a caregiver to stay with you for 24 hours following surgery

Make any necessary transportation, lodging, and childcare arrangements
Along with how to prepare for surgery, your pre-op coordinator will provide Dr. Jonov's basic recovery instructions. Following surgery, Dr. Jonov may give further instructions based on the procedure and your specific needs.
Seattle Breast Augmentation
Your saline breast augmentation will begin after you are fully sedated under general anesthesia. Dr. Jonov will make the incision either in the inframammary fold, the areola, armpit, or belly button. Through this incision, he will create a breast pocket. This breast pocket will either lay on top of the chest muscle or below it. Most of Dr. Jonov's saline breast augmentations are placed below the muscle. 
Once the pocket is created, Dr. Jonov will insert the breast implant. When the saline breast implant is perfectly in place, Dr. Jonov will fill them to the desired size. Saline implants have a pre-determined size, but can sometimes be safely overfilled to a certain size. 
After Dr. Jonov finishes filling the implants, he will close the incisions. At this point, he will examine the breasts for symmetry and compare the result with your goals. You will then slowly wake up from anesthesia.
Saline Breast Augmentation Recovery
Immediately after waking up, you will stay in our recovery area for around an hour or two to allow you to fully wake up and ensure you respond well following surgery. During this time, Dr. Jonov will prep your caregiver and give them instructions regarding your care. Once released to your caregiver, you can go home to begin your saline breast augmentation recovery. 
It is normal and expected that you will experience some side effects like pain, swelling, redness, itchiness, and other discomforts. Dr. Jonov will prescribe pain medications to reduce the amount of pain you experience. He will also prescribe an antibiotic to decrease the risk of infection. In most cases, patients see side effects improve or go away within a week. This is around the time many patients return to work. 
You will likely return to most daily activities within one to two weeks. However, many forms of exercise and lifting may be restricted for up to two months. This largely depends on the incision location and your individual healing progress after surgery.
FREQUENTLY ASKED QUESTIONS ABOUT SALINE BREAST AUGMENTATION
What Are Better Saline Or Silicone Implants?
The answer to this question will differ depending on your anatomy, breast augmentation goals, and preferences. If you prefer a firmer feel and have a significant amount of breast tissue already, saline implants may suit you. If a completely natural look and feel are your main priority, then silicone breast implants may better achieve your goals.
Dr. Jonov can explain the advantages of each breast implant type. He can also recommend which implant may be best for your breast augmentation in Seattle. Saline breast augmentation can provide satisfactory and safe results like silicone breast augmentation.
When Can I Expect My Results?
As a general rule, breast augmentation results take anywhere from nine months to one year to fully drop and settle. While it is possible you will be happy before then, most plastic surgeons do not consider revisions until a year following surgery. This is because your skin and tissues must stretch and settle. Additionally, the breast implants themselves must drop and settle into the breast pocket that Dr. Jonov creates during surgery.
Should I Place Saline Implants Over Or Under The Muscle?
Most breast augmentation patients–regardless of breast implant choice–choose to place their implants under the muscle. While this does increase surgical excision and leads to a longer recovery time, under the muscle placement has shown to decrease rates of capsular contracture. Specifically concerning saline breast implants, under the muscle placement can hide wrinkling or rippling. 
Over the muscle placement–while less common–does have a few advantages. Firstly, the surgery is easier and requires less recovery time. It is also often less painful. Placing breast implants over the muscle means that they lay just behind the glandular tissue. With this placement, there is no risk of the implants taking on a distorted shape when flexing the chest muscle.
What Breast Augmentation Techniques Work With Saline Implants?
Since saline breast implants are inserted empty, patients receiving saline implants can utilize any breast augmentation procedure. In fact, transumbilical breast augmentation can only use saline breast implants. 
Do Saline Breast Implants Need To Be Replaced?
There is no reason to replace your saline breast implants unless you are experiencing symptoms of a complication, or want to switch to silicone implants. Also, many breast implants are warrantied by the manufacturer. Therefore, if you are happy with your saline breast implants and not experiencing symptoms, there is no reason to have implants replaced.
Can I Adjust My Saline Breast Implant Size After Surgery?
It is sometimes possible to adjust the size of a saline breast implant after surgery. Typically, this involves a small procedure to reach the implant but does not require a revision. While possible, most patients are happy with their breast size following saline breast augmentation.
SEATTLE AND TACOMA'S BEST SALINE BREAST AUGMENTATION
As a qualified and skilled plastic surgeon, Dr. Craig Jonov has nearly twenty years of experience performing breast augmentation. He regularly performs saline breast augmentation surgeries. Dr. Jonov uses every breast augmentation technique and has implanted every type of modern implant. He is one of the best plastic surgeons in Seattle that performs breast augmentation.
Seattle Plastic Surgery is a plastic surgery practice located in the First Hill neighborhood of Seattle. Offering plastic surgery of the face, breast, and body, Seattle Plastic Surgery provides the best plastic surgery. Along with premier plastic surgery in Seattle, Seattle Plastic Surgery offers non-surgical procedures like BOTOX, fillers, and chemical peels.
To schedule a consultation, call us at 206-324-1120. You can also contact us online via the contact form, chat, or Price Simulator™ app.
Still Have Questions?
Give us a call at 206-324-1120. Chat by clicking the icon in the lower left hand corner of your screen. Additionally, you can  Contact Us by filling out the form below.