TRANSGENDER LASER HAIR REMOVAL SEATTLE AND TACOMA
Permanent hair removal is a desire of many people tired of shaving, or who have excess body hair due to genetics or medical conditions. However, for transgender people, unwanted, extra hair can deepen gender dysphoria and a permanent removal solution is not purely a choice, but a medical necessity. Laser hair removal is the preferred and usually the best option for transgender people wanting to permanently reduce and remove hair. Seattle Plastic Surgery provides the best transgender laser hair removal Seattle and Tacoma offers.
OVERVIEW: TRANSGENDER LASER HAIR REMOVAL
Laser hair removal for transgender individuals is more than getting rid of unwanted hair. It treats gender dysphoria and often allows them to see the ideal version of themselves. Laser hair removal can also help transgender individuals prepare for surgical procedures.
While shaving and hair removal is troublesome for most people, it can be twice as hard for transgender people who may remove hair from more body areas and have to remove hair more often. Not only that but hair is frequently associated with traditional ideas of gender. Therefore, transwomen often will feel extremely anxious and upset with their facial and body hair because it contributes to a more masculine appearance.
Laser hair removal can treat nearly any area of the body, including the face, chin, and neck. It also is considered the less painful option when compared to other permanent hair removal techniques. For transgender patients, laser hair removal is often one of the top procedures they seek out at Seattle Plastic Surgery.
How Laser Hair Removal Works
Modern diode lasers are the gold standard for laser hair removal. Diode lasers use a system of selective light absorption that targets melanated hair without damaging the surrounding skin. Using a combination of light and heat, the laser penetrates the hair follicles and damages them to prevent them from producing hair.
Laser hair removal takes multiple sessions because not all of your hair follicles are growing hair at the same time. Therefore, you need to undergo multiple treatments to ensure that all of the hair follicles are adequately treated.
Reasons For Hair Removal
For transgender patients, the main reason they choose to have laser hair removal performed is to alleviate gender dysphoria and so that their body can better match their identity. However, there are often multiple motivations behind the choice to undergo laser hair removal. Some of the most common reasons for getting Seattle laser hair removal include:
Permanently reduce amount body hair

Prepare for surgery

Reduce the amount of shaving/waxing

Prevent ingrown hairs

Save money by not having to purchase razors or book waxing appointments

Stay smooth throughout the year

Allows outward appearance to match gender identity

Less painful than other methods

Boosts confidence
Benefits
There are countless benefits to laser hair removal, especially for transgender individuals. Some of the benefits and advantages of laser hair removal in Seattle include:
Permanently reduces and/or removes hair

Prevents ingrown hairs

Reduces the need for shaving or waxing

Can be performed anywhere on the body (except the eyebrows or eyelids)

Minuscule risk of infection

Little to no downtime

Nearly painless

Safe for all skin types and tones

Better at treating thick, coarse hair when compared to other types of long term hair removal techniques
Great people. Good laser hair removal!

Liz
Great staff!! Love this place! Highly recommended!

Becky
Always a great experience. The office communication is clear and on point, the nurses are lovely and take great care in their work. I felt extremely safe with their sanitation measures since they have reopened after the shutdown. Highly recommend this clinic.

Alicia
If I could give ten stars I would haha. Very attentive & caring staff, made me feel very welcome & comfortable. Also the nurses/staff took great care of me prior & after my procedure.

Karolina
CANDIDATES AND TREATMENT AREAS
Considering laser hair removal is a non-invasive procedure, most healthy people can safely undergo treatment. Older lasers used for hair removal were not safe for darker skin tones. Thankfully, modern lasers can treat all skin tones without damaging them. 
The one hindrance of laser hair removal is that it can only treat melanated hair. This means that white, gray, blond, and most red hair cannot be safely treated with lasers. In these cases, our master estheticians usually recommend electrolysis. Though, hair color can vary throughout the body, and areas with darker hair may still be treated.
Laser hair removal can treat nearly any body area which makes it ideal for transitioning people. Our master estheticians can also treat multiple areas during the same session. The only areas lasers cannot treat are the eyebrows and eyelids because it is not safe to bring the laser that close to the eyes.
Common areas that transgender patients seek treatment include:
Face/chin

Back

Chest

Legs

Arms

Underarms

Brazilian
TRANS FRIENDLY LASER HAIR REMOVAL FROM START TO FINISH
Initial Consultation
Before you come in for your transgender laser hair removal sessions, you will meet with one of our master estheticians to ensure you are a good candidate for the procedure. They will ask about your goals for treatment, the areas you want to address, medical history, and aspects of your lifestyle (if you smoke, how much time you spend in the sun, etc.)
After this discussion, your master esthetician may want to examine the hair and follicles in the treatment areas to look at their thickness and growth patterns. This will help them create your treatment plan. 
At the end of the consultation, your master esthetician will let you know if you are a fit for the procedure and the next steps. In certain cases, if you come clean shaven and prepared, they may begin treatment the same day. Though, you should mention this when booking the appointment if you want to proceed this way. Otherwise, you can make the appointments on the way out of the office.
Hair Removal Appointments
In preparation for your laser hair removal in Seattle, your master esthetician will instruct you to shave all the areas you are treating about 24 hours before the procedure. This allows the laser to better treat the hair follicles versus just zapping away the hair. Treating longer hair also can make patients susceptible to burns and complications.
Your master esthetician will begin by disinfecting the treatment area. They may apply numbing cream afterward, but most patients do not find the treatments too painful. Finally, just before starting, they may apply ultrasound gel depending on the treatment areas.
Bringing the laser to the treatment area, your master esthetician will activate the laser. Patients may feel pinching, a bit of heat, and many compare it to a rubber band snapping against the skin.  They will continue this process until completing all of the treatment areas. The exact amount of time an appointment takes varies on the size and number of areas. On average, patients can expect an appointment that lasts around thirty minutes to an hour.
Following Each Appointment
Laser hair removal does not require downtime. However, your master esthetician will still give you instructions to protect your skin and promote the best result. Aftercare directions may vary based on your care plan, but routine laser hair removal aftercare instructions may include:
Avoid raising your body temperature via exercise, saunas, hot tubs, etc.

Keep out of the sun as much as possible

Make sure to cover or otherwise protect treatment areas when in the sun

After about five days, gently exfoliate with a washcloth

Know that razor bump like swelling is normal
Ongoing Care
Laser hair removal requires multiple sessions to achieve permanent hair reduction. Depending on the area and the thickness of your hair, it can take anywhere from four to twelve sessions to see the best results. You will need to have laser hair removal appointments every four to six weeks to adequately address every growth cycle of the hair.
After completing your transgender laser hair removal treatments, you may need to come in once or twice a year for touch-up sessions. Any hair that comes back following sessions tends to be sparser, thinner, and easier to manage. Patients usually remain hair free for most of the year.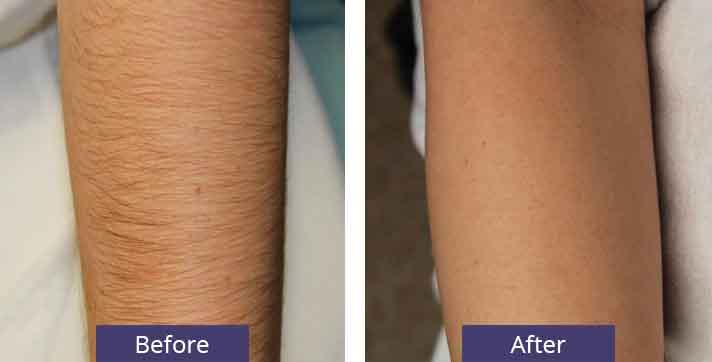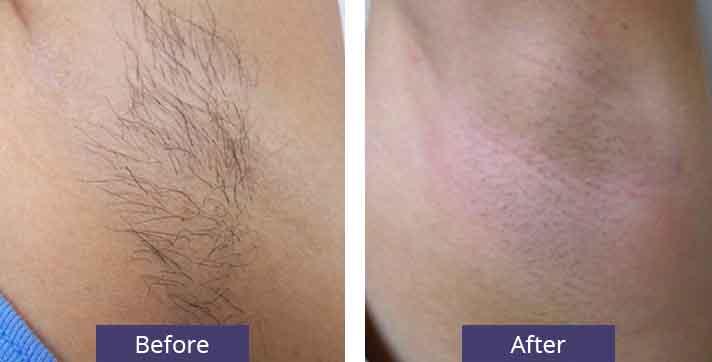 FREQUENTLY ASKED QUESTIONS
How Permanent Is Laser Hair Removal?
Laser hair removal is FDA approved for permanent hair reduction. It is possible to see some hair growth after laser hair removal. With that noted, undergoing laser hair removal permanently changes the hair. Any residual hair that springs up is usually finer, sparser, and easier to remove. It is unlikely that the entirety of the treated area will grow hair all at once again. This makes the management of unwanted body hair much easier and takes exponentially less time. You will no longer have to think about shaving every day.
Is It Only For Transwomen?
Of course not! While the focus of transmen is often on growing hair, many seek laser hair removal for certain areas in preparation for surgery. Additionally, laser hair removal can keep facial and body hair neater and easier to groom.
Does It Hurt?
Laser hair removal does come with some discomfort, especially when treating sensitive areas like the face. However, the majority of patients find the pain tolerable. The treatments are also quick, so the discomfort does not last too long.
What About At-Home Laser Hair Removal?
There are at-home laser hair removal devices available. However, these are not well regulated and come with the risk of causing permanent damage to your skin. It is better and worth the money to seek out laser hair removal done in a medical setting with medical grade lasers and a highly trained, certified professional.
How Much Is Laser Hair Removal?
Transgender laser hair removal at Seattle Plastic Surgery starts at $119 and goes up based on the number and size of the treatment areas. You can find more details about our Seattle laser hair removal pricing on our price list and Price Simulator®.
THE BEST TRANS FRIENDLY LASER HAIR REMOVAL IN SEATTLE AND TACOMA
Seattle Plastic Surgery proudly serves Washington's transgender community by offering top-of-the-line transgender medical care. Along with transgender hair removal, we also provide surgical services like facial feminization, top surgery, and tracheal shave. BOTOX, fillers, and professional skincare are also sought out by the transgender community. Seattle Plastic Surgery performs the best transgender laser hair removal Seattle and Tacoma offers.
Our master estheticians are highly trained in laser hair removal and various other laser treatments. With the knowledge to both beautify and medically treat the skin, they work under the skill of our plastic surgeons to make long lasting improvements to your skin. Our master estheticians have extensive experience working with transgender patients from all backgrounds and work closely with trans patients every day. 
To schedule a consultation, call us at 206-324-1120. You can also reach out online via Price Simulator®, chat, and contact form.