Extended Tummy Tuck Price
Varies
EXTENDED TUMMY TUCK SEATTLE AND TACOMA
A flat stomach is a common goal of many people hoping to enhance the look of their abdomen. Weight loss and gaining muscle in the area can improve the abdomen's appearance. However, in certain cases, surgical intervention may be required to see ideal results. This is often due to a separation of the abdominal muscles known as diastasis recti. This is often nearly impossible to repair without surgery. Abdominoplasty surgery is one way to address this and provide a flat abdomen. There are many types of abdominoplasties, one of which is known as an extended tummy tuck. Dr. Craig Jonov at Seattle Plastic Surgery provides the best extended tummy tuck Bellevue and Kirkland offers.
EXTENDED TUMMY TUCK SUMMARIZED
An extended tummy tuck is a procedure that removes extra skin and fat from the abdomen, love handles, and hips. The procedure also usually repairs diastasis recti by tightening the abdominal muscles and the skin. This enhances the body contours from the abdomen and all the way around to the love handles. 
The extended tummy tuck addresses the largest amount of the abdomen and body of all tummy tuck surgeries. An extended abdominoplasty is most often performed on patients with a large amount of extra skin, especially those who lost weight. 
Motivations And Benefits
Every patient has their unique motivations for undergoing a plastic surgery procedure. When it comes to an extended tummy tuck in Seattle, most patients want to achieve a flatter, more toned abdomen. Among some of the other motivations patients who undergo the procedure include:
Remove extra skin present due to weight loss or pregnancy

Repair diastasis recti

Remove excess fat pockets in the lower abdomen, love handles, hips, and lower back

Fit better into clothing

May improve or alleviate back pain, hernias, urinary incontinence, and posture

Exercising and exertional activity may become easier
Along with addressing these motivations for extended tummy tuck surgery, the procedure also offers many benefits and advantages such as:
Outpatient procedure (meaning you go home the same day as surgery)

Customized surgical technique to fit your needs

Can address the shape and size of the belly button

May improve the look of stretch marks

Incision can be hidden with most clothing and swimsuits

Provides the most amount of correction out of all tummy tucks

Revise previous tummy tuck surgeries
Before & After Extended Tummy Tuck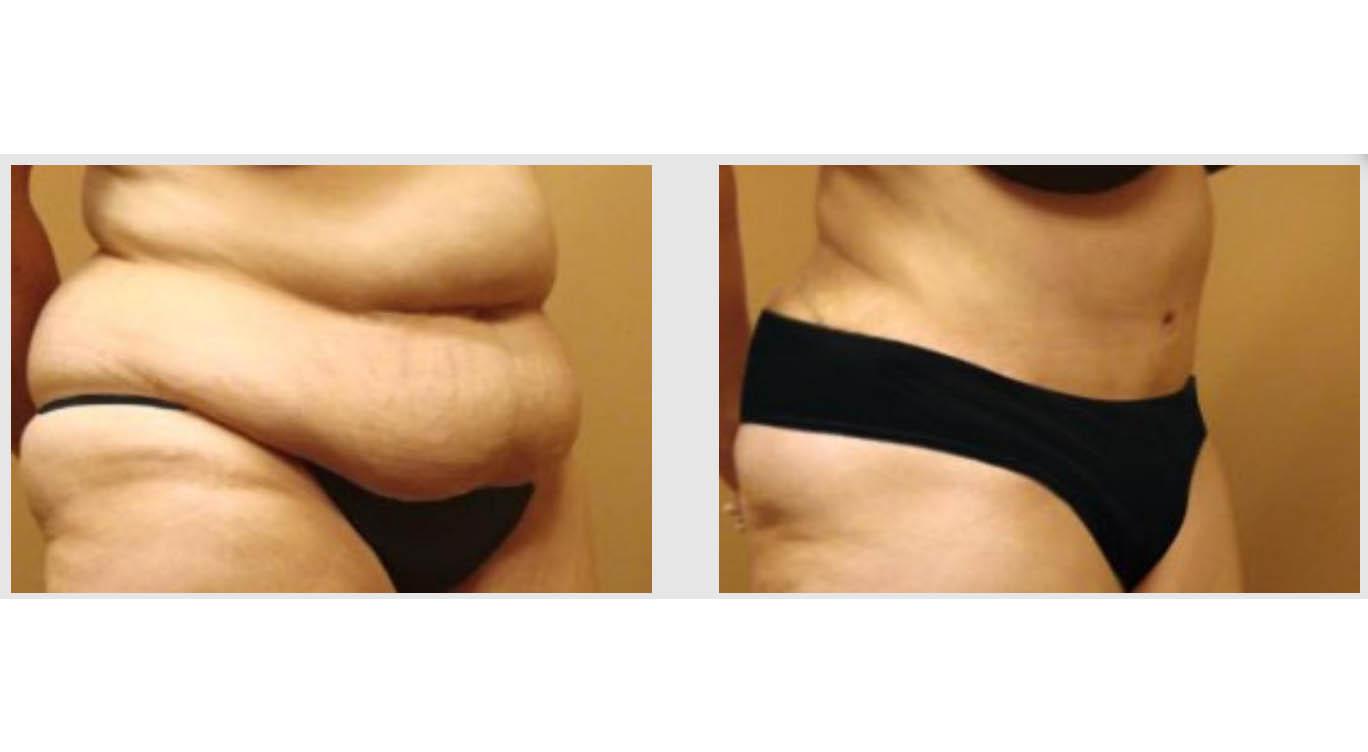 EXTENDED TUMMY TUCK vs. TUMMY TUCK
It is difficult to tell the difference between an extended tummy tuck and a full tummy tuck because they use many of the same surgical techniques. Both accomplish the same goals with minute differences that distinguish them. 
The first major difference is that an extended tummy tuck uses a longer scar. During a traditional tummy tuck, the scar spans from hip to hip. Occasionally, it may be shorter depending on the patient and their needs. An extended tummy tuck, however, extends the scar around each hip to address the love handles. The incisions usually end at the end of each flank.
Secondly, a tummy tuck will only address the abdomen, waist, and occasionally the hips. While Dr. Jonov can perform liposuction on any part of the body to enhance results, a standard tummy tuck will provide most of its correction on the front half of the body. The extended tummy tuck addresses the sides, lower back, and flanks.
Finally, other than the length of the incision and the areas treated, the two procedures are similar. Each can repair muscle separation, remove excess skin, and liposuction stubborn fat deposits. Ultimately, the procedure right for you comes down to the specifics of your anatomy and goals.
EXTENDED TUMMY TUCK BEFORE AND AFTER
Contact Us Today
Recovery
As you wake up after surgery, you will likely feel groggy and fatigued. You may also experience some side effects of general anesthesia. Usually, patients go home within a couple of hours of surgery.
From there, your caregiver will need to stay with you for at least twenty four hours after surgery. Dr. Jonov will also give instructions for your recovery. While directions may vary based on your individual needs and procedure, typical extended tummy tuck recovery instructions include:
Stay hunched at a ninety degree angle for at least the first week of recovery

Take your prescribed medications

Rest and do not perform any exertional activities

Get up and walk carefully every few hours to prevent blood clots

Attend all your post-op appointments

Do not return to work or exercise until cleared by Dr. Jonov

Be careful not to irritate the incisions
Consultation
A consultation is necessary to find out if you are a good candidate for an extended tummy tuck surgery. It will also determine if it is the correct procedure to address your goals. At a consultation with Dr. Jonov at Seattle Plastic Surgery, you will start with having photos of the treatment areas taken. After this, you will have a conversation where Dr. Jonov will want to understand your goals for the procedure. He will also answer any questions you may have. 
Next, he will review your medical history. This is important to ensure a safe procedure. Dr. Jonov can then also create a surgical plan that accounts for your individual risk. Finally, Dr. Jonov may physically examine the abdomen and describe the results he can achieve. He will also determine whether a Seattle extended tummy tuck is right for you. The final steps will include receiving a personalized price quote and financing information. You can then decide on when to book surgery. 
Tummy Tuck Surgery
Surgery day will usually come a couple of months following your consultation. On surgery day you will come to our Medicare-certified surgery center. The Seattle Plastic Surgery team will greet you and prep you for surgery. Surgery prep consists of allowing you to change, taking your vitals, and running other preliminary tests.
Dr. Jonov will meet with you to make surgical markings and review the specifics of the procedure with you again. After markings and clearance for surgery, a licensed anesthesia provider will place you under general anesthesia.
Dr. Jonov will begin the surgery by making the incision along the lower abdomen and around the love handles. Through this incision, he will perform muscle plication which repairs diastasis recti. After tightening the muscles, Dr. Jonov will remove extra fat deposits and skin. Finally, he will stretch and redrape the skin to fit over your new contours. 
Stitching the incision, Dr. Jonov will check your new abdomen against the goals you had before surgery. He may also go on to perform other procedures if necessary.
If I could give ten stars I would haha. Very attentive & caring staff, made me feel very welcome & comfortable. Also the nurses/staff took great care of me prior & after my procedure.

Karolina
Great customer service, extremely helpful and individualized. Dr. Craig Jonov is excellent! Overall an extremely easy process with his experience.

Amber
FREQUENTLY ASKED QUESTIONS
Will I Wear A Compression Garment?
Yes, Dr. Jonov will likely recommend that you wear a compression garment for several weeks after surgery. Compression garments promote better results from body contouring and liposuction procedures. They also tend to keep patients more comfortable during recovery. 
How To Tell If I Need An Extended Tummy Tuck?
Dr. Jonov is the best person to determine whether you need an extended abdominoplasty versus another type of tummy tuck. Usually, the best metric is to look at where you have extra skin. If the skin is centralized to the abdomen or lower abdomen, you may not need an extended tummy tuck. In this case, a standard or mini tummy tuck with possible liposuction may best address your concerns. If your upper abdomen is your main concern, a reverse tummy tuck may treat this.
If you have extra skin that wraps around your hips, you may need an extended tummy tuck or lower body lift. Additionally, if you have excessive extra skin in your upper and lower abdomen, a fleur de lis tummy tuck may provide a good result. This is common in people who have lost a lot of weight. Dr. Jonov can determine which type of tummy tuck will benefit you most during a Seattle plastic surgery consultation.
Additionally, if you have concerns about the area below the pubic bone, known as the mons pubis, a monsplasty in Seattle can often be performed at the same time as a tummy tuck. If you only have a small amount of extra skin or need some extra tightening after liposuction, Renuvion skin tightening may be right for you.
Is It The Same As A Lower Body Lift?
No, though the two procedures are extremely similar. The main difference is that the incision for a lower body lift completely circles the body. Conversely, an extended tummy tuck incision stops at the end of each flank.
Does It Affect The Belly Button?
Yes, like with a standard Tacoma tummy tuck, an extended tummy tuck will reposition the belly button. During surgery, the removal of extra skin and redraping of the skin may leave the belly button in an unnatural position. Therefore, Dr. Jonov will recreate the belly button and place it in a natural position.
How Much Is An Extended Tummy Tuck?
The final cost of an extended tummy tuck in Tacoma is determined by the specifics of the surgery. To get an understanding of the starting price of all our tummy tuck procedures, visit our price list or Price Simulator™ app. 
Seattle Plastic Surgery works with three outside medical financing companies: Care Credit, United Medical Credit, and Alphaeon. Each offers an online application and often a same day decision. To find more information about these options and links to apply, check our financing page.
GET A FLAT TUMMY WITH THE BEST EXTENDED TUMMY TUCK IN SEATTLE AND TACOMA
Dr. Craig Jonov is a top rated plastic surgeon in Seattle and Tacoma who specializes in body contouring procedures. He has performed tummy tucks on a routine basis for over a decade and provides a higher standard of care. Along with a Seattle extended tummy tuck, Dr. Jonov often combines the procedure with breast augmentation, Brazilian butt lifts, and liposuction. When combined with a breast procedure this is sometimes called a mommy makeover. Dr. Jonov performs the best extended tummy tuck in Seattle and Tacoma.
Seattle Plastic Surgery is a premier plastic surgery clinic located in downtown Seattle. Serving Seattle's cosmetic needs, our plastic surgeons specialize in many fields including plastic surgery of the face, body, breast, and non-surgical procedures. We also provide the best injectable and medical spa procedures Seattle and Tacoma have to offer.
To learn more about an extended tummy tuck and to schedule a consultation, call us at 206-324-1120. You can also reach us online via the Price Simulator™ app, chat, or contact form.
STILL HAVE QUESTIONS?
Give us a call at 206-324-1120 or chat by clicking the icon in the lower left hand corner of your screen additionally you can Contact Us by filling out the form below.