Non-Surgical Chin Augmentation Price
Varies
NON-SURGICAL CHIN AUGMENTATION 
The chin is an essential part of our facial appearance and profile. When the chin is recessed, undefined, or experiences a loss of fat, it can impact our appearance and the way we feel about ourselves. Chin augmentation is a procedure that can address and solve these issues, both permanently and temporarily. A non-surgical chin augmentation is wonderful for those who want to try out the look of a chin augmentation without committing to surgery, who have only a minor issue that does not require a permanent solution, want a defined jawline, or those who do not want a chin implant. Seattle Plastic Surgery offers non-surgical chin augmentation to patients in Seattle, Tacoma, and the surrounding areas.
WHAT IS NON-SURGICAL CHIN AUGMENTATION? 
A non-surgical chin augmentation, much like the surgical version which uses an implant, increases the size and definition of the chin. In a chin augmentation surgery, your cosmetic surgeon would use an implant to accomplish your chin augmentation. However, a non-surgical chin augmentation in Seattle uses dermal fillers, providing a natural look for your chin augmentation.
Dermal fillers have long been used to fill and add definition to the face. Used for fine lines, wrinkles, under eye circles, non-surgical rhinoplasty and more, dermal fillers can achieve a variety of results. When it comes to non-surgical chin augmentation, your plastic surgeon will use non-invasive injection techniques to give you the best looking chin possible. 
The option of a non-surgical chin augmentation often allows those who cannot undergo a surgical procedure, or those who simply do not want an implant to still get the chin they want. It also helps those who have only a minor cosmetic issue they want to address, such as a dimpled chin or slight loss of fat, that may not require an implant to find a suitable solution. 
WHY CHIN AUGMENTATION?
People seek a chin augmentation in Tacoma for a variety of reasons and conditions. For some, genetics left them with an undefined or recessed chin, while others lose definition due to age related changes. Additionally, for some wanting to define their jawline, a chin augmentation can refine the jawline.
Tacoma non-surgical chin augmentation, while temporary, appeals to many people who do not want a permanent solution, want to see their results before committing to surgery, or who simply want a simple, non-invasive procedure. Any surgery requires some downtime and recovery, however, a non-surgical chin augmentation does not.
Some of the cosmetic motivations and conditions that cause people to seek the best chin augmentation in Tacoma includes:
Genetically recessed or small chin

Undefined profile or jawline

Loss of fat or definition after weight loss

Age related changes to the face

Dimpled or cleft chin
What Are My Filler Options?
The most common types of filler used during a Seattle non-surgical chin augmentation are hyaluronic acid fillers. Among the most popular of these types of fillers include Restylane and Juvederm products, nearly all of which can be used for your procedure. The fillers used most often for non-surgical facial augmentations at Seattle Plastic Surgery include: Restylane Lyft, Restylane Defyne, Juvederm Voluma, and Juvederm Ultra Plus. 
These are all hyaluronic acid gel fillers. Hyaluronic acid is a substance that is found naturally in the body, making these fillers safe and effective. They are often moldable, which, unlike an implant, allows your cosmetic surgeon to easily customize the filler to your facial proportions and achieve the specific look you want. 
Choosing the filler that is right for your chin augmentation is a difficult decision. Our plastic surgeons can help you find the filler that will work best for your premier non-surgical chin augmentation in Seattle.
Restylane:
When it comes to Restylane offerings, the two most popular products at Seattle Plastic Surgery for non-surgical chin augmentation are Restylane Lyft and Restylane Defyne. 
Restylane Lyft is a product formulated especially for augmentation of the face. It works to naturally lift your features while providing natural and individualized definition. The product is known to last up to 18 months and is one of the lower cost options for your Seattle non-surgical chin augmentation.
Restylane Defyne is a thick formula filler that is made to move naturally along with your features and facial movements. It helps to provide a fuller look while maintaining your natural features and unique look. The filler can last around one year.
Juvederm:
At Seattle Plastic Surgery, we offer many Juvederm filler options. For non-surgical chin augmentation, the Juvederm fillers most often utilized include: Juvederm Ultra Plus and Juvederm Voluma. 
Juvederm Ultra Plus is a thick filler that is a common choice for lip filler injections. This filler is known to last up to a year. If continually used and maintained with subsequent injections, Juvederm Ultra Plus may stimulate collagen growth in the area, helping you to keep your results longer and improve your results over time. 
Juvederm Voluma helps fight facial fat loss. It is a softer filler, which allows your cosmetic surgeon to manipulate the filler during and immediately after your injections so that they can mold it specifically to your chin to fit your needs. Among one of the longest-lasting options, Juvederm Voluma can last up to 2 years.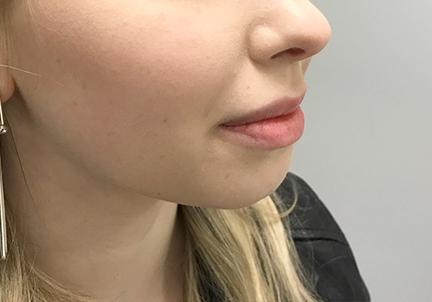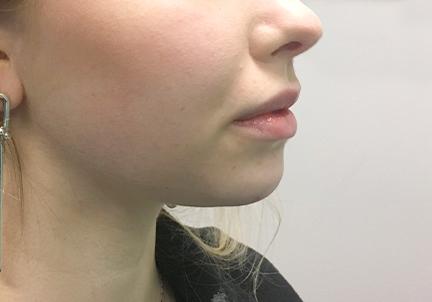 Wanting to define her jawline, this patient came to Seattle Plastic Surgery for filler. Originally interested in jawline filler, her master injector recommended chin filler instead because it would elongate her jawline to create a slimming effect. Using one syringe of Restylane Lyft, her injector achieved a fantastic result. The patient is thrilled with her new jawline.
HOW MUCH IS NON-SURGICAL CHIN AUGMENTATION?
The price of you non-surgical chin augmentation will vary depending upon your choice of filler and how much of it you require. Our pricing page can give more specific information about the cost of specific filler options and after a consultation where your plastic surgeon can learn about your needs, they can give you a better idea of the overall price. 
Benefits of Seattle Non-Surgical Chin Augmentation:
Almost any results your cosmetic surgeon can achieve with a chin implant, they can also accomplish with a non-surgical chin augmentation. There are many benefits to a non-surgical chin augmentation in Seattle like: 
Non-invasive and non-surgical procedure

Little to no risk of scarring

Nearly immediate results

Reversible and temporary

Customizable

Little to no recovery time

Safe and simple procedure
YOUR PROCEDURE: 
On the day of your non-surgical chin augmentation in Seattle, your cosmetic surgeon will begin by recapping the plan for your procedure. Next, they will apply a topical anesthetic to the chin area to ensure a comfortable experience. When you are numb, they will begin the filler injections. You should not feel any pain during your injections due to the application of the topical anesthetic. In addition, many Juvederm and Restylane products contain lidocaine as an ingredient, helping to ease the injections. 
As your plastic surgeon injects the filler, they may gently massage it into place. Once the filler is in the correct position, they will show you the results. You will see a difference immediately after your non-surgical chin augmentation procedure, but you may continue to see your results improve in the coming weeks.
After Non-Surgical Chin Augmentation in Tacoma:
Because a Tacoma non-surgical chin augmentation is a non-surgical procedure, there is no required downtime or recovery protocol. Many patients return to work the day after their non-surgical chin augmentation and experience no major side effects. 
Side effects after a non-surgical chin augmentation are usually relatively minor and any major side effects are rare. The most common side effects are swelling or redness at the injection site, bruising, and tenderness. Prescribed pain medication is usually unnecessary and any discomfort experienced should not hinder your daily activities. Side effects should resolve on their own within a week or so.
Interested in Chin Augmentation?
fill out the form below to set up a free consultation or ask any questions you may have.
How Can Chin Augmentation Help My Jawline?
Chin augmentation–with an implant or fillers–extends the projection of the chin. Therefore, with this added size and outward projection, non-surgical chin augmentation can lead to a more defined jawline. For those who only want or need minor adjustments to their jawline, this can help you see a lengthened and more chiseled jawline.
Other jawline procedures including both surgical and non-surgical exist for those who need to address more prominent jawline or cosmetic jaw issues. Meeting with a Seattle plastic surgeon will help you determine which options will best serve your needs.
Great experience. I got the Botox and fillers here. Saw immediate changes. Highly recommend!

Doris
Dr Khezri was wonderful!! Patient, kind explained, everything hardly felt a thing and the filler looks amazing!!! Thank YOU!

Bethany
I got a lip filler fine with one of the nurses and she was great. She made sure I was informed and comfortable. The staff was also really friendly and efficient. I'd highly recommend seattle plastics for fillers

Lylan
Always such a lovely and welcoming experience. I never feel embarrassed about the questions or concerns I have. Definitely a life long customer!

Kayla
NON-SURGICAL CHIN AUGMENTATION WITH LEADING PLASTIC SURGEONS IN SEATTLE AND TACOMA
Your Seattle non-surgical chin augmentation requires a skilled and experienced surgeon like those at Seattle Plastic Surgery. With multiple board certifications, our cosmetic surgeons are experts with filler procedures and will help you achieve the chin and profile you desire. 
Seattle Plastic Surgery has served the cosmetic and plastic surgery needs of the Greater Seattle area for over two decades. Our surgeons and team have a commitment to providing the best possible care and results to our patients. One way we ensure your safety and comfort are by keeping our facility up to the highest medical certification standards and always refining our techniques and equipment.
Your Seattle plastic surgeon will customize your non-surgical chin augmentation to fit your anatomy, goals, and choice of filler. Using the gentlest techniques to limit bruising and the newest technology, they will help you find the non-surgical solution to your undefined or recessed chin. 
Dermal fillers are safe, effective, and often sought out to fill out an augment areas of the face. At Seattle Plastic Surgery, we only utilize the safest and reversible fillers to ensure your utmost safety. 
During your consultation, your cosmetic surgeon will ask about your reasons for seeking chin augmentation, your medical history, and goals for the procedure. Once they have a full understanding of what you want from your non-surgical chin augmentation and your history, they will determine if these results are possible and if you are a good candidate for non-surgical chin augmentation in Seattle.
Still Have Questions?
Give us a call at 206-324-1120. Chat by clicking the icon in the lower left hand corner of your screen. Additionally, you can fill out the form above.