Glow Up Package
(3 peels & 3 Microneedling Sessions)
$950
CHEMICAL PEELS & MICRONEEDLING | GLOW UP PACKAGE IN SEATTLE AND TACOMA
Professional skincare consists of many staple procedures: chemical peels, spa facials, dermaplaning, and microneedling to name just a few. Yet, every person's skin has different needs. The master estheticians at Seattle Plastic Surgery, once they know and understand your skin and goals, will put together a customized treatment plan that often utilizes one or many of these procedures. Along with these specialized treatment plans, our Seattle master estheticians designed a protocol for patients wanting to dramatically rejuvenate their skin. The Glow Up Package allows patients to customize their treatment plan, while still offering a plan that sees results and is compatible for most skin types and tones. The master estheticians at Seattle Plastic Surgery offer the Glow Up Package to patients in the Seattle and Tacoma areas.
SEATTLE CUSTOMIZED SKIN CARE: THE GLOW UP PACKAGE
The proprietary Glow Up Package consists of three chemical peels and three microneedling sessions. Usually, these appointments are around four to six weeks apart to allow for maximum healing following each treatment. Yet, it does not allow your skin to become too comfortable and continues encouraging collagen production.
While the Glow Up Package alternates microneedling and facial peels, patients can still customize it to fit their needs. Your master esthetician can recommend treatments that will complement your Glow Up Package. 
The two procedures have aspects that can be customized per patient. For example, you can add plasma to microneedling. This boosts the amount of proteins, hormones, and growth factors present in your skin. This can help increase the rate of collagen production and healing, as well as, stimulate better looking and longer lasting results. 
What Is Microneedling?
Microneedling treatments are a skincare procedure performed by a master esthetician. Using an FDA-approved microneedling device, they will make small pricks that your body views as injuries. It will then send a healing response to the site that rejuvenates the skin. 
This healing response can correct and treat skin conditions like:
Acne scarring

Sun damaged skin

Fill in fine lines and wrinkles

Rough feeling skin

Hyperpigmentation
Adding plasma to microneedling only increases its benefits. While not included in the Seattle Glow Up Package, you can easily choos e to add plasma to microneedling for improved results. 
What Are Chemical Peels?
Chemical peels, also known as skin peels, are a procedure that induces the peeling of the upper layers of the skin. This removes dead skin that can clog pores and bog down your skin. This reveals fresh, new skin beneath. Undergoing the glow up package where a master esthetician performs three chemical peels can work down fine lines, wrinkles, and scarring.
Peels can consist of various different acids safe for use on the skin. These acids can include salicylic acid, glycolic acid, trichloroacetic acid (TCA), and sometimes, phenol. Each acid causes a different amount of abrasion to the skin and some reach deeper than others. Your master esthetician can recommend which type of a peel is compatible with your skin and the results you want.
Nearly any peel can be performed as part of your Glow Up Package skin peels. Your master esthetician will need to examine and evaluate your skin to determine which will work best.
WHY THE GLOW UP PACKAGE IN TACOMA?

Microneedling and chemical peels often go together. Having microneedling performed a few weeks before a facial peel, allows the peel to better penetrate the layers of the skin. This can make the peel more effective. To better serve our patient's needs, the master estheticians at Seattle Plastic Surgery decided to offer the Glow Up Package to make these commonly combined procedures more cost effective. Additionally, we have found that three treatments of each procedure alternated over a few months provides optimal results.
Master estheticians usually recommend the Glow Up Package to those trying to treat skin concerns like acne scarring and the early signs of aging. This is because the two procedures work together to produce collagen at a quick and consistent rate. 
Seattle & Tacoma Collagen Induction Therapy
Microneedling–also called collagen induction therapy–activates extra collagen production. Collagen is the protein in your body responsible for elastic and healthy skin. It reduces with age and due to other factors like smoking, sun damage, and high sugar diets. However, when it comes to age, it is impossible to stop collagen loss. Because of expertly performed procedures like microneedling, you can induce your body to produce more collagen to make up for this. 
How Skin Peels Work
Skin peels, like microneedling, can increase the amount of collagen your body produces. In addition to this, chemical peels strip away dead skin sitting on your skin and clogging your pores. Peels reveal the new, smoother skin beneath the outermost layers of skin. Tacoma microneedling then helps supply this new skin with collagen. This process is how the Glow Up Package can improve the appearance of acne scars, fine lines, and wrinkles.
Benefits
The Glow Up Package offers many benefits to your skin. After just a few treatments, you may notice that your skin looks and feels healthier. Professional, medical-grade skincare like the Glow Up Package delivers benefits not possible from at-home skincare or procedures. In fact, at-home microneedling and chemical peels can cause damage to the skin. Our master estheticians curated the Glow Up Package using their years of experience and expertise.
Of the various benefits you can see after completely the full Glow Up Package include:
Smoother skin

Decline in acne and breakouts

More even skin tone

Skin texture improvements

Reduction in the appearance of fine lines, wrinkles, and acne scars

Treatment of surgical scars and stretch marks
WHAT CAN MICRONEEDLING & SKIN PEELS TREAT?
As mentioned earlier, our master estheticians recommend the Glow Up Package to treat many skin conditions and concerns. Since one of the main advantages of the Glow Up Package is that it induces collagen, this customized skincare protocol harnesses this to treat the early signs of aging like: fine lines, wrinkles, sun spots, and sagging skin. 
Patients experiencing all types of acne scarring including: boxcar, icepick, and rolling scars can see improvements. Finally, microneedling is often used as a treatment for surgical scars. The Glow Up Package can contribute to the smoothing and flattening of rough surgical scars.
Other than scarring and aging, the Glow Up Package may benefit:
Acne prone skin

Dull looking skin

Stretchmarks

Overly dry skin

Sun damaged skin

Rough patches

Hyperpigmentation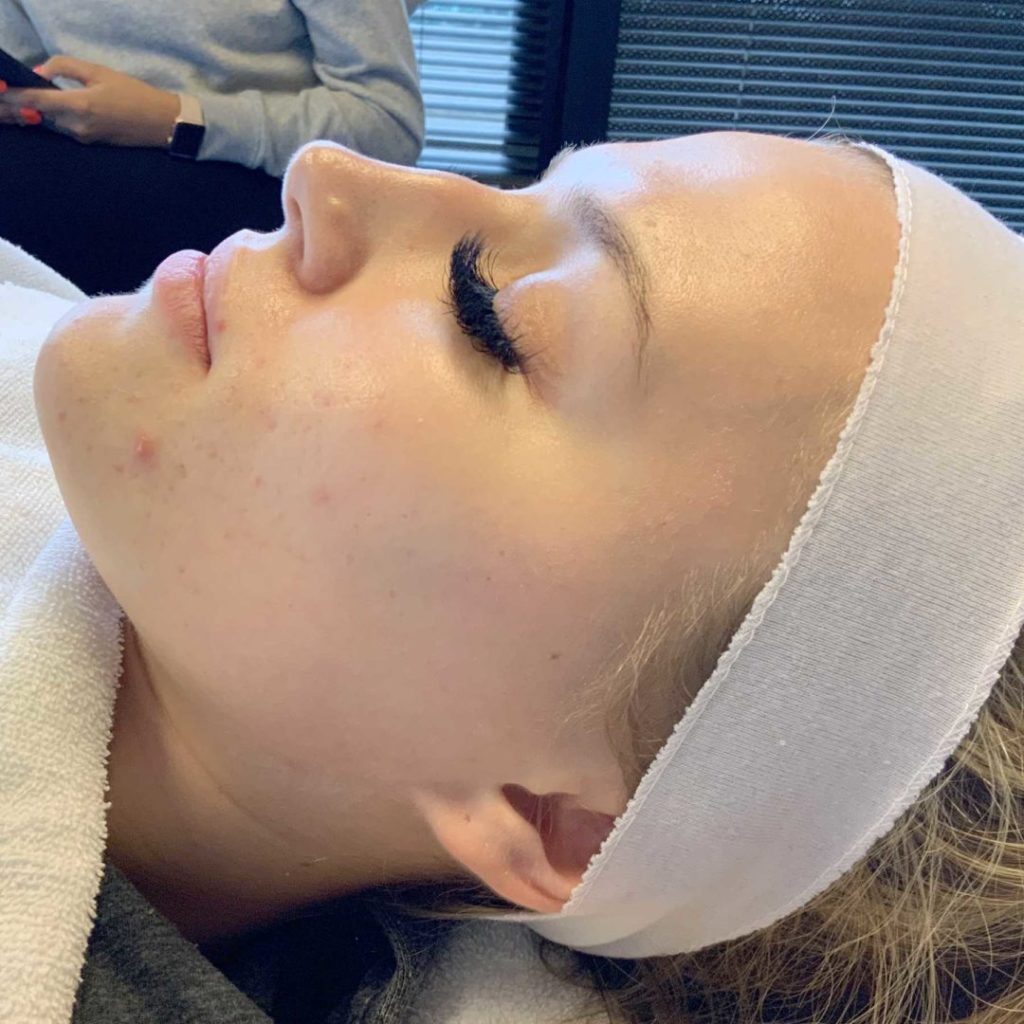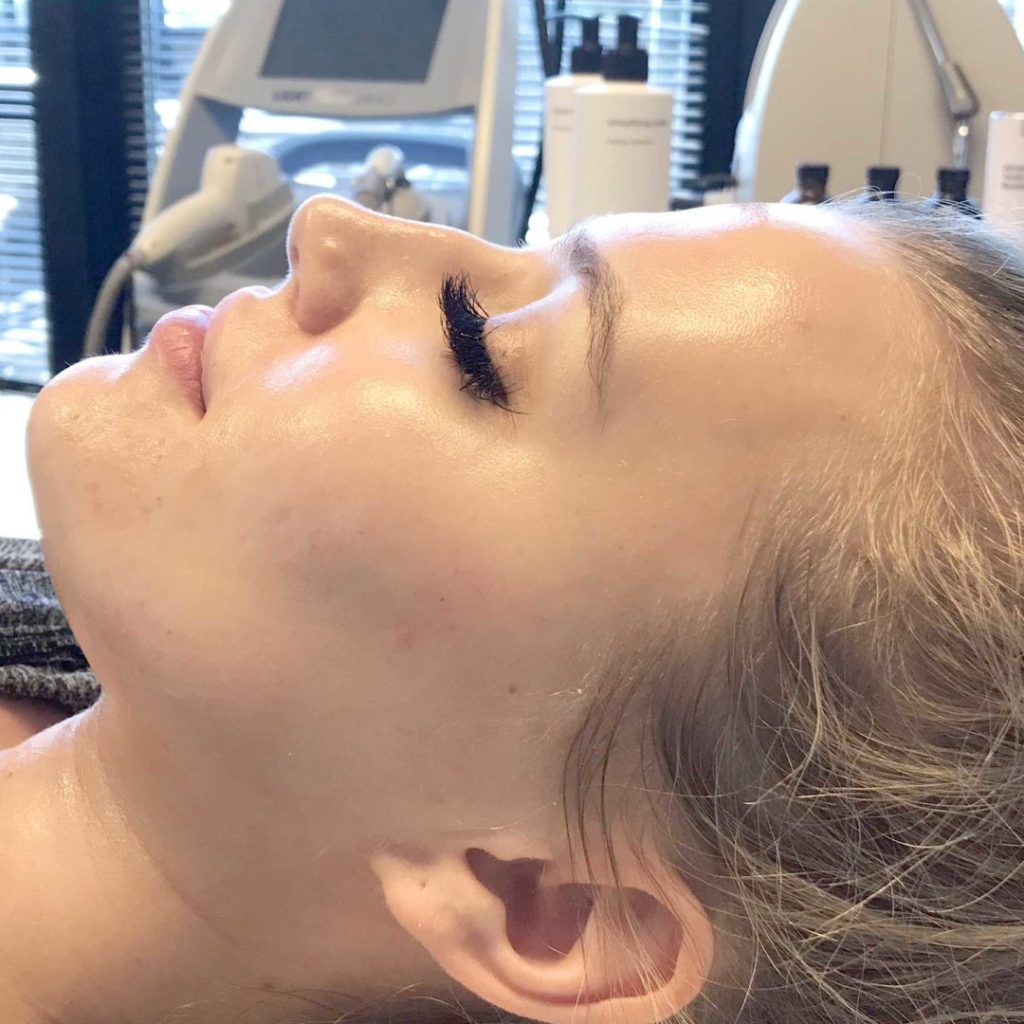 Who Are Candidates?
Microneedling and chemical peels are minimally invasive esthetic procedures that most people are good candidates for. There are peels and microneedling techniques compatible with every skin type and tone. However, some skin or medical conditions may make the Glow Up Package more difficult or risky to perform. At your consultation, your master esthetician will want to know your full medical history to ensure a safe procedure. 
While most well-managed medical conditions should not interfere with treatment, you will want to use caution and inform your master esthetician if you:
Have an autoimmune disorder

Are currently experiencing an acne breakout, sunburn, or have a wound in the treatment area

Have taken certain prescription acne medications

Are allergic to stainless steel or ingredients present in the chemical peel

Have a history of herpes, cold sores, or warts

Are currently pregnant or nursing
These conditions do not necessarily mean that you cannot have the Glow Up Package. Often, treating them or waiting to receive treatment is sufficient. Your master esthetician can determine if you are a good candidate for the Glow Up Package at Seattle Plastic Surgery.
SKIN CARE EXPERTS IN SEATTLE, BELLEVUE, AND KIRKLAND
The master estheticians at Seattle Plastic Surgery have received an extended education beyond esthetician courses. Their training included courses and hands-on training in medical conditions afflicting the skin, medical terminology, and more intensive procedures. This makes them uniquely qualified to design and administer the Glow Up Package.
Seattle Plastic Surgery has served the Seattle and Tacoma areas for nearly two decades, offering the gold standard in medical-grade skincare, dermal fillers, neurotoxins, and plastic surgery. With board-certified surgeons, qualified injectors, and master estheticians, the Seattle Plastic Surgery team work together to fulfill your cosmetic needs. 
To schedule a consultation with a master esthetician at Seattle Plastic Surgery, call us at 206-324-1120. Or, contact us online using the form above.
STILL HAVE QUESTIONS?
Give us a call at 206-324-1120 or chat by clicking the icon in the lower left hand corner of your screen additionally you can Contact Us by filling out the form below.