Extended Facelift Seattle & Tacoma
Facelifts come in many shapes and sizes. When researching facelift surgery, many patients can become overwhelmed by the sheer number of techniques that exist. How can you know which one is right for you? Ultimately, an experienced facial plastic surgeon like Dr. Santos is best to make that call. However, there are some ways that you can determine whether a standard or extended facelift will benefit you the most. Seattle Plastic Surgery provides the best extended facelift Seattle and Tacoma offers. 
Overview: What Is An Extended Facelift?
An extended facelift is a catch-all term that can refer to a few different techniques of facelift. Generally, it means that the superficial musculoaponeurotic system (SMAS) layer of the face is tightened as well as the skin. The SMAS layer consists of fat, collagen and elastin fibers, and muscles. The structure also connects various important face and neck muscles.
Additionally, an extended facelift also addresses the midface whereas a traditional facelift only addresses the lower face and neck. Patients can usually expect an extended facelift to make some modifications to the cheeks, jowls/jawline, chin, and neck. Many will simplify an extended facelift by describing it as a midface lift combined with a lower facelift. This is a fairly apt description.
All About Facial Aging
Facial aging is inevitable. While it will not happen on the same timeline for everyone, there are some consistent patterns and signs of aging seen in the human face. Let's break it down decade by decade for the average person.
20s:
Formation of dynamic wrinkles

Loss of "baby fat" throughout the cheeks and lower face

Around age 25, collagen production slows but is typically not yet visibly evident

Skin becomes more susceptible to damage
30s:
Fine lines and wrinkles begin to form

Skin gradually thins

More facial fat lost

Skin damage becomes visible and may worsen
40s:
Wrinkles and fine lines deepen

Hollows form more prominently

Facial fat may begin to descend

Jowls and jawline begin to become less defined

Some facial sagging may start to occur
50s:
Jawline takes on a rounder appearance

Jowling likely to form or worsen

Skin quality and thickness degrades

Cheeks lose the appearance of structure
60s+:
Facial sagging worsens

Wrinkles deepen

Face takes on a wider, rounder shape

Neck bands, wrinkles, and sagging may appear or worsen
Plastic surgeons use a triangle to describe aging. An inverted triangle is a youthful face with prominent cheekbones and a subtle curve of the jawline. With age, this inverted triangle slowly flips into a right side up triangle with the jowls becoming more prominent and forming the wider ends of the triangle.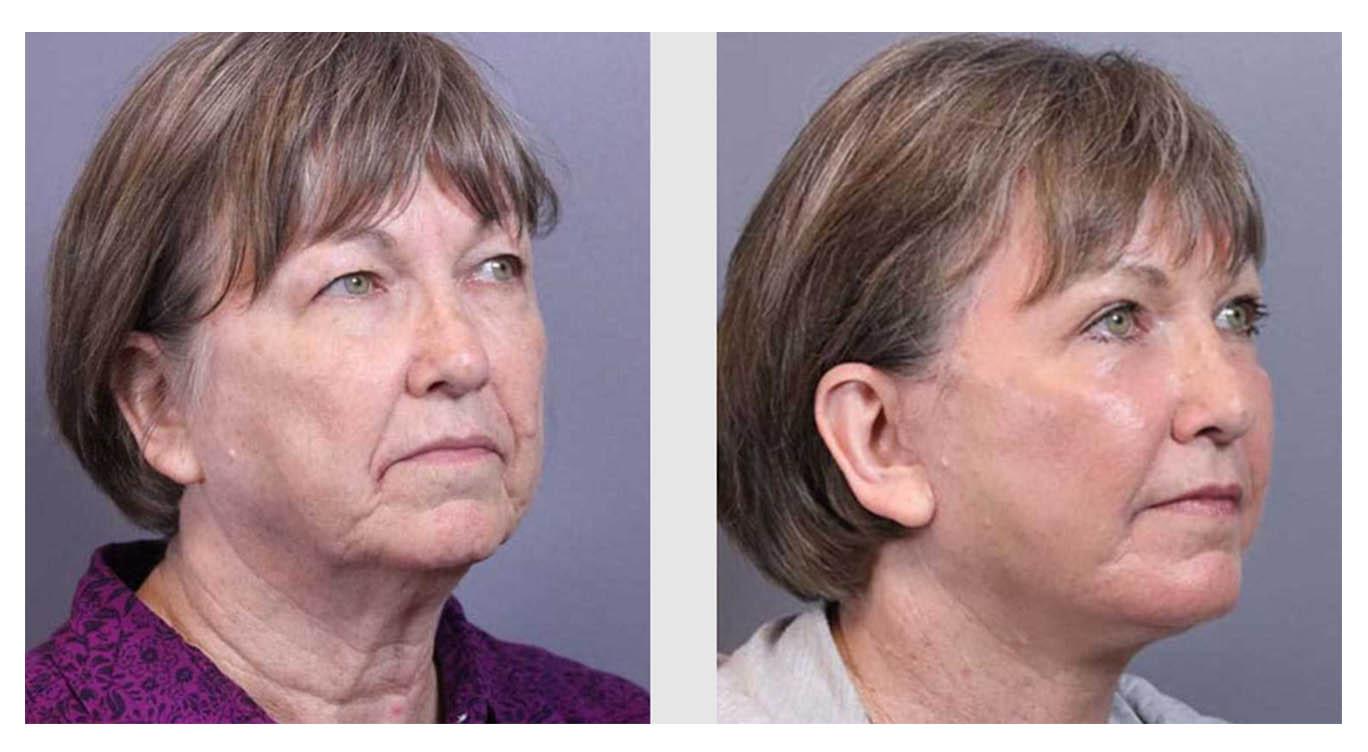 Before & After Facelift Surgery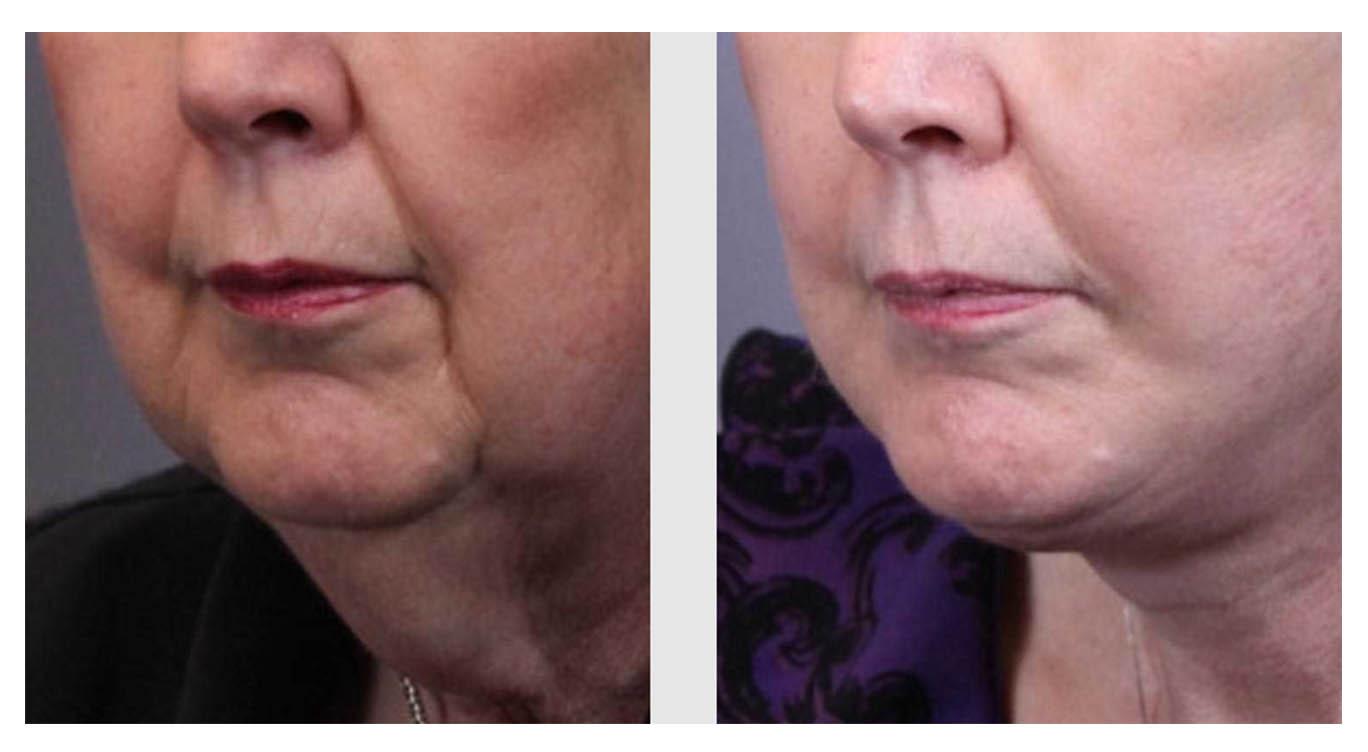 Before & After Facelift Surgery
Benefits
An extended facelift offers patients the opportunity to turn back the clock and look younger for longer. Of course, aging cannot completely halt and will continue after surgery. However, a Seattle extended facelift can significantly slow the rate of aging and leave patients looking consistently younger than their peers who did not have a facial rejuvenation procedure.
Some of the other benefits of an extended facelift include:
Correction of sagging skin on the lower face and neck

Tighter skin

Smoothening of fine lines and wrinkles

Reduce the appearance of nasolabial folds

Improvement of skin quality with added laser resurfacing

Younger facial profile

Natural look that still encompasses the patient's individuality

Longest lasting type of facelift

Easy to combine with other facial plastic surgeries

Best results of all facelift types

Can treat patients well into their 70s (assuming they are good candidates)

Full recovery made in a month or so, but return to work and most activities in about two weeks

Performed by a facial plastic surgeon with over thirty years of experience
Before & After Extended Facelift
Consultation
First, to determine the ideal facelift type and ensure you are a candidate, you will attend a consultation with one of our Seattle plastic surgeons. Dr. Santos or Dr. Jonov will want to know about your goals, medical history, and lifestyle. This will help them evaluate the safety of the procedure and any individual risks you may carry. 
Following this discussion, your plastic surgeon may perform a physical exam. This will allow them to evaluate your skin quality and thickness, the structures causing and involved in your facial sagging, and other factors such as skin damage. After this, they will formulate a plan for your extended facelift surgery in Seattle.
Surgery
Due to the length of surgery, extended facelifts are usually performed under general anesthesia. However, there are times when local anesthesia may be possible or preferable. After being placed under the appropriate anesthesia and sedation, your plastic surgeon will begin the procedure. 
Making an incision behind or in front of the ear, your surgeon will gently pull back the skin and tighten the underlying SMAS layer and muscles. They will then remove extra skin and pull the skin tighter. Your Seattle plastic surgeon will then perform this on the other side of the face.
This surgical process tights the skin and features of the face. It can smooth wrinkles and eliminate sagging. It cannot completely stop aging but can turn back the clock and help patients look younger for longer. An extended facelift often provides the most dramatic results. On average, patients tend to look between five and twelve years younger depending on their starting anatomy and the specifics of the procedure.
For the best results, it is common to combine other procedures at the same time as a Seattle extended facelift. A few examples include a platysmaplasty, CO2 laser resurfacing, facial liposuction, and a brow lift.
Schedule A Consultation Today
Recovery
Following your extended facelift surgery, your caregiver will take you home. In the first few days and the week after the procedure, you may experience side effects such as swelling, bruising, redness, and pain. These usually begin to improve within a week and resolve within two to three weeks depending on the severity of your surgery.
Drs. Santos and Jonov typically recommend about two weeks off work and at least four to six weeks off from strenuous activities and exercise. Most patients begin to look and feel more like themselves after about three to four weeks. You will continue to attend post-operative appointments, take prescribed medications, and follow post-operative instructions for around eight weeks or so.
I LOVE this office!! I tell all my friends about how amazing this team is!! Dr. Jonov is so personable, funny, and made my entire experience from start to finish a breeze!! He did such a great job, scarring is minimal. Back for my 1 month check up today and decided to get dysport as well!! Great prices. Clean and welcoming atmosphere

Juliann
The surgery went great and I really liked how available Dr. Santos was by text as I have been healing. He has taken very good care of me!!

PJ
Everyone was super professional & put me at ease immediately. Would definitely recommend!

Lane
Great customer service, extremely helpful and individualized. Dr. Craig Jonov is excellent! Overall an extremely easy process with his experience.

Amber
Frequently Asked Questions
What Is The Best Age To Get A Facelift?
There is no one "best" age to get a facelift. People age at different rates and some might be bothered by minor aging while others may not seek cosmetic procedures until they have aged more significantly. As long as a patient is healthy enough to undergo the surgery and has the anatomy present for a facelift, a person of any age can get a facelift.
As far as an extended facelift, most patients tend to be on the older side, often between 65 and 70. However, some people in their fifties, especially if they present with advanced skin damage, may be ready for an extended facelift.
How Long Does A Deep Plane Facelift Last?
A deep plane facelift–whether extended or standard–lasts longer than a skin only facelift. This is why they have become one of the standards for facelift surgery today. While the longevity of facelift results depends on many factors such as skincare, skin damage, starting anatomy, and the patient's age, most patients can expect to enjoy their results for somewhere around seven to twelve years.
A facelift does not stop aging and you will continue to age. Though, since it restores a more youthful appearance, even when you do age back to the anatomy you had before your facelift, you will likely still look younger than other people your age who never had a facelift.
What Is Platysmaplasty & How Does It Benefit A Facelift?
A platysmaplasty is the tightening of the neck muscles and it is often part of a neck lift. Though, it also frequently accompanies facelift surgery. This procedure restores a youthful contour and appearance to the neck, which complements the results of a facelift. Only addressing facial aging could leave patients with an aged neck that does not match their face and make it more obvious that they had a facelift or lead to an incongruous look.
Are There Different Types Of Extended Facelifts?
Yes, there are two primary techniques of an extended facelift. One is the deep plane facelift which involves repositioning two of the formative ligaments of the face. The other is a high SMAS facelift which pulls the SMAS tighter from a higher position near the check. Both of these techniques are frequently used and both can provide fantastic results for the right candidates.
How Much Does An Extended Facelift Cost?
The cost of an extended facelift is $14,995. However, this may fluctuate depending on anesthesia choice and the specifics of your procedure. You can find more detailed pricing information through Price Simulator or our price list.
Seattle Plastic Surgery also works with three outside financing companies including Care Credit to help you finance your procedure. You can find direct links to apply and more information on our financing page.
Look Years Younger With The Best Extended Facelift In Seattle & Tacoma
Drs. David Santos and Craig Jonov are two plastic surgeons well versed in all types of facelift surgery. With over fifty years of combined experience and tens of thousands of facelifts combined, they are among the best facelift surgeons in Seattle. Dr. Santos focuses specifically on facial plastic surgery and Dr. Jonov also performs several other types of plastic surgery including of the breast and body. With this wealth of knowledge and expertise, Seattle Plastic Surgery provides the best extended facelift Seattle and Tacoma offers.
Seattle Plastic Surgery is centrally located in the First Hill neighborhood. The convenient location allows for our providers to serve patients from the Great Seattle and Tacoma areas. Along with cosmetic surgeries, Seattle Plastic Surgery also provides cosmetic injections, medical skincare, and esthetics.
To learn more and to schedule a consultation, call us at 206-324-1120. You can also reach out online via Price Simulator, chat, or contact form.