RF Microneedling
(Single Session)
$400
RF Microneedling Plasma
(Single Session)
$500
RF Microneedling
(Package of Three Sessions)
$1,100
RF Microneedling Plasma
(Package of Three Sessions)
$1,400
Recovery Time: 24 - 48 hours
RADIOFREQUENCY MICRONEEDLING SEATTLE AND TACOMA
Various factors influence aging and skin damage. The slowing of collagen production, sun exposure, skin conditions, and makeup can all contribute to skin problems and aging. A good skincare routine can help reduce damage and keep skin healthy, but not all damage and aging can be avoided. Luckily, professional skincare procedures can treat and prevent skin problems and aging. RF microneedling is one of the most versatile professional skincare treatments that can address all the major signs of aging, skin damage, and many other skin problems. The master estheticians at Seattle Plastic Surgery provide the best RF microneedling Seattle and Tacoma offers.
UNDERSTANDING RF MICRONEEDLING
RF microneedling combines two medical techniques–microneedling and radiofrequency–into one supercharged treatment. It can treat a variety of cosmetic and even medical concerns. Among some of the concerns and conditions that the RF microneedling procedure can treat include:
Acne scars

Surgical/injury scarring

Sun damage

Hyperpigmentation/hypopigmentation

Fine lines and wrinkles

Stretch marks

Hyperhidrosis

Texture irregularities

Uneven skin tone
At Seattle Plastic Surgery, master estheticians administer RF microneedling using a medical grade device. Our master estheticians are highly trained professionals who know the best and safest ways to provide microneedling treatments. Having undergone specialty training, including in medical skincare, our master estheticians provide the best RF microneedling in Seattle.
What Is Microneeding?
Microneedling uses tiny needles to make micro-injuries in the skin. These small puncture wounds are not visible or serious, but they do induce your body as a larger wound would. The healing response generated leads to an increase in blood flow to the area, the creation of more collagen, and natural rejuvenation of the area. 
Safe for all skin types and tones, microneedling is considered one of the most effective and highest standards of professional skincare. It can aid nearly any skincare routine and involves no major downtime or recovery. Powerful on its own, microneedling offers even more benefits when combined with other technologies and treatments.
What Is Radiofrequency?
Radiofrequency refers to the oscillation rate of an electric or magnetic current. While a type of radiation, it is the same low level radiation given off by your cellphone. Therefore, it poses little to no risk during microneedling. 
Radiofrequency is known to have skin tightening properties and add this to a traditional microneedling treatment. It also can create controlled damage deeper into the layers of the skin than microneedling can. This allows your master esthetician to treat more severe damage and skin concerns by adding RF to microneedling.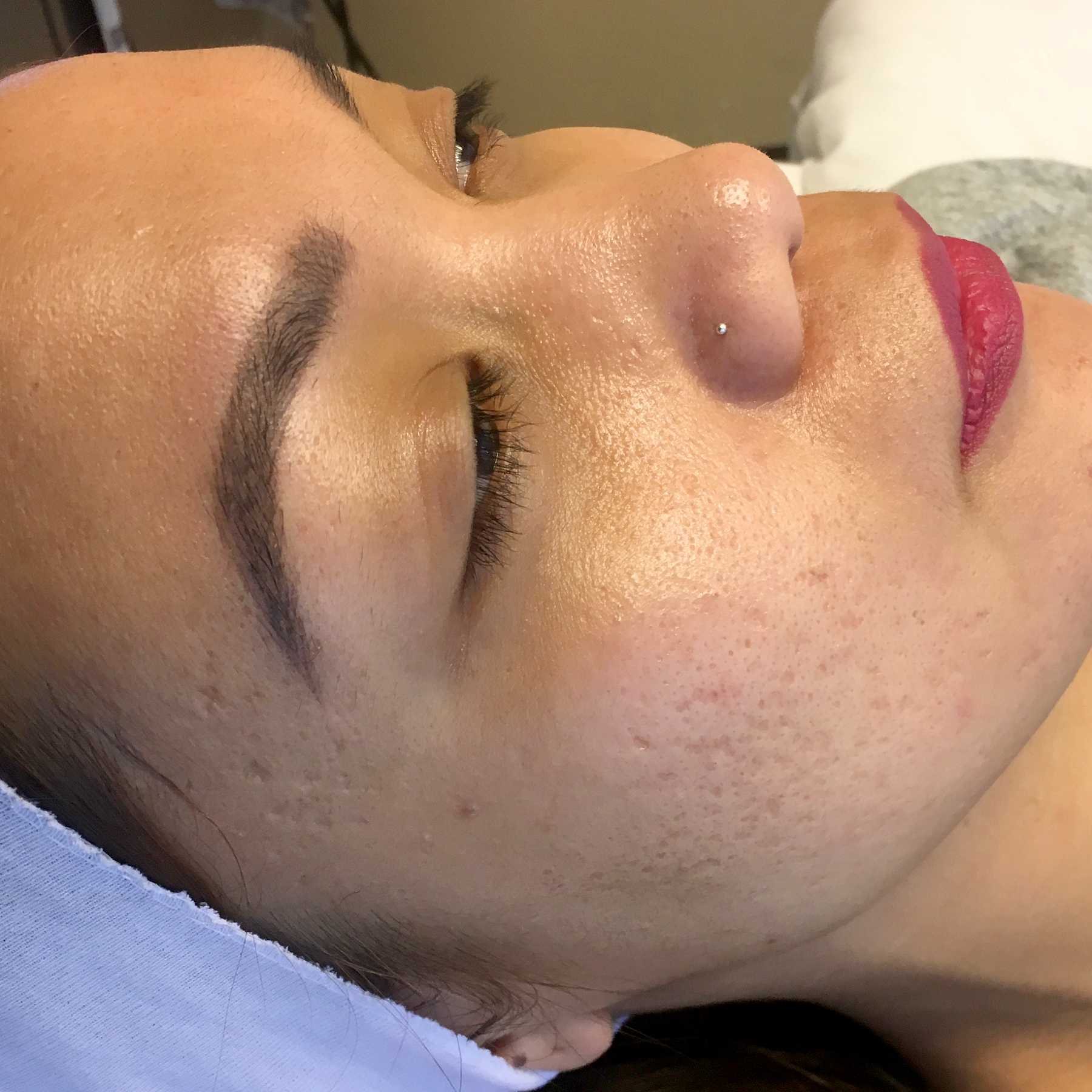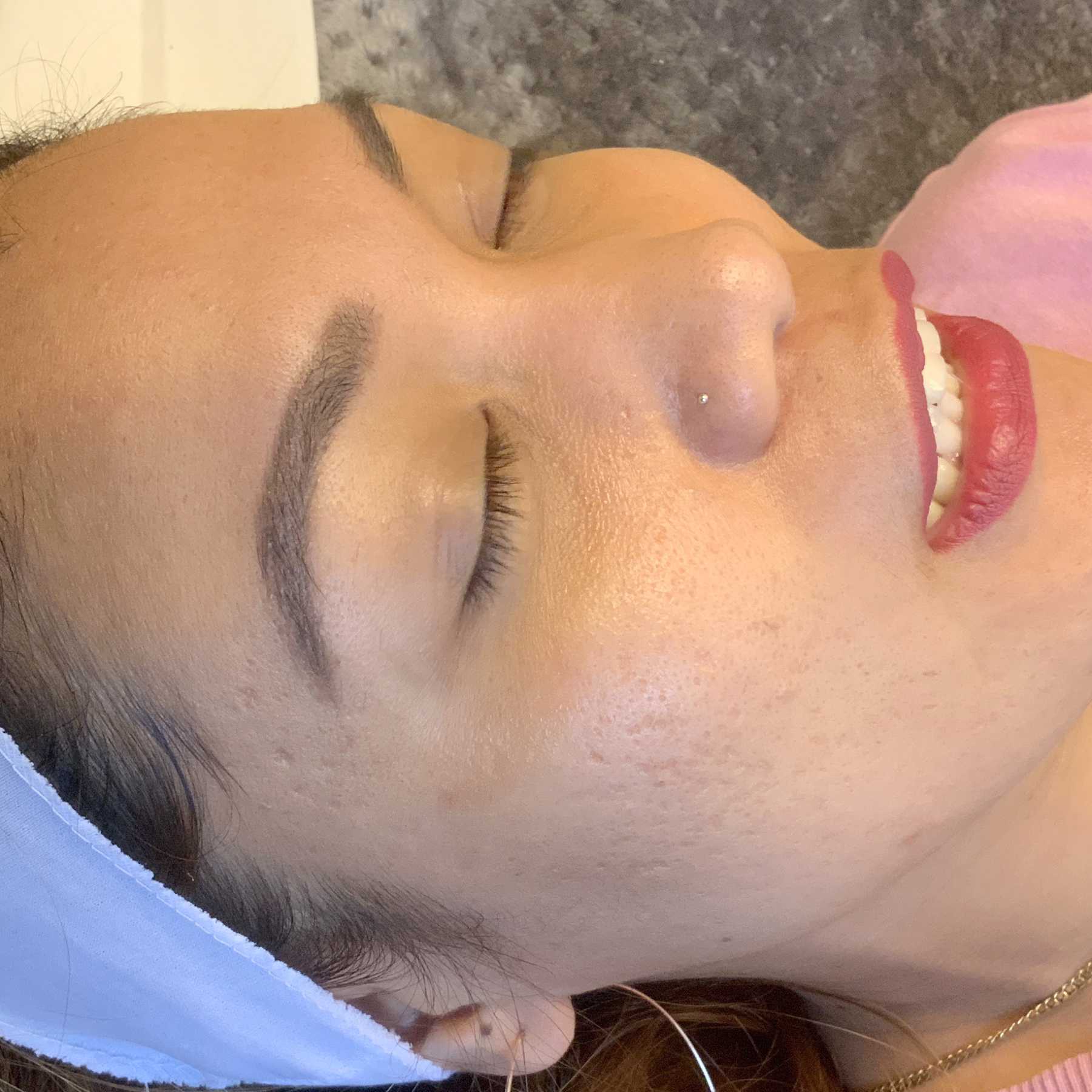 BACKGROUND
History
Microneedling has a long history that may include ancient traditions and treatments. However, the commercial use of microneedling goes back to about 1905. Since then, microneedling has gone through a few evolutions. From first using tattoo needles to the microneedling roller to the microneedling pen and now to the addition of radiofrequency technology, microneedling continues to become even more effective as time goes on.
The history of radiofrequency in the medical field began in the 1920s. It was used as an electrocautery device. From then on, radiofrequency went on to have various other applications, mostly in surgery. However, it was also used in skin tightening which was FDA approved in 2002. Now, radiofrequency is most commonly used in the cosmetic industry to improve the appearance and laxity of the skin.
Benefits & Risks
Similar to any medical procedure, RF microneedling carries benefits and risks that every patient and provider needs to weigh before treatment. Risks may be higher for certain patients and patients will see different sets of benefits. There are some generalized risks and benefits that your master esthetician will explain before treatment.
First, let's review the benefits of RF microneedling, some of which include:
Tighter skin

Treatment of fine lines and wrinkles

Reduction in the appearance of sun damage and sun spots

Improvements in hyperpigmentation or hypopigmentation

Treatment of acne scars

Miniaturization of enlarged pores

Enhances treatment of acne and cystic acne

Sometimes touted as a non-surgical facelift

Stimulates collagen, elastin, and hyaluronic acid production in the skin

Safe for all skin types and tones

Little to no downtime

Can return to most daily activities immediately
As far as the risks of RF microneedling, there are relatively few. Both treatments are FDA approved and widely considered safe when administered in a safe setting by a qualified provider. Through, due to the nature of both treatments, there are some rare risks. Most of the associated risks are minor, temporary, and treatable. If you are a particularly high risk patient, your master esthetician may recommend another treatment.
Some of the possible risks of RF microneedling can include:
Acne or cold sore flareups

Infection

Dry or peeling skin

Headaches

Bruising

Bleeding (beyond pinpoint bleeding during or immediately after treatment)

Allergic reactions

Prolonged side effects like swelling, redness, or bleeding
BEFORE AND AFTER RF MICRONEEDLING
Consultation
Before undergoing RF microneedling, your master esthetician will meet with you for a consultation. At this consultation, they will determine if you are a good candidate for Seattle RF microneedling. As well as if it is the best procedure to address your concerns.
First off, they will ask about your concerns and what you hope to accomplish from RF microneedling. Next, they will review your skin history and medical history. Finally, they will perform a brief physical examination of your skin.
If they believe you are a good candidate, your master esthetician will review the procedure with you. They will also put together a personalized treatment plan. If you are not a good candidate, they will discuss other possible treatments. Otherwise, you are free to schedule your recommended procedures.
Preparation
Sometimes your master esthetician may commence with RF microneedling treatment the same day as your consultation. However, if separate, they may give you some preparation instructions. These directions may include:
Wearing little to no makeup

Take antibiotics or antivirals if necessary (usually only for those with active acne or who have frequent cold sores)

Avoid alcohol immediately before and after treatment

Try to cease use of NSAID painkillers like ibuprofen

Stop using products that have salicylic acid temporarily
Treatment
Starting your RF microneedling treatment in Seattle, your master esthetician will cleanse your face of any cosmetics and debris. They will then apply topical numbing cream in the treatment area. This will set for about fifteen to twenty minutes. During this time, your master esthetician will prepare the device and for treatment.
Once sufficiently numb, your master esthetician will remove the cream. They may apply a serum or other substance to the skin. Though, depends on your treatment regimen. Your master esthetician will then gently place the medical grade RF microneedling device against your skin and begin treatment. 
You should feel little to no pain. There may be some light pressure or pricks, but patients typically remain perfectly comfortable during treatment. You may also notice some light emitted whenever the device is triggered, this is radiofrequency.
On average, the entire treatment (with numbing) takes around forty-five minutes to an hour. However, if treating a larger area, such as stretch marks on the stomach, it may take longer than one hour.
Contact Us Today
Aftercare
Following your treatment, your master esthetician will give you aftercare instructions. Unlike a surgical or more invasive procedure, there is no major recovery or downtime associated with RF microneedling in Seattle. Though, you will want to avoid or use caution during certain activities. Typical aftercare instructions may include:
Do not exercise for 24 hours

Avoid alcohol for a day or so

Limit sun exposure

Wear SPF whenever going outside

Wait a day to apply makeup

Gently cleanse and moisturize

Do not any skincare products unless discussed with your master esthetician

Apply ice to cool redness or swelling if necessary
I've been coming here for six months and my skin has improved tremendously! Thank you!

Monique
This office is wonderful. I have been here for invasive as well as noninvasive procedures and the staff and providers are excellent. They provide a variety of services with the upmost professionalism. Highly recommend.

Marie
LOVE!! I felt listened to and worked with. I absolutely will be back!! ♥️

Anne
I love this place! Everyone is super friendly and professional. Happy with the services I have received so far.

Kali
FREQUENTLY ASKED QUESTIONS
What Can I Expect From RF Microneedling Results?
Your results will come in gradually as you heal and continue to undergo RF microneedling sessions. Some patients may see a noticeable difference after one session, though for others it may take more than one. Generally, patients will begin to see their skin look smoother and carry a more even tone. Scarring likely will reduce in appearance and the overall quality of skin improve.
After a consultation, your master esthetician can better describe what RF microneedling results will look like for you and what to expect following your first treatment. Every patient has varying needs and heals differently. Furthermore, results are geared towards your individual goals.
Is RF Needling Painful?
Your master esthetician will apply numbing cream before the treatment to keep you perfectly comfortable during treatment. Patients generally feel very little pain during treatment.
How Does It Compare To Other Procedures Like Chemical Peels?
RF microneedling is comparable to–and often more effective–than other treatments. Additionally, microneedling is safe for all skin tones, unlike lasers and some chemical peels. Therefore, it is an option for people with darker skin unable to undergo other procedures. 
As far as what they treat and how well RF microneedling works, the best treatment for every patient will depend on many factors. However, microneedling can benefit almost anyone who is a good candidate and addresses most major skin concerns.
What Are The Benefits Of Adding Plasma To RF Microneedling?
Adding plasma to radiofrequency microneedling sessions can supercharge results. Drawing blood and spinning it within a centrifuge isolates the plasma. It is then applied during and/or after RF microneedling treatment. Some of the benefits of adding plasma to your microneedling treatment include:
Increase and speed up the production of collagen
Induce skin cell turnover
Improve overall skin quality
Great for treating acne scars
May reduce side effects
Promotes tighter skin
Tends to provide better results than traditional microneedling
Unlikely to cause irritation
Allergic reactions are nearly impossible
Is RF Microneedling Safe?
Radiofrequency microneedling is FDA approved, as are both other radiofrequency and microneedling treatments. When used correctly by a trained professional like our master estheticians, RF microneedling is a perfectly safe and effective procedure.
Where Can You Perform RF Microneedling?
Microneedling–while most commonly performed on the face–can be used in a variety of places. The procedure can treat surgical scars, stretch marks, and mild loose skin. Therefore, this gives it many possible treatment areas. Some of the places RF microneedling is frequently performed are:
Face

Neck

Arms

Underarms (mostly for hyperhidrosis)

Abdomen

Thighs

Knees

Legs
RF microneedling is safe for use across the body. If you are interested in RF microneedling away from the face or neck, discuss this with your master esthetician.
THE TOP PROVIDER OF RF MICRONEEDLING IN SEATTLE AND TACOMA
Seattle Plastic Surgery is a premier plastic surgery practice and medical spa located on First Hill in Seattle, WA. Having served the city and surrounding areas for over two decades, Seattle Plastic Surgery provides surgical and non-surgical cosmetic services. This includes the best RF microneedling Seattle and Tacoma offers.
Our master estheticians have trained extensively in microneedling, especially RF microneedling. Talented professionals, our master estheticians customize every single treatment to the individual patient and their needs.
To schedule a consultation, call us at 206-324-1120. You can also connect with us online via Price Simulator™, chat, or contact form.