Laser Facelift
(One Session; Face Only)
$1,500
Laser Facelift
(Three Sessions; Face Only)
$4,000
Laser Facelift Seattle And Tacoma
Aging has many signs and symptoms such as increased joint pain and changes in health. However, some of the first signs of aging are present in the skin. Skin aging begins around 25 for most people and this can include the formation of lines and wrinkles, changes in complexion, and increased likelihood of scarring and stretch marks sticking around. One of the most dreaded signs of aging is sagging. Many believe that they will not see this until well into their fifties or sixties. However, due to outside factors and genetics, it is possible to see it much earlier. In these cases, a laser facelift can keep skin looking tighter for longer. Dr. Khezri at Seattle Plastic Surgery performs the best laser facelift Seattle and Tacoma provide.
Overview: Laser Facelift
A laser facelift uses a fractionated CO2 laser to treat mild to moderate sagging. It is not an alternative or replacement for facelift surgery, though it can help prolong the need for one. It promotes collagen production, skin tightening, and leads to an overall healthier, younger look. All of which contribute to aged and saggy skin.
Skin sagging is caused by the loss and decreased production of collagen and elastin. Collagen and elastin are two proteins that upkeep and improve your skin's integrity. They contribute to the suppleness, softness, and overall appearance of the skin. After 25, these naturally begin to decrease. This means your skin is more susceptible to damage and will not repair itself as quickly. These factors combined with environmental, biological, lifestyle factors all contribute to aging.
Biological and environmental factors are hard to account for, though can be managed and mitigated. Lifestyle factors are a major way that you can help slow the aging process. Environmental factors that worsen or contribute to aging include:
Smoking

Diet

Staying hydrated

Wearing SPF

Exposure to certain chemicals or agents (such as in a workplace)

Injury to the skin (especially if untreated)

Misusing or overusing some skin products
About Fractionated CO2 Lasers
Traditional CO2 lasers removed the entire upper layer of skin. While often effective at rejuvenation, it came with a longer, more intense recovery. There were also higher risks of scarring or permanent pigmentation abnormalities due to the strength behind the laser. To remedy this, the fractionated laser was developed to provide the same results without major trauma.
A fractionated laser splits the laser into smaller pieces. This results in treating the skin in a grid-like pattern. This means that more passes over the skin are required, but that the recovery is much less intense and overall shorter. Fractionated lasers are now the most commonly used lasers for both ablative and non-ablative laser skin resurfacing. This is the most modern and advanced laser technology for laser resurfacing.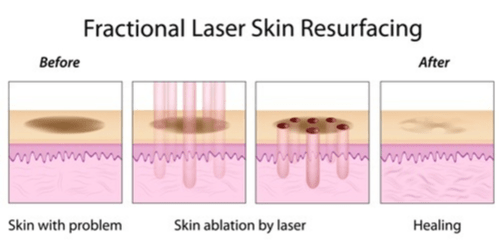 Benefits
For ideal candidates, there are many benefits of a laser facelift in Seattle. It is a happy medium between non-ablative laser treatment and fully ablative surgical resurfacing. It provides better results than non-ablative without the major recovery and downtime of a full surgical procedure. Some of the other benefits of a laser facelift include:
Tightens mild sagging skin

Causes the body to create more collagen

Treat sun damage

Lessen the look of scars

Generate thicker skin

Treat fine lines and wrinkles

Smoother and more defined chin and jawline

Performed under local anesthesia

Few risks and side effects

Less procedure time

No incisions

Low risk of scarring

Limited downtime and recovery
Types Of Laser Resurfacing
As previously touch on, there are two main types of laser resurfacing: ablative and non-ablative. While there are countless types of lasers within each of those categories, the three most relevant to Seattle Plastic Surgery are surgical CO2 skin resurfacing, a laser facelift, and Fraxel skin resurfacing.
Surgical CO2 Resurfacing: Surgical CO2 laser resurfacing involves using an ablative laser that completely (or nearly completely) removes the upper layer of skin. This is generally ideal for patients with deeper wrinkles, large amounts of sun damage, or more advanced signs of aging. While it still uses a fractional laser, it is more intense and requires recovery like you would expect from surgery. Still, it is much shorter and better than surgical laser resurfacing procedures of the past.
Laser Facelift: A laser facelift also uses an ablative fractional CO2 laser, but is a gentler version meant to address the early signs of aging and sagging. It promotes tighter, thicker, and younger looking skin. It is great for patients in their thirties, forties, or fifties who do not qualify for a traditional facelift yet but still need to see some mild skin tightening.
Fraxel: Fraxel laser resurfacing is a non-surgical, non-ablative form of laser skin resurfacing. At Seattle Plastic Surgery our master estheticians perform this less invasive version of laser resurfacing. While not ablative, patients do need to use caution after treatment. These treatments can benefit younger and older patients who want to address concerns such as mild sun damage, acne scars, and pigmentation.
Before And After Laser Facelift
Before
Laser procedures–even non-surgical or less intense treatments–are not suitable for everyone. Therefore, Dr. Khezri will meet with you for a consultation before your laser facelift in Seattle. This will allow him to determine if you are a good candidate for a laser facelift.
First, Dr. Khezri will want to know about your concerns and goals for the treatment. Next, he may review aspects of your medical history and lifestyle. Examples of what may be relevant are major health conditions, current medications or those taken in the past year, and if you smoke. Finally, Dr. Khezri will briefly examine your skin. Here, he will look at the severity of your concerns, sun damage, and more.
If Dr. Khezri concludes that you are a good candidate for a Seattle laser facelift, he will give you instructions before your treatment. You can then schedule your procedure. If he does not think you are a good candidate, Dr. Khezri may recommend another. For example, if he believes you need a more extensive procedure, he may recommend surgical CO2 laser resurfacing instead.
Procedure
On the day of your laser facelift, you will come to the Seattle Plastic Surgery office where the procedure will be performed in a clinical environment. First, Dr. Khezri will disinfect the treatment areas and use local anesthesia to numb them. This may include topical numbing agents, injections of lidocaine, or both.
Once properly numbed, Dr. Khezri will cover your eyes and begin the procedure. The laser will move across the skin and you should feel little to no pain. He will pass over the treatment areas a few times to create the optimal amount of controlled damage. Your laser facelift should take about an hour and a half to complete.
After
Immediately following the laser treatment, your skin will likely look pinkish or discolored, similar to a sunburn. As the anesthetics wear off, you may experience some mild discomfort, but most do not find it unbearable. Dr. Khezri advises patients to take between 24 and 48 hours of downtime. Following this short period, patients can return to their normal activities.
Some side effects may continue to occur for a few weeks such as peeling, redness, mild discomfort, itchiness, and tenderness. These can typically be handled with over-the-counter Tylenol, moisturizer, and covering with makeup after the initial downtime.
A welcoming space with professional and polite staff. Dr. Khezri explained me in detail what my skin needed. I even had to frown and move my eyes up and down. I highly recommend the clinic and I will be back for sure!

Thei
Dr. Khezri did amazing and really cared about his patients!

Shannon
Always such a lovely and welcoming experience. I never feel embarrassed about the questions or concerns I have. Definitely a life long customer!

Kayla
Everyone was super professional & put me at ease immediately. Would definitely recommend!

Lane
Frequently Asked Questions
Do Laser Facelifts Really Work?
In the right patient, laser facelifts are a great option for improving skin quality, mild skin tightening, and a more youthful appearance. However, if a patient is a better candidate for a surgical facelift, it is unlikely they will see the results they want from a surgical facelift. Dr. Khezri will determine if you are likely to see good results from a laser facelift in Tacoma.
Is CO2 Laser Better Than Fraxel?
CO2 laser refers to a surgical procedure while Fraxel can include both surgical and non-surgical resurfacing. Both surgical, non-surgical, ablative, and non-ablative laser surfacing can provide beautiful results in the right patient. It largely depends on the patient's needs, skin, and preferences. 
While CO2 removes more tissue and comes with a longer recovery, it is higher risk and only recommended to those with more advanced signs of aging, often along with facelift surgery. Otherwise, non-surgical–either ablative or non-ablative–resurfacing treatment can provide fantastic results.
Is Laser Skin Resurfacing Permanent?
A laser facelift cannot stop aging or skin damage. Therefore, it is not permanent since the skin is constantly exposed to damage. However, you can promote longer lasting and improved results with a solid skincare regimen, other medical grade procedures, and by always protecting yourself from the sun. Seattle Plastic Surgery recommends ferulic acid serum once you heal from a laser facelift for the best results.

Will I Need More Than One Treatment?
Potentially, it is common for patients to undergo an ablative laser treatment like a laser facelift every couple of months at first. Then, they may need only occasional treatments every couple of years. For some with more extensive sun damage, they could undergo a yearly treatment after their initial round of sessions. Dr. Khezri can discuss these possibilities with you and what you can expect from your results during a consultation.
How Much Is A Laser Facelift?
A laser facelift with Dr. Khezri is priced based on the number of treatment areas and sessions. The pricing structure is as follows:
Single Session  (Face Only): $1500

Three Sessions (Face Only): $4000

Single Session (Face & Neck): $2500

Three Sessions (Face & Neck): $6000
Seattle Plastic Surgery does work with outside financing companies such as Care Credit. You can find more information and direct links to apply online via our financing page.
The Best Non-Surgical Facelift At Seattle Plastic Surgery
The early signs of aging are often the most distressing. Luckily, they are also the easiest to treat and often respond well to the right treatments. A laser facelift promotes skin tightening and renewal with only a moderate amount of ablation when compared to a fully ablative laser. Dr. Khezri provides the best laser facelift in Seattle and Tacoma.
Seattle Plastic Surgery is located in Seattle's First Hill neighborhood near downtown and not far from the freeway. It has provided Seattle's top surgical and non-surgical aesthetic procedures for over two decades. With one facial plastic surgery specialist and two aesthetic medicine physicians who primarily treat the face, Seattle Plastic Surgery is the top destination for facial rejuvenation. 
To learn more and schedule a consultation, call us at 206-324-1120. You can also reach out online via Price Simulator, chat, and contact form.