Restylane Defyne
One syringe
$550
Juvederm Voluma
One syringe
$850
Procedure Time: 30-45 Mins
NASOLABIAL FOLD FILLER SEATTLE AND TACOMA
Throughout our lives, our faces and bodies will change drastically. From the bonafide signs of aging to scarring and weight changes, the face is affected by hundreds of different factors. Hollowing in areas of the face, descending fat, and uneven fat distribution are common with age. This is especially true for the midface where much of the facial fat resides. These changes can cause many people distress. One of the areas this is seen most is the nasolabial folds. Dermal fillers are one of the most effective ways to treat this area. Seattle Plastic Surgery provides the best nasolabial fold filler Seattle and Tacoma offers.
WHAT ARE THE NASOLABIAL FOLDS?
The nasolabial folds are the line that runs roughly from the nose to the corners of the mouth. Most people have some sort of indent or fold with varying degrees of depth. Some people genetically have more prominent folds than others. The folds are not always troublesome. People with high cheekbones commonly have more pronounced folds. However, this is well balanced based on the structure of their face.
Others may see folds form over time which can cause an aged and droopy look. The midface–which includes the cheeks and area between the nose and mouth–often tends to show age before other areas of the face. This is why adult patients of all ages find themselves worried about their smile lines.
As far as anatomy goes, the nasolabial folds and smile lines are technically different. The folds are the larger crease that runs from the nose to mouth. Smile lines are smaller lines, roughly parallel to the folds that are close to the lips. In some, they may only appear when smiling. With that said, the terms are used interchangeably to discuss unwanted lines or folds in the area.
My injector was wonderful!! Patient, kind explained, everything hardly felt a thing and the filler looks amazing!!! Thank YOU

Bethany
I have been coming here for a while now and I have always had a great experience from start to finish. My nurse is very personable, warm and great at making me feel welcome and comfortable. I can't thank the team enough.

Tyree
I had injections a few months ago here. Botox and filler. My experience was excellent. When I called to make an appointment the person on the phone was professional and friendly. The injector was amazing and so were my results! I never felt I was being sold to or pressured into anything. I will certainly return when the time comes.

J.S.
I am very pleased with my Botox and Filler at Seattle Plastic Surgery. Dr. Jonov is very experienced and kind. I have had fillers before and didn't get the results Dr. Jonov was able to. I highly recommend Seattle Plastic Surgery for their kindness, professionalism and results! Thanks

Maria
Why Do They Form?
Three factors greatly impact the development of smile lines and nasolabial folds. First off, genetics play a large role. Some people will have deeper folds from the time they are a child or have a predisposition to aging in the area. This can result in deeper folds earlier.
Secondly, descending fat from the cheeks can deepen the folds. With age, cheek fat naturally descends which causes the folds to become more pronounced. In some, this may lead to the "droop" described earlier. Along with deepening the fold, it also weakens the overall cheek appearance. Therefore, nasolabial folds once balanced by good cheek structure may now look heavy and aged.
Finally, frequent and repetitive movement of the mouth can cause the formation of smile lines. This is similar to forehead lines and glabellar lines in the upper face. These movements have more of an impact on smile lines.
All or one of these factors may contribute to the look of your nasolabial folds. The best treatment is usually determined based on the cause. Your injector will examine your smile lines during your consultation and discuss your goals with you to determine the best treatment plan.
Benefits Of Smile Line Filler
Using dermal filler treatments to fill in the nasolabial folds has many advantages. It remains one of the most commonly requested filler areas around the world because the midface is such a visible part of the face. Among the many benefits of nasolabial fold filler include:
Younger appearance

Improved facial symmetry

"Lifted" appearance of the midface

Smoother skin

Wrinkles and lines less apparent

Quick procedure

Nearly painless in most cases

Little to no downtime

Certain fillers may increase collagen production

Few side effects

Some results immediately noticeable, full results in two weeks

Non-surgical and non-invasive

Combinable with other fillers such as marionette lines
Beyond these advantages of smile line filler, many patients also experience more personal benefits such as increased confidence. The nasolabial folds can cause extreme distress and self-consciousness that often is lessened or relieved following treatment.
BOTOX vs. FILLER FOR THE NASOLABIAL FOLDS
BOTOX is another frequently used cosmetic injectable that sometimes can lessen the appearance of smile lines. As a neurotoxin, it temporarily paralyzes certain movements to prevent the appearance and formation of wrinkles. If your smile lines are due to muscle movements, your injector may recommend a small amount of BOTOX to correct this. It is possible to use both BOTOX and fillers for the correction of the nasolabial folds. Let's look at the differences in how the two products work and in which situations they may be preferable.
BOTOX
Fillers

Relaxes muscle movements to smooth lines

Lasts between three and six months on average

Addresses lines caused by repetitive movements

Lower risk than fillers

Not as commonly used for smile lines

Better for less prominent folds or lines

Restores lost volume to disguise unwanted lines

Lasts between six and eighteen months (depending on the type)

Addresses lines caused by loss of fat or descending fat

More risk than BOTOX, but overall low risk

Common treatment for smile lines

Can treats lines and folds of all severities
Your injector will discuss your various treatment options with you during your consultation. The right option for you will depend on your preferences, anatomy, cause of your folds, and your goals.
BEFORE AND AFTER NASOLABIAL FOLD FILLER
Initial Consultation
Before undergoing nasolabial fold filler injections in Seattle, you will meet with one of our expert injectors to determine if you are a candidate and the best treatment for you. Your injector will start by asking about your medical history, aspects of your lifestyle, and your goals for treatment. They may then physically examine the area.
At this point, they will give recommendations on the best procedure to provide the results you want. This could include dermal fillers, BOTOX, a midface lift, a facelift, or a combination of various treatments. After this discussion, if you are a candidate for fillers, you can schedule your injections. In some cases, it is possible to perform the injections on the same day.
Our injectors can offer a variety of hyaluronic acid and semi-permanent fillers for the nasolabial folds. Some of the options include:
Juvederm Ultra Plus

Restylane Defyne

Restylane Refyne
Smile Line Injections
Your injector will start by cleaning and disinfecting the area with alcohol. They will then apply numbing gel across the folds and let it sit for at least fifteen to twenty minutes. After you finish numbing, your injector will gently inject the chosen dermal filler. The technique will vary depending on if they use a needle or cannula.
If using a needle, there may be multiple injection sites along or around the fold. With a cannula, there is generally one entry point. Regardless, your injector will slowly inject the filler and massage it through the fold. This generally takes less than twenty minutes and you may see an almost immediate difference.
Along with noticing a difference, some pinpoint bleeding may appear at the injection sites. Some swelling may also become visible during or soon after treatment. Your injector may instruct you to ice to reduce swelling.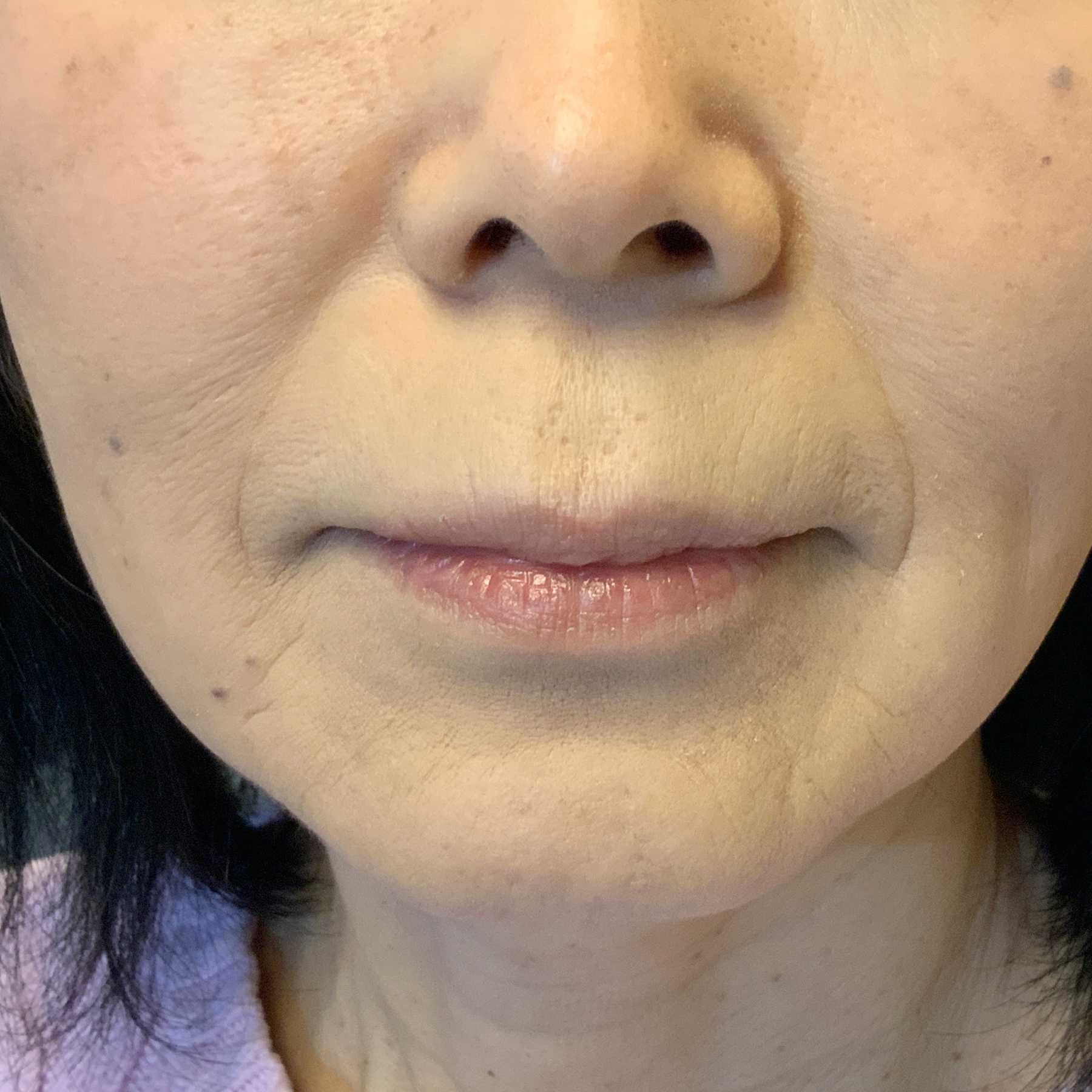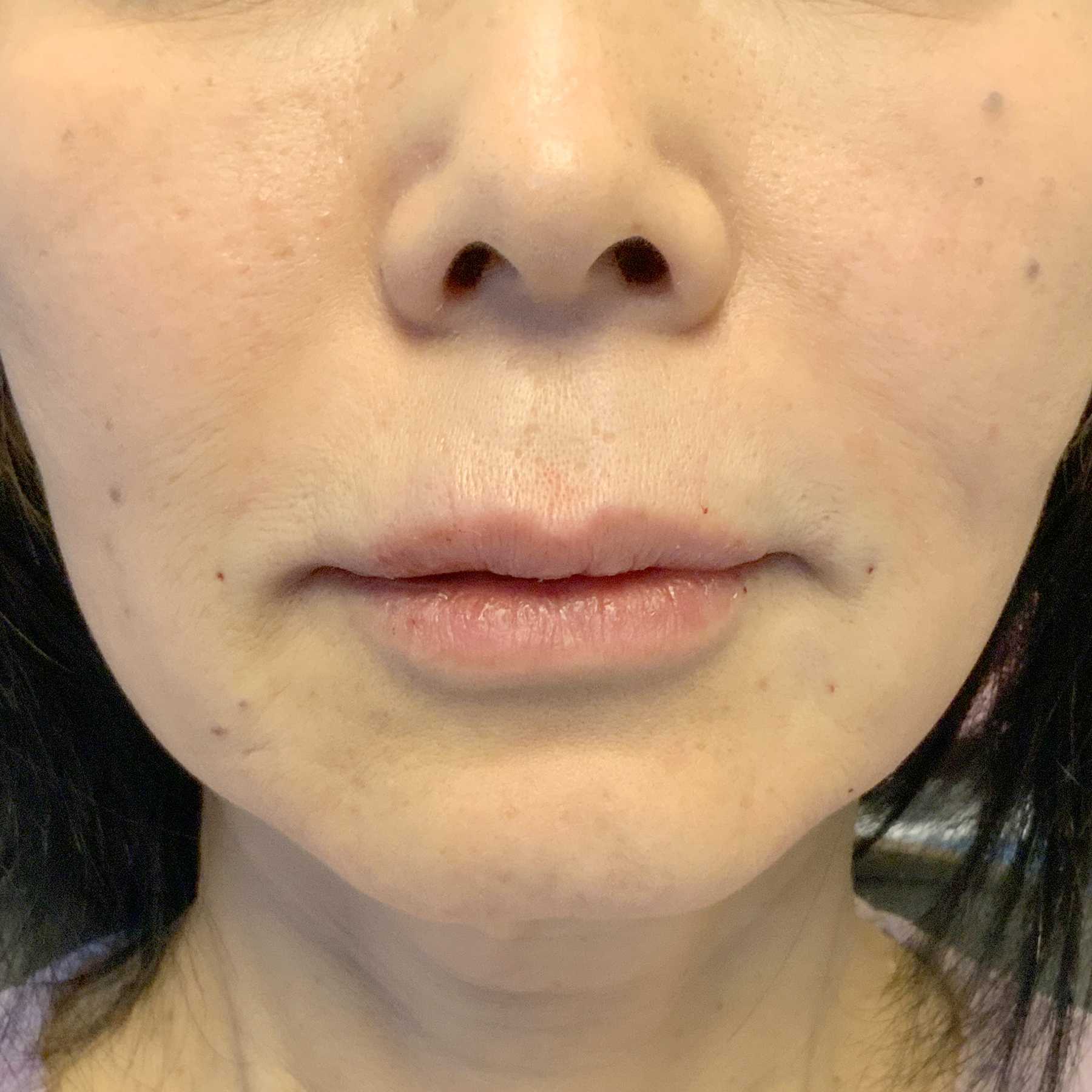 This patient wanted to look younger and address her nasolabial folds. Using one syringe of Restylane Defyne, her injector gave her a beautiful result.
"Everyone at Seattle Plastic Surgery is amazing. Great with injections and everyone is very knowledgeable about the best treatments for you. Highly recommend!
Interested in Smile Line Fillers?
Fill out the form below to schedule an appointment or ask us any questions you may have.
Aftercare & Results
Following Seattle nasolabial fold filler, patients can return to work and the majority of their activities. Your injector may recommend refraining from certain activities for a short period (usually around one to three days) such as:
Strenuous exercise

Drinking alcohol

Smoking

Manipulating the area (applying makeup and routine skincare is okay)

Sleeping on either side too much

Going in saunas, hot tubs, or other hot environments

Avoid sun exposure
Additionally, some patients may see some mild side effects. Generally, side effects only last a few days and at most last two weeks. While it is possible to have prolonged side effects, this is extremely rare. Not every patient will experience side effects in the same way, or at all. Some side effects you may see following smile line filler include:
Pinpoint bleeding at injection sites (should not last more than the day of the injections)

Swelling

Itchiness

Bruising

Redness

Mild rashes

Can cause flareups of acne or cold sores
Your injector may want to schedule a follow-up appointment after two weeks to gauge your results and determine if more filler is necessary. This is not always needed, especially if you have received smile line filler at Seattle Plastic Surgery before.
FREQUENTLY ASKED QUESTIONS
Do I Need To Fill My Laugh Lines To Look Young?
Not always, some people may have nasolabial folds from childhood that do not contribute to an aged appearance. Some people can look completely youthful while having fairly noticeable nasolabial folds. This is because their cheekbones are usually pronounced and defined, which evens out the appearance of their face.
If your smile lines develop over time as a consequence of descending fat or tissue loss, this is when the nasolabial folds may alter your face and make you look older. Though, the decision to undergo nasolabial fold fillers is fully your own. Even if the injections would make you look younger, if you are not bothered by your nasolabial folds, you do not have to address them to still age beautifully and gracefully.
Are Nasolabial Fold Fillers Safe?
Nasolabial fold filler is safe when injected by a qualified provider. The positioning does require advanced skill and does come with some extra risk than other areas. Why is this? A major artery runs near and sometimes along the nasolabial fold. This makes the area more likely to experience an occlusion. While occlusion is rare and typically immediately treatable, it can cause serious problems. 
There are various ways that your injector can account for these risks. One method includes using a cannula instead of a needle. A cannula is thicker than a needle and much less likely to penetrate any veins or arteries. It also allows for one injection site, which lowers the chances of hitting any important structures.
If using a needle, your injector may aspirate the needle and use a maneuver to pull up on the skin to see their exact position to ensure they are injecting only within the soft tissue. This also lowers the chances of an occlusion. Overall, occlusion following nasolabial filler is rare and usually immediately remedied via hyaluronidase (for hyaluronic acid fillers).
How Many Syringes Will I Need?
The number of filler syringes that a patient requires depends on several factors including the severity of the folds and lines, type of filler, individual goals, and skin quality. On average, patients use between one and two syringes.

Will Lumps From Filler Go Away?
It is normal to have some lumps while the filler settles. Your injector may advise you to gently massage them. Generally, lumps should resolve within two weeks. If these do not, most of the time a small dose of hyaluronidase (if using a hyaluronic acid filler) can address larger or stubborn lumps. In the majority of cases, lumps resolve within two weeks of treatment.
How Much Is Smile Line Filler?
The cost of filler is determined by the filler you choose and the number of syringes required. The range is fairly wide with the cost being anywhere from $489 to more than $2,000. The average cost will likely fall somewhere between the $500 and $800 range for most patients choosing hyaluronic acid fillers.
After your consultation, your injector can provide a better estimate of price once they can get an understanding of your goals, anatomy, and choice of filler. Seattle Plastic Surgery does work with outside financing companies to make your smile filler affordable for you. Additionally, many filler manufacturers offer rewards programs. You can find more about our pricing on our price list and financing options on our financing page.
THE BEST DERMAL FILLERS IN SEATTLE AND TACOMA AT SEATTLE PLASTIC SURGERY
The injectors at Seattle Plastic Surgery are highly trained professionals who combine the science of medicine with the aesthetics of beauty. Using a variety of injectable products like BOTOX and dermal fillers, our injectors aim to achieve your goals. Catering every procedure to the individual patient, they understand that each nasolabial filler treatment is not one size fits all. With their personalized approach, the injectors at Seattle Plastic Surgery provide the best smile line filler Seattle and Tacoma offers.
Seattle Plastic Surgery is a premier plastic surgery clinic and medical spa. Offering surgical and non-surgical cosmetic solutions, the surgeons, injectors, and master estheticians work to meet your cosmetic needs with medical grade procedures and solutions. Located just off Broadway, our convenient location makes us accessible from any part of Seattle and surrounding communities.
To schedule a consultation with an injector at Seattle Plastic Surgery, call us at 206-324-1120. You can also connect with us online via Price Simulator®, chat, or contact form.