Recovery Time: Little to None
VI PEEL SEATTLE AND TACOMA
One of the hallmarks of professional skincare is chemical peels. Chemical peels, also known as skin peels, use acids to deeply penetrate and exfoliate the skin. Following treatment, dead skin and the outer layers of skin peel and flake. With most commonly performed peels, the peeling is not too dramatic. Although, it can prevent the application of makeup and hinder normal activities. Lighter peels do not cause as much peeling (or no peeling). However, they are not always adequate to treat sun damaged and aging skin. The newest generation of chemical peels aims to bring together the best of both worlds. The VI Peel offers the results of a more aggressive medium depth peel without the downtime or pain. The master estheticians at Seattle Plastic Surgery offer the best VI Peel Seattle and Tacoma offers.
OVERVIEW: THE VI PEEL
The VI Peel is a high-end medium depth chemical peel that features an unparalleled blend of ingredients and acids. Like other chemical peels, the VI Peel exfoliates the skin and leads the skin to peel. This can treat and improve the appearance of a variety of concerns and conditions that our patients often face.
First designed and developed by Dr. Abdala Khalil, the VI Peel was created to fulfill the needs of his teenage daughter who suffered from cystic acne. Many treatments were not effective and others were too invasive. Using a combination of acids found in various other chemical peels and treatments, such as salicylic acid and phenol, Dr. Khalil formulated the VI Peel. Acids found in the various VI Peels include trichloroacetic acid, retinoic acid, and salicylic acid.
The peel improved his daughter's acne and was found to have many medical and cosmetic benefits. The VI Peel soon grew and developed a line of chemical peels to treat a variety of skin ailments.
What Makes It Different?
It is not uncommon for chemical peels to combine acids and ingredients. What makes the VI Peel so different? The VI Peel's formulation includes ingredients with anesthetic and soothing properties. Typically, a medium depth chemical peel causes some discomfort and pain throughout treatment, a VI Peel only tingles for a moment. 
The other major advantages that a VI Peel has over other chemical peels during the recovery and aftercare. The skin peeling after a VI Peel is usually more minimal and quicker than other medium depth skin peels.
Additionally, traditional chemical peels are not suited for all skin types and tones. The VI Peel can largely treat all skin types and tones. This includes those with sensitive skin and darker skin more prone to hyperpigmentation. It also is a wonderful complement to nearly any skincare regimen.
Benefits
The VI Peel comes with many benefits and advantages. While suitable for the treatment of acne and some acne conditions, the VI Peel also has several cosmetic benefits. Among the benefits it can provide include:
Reduce or eliminate hyperpigmentation

Even skin tone

Smooth rough patches and texture

Remove excess oil

Treat UV and sun damaged skin

Reduce redness

Improve the appearance of acne scars

Stimulates cell turnover as well as collagen and elastin production

Reduce fine lines and wrinkles

Remove dead skin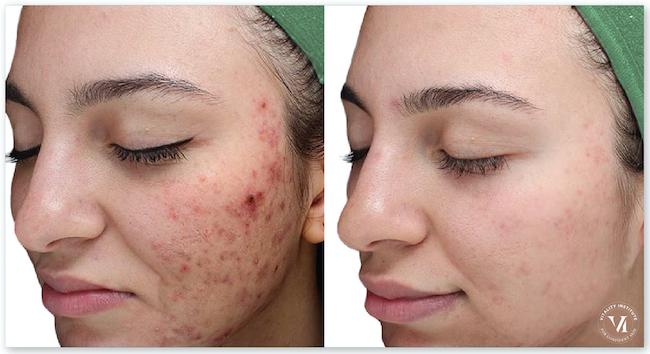 MEDICAL TREATMENTS WITH THE VI PEEL
Considering that the VI Peel was developed to treat cystic acne, it is no surprise that it can help treat various skin conditions. As mentioned, the VI Peel is effective at treating teenage and adult acne. For acne prone skin, the peel removes excess oil and kills acne causing bacteria. This prevents future breakouts and can contribute to clearer skin.
The VI Peel also effectively treats other skin conditions. It naturally evens the skin tone and this can reduce the appearance of rosacea and melasma. Our master estheticians have extensive medical knowledge and work under physicians to provide you the best treatment for your conditions and concerns.
THE VI PEEL PROCEDURE
Chemical peel treatments require a trained and knowledgeable professional to perform. Attempting to apply skin peels yourself or going to an unqualified provider can result in chemical burns or skin damage. At Seattle Plastic Surgery, our master estheticians have extensive training and experience in chemical peel application. A master esthetician can perform a VI Peel in around a half hour in our comfortable and safe treatment rooms.
Preparation
Before a VI Peel in Seattle, your master esthetician will need to determine that you are a good candidate. They can determine this during a consultation. During your consultation, you and your master esthetician will discuss your skin concerns, medical history, and lifestyle. They will then physically examine your skin. If you are a good candidate, treatment can likely commence the same day.
Most patients who have undergone a chemical peel successfully in the past are good candidates for treatment. Your master esthetician may recommend other treatments or decide you aren't a candidate if you are pregnant or nursing, have taken certain acne medications in the past year, are allergic to any of the ingredients, or if you have had a bad experience with a previous chemical peel.
Applying The Peel
The first step your master esthetician will take in applying your VI Peel is to thoroughly clean your face. This removes oils, pollutants, and debris from the skin. This step lets the peel penetrate deeper into the skin and is imperative for patients with oily skin.
Next, your master esthetician will apply the first layer of the peel. It is normal to feel some tingling or stinging at first. This subsides after a few seconds. Your master esthetician will continue applying the peel until your skin begins to frost. This means that the VI Peel is beginning to pull up dead skin and resurface the skin.
From here, your master esthetician will provide the necessary aftercare and instruct you to download the VI Peel app. You will leave the appointment with the VI Peel still on your face.
Aftercare And Recovery
After leaving the office, you should avoid sun exposure and exercise. Otherwise, you are free to go about your normal activities. About five to six hours later, the VI Peel app will remind you to wash off the peel. This should also occur an hour before bed.
Throughout the next few days, the app will instruct when to apply the provided aftercare. This keeps your skin moisturized and can promote a quicker peeling process. Most patients begin peeling on day three. Typically, the peeling lasts from days three to five. This can easily be scheduled to occur over a weekend.
You should continue to avoid sun exposure and strenuous exercise until you stop peeling. Full results usually appear in seven days or so. Each patient's skin will respond differently to a Bellevue VI Peel due to biological and environmental factors. Therefore, some patients may peel for more or less time. Results may also take longer to settle in some patients, especially if their healing is compromised by medical or outside factors. 
Everyone was super professional & put me at ease immediately. Would definitely recommend!

Lane
I have always had great service and results at Seattle Plastic Surgery! I need to visit more often!

Linda
FREQUENTLY ASKED QUESTIONS
How Does The VI Peel Compare To Other Medium Depth Peels?
The VI Peel offers comparable results to a medium depth peel without pain or a week or more of skin peeling. This makes it a great option for nearly anyone who wants to improve their skin quality. Additionally, some patients do not peel or see results from some acids. Most light and medium depth chemical peels use one or two acids. The VI Peel uses a combination of various acids to promote results and peeling.
What Can I Expect From Results?
After about one week, you will likely see glowing, healthier looking skin. It is not uncommon for patients to see visible and noticeable results following their first VI Peel in Tacoma. If you hope to treat a chronic condition like cystic acne or advanced aging, you will likely need multiple VI Peels.
How Often Can I Have A VI Peel?
The answer to this question depends on your skin type and concerns. Initially, especially for patients treating skin conditions, you will likely undergo VI Peels just a few weeks apart. Once you achieve the desired results, your master esthetician will probably recommend increasing the amount of time between your peels.
A common treatment plan will include monthly peels for about four to six months. After that, patients can often undergo VI Peels every three months or so. For patients looking for general skin improvements, three to four VI Peels per year is often standard.
Does It Burn?
Medium and deep chemical peels often involve some pain and discomfort during treatment. Some chemical peels even involve anesthetics and a few weeks of downtime. This deters many patients who may benefit from chemical peel treatments. 
In its formula, a Tacoma VI Peel contains anesthetic ingredients that ease the pain of the peel. The aftercare provided also keeps skin moisturized and comfortable after the peel.
Can I Get The Peel With Active Acne?
Possibly, your master esthetician can determine this during your consultation. Some patients with active acne have undergone the VI Peel, but if you have open wounds, they may decide to delay treatment until it heals more. Ultimately, this warrants a conversation with your master esthetician.
GOLD STANDARD CHEMICAL PEELS AT SEATTLE PLASTIC SURGERY
Seattle Plastic Surgery is a leading plastic surgery practice and medical spa in Seattle, Washington. With a full staff that includes plastic surgeons, injectors, master estheticians, Physicians Assistants, Registered Nurses, and other medical professionals. With a Medicare certified facility, Seattle Plastic Surgery offers a welcoming and safe environment for all of your cosmetic needs.
The master estheticians at Seattle Plastic Surgery perform multiple chemical peels every week. With a comprehensive understanding of skin anatomy and chemical peel ingredients, they approach every Seattle chemical peel with an individualized focus. Catering each treatment to each patient, our master estheticians offer the best VI Peel in Seattle and Tacoma. 
To schedule a consultation with a master esthetician, call us at 206-324-1120. You can also contact us online via our Price Simulator™ app, chat, or contact forms.
STILL HAVE QUESTIONS?
Give us a call at 206-324-1120 or chat by clicking the icon in the lower left hand corner of your screen additionally you can Contact Us by filling out the form below.