IPL
(Package of Three Sessions)
$1050
IPL Treatment Seattle & Tacoma
The first IPL, or intense pulsed light, device was approved in 1995 to treat spider veins. Since then, IPL has become one of the most used and versatile medical devices on the market. Used in both medical and aesthetic contexts, IPL devices have been known to treat rosacea, freckles, wrinkles, acne, and vascular lesions. The master estheticians at Seattle Plastic Surgery have years of experience in IPL treatments and provide the best IPL Seattle and Tacoma offer.
Overview: Intense Pulsed Light Treatment
Intense pulsed light treatment—also known as a photofacial—treats a variety of conditions and concerns. It is probably best known for treating unwanted redness that can occur due to rosacea and broken capillaries. However, it can also treat nearly any unwanted pigment. Unfortunately, since IPL targets melanated parts of the skin, it is not recommended for skin higher than a III on the Fitzpatrick skin tone scale.
Unlike lasers which emit a specific wavelength of light, an IPL uses what is known as broadband light. This means that it emits all wavelengths and is specifically filtered to address the particular concerns you have. Due to this broader approach, IPL is better at treating large areas such as rosacea on the cheeks. More precise indications such as tattoo removal are usually better treated with a more targeted light energy like lasers.
Benefits
IPL has a range of benefits that patients may experience. Though, the exact benefits you enjoy will depend on the IPL treatment you undergo. Some of the advantages and benefits of IPL include:
Reduce redness from rosacea

Treat spider veins

Help address sun-damaged skin

Reduce fine lines and wrinkles

Treat broken capillaries

Reduce brown spots

Stimulates collagen production

Provide overall skin rejuvenation

Quick treatment

Minimal recovery and aftercare

Versatile procedure that treats several concerns

Safe and effective

Considered the gold standard for treating redness and pigmentation issues

Performed by experienced master estheticians
Risks
Intense pulsed light treatment does come with some risks like any other medical aesthetic procedure. Generally, the risks are minimal for a patient who is a good candidate. However, even an ideal patient should consider the risks of treatment. The risks of IPL include:
Infection

Hyperpigmentation

Blistering

Bruising

Burns (rare)

Severe side effects

Sunburns due to increased sun sensitivity following treatment

Bleeding

Unsatisfactory results
Most of the risks associated with IPL are treatable or preventable. For example, blistering, infection, bruising, swelling, and bleeding are rarely permanent or leave behind noticeable traces. Your master esthetician will take measures to reduce the risk of complications.
IPL vs. Fraxel
Non-surgical laser treatments are among the most popular medical esthetic treatments. Considering the range of conditions lasers can treat and their generally good results, it is understandable that these are popular procedures. With that said, finding the right laser treatment for your concerns depends on several factors. 
Your master esthetician can discuss this with you during your consultation. However, let's take a look at two of the most popular laser treatments and how they differ.
IPL
Fraxel

Light-based treatment

Broadband light that can be filtered, but emits multiple wavelengths

Uses short pulses and treats the skin more broadly

Designed to treat pigmentation issues

Shorter sessions

May need more sessions

Minimal recovery

Less likely to need any type of numbing

Better for rosacea, spider veins, and pigmentation concerns

Laser-based treatment

Calibrated to a particular wavelength

Fractionated technology does not damage non-target areas

Designed to treat wrinkles and aging

Longer sessions

Few sessions (often spaced years apart)

May necessitate some recovery

More likely to need numbing

Better for major sun damage and aging concerns
Neither of the procedures requires general or local anesthetic, usually favoring numbing creams or other forms of topical numbing. IPL and Fraxel are also performed as in-office procedures by master estheticians. Ablative lasers are performed as surgical procedures by our plastic surgeons, Dr. Jonov and Dr. Santos.
Before & After Laser Resurfacing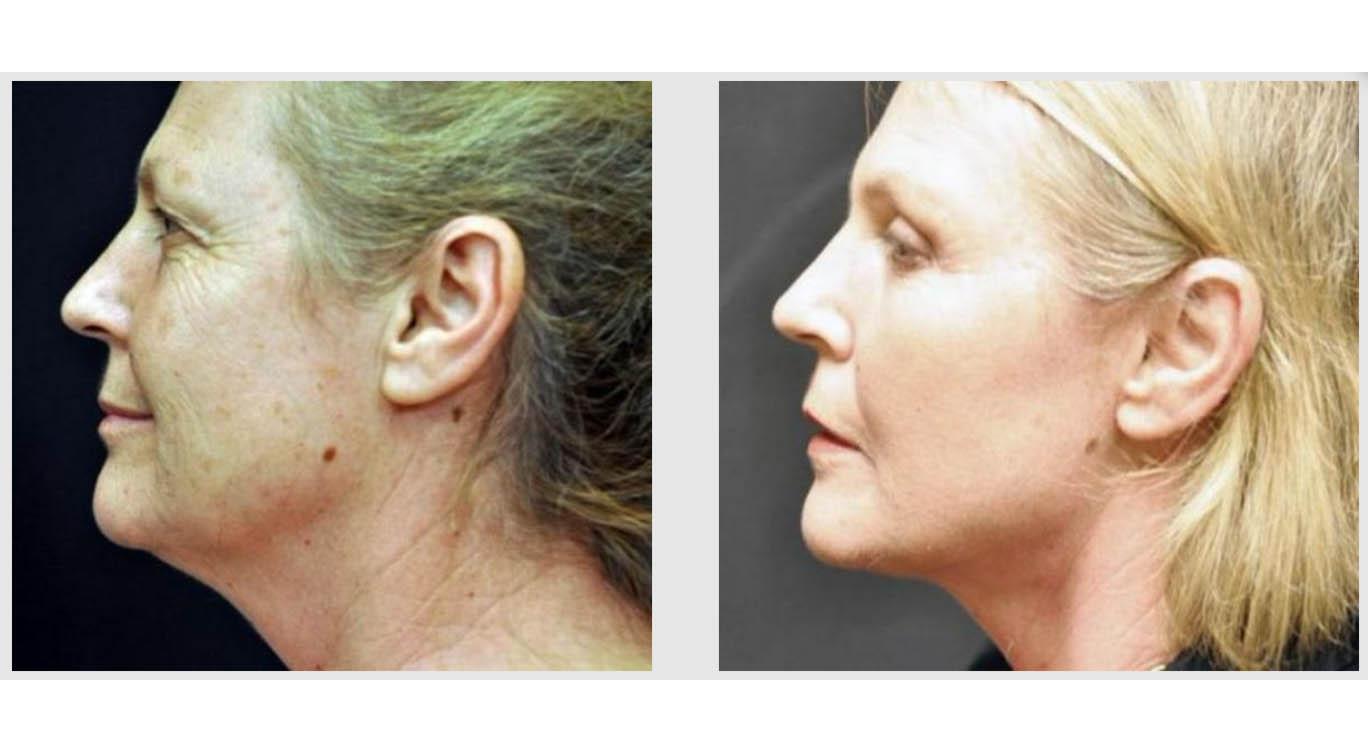 Before & After Laser Resurfacing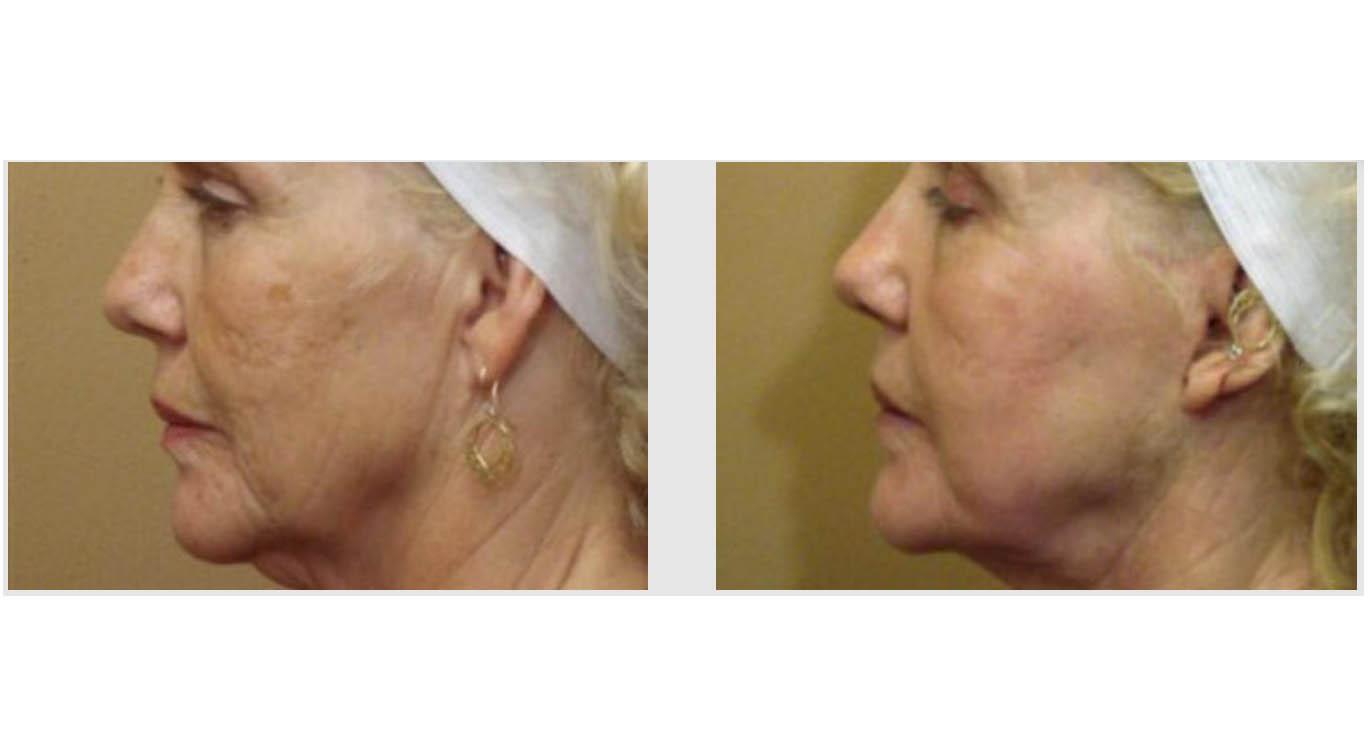 From Beginning To End: An IPL Session
Consultation
Before a Seattle intense pulsed light treatment, you will meet with one of our master estheticians. At this consultation, they will discuss your concerns and what you hope to treat. They may also ask about your medical history and expectations for treatment. Along with determining if you are a good candidate for IPL, they may also recommend other procedures such as chemical peels or microneedling.
You will receive a personalized price quote as well as a more detailed explanation of the procedure. Sometimes your first session can commence on the same day. Your master esthetician may also recommend performing a patch test. Otherwise, you can schedule your first Seattle IPL treatment.
Treatment
On the day of treatment, your master esthetician will start by cleaning your face of any makeup or debris. If you opt for numbing cream, they will then apply it following cleansing. It sits for about ten to twenty minutes. Once numb, they will wipe it off and begin treatment.
Applying ultrasound gel, your master esthetician will then place and activate the laser in a test spot, usually on one of the far sides of the face. Then, based on how you feel and the reaction of the skin, they may adjust the settings before continuing with treatment. From there, they will continue to move the laser across your face. Typically, a full face treatment takes about thirty minutes.
Aftercare
Intense pulsed light treatments are popular partially because of their relatively easy aftercare and recovery. Patients can return to work and most of their daily activities and routines immediately. Your master esthetician will provide you with some aftercare instructions such as:
Avoid hot, wet environments such as hot showers, hot tubs, and saunas

Apply SPF and always protect your skin from sun exposure

Do not pick at the skin, even if it peels or blisters

Cleanse and use moisturizer as normal, unless otherwise instructed

Do not exfoliate until the skin heals

Avoid strenuous exercise for about two days

Do not use products with retinol, Vitamin A, or glycolic acid
If you have any questions about what skincare products are okay to use after IPL or the particulars of your aftercare routine, your master esthetician can answer your questions at any step of the process.
Frequently Asked Questions
Is IPL Good For The Neck?
Yes, IPL is safe for use across the body. While most of the indications for intense pulsed light treatments are on the face, it can treat the neck, legs, arms, and anywhere you may have unwanted pigmentation or aging. You can add neck IPL treatment to any or all of your sessions.
Are The Results Permanent?
Considering the nature of what IPL treats, after you finish the initial round of sessions, you may need occasional maintenance treatments to maintain results. Unfortunately, no treatment can stop the aging procedures, but regular IPL treatments can slow it. Additionally, freckles tend to come back regardless of the treatment used. The treated spider veins should not reappear, but the body is constantly creating new blood vessels. Thus, you may see spider veins continue to pop up throughout your life.
Therefore, the results of IPL treatment are not necessarily permanent. However, it may be several years until you see a recurrence. It can also make a permanent difference in the severity of some conditions such as rosacea. Though, maintenance sessions are always recommended.

Is IPL Surgical?
No, intense pulsed laser treatment is not a surgical procedure.
Who Is Not A Candidate For IPL Treatment?
IPL is not for everyone. While extremely versatile, there are limitations. Luckily, the master estheticians at Seattle Plastic Surgery can put together customized treatment plans for patients of all skin types and colors. When it comes to IPL candidates, the patients who are generally not good candidates include:
Anyone with skin darker than a III on the Fitzpatrick scale

Those who tan regularly (including lotions)

Patients prone to scarring or keloids

History of or higher risk of skin cancer

Patients taking harsh acne medications
For those who are not good candidates for IPL, our master estheticians may recommend other procedures such as microneedling, chemical peels, or radiofrequency microneedling. Your master esthetician will discuss this with you during your consultation.
How Much Are Intense Pulsed Light Treatments?
The cost of IPL treatment in Seattle depends on your specific needs and treatment. We offer both single treatments and packages. By default, pricing is for the full face with the option to add on other areas. The starting and basic IPL pricing are as follows:
Single Treatment (Full Face): $399

Package of 3 (Full Face): $1,050
Neck or Decollete Add-On: $399 per session

Arms: $1,000

Hands (Single Session): $299

Hands (3 Sessions): $600
The Best IPL In Seattle At Seattle Plastic Surgery
The master estheticians at Seattle Plastic Surgery treat various conditions including rosacea, acne, and eczema. They also address aging concerns like sun spots, wrinkles, and early forms of skin sagging. IPL treatments are among the most powerful and effective treatments our master estheticians offer. Seattle Plastic Surgery performs the best IPL Seattle and Tacoma provide.
Our master estheticians are highly trained in intense pulsed light and other laser treatments. With the knowledge to both beautify and medically treat the skin, they work under the skill of our plastic surgeons to make long lasting improvements to your skin. Our master estheticians have extensive experience working with patients of all backgrounds and creating treatment plans customized to each patient and their skin.
To schedule a consultation, call us at 206-324-1120. You can also reach out online via Price Simulator, chat, and our contact form.
I've been working with a master esthetician and it has been wonderful! Great staff, excellent service, wonderful experience and results all around. I'll be coming back for more services, and will be happily passing along recommendations.

S.M.
Heather Trice is a great esthetician. She is very knowledgeable and professional. Heather takes time to explain the procedure and suggests what else can be done for better results. Good overall experience and would recommend

V.P.
Everyone was super professional & put me at ease immediately. Would definitely recommend!

L.J.
I have been very pleased with the services that I have received at The Gallery of Cosmetic Surgery. There is never any pressure to spend money on other services and everything is explained fully. I highly recommend going there for any treatments you feel are necessary.

G.S.