Non-Surgical Sculptra BBL
(10 Vials)
$4,000
NON-SURGICAL BRAZILIAN BUTT LIFT
Not everybody is born with the round, shapely booty that is coveted in today's society. Or, various factors like weight loss, aging, childbirth, and hormones can contribute to volume loss in the gluteal region. Regaining a sculpted booty is possible using state-of-the-art technology and skilled techniques. A Brazilian butt lift has become one of the most popular cosmetic surgeries for obtaining this desired look. However, at Seattle Plastic Surgery, we use the newest products and procedures to provide a non-surgical solution to a flat behind. Seattle Plastic Surgery offers a non-surgical Brazilian butt lift to patients from the Seattle and Tacoma areas. 
HOW DOES A SEATTLE NON-SURGICAL BRAZILIAN BUTT LIFT WORK?
A non-surgical Brazilian butt lift works much like any other dermal filler procedure. Your cosmetic surgeon will inject a filler, most commonly Sculptra, to provide a natural enlargement of the glutes. Using precise injections, a non-surgical Brazilian butt lift can achieve many outcomes. Some patients want or need a lift along with augmentation, your Seattle plastic surgeon will inject Sculptra in the correct areas of the butt to ensure you see the results you want.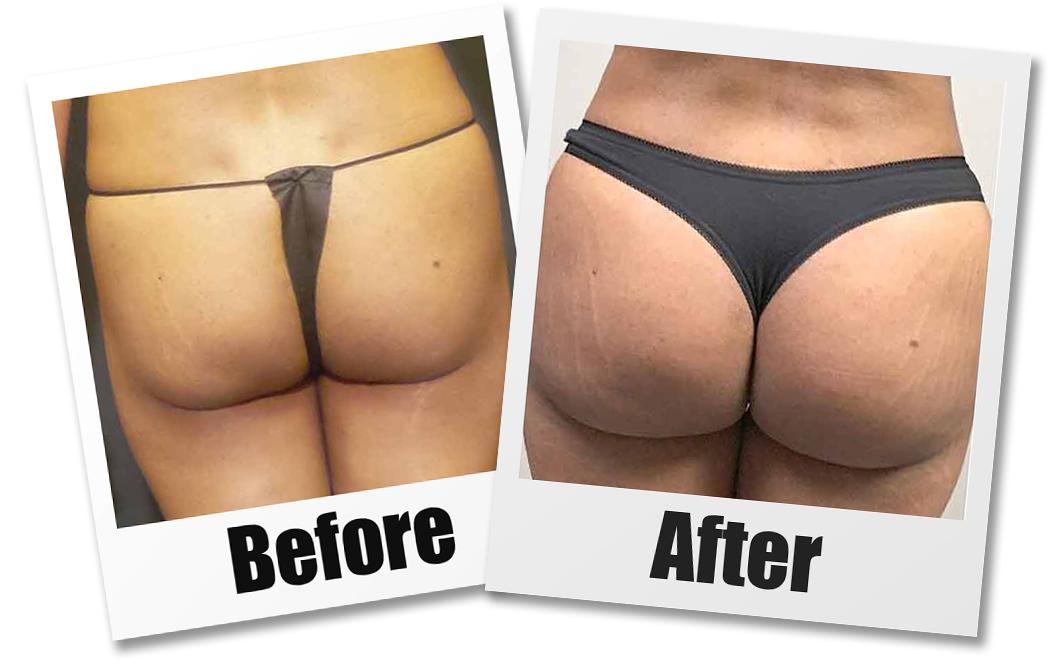 Interested in an Sculptra Brazilian Butt Lift?
Fill out the form below to schedule a consultation or ask any questions you may have.
WHO IS A GOOD CANDIDATE?
When your plastic surgeon analyses whether you are a good candidate for a non-surgical Brazilian butt lift in Tacoma, they take many factors into account. The most important one being your overall health and any health conditions which could put you at risk during or after the procedure. This is why it is important to give your cosmetic surgeon a full medical history so that they can accurately assess how your health and the treatment will interact. 
Some factors your plastic surgeon will take into account in determining your candidacy for a non-surgical Brazilian butt lift include: 
Your general health

Certain medical conditions (especially if you have a blood or bleeding disorder, cancer, or other major or chronic medical illness)

Allergies you may have to medications or ingredients of Sculptra

Whether a non-surgical BBL is the correct butt augmentation procedure for you (versus a skinny Brazilian butt lift or glute implants)

If your expectations are realistic and possible
NON-SURGICAL BRAZILIAN BUTT LIFT: BEFORE AND AFTER
Before
Before proceeding with your non-surgical Brazilian butt lift in Seattle, your cosmetic surgeon will want to make sure you are an ideal candidate for the procedure. They can determine this during a free consultation at Seattle Plastic Surgery. 
When you come in for a consultation, you can expect to enjoy our complimentary amenities such as cookies, hot coffee, bottled water, and tea. You should not wait long before your cosmetic surgeon will see you. They will begin the appointment by getting an understanding of why you are seeking a non-surgical Brazilian butt lift. Specifically what you want your end result to look like. Once your plastic surgeon has a good idea of your goals, they will then want to know your medical history to make sure it is safe for you to undergo the procedure. 
Finally, your Seattle plastic surgeon will physically examine your gluteal region to ensure a non-surgical Brazilian butt lift is right for you and can give you your desired results. Using the information provided and gathered during the consultation appointment, your cosmetic surgeon will then decide if you are a good candidate for a non-surgical Brazilian butt lift in Seattle. 
If you are, they will then work with you to create a personalized treatment plan specially designed to address your goals and concerns. This plan can include the injection sites, planned amount of product, and any other specifics particular to you. 
During
On the day of your Seattle non-surgical Brazilian butt lift, your plastic surgeon will review the treatment plan with you and mark the injection sites. As a non-surgical procedure, you will remain fully awake. Before administering your Sculptra injections, your plastic surgeon will use either a topical anesthetic or lidocaine injections to numb the area. Sculptra contains a small amount of lidocaine to ease the injections as well. 
Beginning the injections, your cosmetic surgeon will use about five vials of Sculptra per cheek for the average procedure. Depending on your specific needs and goals, this may vary. You should feel minimal pain and/or discomfort and the entire procedure should not take longer than an hour or so to complete.
After
When your Seattle plastic surgeon finishes your non-surgical Brazilian butt lift, they will give you recovery and aftercare instructions catered to you and your procedure. Since everyone's body and health are slightly different, recovery protocol will differ from patient to patient. However, you can expect some general guidelines for your non-surgical Brazilian butt lift recovery.
Your cosmetic surgeon will ask you to refrain from any vigorous exercise for at least a few days following the procedure and you should not sit directly on your backside for a short time that your plastic surgeon will specify. The Sculptra will take time to settle and produce your results because it is designed to work slowly over time. 
When it comes to side effects, you may experience some tenderness and bruising, along with some minor injection site reactions like redness and itching. These are normal and should go away with time. Because the procedure is less invasive than a surgical Brazilian butt lift, there is a shorter overall recovery time. You likely will not require pain medication afterward, although your Seattle plastic surgeon can provide it if needed.
Your Results
Full results will be seen as the Sculptra settles and as your body produces collagen in response to the injections. Everyone will respond differently to the Sculptra. But, you can usually expect to see your final results after about a month or so. Sculptra filler can last up to 2 years. And, it can provide some permanent residual augmentation and lift of the behind due to your body's increased collagen production.
What Is Sculptra?
Sculptra is an FDA-approved injection of synthetic lactic acid. The main application of Sculptra is filling out facial hollows. These injections provide gradual, natural-looking results that improve over time. Sculptra works by stimulating the production of collagen which increases volume in the injected areas. 
This same concept is applied during a Sculptra Brazilian butt lift. Your plastic surgeon will expertly inject the filler into the areas of the backside that you need more volume. Sculptra itself will temporarily provide this volume for around two years. While simultaneously triggering your body to naturally produce collagen to maintain your results. 
BENEFITS OF A NON-SURGICAL BBL
A Tacoma non-surgical Brazilian butt lift comes with many benefits to patients who choose to undergo the procedure. While the benefits you yield will depend on the specific problems to aim to correct, a Brazilian butt lift can garner many satisfying end results. The procedure can increase the size and projection of the butt, provide a better contour to the butt and body, correct hip dips or other hollows, lift the appearance of the backside, and create the highly sought shelf look.
Compared to surgical BBL procedures, there are benefits concerning the treatment. First, it is less invasive than other butt lift and augmentation methods and takes less time to perform. This also comes with fewer side effects and a shorter recovery. Secondly, Sculptra is a long lasting filler and stimulates some permanent results. Finally, for patients unable to undergo traditional surgery or who do not have enough fat to harvest for a surgical Brazilian butt lift, this can be a viable option to help them get the look they want.  
WHAT DOES A NON-SURGICAL BRAZILIAN BUTT LIFT COST?
The total price of your non-surgical Brazilian butt lift will be discussed and better estimated at your consultation. For the typical procedure, the total cost is $4,000 which accounts for 10 vials of Sculptra.
To help you finance your procedure, we work with outside financing companies like Care Credit and Alphaeon so that you can make your non-surgical Brazilian butt lift affordable. 
THE BEST NON-SURGICAL BRAZILIAN BUTT LIFT IN SEATTLE AND TACOMA
Seattle Plastic Surgery's cosmetic surgeons are board-certified and utilize proven and effective methods for Seattle Brazilian butt lift procedures.  Located on First Hill in a private office, Seattle Plastic Surgery provides secured garage parking and a comfortable environment for your non-surgical Brazilian butt lift. If you are coming from out of town, we provide virtual consultations and have relationships with nearby lodging and transportation services.
Your Seattle plastic surgeons will use their expertise and experience to custom tailor your procedure so that you get exactly the results you want. Non-surgical Brazilian butt lifts require care and precision to perform safely, meaning that choosing your provider is an important step in the decision to seek a cosmetic procedure. Our plastic surgeons will lead you through every step of the way and keep you informed through the entire process. You will never feel pressured in our office and we will always perform the procedure in the safest way possible for your body and health.
To schedule your in-person or virtual consultation at Seattle Plastic Surgery, call us at 206-324-1120 or contact us online using for form above.
Still Have Questions?
Give us a call at 206-324-1120. Chat by clicking the icon in the lower left hand corner of your screen. Additionally, you can contact us by filling out the form above.