Mini Facelift
(Local Anesthesia)
$6995
Mini Facelift
(General Anesthesia)
$7995
Dr. Santos is undoubtedly one of the best facelift surgeons in Seattle, having performed over 4,000 facelifts in his career.
MINI FACELIFT IN SEATTLE AND TACOMA
Wrinkled, sagging skin is often thought to be an inevitability of growing older. This loss of skin laxity is natural as we grow older, but it can also damage your self esteem and make you feel not as confident in your everyday interactions. For many people, a facelift is the perfect way to solve these issues and give back a sense of control during the aging process. Some patients, however, may not be candidates for a full facelift because the results of their aging is located more in the lower facial region or is not extensive enough. Luckily, there is a procedure known as mini facelift which corrects sagging, wrinkles, and other age related issues of the lower face. At Seattle Plastic Surgery, Dr. Santos–a double board-certified facial cosmetic surgeon–offers mini facelifts to patients in the Seattle and Tacoma areas.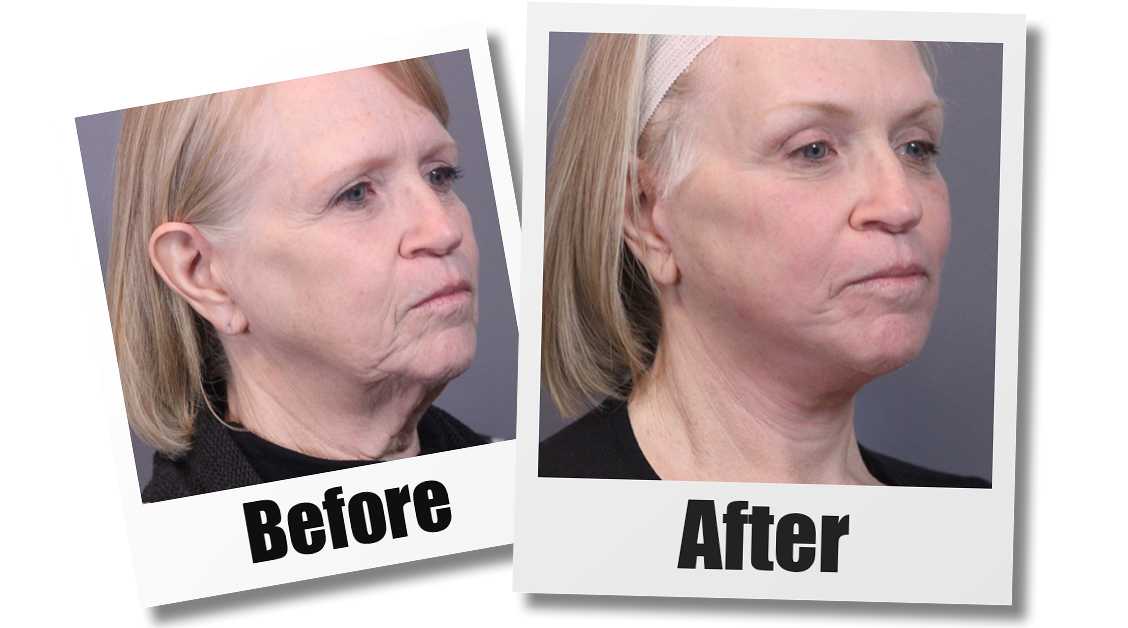 WHAT IS A MINI FACELIFT?
A mini facelift is a procedure that lifts sagging and wrinkled skin in the neck and jowls. During the procedure, Dr. Santos makes a small incision around the ear that he uses to lift and tighten the skin. This leaves you with an improved facial profile and looking years younger than before your mini facelift.
A Seattle mini facelift can improve many facets of your appearance including: 
Wrinkles and sagging skin in the lower face and neck

Sun damaged skin

Excess skin

Fatty depositions in the neck or jowls

Increased skin laxity

Thinning skin
What is the Difference Between A Mini Facelift and Traditional Facelift?
Mini facelifts and traditional facelifts both correct sagging and aging skin in the lower half of the face. However, a mini facelift targets a smaller area of the lower face–particularly the jowls and neck–while a full facelift mainly targets the neck and jowls, but also, the jawline and cheeks. 
A mini facelift is less invasive than a traditional facelift with a smaller incision and less scarring. While your incision may vary depending upon your specific needs, a mini facelift incision is no doubt smaller and less inconspicuous than a full facelift. 
The recovery time expected with a mini facelift is shorter than that of a facelift and other more invasive facial surgeries. You can expect to return to work within a week and back to your regular routine in as little as two weeks.
Who Are Good Candidates For A Mini Facelift In Seattle?
Almost anyone in good health who wants to improve their facial appearance is a possible candidate for a mini facelift. Most patients are younger than typical facelift age, have fewer signs of aging, and may be thinner than the average patient. 
The majority of mini facelift patients are between the ages of 50-65, but individuals from 30 to 90 benefitted from a mini facelift from Dr. Santos. It is best for candidates to be non-smokers and not have any significant medical illnesses that may complicate surgery. 
In your consultation with Dr. Santos, will review your medical history, your cosmetic surgery goals, and the lower face to determine if you are a good candidate for a mini facelift in Seattle.
Can You Combine Procedures?
A mini facelift is the perfect procedure to combine with other cosmetic procedures and surgeries. For example, many patients choose to undergo CO2 Laser Resurfacing or a neck lift at the same time in order to recover from the procedures at the same time and help them get the best results in the shortest amount of time. 
Dr. Santos is a talented surgeon who can safely combine facial procedures. If you are interested in multiple surgeries, mention this to Dr. Santos during your consultation and he can determine if you are a good candidate for these procedures and the combination of them.
Interested in a MiniFacelift?
Fill out the form below for more information or to set up a consultation
WHAT ARE THE DIFFERENCES BETWEEN GENERAL ANESTHESIA AND LOCAL ANESTHESIA WITH ORAL SEDATION?
General anesthesia is the anesthesia typically associated with surgery when a patient is fully sedated during the procedure. Local anesthesia is when only the surgery area is placed under anesthesia. Combined with a light oral sedative, you will not be fully sedated during your Tacoma mini facelift, but perfectly comfortable. Dr. Santos is well known for his innovative use of local tumescent anesthesia with a light oral sedative during his procedures and has performed hundreds of facelifts with local anesthesia.
Why Should I Have My Mini Facelift With Local Anesthesia?
Local anesthesia poses fewer risks than general anesthesia. Under local anesthesia, you are less likely to have complications during or after surgery. General anesthesia comes with some risk and uncomfortable side effects, such as nausea. Local anesthesia cuts these risks and allows you to remain comfortable during mini facelift surgery and recovery.
Other Benefits Of Local Anesthesia
Due to the decrease in risk and side effects, your mini facelift recovery is shorter with local anesthesia than with general. A mini facelift recovery is usually around 5-7 days, but you are often able to be reasonably active at home the day after your procedure.
It is understandable that some patients may worry about not being fully sedated during your mini facelift. To combat this, Dr. Santos uses a light oral sedative. While not fully sedated, you will not be fully awake or aware during surgery. Dr. Santos takes your concerns and comfort seriously and ensure you are content during your mini facelift procedure.
Beyond the safety and comfort benefits of local anesthesia, Dr. Santos offers mini facelifts under local anesthesia with oral sedatives at a lower price than general anesthesia. During your consultation, Dr. Santos will advise you on which anesthesia option is best for you and your needs.
HOW MUCH DOES A MINI FACELIFT COST?

Dr. Santos offers most of his surgeries with the option of local and general anesthesia. A mini facelift under local anesthesia with oral sedatives is $6,995 and under general anesthesia is $7,995. 
Dr. Santos works with two outside financing companies: Alphaeon and Care Credit. These options can help make you tailor your payments to fit your budget. Please check our financing page to find more information on these options and links to apply.
WHAT IS RECOVERY LIKE?
Recovery after a Tacoma mini facelift is shorter and less intense than a traditional facelift. If you choose local anesthesia, your recovery has less risk of uncomfortable side effects and complications. 
A mini facelift recovery ranges from around 5-7 days in which you can expect to experience swelling and bruising. While recovery time varies from patient to patient, you can generally expect to routine to your normal mobility around a week after surgery. Dr. Santos will advise you when you can begin exercising again, but on average, patients return to their exercise routine and full activity about two weeks after surgery.
How Can I Help My Recovery?
Dr. Santos will present a full recovery plan to you based upon your custom mini facelift in Seattle. To help you get back to your everyday routine as quickly as possible, you can: 
Place cold compresses on the face and neck area

Suspend strenuous activity for two weeks

Elevate your head to a 30 degree angle during sleep

Schedule and attend your post op appointments

Take any prescribed medications as directed

Wear your head wrap as directed
Dr. Santos On The Plastic Surgeon Podcast
WHY YOU SHOULD ONLY CONSIDER DR. SANTOS
FOR YOUR TACOMA MINI FACELIFT?
Seattle plastic surgeon, Dr. Santos, is a double board certified facial plastic surgeon with decades of experience with facelifts and mini facelifts. Throughout his career, Dr. Santos performed thousands of mini facelifts and is consistently top-rated among plastic surgeons. He is one of the best mini facelift surgeons in the greater Seattle area. 
He will tailor your mini facelift procedure to fit you and your needs. Everything from the choice of anesthetic to the incision is individualized to fit your needs. His revolutionary use of local anesthetic with oral sedatives ensures patient safety and comfort. 
Dr. Santos operates out of a downtown Seattle office. The facility is on First Hill–the medical hub of Seattle–and connected to Swedish by underground tunnels, which provides you a level of safety not seen in other plastic surgery facilities. Your safety and care are top priorities for Dr. Santos and his team, who aim to provide the most compassionate care possible.
Out Of Town Patients
For those traveling from out of town, there are various accommodations available if you decide you'd like to stay nearby after your surgery. Our office has a relationship with the nearby Silver Cloud Hotel which is just blocks from the facility.  If necessary, our staff can help you find the appropriate accommodations you need for a mini facelift.
We understand that choosing to travel outside your city for your mini facelift may be a hassle or a difficult decision. This is why we help find accommodation if necessary and aim to make you feel confident about your mini facelift.
What's Next?
At your consultation, Dr. Santos will ask about your goals and expectations for your procedure. He will then review your medical history and examine you to determine if you are a good candidate for a mini facelift. Once he determines if you are a good candidate, he will provide you with an idea of what your final results will look like and ensure that you fully understand the procedure.
To schedule a consultation with Dr. Santos, fill out the contact form on this page or call at 206-324-1120.
STILL HAVE QUESTIONS?
Give us a call at 206-324-1120 or chat by clicking the icon in the lower left hand corner of your screen. Additionally, you can by filling out the contact form on this page.