CHEEK LIFT SEATTLE & TACOMA | MIDFACE LIFT SEATTLE & TACOMA
The cheeks play an important role in overall facial appearance. If they contain too much tissue, this can result in a childish look. If the cheeks are well defined, this may contribute to a contoured face. Especially with sharp, prominent cheekbones in style, more people are paying attention to their midface area. With this comes the desire by some to alter their midface appearance. One option is a midface lift which can contribute to a younger, less heavy face. Seattle Plastic Surgery provides the best cheek lift Seattle and Tacoma offers.
UNDERSTANDING THE SEATTLE MIDFACE LIFT
A midface lift is a facial plastic surgery procedure that involves repositioning tissue and removing extra skin. Generally, it corrects aging or the appearance of "heavy" looking cheeks which can age the face prematurely. It is usually considered a less invasive procedure than a traditional facelift and does not offer correction to the jowls or lower face unless combined with facelift surgery.
To understand the midface lift procedure and whether you might be a candidate, it is important to understand the anatomy of the face and the areas the procedure can correct.
Anatomy
The midface is loosely defined as the area from just underneath the eyes to just below the nose. This mainly encompasses the cheeks and nose. When performing a cheek lift, your Seattle plastic surgeon will redistribute tissue that sits towards the lower part of this area into the cheeks. This provides a more youthful and natural appearance.
Sometimes cheek fat moves downward with age and other times a patient may genetically see fat collect in this area. This is sometimes referred to as a "heavy" face because the majority of the cheek's fullness is towards the bottom of the cheeks versus along the cheekbones. A midface lift can address both of these concerns.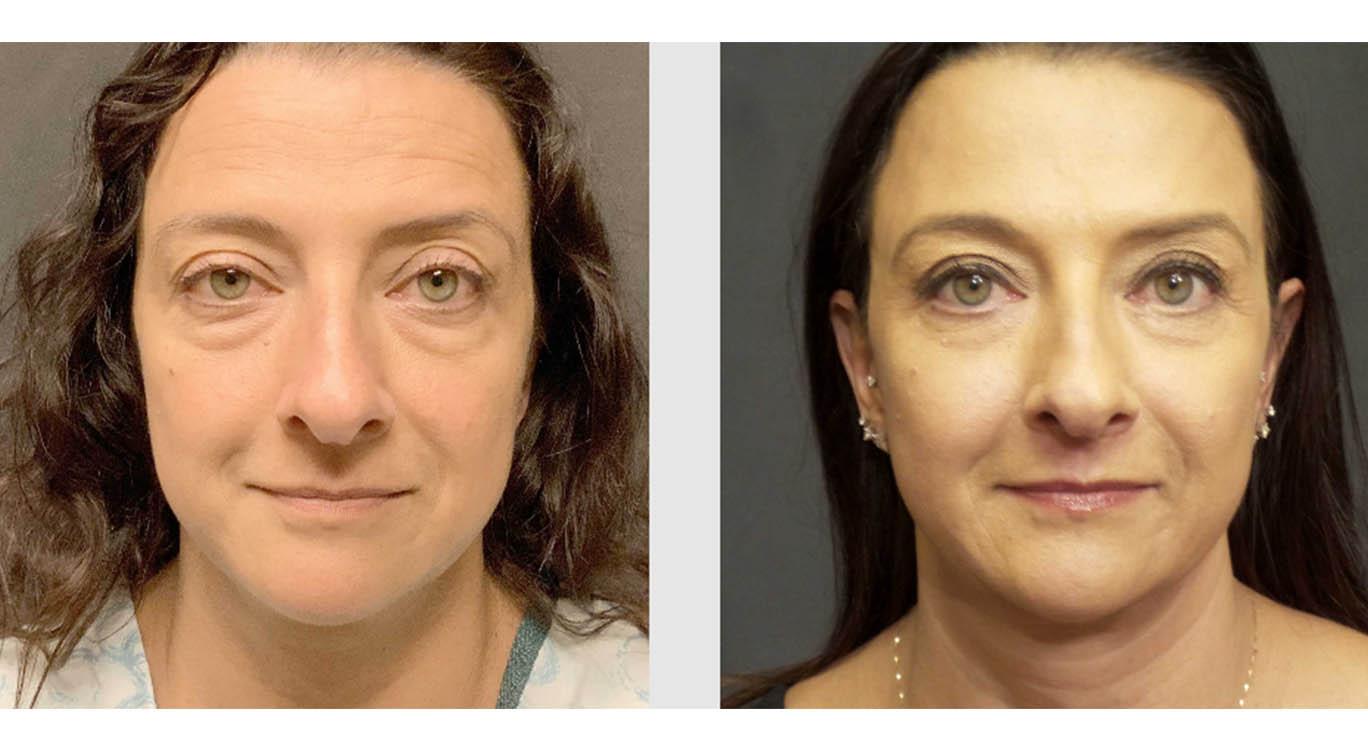 Before & After Cheek Lift Surgery
Options For Lifting The Midface
There are a few surgical and non-surgical procedures that may address a patient's concerns with their midface. Occasionally, buccal fat removal may provide the definition patients are looking for. It can be difficult to determine whether a cheek lift or buccal fat removal is best without professional consultation with a Seattle plastic surgeon.
Other procedures which may provide some lifting to the midface include:
Cheek Augmentation

Extended Facelift
Your plastic surgeon can discuss the best options based on your goals and anatomy during your consultation at Seattle Plastic Surgery. For many, a cheek lift will provide the best long lasting results.
IDEAL CANDIDATES
Midface lift patients have a large range in age and diversity. Since there are multiple reasons that a patient may seek a cheek lift, some younger patients as well as more traditionally facelift age patients may undergo the procedure. Generally, the average range of cheek lift patients is about thirty-five to sixty-five.
As far as what makes a patient a good candidate for the procedure, they must have cheek sagging or heavy cheeks, be in relatively good health, manage any health conditions well, and have attainable goals and expectations. If you fit this, you may be deemed a viable candidate for the procedure. Dr. Santos and Dr. Jonov can determine whether or not you are a good candidate for cheek lift surgery in Seattle during a consultation.
Benefits
There are many benefits to undergoing cheek lift surgery in Seattle. For patients unhappy with their facial appearance, this procedure can bring back confidence and restore youth lost due to age. Among the many advantages and benefits of a cheek lift include:
Slimmer looking face

More youthful appearance

More defined cheeks

Correction of fine lines and wrinkles

Tightening of midface skin

Correction of a "heavy" face

Redistribution of cheek fat and tissue

Limited and hidden incision

Minimally invasive procedure

Short recovery time

Quick surgery

Low risk

Improved facial symmetry

May correct under eye area
BEFORE AND AFTER CHEEK LIFT SURGERY
Your Consultation
At a consultation appointment, you will meet with a Seattle plastic surgeon where they first want to know about your concerns with your facial appearance and goals for surgery. They will then review your relevant medical history and perform a short physical exam. At this point, your plastic surgeon can determine if you are a good candidate for cheek lift surgery. 
If you are a candidate, your plastic surgeon will then describe the procedure and how it pertains to your anatomy. They will also explain the results you can expect and other aspects of the procedure. If they do not believe you are a candidate or would not benefit from a midface lift, your plastic surgeon will likely recommend other procedures that better match your goals.
Midface Lift Surgery
If you choose to undergo midface lift surgery at Seattle Plastic Surgery, you will come to our surgical center where our team will greet you. You will change into a surgical gown and have vitals taken to ensure you are fit for surgery. During the check-in process, you will also meet with your plastic surgeon where they will review the procedure with you and may make pre-surgical markings. 
At this point, you will be placed under anesthesia. Depending on whether you choose Dr. Santos or Dr. Jonov and other specifics of your procedure, the surgery may feature either local or general anesthesia. Your plastic surgeon will likely recommend the anesthesia choice best for you.
Once properly anesthetized and sedated, your plastic surgeon will begin surgery. The location of midface surgery incisions does vary based on individual anatomy and needs. However, the most common sites are behind the ear or in the hairline. Through these incisions, your surgeon will remove extra skin, reposition cheek tissues, and tighten the skin. Your plastic surgeon may also tighten the facial muscles in the midface if necessary.
When performed in isolation, a cheek lift typically does not take more than two hours. When combined with other surgeries, it may take more surgical time to complete.
Contact Us
Recovery
Following your surgery, you may notice some difference in your cheeks immediately. However, this is not your final result. Over the next few days, swelling and bruising may settle in. Your plastic surgeon will prescribe medications to limit post-operative pain and risk of infection. 
Your caregiver will drive you home and should care for you for the first twenty-four hours after surgery. Patients often find their recovery fairly bearable and discontinue prescription medications within the first week. Many patients then usually return to work within about one week, though this will vary based on how you heal. Following all of your plastic surgeon's instructions and attending post-op appointments will allow you to return to all of your activities as soon as possible.
Dr. Craig Jonov is the best. Seriously; if you're looking for someone who's both so competent and so personable, he's the one to go to. He knows his stuff and beyond; especially for rhinoplasties. I got a consultation with almost every surgeon in the Greater Seattle Area and Dr. Craig is the only one that felt comfortable to operate.

M.A.
Great customer service, extremely helpful and individualized. Dr. Craig Jonov is excellent! Overall an extremely easy process with his experience.

Amber
I just wanted to start off by saying how amazing the customer service is. Dr. Jonov was able to give me the best results ever and I am so happy with them. 10/10 would recommend to anyone. My ideal image I wanted for myself and he was able to achieve it and more.

Michelle
FREQUENTLY ASKED QUESTIONS
Is A Midface Lift Permanent?
Aging will continue after your midface lift. This means that eventually you may return to your current appearance. However, the surgery does take years off the face and reverse some visible aging. Therefore, you will still look younger than your peers as you age than if you never underwent the procedure.
Patients who undergo the procedure for reasons unrelated to aging may have more options to keep their results longer. Though aging can also lead to the movement of the repositioned tissues again. 
You can promote the longest lasting results by living a healthy lifestyle, taking good care of your skin, and undergoing non-invasive anti-aging procedures like BOTOX and dermal fillers.
Is It Safe?
Every surgery comes with risks. Largely, a midface lift is considered a safe surgery with few risks in ideal candidates. Your plastic surgeon will discuss all of the risks with you and also make sure you have a low individual risk. If you have the procedure under local anesthesia, you can also cut risk significantly.
Should I Do Cheek Augmentation Instead?
There are some cases where a cheek augmentation may provide better results than a midface lift. If your plastic surgeon believes that cheek implants or cheek filler are a better option for you, they will describe why and your options. Additionally, some patients may also benefit from a combined cheek lift and augmentation which can provide dramatic results.
Does A Facelift Lift The Cheeks?
A traditional facelift addresses the lower third of the face, often including the jowls, jawline, and neck. Occasionally, when tightening the skin, a patient may see some improvement in the midface following a facelift. However, this is generally limited. A procedure known as an extended facelift combined a lower facelift and midface lift to correct both areas.
What Is The Price Of A Cheek Lift?
The cost of a cheek lift in Seattle starts at $7,599. This price may vary based on other aspects of your procedure. During your consultation, you will receive a more accurate price quote personalized to your specific midface lift.
SEATTLE AND TACOMA'S BEST CHEEK LIFT AT SEATTLE PLASTIC SURGERY
Dr. Craig Jonov and Dr. David Santos are two of the most accomplished plastic surgeons in Seattle. Both have decades of experience and have performed hundreds of facial procedures. Dr. Santos is a facial plastic surgeon and Dr. Jonov performs multiple facial plastic surgeries every month, including midface lifts.
Seattle Plastic Surgery is a premier plastic surgery clinic that has served Seattle and the surrounding areas for more than two decades. Located in the heart of Seattle's medical hub, First Hill, Seattle Plastic Surgery offers the best cheek lift Seattle and Tacoma offers. 
To schedule a consultation, call us at 206-324-1120. You can also reach us online using our Price Simulator™, chat, or contact form.