Traditional Microblading
$300
Traditional Microblading Seattle & Tacoma
Microblading developed slowly throughout the 20th century. As permanent cosmetics became popularized, new techniques formed. However, traditional microblading is still largely used today to enhance the eyebrows. At Seattle Plastic Surgery, we offer traditional, powder, and combo brows microblading. Our microblading artists specialize and underwent training in all types, including traditional. Seattle Plastic Surgery provides the best traditional microblading Seattle and Tacoma offers.
Understanding The Traditional Microblading Method
Traditional microblading usually uses a single-bladed tool to penetrate the first few layers of the skin. The ink matched to your brow hair color (or slightly darker, based on your preference) is then deposited. While newer forms of microblading may make use of a motorized tattoo machine, traditional microblading typically uses a manual, single blade.
Manual microblading may not look as natural as other forms of microblading such as combo brows. It is considered more precise and may be ideal for covering scarring, hair loss, or overplucked eyebrows. Though, for patients who may need only a small enhancement, this does not matter as much. Combined with your natural eyebrow hairs, traditional microblading is often not discernable to an untrained eye. Yet, it still provides an enhancement to the eyebrows.
How It Differs From Tattoos
Beyond the difference in equipment and tattooing techniques, microblading does have a few other notable differences from a traditional tattoo. First, microblading does not place the ink as deeply into the skin like a tattoo. This is part of why microblading is considered a semi-permanent procedure versus a permanent tattoo.
Secondly, as mentioned, microblading is semi-permanent. While there are semi-permanent tattoos out there, most are considered permanent. Much of the philosophy behind making traditional microblading results semi-permanent is because brow trends change. Semi-permanence allows people to change the shape or definition of their brows.
Finally, microbladed brows are designed to mimic the look of natural brows. Each stroke of ink deposited into the skin is thin and hair-like. Most other tattoos are meant to adorn or decorate the body, not blend in with it.
Benefits
Traditional microblading comes with many benefits. Some of the possible benefits and advantages patients may enjoy include:
Adds definition to the eyebrows

Increases brow fullness

Enhances brow shape

Defines the brow arch
Boosts the appearance of brow hair density
Bring attention to the natural eye shape

Uses the golden ratio to ensure good results for everyone

Can help stimulate brow hair growth

Tends to look natural

Minimal discomfort or pain

Vegan and cruelty-free ink

Few risks and overall safe treatment

Non-surgical and non-invasive

Little upkeep following initial touch-up

Precise application

Most people are good candidates

Water safe (once fully healed)

Does not smudge when you sweat (once fully healed)

Works for all hair types and skin tones

Performed by a certified tattoo artist with years of experience in microblading
Traditional Microblading vs. Henna Brows
There are several types of less invasive, non-surgical brow enhancements. A few include brow tints, brow lamination, and henna brows. Henna brows specifically do have many similarities to traditional microblading. For example, they both use natural components in their formulas and address the skin underneath and surrounding the brows.
The differences though are more pronounced. They often make the biggest difference between the choice a client makes to seek out one or the other. The table below details some of the major differences.
Traditional Microblading
Henna Brows

Breaks the skin

Lasts 2-4 years with occasional touch-ups

Some pain or discomfort possible

Not always suitable for oily skin

Takes around 2 hours to apply

More specialized equipment used

Higher upfront cost, but fewer sessions needed

Creates hairs using individual strokes

Better for those with overly plucked or sparse brows

Does not break the skin

Results last 2 to 8 weeks with touch-ups needed to maintain results longer

No pain or discomfort

Works on all skin types

Application takes around 1 hour

Lower upfront costs, but more sessions needed

Relies on shading and offers a less sharp result

Better for those wanting a more basic enhancement
From Start To Finish Traditional Microblading
Consultation
The first step to undergoing Seattle traditional microblading is to schedule a consultation with a microblading artist at Seattle Plastic Surgery. At this appointment, you will discuss the different types of microblading. In addition, they will want to know your personal goals for the look of your brows. 
To start, your artist may ask about the results you want and your interest in microblading. From there, they will want to know more about your medical history and lifestyle. Certain conditions such as eczema, Hepatitis, or smoking can complicate your candidacy for traditional microblading.
If your artist believes traditional microblading is the best course of action and you agree, they will go on to describe the procedure in more detail. This will include preparation instructions and an accurate price estimate. They may also discuss whether manual or machine microblading is best in your case. You can then schedule your microblading session as you leave the facility.
Microblading Process
Once in one of Seattle Plastic Surgery's private treatment rooms, your microblading artist will start by cleaning and disinfecting the eyebrows. This reduces the chances of infection and promotes better ink adherence. They will then apply numbing cream and allow it to sit for ten to twenty minutes.
During this time, they will mark the golden ratio as it applies to your face and brows. This will help your microblading artist create the absolutely perfect brows based on your anatomy, face shape, and goals. Once this is completed, you should be numb enough to begin the microblading.
Using a single-bladed tool, your microblading artist will precisely create hair strokes of ink to create fuller, more defined brows. Generally, a full microblading session takes around two hours to complete. You should feel little to no pain during the process. Sometimes light pressure is felt, but most patients remain perfectly comfortable.
Aftercare
The instructions provided following traditional microblading in Seattle may vary based on your individual needs and lifestyle. However, some common directions our microblading artists give include:
Avoid getting the eyebrows wet, even in the shower

Do not partake in activities that may cause profuse sweating

Protect the brows and surrounding area from the sun

Avoid picking any scabs or peeling skin

Touch the area as infrequently as possible

Refrain from Botox, chemical peels, and similar procedures for several weeks (usually around eight to ten)

Do not use tanning beds

Be careful using any products that contain retinol or similar anti-aging products

Follow your microblading artist's instructions on when and how to apply makeup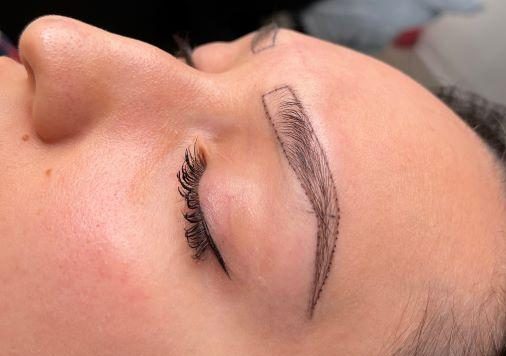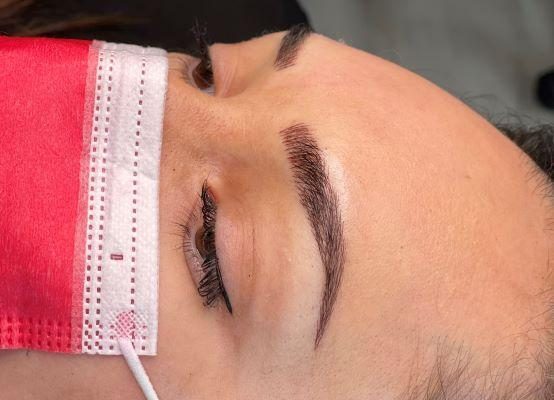 This patient came to our microblading artists for enhanced brows. After undergoing Seattle microblading, this patient is so thrilled with her new brows.
Frequently Asked Questions
What Is The Three Point Stretch Used During Microblading?
A three point stretch is a technique that your microblading artist will use to keep the skin straight and prevent a distorted look once relaxed. Without this technique, traditional microblading results could end up crooked, unnatural looking, or asymmetrical. The three point technique spreads the stretch over the skin evenly to avoid this and to also prevent skin damage.
Can You Microblade With No Brows?
Yes, microblading is commonly used to address or treat brow alopecia. Regardless of the cause, microblading can restore the look of eyebrows. With that said, if the eyebrows are completely gone, traditional microblading may not be the best technique. In these situations, combo brows are more commonly recommended. Though, it will vary from patient to patient based on their anatomy and goals.
Does Hair Grow After Microblading?
For the average patient, yes, the eyebrows will continue to grow as normal after microblading. Once the brows are healed, you need to occasionally wax or pluck. However, maintaining a clean and slick brow appearance is often easier after traditional microblading. This is because individual hairs rarely stand out as they may have before.
Microblading does not go as deep as a tattoo. Though, it does penetrate the skin well enough to stimulate some hair growth for some individuals. Many patients will not notice an increase in hair growth after traditional microblading in Seattle. However, those experiencing brow hair loss may benefit from microblading. It can help restore a natural look as well as some eyebrow hair.
What Is The Healing Process For Microblading?
Microbladed eyebrows take around four to six weeks to fully heal. This is when your microblading artist will usually perform a touch-up. Healing after a touch-up generally does not take as long because the entire brow area is not treated. 
As far as the healing process after microblading, it will vary for everyone. However, you may experience some scabbing and mild side effects for about one to two weeks. From there, the brows will change color and may darken a few times. This is all expected and normal.
A few weeks following your touch-up appointment, you can expect to see the final results. They tend to look enhanced, but not overly dark. Most of the time, patients and our artists aim for a semi-natural look that mimics the look of both natural eyebrows and brow makeup.
It is best to wait until at least four weeks after your touch-up appointment before seeking out a microblading revision.
How Much Is Traditional Microblading In Seattle?
Traditional microblading in Seattle starts at $300. The subsequent touch-up is $175. While not necessary, it is highly recommended for the best results. The cost may fluctuate based on several factors such as the needs of the patient, type of microblading, and completion time. You can find more detailed pricing information for all of our procedures on our price list.
Seattle Plastic Surgery does work with three outside financing companies including Care Credit, Alphaeon, and United Medical Credit. Our financing page further details the options.
The Best Traditional Microblading In Seattle & Tacoma
Seattle Plastic Surgery has served as a leading plastic surgery practice and medical spa in the heart of Seattle for over two decades. Providing top-of-the-line cosmetic injections, medical grade skincare, esthetics, and plastic surgery, our providers go above and beyond to help patients meet or exceed their cosmetic goals. Seattle Plastic Surgery provides the best traditional microblading Seattle and Tacoma provides.
Whether you are looking for a semi-permanent brow solution, or something more temporary, our microblading artists and master estheticians can help you create the eyebrows of your dreams. To learn more and schedule a consultation, call us at 206-324-1120. You can also reach out online via Price Simulator, chat, or contact form.